CASE GAME
The Case Of
Insurance Diversification

Should Pacific Mazda venture into motor insurance? K.N. Bhandari of New India Assurance, K.C.Mishra of National Insurance Academy, and K. Goyal of Bajaj Allianz Insurance discuss.

By R. Chandrasekhar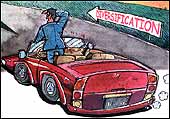 As the directors started coming out of the plush boardroom on the 10th floor of Pacific Towers and moved towards the elevator, the liftman was tickled at how all of them were looking at their watches in an orchestrated fashion, as if they were willing the hands to move back in time. The board meeting, convened to discuss the quarterly results of Pacific Mazda Ltd, one of the largest passenger car manufacturers, had exceeded the stipulated time by an hour. Sumito Ishikawa, Mazda's nominee on the board, had raised a point of order.
''I think we should diversify into insurance, more particularly motor insurance,'' he had said. Avinash Dua, the managing director of the company, was surprised. And lost no time in reminding the board that motor insurance was the least profitable of all insurance businesses, worldwide. ''Why don't we look at it as we view our consumer-financing outfit as a value addition to the customer?''
DIVERSIFICATION INTO MOTOR INSURANCE
Upside
A large customer base
Growth in vehicular population
Premia likely to increase
Costs will come down with automation
Downside
Pricing governed by tariff rates
High claims ratio
Low level of customer satisfaction
High incidence of litigation
Ishikawa had persisted. The non-executive Chairman, Ashutosh Mukherjee was quick to settle things. Asking Dua to examine the matter and report to the board at the next meeting, Mukherjee said: ''Given our brand equity and wide consumer acceptance, I think we can build a position quickly. But let us first find out what the synergies are.''
Dua was aware that it would be a tough call. The level of customer satisfaction in the motor liability claims business in the country was pathetic. And it would impact negatively on the brand equity of Pacific Mazda, built over years. Even as he decided to call in a consultant to undertake a study, he thought it best to sound out his A-team on the idea the next day.
''There are two ways we could look at it,'' said Rajnish Dham, Vice-President (Marketing). ''Get into insurance directly. Or become a conduit for other insurance firms. The former calls for a capital investment of Rs 100 crore as per the norms of Industrial Regulations and Development Authority (IRDA). It would, of course, come down to Rs 76 crore, if we set up a joint venture with an overseas insurance major. If we decide to become a conduit, we need not make any major investment. We only need to tweak our supply chain, so as to gear it to sell and service auto-insurance products.''
''Given the fact that we have built a huge infrastructure of dealers, mechanics, auto garages, vendors, and customers in the transportation sector, the distribution support that we can provide to an insurance firm would be significant,'' said Sachin Chowdhury, Vice-President (Services). ''And since distribution comprises 35 per cent of the costs of insurance, a readymade logistics support would be a major attraction for any insurer.''
''Look at why banks are getting into insurance,'' Chowdhury continued. ''It may not generate revenue for banks upfront. But it is a good defensive strategy. It helps safeguard their turf by enhancing customer loyalty.''
''A satellite approach erodes our equity,'' said Vinayak Ram, Vice-President (Manufacturing). ''Pacific Mazda has always been perceived as a pioneer. We have led the passenger car market from the front. We have created new benchmarks even in auto-financing. Consumers expect us to shape the trends in whatever new business we get into. If we diversify into motor insurance, it should be to set new standards of performance. It would be an opportunity to clean up a business, which is messy, in addition to being unprofitable.''
''There are two reasons why motor insurance business is not profitable in our country,'' interjected Dua. ''The claims are spurious. There is a lot of connivance between surveyors, insurance professionals, and mechanics. Massive claims outflow in this category has been the single most important reason for a drain in the profitability of the Indian insurance companies. Secondly, the motor premium rates, fixed by the Tariff Advisory Committee of the government, are among the lowest in the world. There are, of course, indications that even as the insurance sector is being liberalised, the premium rates would go up very soon. That in itself is a compelling attraction for new players to get into motor insurance.''
''There are several other reasons,'' chipped in Roy Kaushik, Vice-President (HR). ''Look at the condition of our roads. Or even the quality of vehicles. They are accident-prone. And, of course, the law. The provisions of the Motor Vehicle Act are welfare-oriented. They are, in their very nature, soft on the applicants and harsh on the insurers. There is not a single verdict in the history of motor claims which has favoured the insurer. There are far too many external factors not only impacting on the final outcome of a liability claim, but also intervening in a methodical management of the portfolio.''
''It cannot be denied that there are areas in motor liability claims that are not strictly controllable in nature,'' said Ram. Nor can be it assumed that this portfolio is not amenable to effective management. The challenge lies in working out strategies that reduce the risk and assure decent returns for the insurer. It is a question of professional management of risk. Motor liability, as a portfolio, has diverse elements. Some are under the control of the insurer. Some are outside of it. Even on those that lie within the insurer's control, the quality of checks and counter-balances is what determines the outcome.''
Now it was Chowdhury's turn. ''A major advantage of diversification into motor insurance is that unlike life insurance which is optional, motor cover is mandatory for every owner of a vehicle. Given the increasing rate of growth in vehicular population in the country, that straightaway gives you a large customer base-almost on a silver platter. And since we corner more than 60 per cent of the passenger car industry in the country, motor insurance should be a logical business for us to get into.''