DOT.COM: INTERVIEW
''Inter-operability of exchanges
is the next big step''

US-based Boston Consulting Group's Vice-President (Technology & Communications Practice) and former MD of the company's Indian operations, Rohit Bhagat speaks to BT's Roshni Jayakar on the newest technology trends, during a recent visit to India.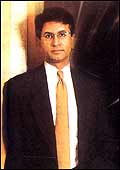 ROHIT BHAGAT
Vice-President
(Global Technology & Comm. Practice)
Boston Consulting Group
Q. Rohit, over the last year or two, companies have been rushing to build websites and be on the internet. What do you see as the next step in the e-volution of business?
A. The challenge for most companies is how to build (up) from customer relationship management and supply chain management systems to collaborate in space through integration of channels, systems, and databases. Or enterprise applications integration.
By this I mean, can a company improve its processes by hosting a common library on the internet into which both it and its vendors can tap. When the company makes a design change, its vendors are aware of the change in real time. A connection enables the vendors see the inventory, and they replenish it when it dips below a certain point. Certain companies are already doing that.
This could be escalated a level further. The vendor and the company are so tightly linked together that when a customer purchases a car, it doesn't really exist. Everyone's systems start simultaneously building the car. The advantage of this is zero inventory. Everything moves fast, so the cycle time is lower. The holy grail out there is to build to order. So, enterprise applications integration is a fancy word for saying we need to make sure that our legacy systems and web systems provide us a composite view of customers, so that we can seamlessly serve them.
How different would collaboration in e-space be from supply chain management?
In supply chain management, you do forecasting and planning; you do not really share a common library or system as in collaboration.
Is enterprise applications integration too futuristic a concept in the context of Indian companies?
Not really. Collaboration is a pretty interesting thing for Indian companies because as tariffs and barriers for competition go down, we will have to think about what we are going to do to survive. One of the issues is going to be how we squeeze out inefficiencies. If you were to ask: is collaboration going to be web-enabled in the same fancy way that others are going to get it done abroad? Maybe, and maybe not. But if you do it right, (then) that is the most effective way of doing it.
Software is typically sold under licence and the obsolescence risk is with the purchaser of the licence. Do you see this changing? Do you see software developing as a service model?
Definitely. Partly due to pressure from and the needs of the client, and partly due to fact that technology to do this is coming into play, certain software could be provided as a service using the Application Service Provider (ASP) model. For instance, a financial application could be installed on a server that is run by the provider of software or a third party that is essentially an ASP. What I do as a corporation is when I need the application, I dial up and pay on a per use basis. The beauty of this is that obsolescence risk is not mine, someone else is going to upgrade the software; I don't have installation issues. All I do is access devices hooking into that.
Yes, the corporation has a security issue because I want to make sure that my data is kept with integrity. But it is possible that data could be resident in-house and the application could be resident somewhere else, and when the session is on, the application could use the data. It is still early days, and hence, people are insecure. What if someone breaks the encryption and my data is floating on internet? What if applications are not particularly customised? But the ASPs are slowly working through that and there is a feeling that going forward we could see software as a service model, as opposed to software as a purchase model.
Everyone thought B2B exchanges were the most viable business models on the net. Now many of them are dying...
Initially, exchanges were built left, right, and centre, hoping people would pay just to find each other. But once they found each other, they often bypassed the exchange, especially if the exchange charges a fee each time transaction is done. Taking a portion of transaction simply for helping people to find each other won't work. So exchanges are thinking of business models. One could be subscription. Exchanges could provide risk management or escrow services, whereby a purchaser will deposit a fund into the escrow account and the money won't be released to the seller till a guaranteed delivery is made. Then there are a host of value-added services like logistics, settlement, and clearing and invoicing. Thinking intelligently about these services and pricing them is a big challenge.
A number of exchanges picked industries that were not large enough to justify individual exchanges: some of them are dying; others are struggling with the market size. Those that survive will have to be inter-operable. Inter-operability of exchanges is the next big step. If a steel exchange gets a query for nickel it could direct the buyer to nickel seller. Is there an economic rationale for high quality exchange in India? Yes, if those services can be provided cost effectively and conveniently.
What kind of organisation structures do you see emerging among the exchanges that survive or even thrive?
Let us talk of the metals industry with 25 big metals companies. A pure play company, which had nothing to do with any of the 25 could set up an B2B exchange and make commercial proposition to each of the companies that they should hook up. The company itself will set up the management team and put in place content and value added services and take a fee for this.
Or the metals companies could say, why give an upstart an opportunity to skim us. Why don't we create a cooperative? It is likely that new organisations will be created for the simple reason that people who were competitors yesterday are asked to cooperate. It is not easy to get over that mindset. So having an independent entity that behaves objectively is important.
To what extent will exchanges benefit small and medium enterprises?
At a theoretical level, exchanges create value. Exchanges have economies of scale, so the cost reduction in each of the organisations that does business with them collectively is more than the additional cost that the exchanges have to take on. So value has been created.
Can there be growth? It's possible to argue that smaller companies that were unable to reach out because of their size, because of far flung geographies, will now be able to do so. It is not as though the entire market will grow, but certain competitors will be able to, if they play their cards well, grow at the expense of others. Across the board, there will be inventory-and cycle time-reduction. For industries which have enough of a market size, there is a clear value-creation rationale that is predicated on cost reduction, inventory reduction, and transaction cost reduction. For some, there is a revenue growth argument. Has this been demonstrated? The jury is out.