DOT.COM: STARS & STRATS
What's Hot!

Come June, the great Indian snail mail service will go 'e' with a vengeance; a new techie-studded VC fund scans around for tech-intensive start-ups. Plus: ESOPs are dead, long live ESOPs.

By Team BT

e-Trend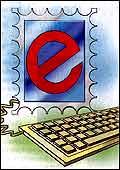 The slowest mail of them all is now dancing to a binary tune. Here's a stamp-shot view of the radical initiatives of the Indian post: a few weeks from now, every envelope you send by speed post can be tracked and traced through the Net; within a year, you will be able to receive money instantly from 185 countries through 750 post offices across India; and, hold your breath, within a couple of years, every Indian will have a unique @e-post ID!
Sounds incredible? Well, just listen to John Samuel, Additional General Manager, Department of Posts: ''We have a lot more in the pipeline.''
Arguably, the clincher will be the proposed e-post service, which according to the department, will bridge the great digital divide. Each individual in the country will be given an e-post ID based on his or her geographical address. Mails received at this ID, through e-mail, will be identified at e-post centres, downloaded, printed, and delivered to the addressee. Though there's hardly anything new about the service, the department can shake up the scene, thanks to the enormous volumes under its belt. As a pilot project, e-post is to be launched in select centres in Andhra Pradesh, Kerala, Goa, Maharashtra, and Gujarat.
Samuel says the department is also planning to introduce customer care centres in all speed post offices in the country. ''These centres will be a combination of call-plus-customer-interface centres.''
But aren't courier majors like DHL and FedEx almost five years into this thing. So what's the big deal? ''The USP of our service is speed, reliability, and economy. A DHL or a Bluedart has about 20 centres in the country after years of operations. But, we start straightaway with 120 centres'' says an emphatic Samuel. This sure is one heck of a turbo-charged snail.
e-News
Can Monsieur Alok Kejriwal play the bull in China? Contest2win.com's flashy CEO says the company's Mandarin site Contests2win.com.cn, registered page views of 20 million in April 2001, and generated Rs 12 lakhs in revenue.
The company clocked revenues of Rs 3.30 crore for the fiscal year ended March 31, 2001. This year it expects revenues worth Rs 5 crore from India and another Rs 5 crore from China. China has 25 million net users, and a $80 million-online advertising market. The Mandarin site is currently working with brands like Starbucks Coffee and Pepsi.
Please welcome India's first-ever techie-led VC fund. IIT-Chennai's TeNet Group has tied up with Ventureast Funds to fund exclusive telecom and it start-ups working on cutting-edge technologies and cheap access devices. To begin with, the Ventureast-TeNet Fund will have a corpus of $15 million, which it plans to disburse between three to five years. ''However, there is no rule that we should wait for three years,'' says Shekhar Reddy, a director with Ventureast. The parent fund already has 15 companies in its portfolio and is reputed for turning around the sick Andhra Pradesh Industrial Corporation.
Well, ESOP's fables simply refuse to end. The latest (after a long time, that is) story is that of Paisapower.com, which has engaged Ernst & Young to formulate an Employee Stock Option (ESOP) scheme for its staff. The scheme will cover all employees who have joined the company prior to December 1, 2000. The options can be exercised within 48 months from the date of vesting and the grant price for the first ESOP will be Rs 10 per option (par value). Well, a wilful suspension of disbelief does help sometimes!
The software lobby's blues is putting some dotcommers in the black. Increasingly, US-based companies are outsourcing webhosting services from Indian companies, now sitting idle over a pile of deadcoms. The trend is being pioneered by Pugmarks Interweb, which has bagged five orders from US, with a host of others in 'an advanced stage of negotiation'. ''This year we expect nearly 75 per cent of our work to come from the US'' says Atul Gupta, Chairman, Pugmarks InterWeb. Pugmarks offers webhosting services to nearly 10,000 clients and 60 publications worldwide. Not to be left out with just a piece of the cost-effectiveness pie, the company is also working on a clutch of content management solutions aimed at publications worldwide.
---
Beam Me Back, BT!
Surfing back@Net time, to June 1996
Buoyed by Sun's the 'Network is the Computer' concept, Oracle Corp rolls out Network Computers. Priced at $500, these stripped down devices function as a gateway to the Net. Future flash: today's darling is tomorrow's dog.
Singapore Airlines launches a new service, Singaporeair.com. The idea: just key in the origin and the destination, and get a budget travel plan.
Canada's Northern Telecom and Sun Microsystems together take the wraps off the first-ever phone-cum-Net access terminal, running on the brand new Java OS.
One of the most popular Indian site of the time is all-India alumni seeker: Infophil.com/India/Alumni.
---
Q&A
Making The Net Work
Manoj Chugh, President (India & SAARC), Cisco Systems, chats with BT's Praveen S. Thampi on the networking major's views on the Indian tech scene.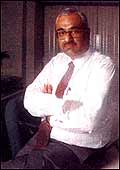 MANOJ CHUGH
President (India & SAARC), Cisco
How has the dotcom bust impacted Cisco's prospects in India?
A large number of Indian dotcoms were low to medium investment businesses catering to the domestic market only, which isn't too big. Our business in India is driven by requirements from large enterprises which is typically a high investment area.
Many tech companies (Microland, for example) are now moving to what they call the tech infrastructure space...
Well, we see this new trend of companies moving into the system integration space as a good partnership opportunity. Worldwide, we are focused on technology. Systems integrators and players in the infrastructure space offer strong partnering opportunities.
With the debate still hovering round Net Telephony, do you see Internet Protocol-based telephony taking off in India in the near future?
The entire promise of IP telephony is to allow voice and data to travel on a single network as against separate networks. IP Telephony, as a technology, is still legal and being used in India in an application called the IP PBX, but only in closed user groups. The regulatory debate is focused on not using IP telephony and its applications for transmitting voice on the internet, as it eats into the revenues of the incumbent local exchange carriers. But I believe that with the opening up of the telecom sector and the entry of private players, this issue will be resolved fast.
What about Cisco's plans to extend e-learning initiatives to rural areas?
Our e-learning initiatives are based on the three cornerstones of virtual training-ubiquitous web-delivered content, electronic management, and collaboration, electronically, with others in the learning process. As for our rural focus, Cisco Inc CEO John Chambers, on his recent visit to India, had announced plans to set up networking academies in every State and Union Territory of India. We are well on track in terms of fulfilling this promise and we have already signed MoUs with Uttar Pradesh, Orissa, and West Bengal governments for the same.
Coming back to the dotcom crash, do you see a resurrection anytime soon?
What many dotcommers had perhaps forgotten was that it is not eyeballs but real profits that drive businesses. The fundamental goal of all businesses is the same-relentless customer focus and a sustainable business model. Going forward, players will need to come up with innovative ideas and customise their value-added services to meet individual customer needs. Relentless innovation and ruthless execution will separate the grain from the chaff.