DOT.COM: STARS & STRATS
Any Key To Continue...

As G.B.S. Bindra's new-e counterparts fall by the side, the e-tailer is growing from strength to strength with plain old-e strategies.

By Vinod Mahanta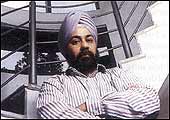 G.B.S. BINDRA,
CEO, Firstandsecond.com: playing volumes
He's trying to do an Amazon-building a gargantuan product portfolio and clinching the volume game. Just consider G.B.S. Bindra's additions to his Firstandsecond.com store in its very first year of operation: one million book titles, and 250,000 music titles.
The kind of curious confidence that's driving him has also prompted Bindra to dare do what can only be described as dot sacrilege: refuse institutional funding. ''I would rather wait for the right time than sell my equity cheap'' avers Bindra. Obviously, Bindra was not exhilarated by the kind of valuations (rumoured to be $13 million) that approaching VCs had in mind. But the point here is that in the dreary terrain of dot homicide, firstandsecond is still hot with the investors. The site raked in Rs 2.7 crore in revenues last year, with unit sales of 80,000 titles. That should also make it the biggest e-tailer in the Indian dotcom space.
Fine, but haven't we heard that sales and profits don't exactly share a proportionate relationship in e-tailing? Hasn't the Amazon experience taught us that the relationship can turn inverse too? But Bindra is not Bezos. Period. The supply chain he has managed to create can put FMCG majors to shame. In fact, firstandsecond is perhaps the most wired of all e-tailers in the country. His global supply chain, payment realisation systems, banking, and even packaging has something or the other to do with the Internet. The site boasts tie-ups with 7,000 suppliers worldwide, and publishing majors such as Random House, and Simon & Schulster.
One of the reasons behind Bindra's success has been the attractive discounts that he manages to offer. His secret: cross subsidisation. Bindra gets margins upto 70 per cent in some titles, and just 10 per cent in some others. Even if he loses revenue on some titles, he more than makes up on others. Secondly, Bindra has realised that an active inventory can be possible only by carefully timing the bulk purchase of titles. Recently, Firstandsecond bought 48 US titles at one fifth of the cover price (including current best-sellers like Now Or Never and Burn Rate), leaving a huge room for flexible margins.
Music is the logical next step for which Bindra has built up one of India's biggest collection of music titles, in just over a period of a few months. The margins on music titles are lower, but higher volumes (music sells more than books) should offset that. And the bulk of the volumes will come from a tiny band of the music freaks who are certain to find titles not available in any other brick or e-music store in the country. One such afficionado was pleasantly surprised to find the entire collection of a new jam band he had encountered on a recent trip to New Orleans, at the site. The result: on his first visit to the music section of firstandsecond, he bought CDs worth well over Rs 10,000.
The competition, which is keeping a keen eye on the goings, is putting up a brave front. Interestingly, some are even hoping that Bindra's zealous efforts would create more volumes for the e-tailing space in general. Says K. Vaitheeswaran, V-P (Marketing), Fabmart: ''The industry needs more than one successful player to reach critical mass. A larger customer base will help all players access a larger pie.''
Firstandsecond's plans are definitely ambitious. But Bindra is still working out of the $5 million seed capital that he got from Duncan and McNeil. Now that he's unhappy with the valuations, he plans to raise debt from banks and FIs. And yes, just as the name signifies, Bindra wants his site to be both first and second in the Indian e-tail space.
---
All For A New ID(entity)
Coupling their tech-expertise with the great Indian cost-advantage factor, a group of low-profile start-ups are set to take the digital encryption solutions market by storm.
By Nitya Varadarajan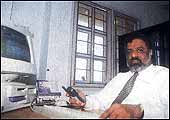 S.PADMANABHAN,
Exec V-P, Myespace.net: authentic matters
The digital encryption and the online signature verification space in India may still be in its infancy-it can safely be termed a non-starter-but that has not stopped some Indian entrepreneurs from trying to target companies in India and elsewhere-more the latter-with their products and solutions in this domain.
Down south, in Chennai, Odyssey Technologies' chief executive Robert Raja is talking about competing with transnationals by adopting an aggressive pricing strategy for his newest PKI (Public Key Infrastructure, a system of digital certificates, certifying authorities, and other parties involved in verifying and authenticating each party involved in an internet transaction) solution 'T-shell'. Another denizen of the neighbourhood, Myespace.com's executive vice-president, S. Padmanabhan is awaiting the outcome of a patent filed in the US for his encryption tool 'Oyenok'. Further up, in Hyderabad, Adeptek Software's co-founder Prasad Yerram has managed to convince nasdaq.com of the virtues of his e-signature verification tool 'eSign'. And another Hyderabad company Visualsoft expects great things from its enterprisewide encryption solution 'Visual Soft Crypt'.
With the regulatory aspects of digital certification still being worked out in India, the local market is clearly not what these companies are targeting. The grey matter-intensive nature of the work involved ensures that these companies are operating at the bleeding edge of technology. There's a financial aspect too: the average cost of developing a world-class encryption solution in India is 40 per cent less than what it takes in the first world. Globally, companies like Baltimore Technologies, Entrust (a Nortel subsidiary), and Certigon dominate the scene, but the field is still wide open. There is, for instance, no agreed-upon standard for creating a PKI.
That doesn't mean the Indian companies will have it easy, in the local market and in the global one. In what may be a sign of things to come, HCL Comnet has already announced an alliance with the US-based RSA securities to offer the latter's digital sign systems 'Keon' in India. Odyssey's Raja is unperturbed: ''Most established transnationals give only the tools and some plug-in products. But we aim to offer applications, solutions, and services.''
Myespace.net is targeting the m-commerce space, and is in talks with visa International for a deal revolving around credit card transactions. Padmanabhan claims the company is also working on an encryption strategy with US-based Certigon to make mobile networks hack-proof.
The one company that has already made a mark in this space is Adeptek Software. Its eSign solution, an advanced signature authentication and verification software, is used by NetFinex, a collaborative venture between SSI Technologies and NASDAQ. The product has also been deployed by Dena Bank in an experiment on inter-branch credit transfer. Originally priced at Rs 10,000 per piece, the eSign bundle consists of a digital scribble pad, a digital pen, and the software to run the two, is now available for around Rs 4,000, largely on account of reduction in hardware costs.
VisualSoft's solution is targeted at the enterprise space: its VisualSoft Crypt provides cryptographic algorithms for secure enterprise application development. Encryption is a fairly more evolved market than PKI but now it is up to the market to decide who wins and who loses.
-With inputs from E. Kumar Sharma