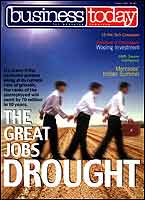 The Great Jobs Drought
It isnít on, but will soon be. Over the next few years, the 150 million people the country added to its population in the 10 years between í75 and í85, enter the workforce after gaining some sort of education. But there may be few jobs going. The agriculture sector is in a mess. Small industries are either dead or dying. And companies are loath to add to their workforce given the countryís archaic labour laws. Even if the economy marches on at its steady 6+ per cent rate of growth, the ranks of the unemployed will increase by at least 70 million in the coming decade. SEVENTY MILLIONÖ. Welcome to the decade of jobless growth.

Features
Mercedes' Indian Summer
For years, it has waited on the sidelines. But now with import restrictions easing, Merc is moving to tap its global portfolio and bring the force of Mitsubishi and Chrysler to weigh in on the market.

Now Spell Wheels With 'C' and 'D'
Every car company worth its wheels is ready to enter the newest segment in the car market, the D class, but Mercedesí aggressive pricing of its C class sedan and changes in import regulations may mean they have to rethink their marketing mix.

SEBI's Case; Rathi's Defence
The Bombay High Court may have upheld SEBIís action against Anand Rathi, but the former President of the BSE may have a strong case after all.

Is Modern History?
Hindustan Lever says the turnaround at Modern Foods has begun. Some employees are sceptical. Others fear they may be axed before that happens.

Jharkhand vs Chhattisgarh: Wooing Investment
Chhattisgarh and Jharkhand are at the start of an exciting game. Prosperity awaits the smarter of the two. Who will get there first?

Ten For Tomorrow
Hope springs eternal. And thatóhopeóis what each of the 10 companies featured here holds. Not one of the 10 is a pure play software services company. Some are chip design companies; others are product companies; and still others are technology solutions companies. All belong to the first wave of Indian companies seeking to make a leap from services to design, and then, from design to products.

Trends
Stockmarket: Whither The Economy?
Advertising: Fifteen No More
Regulation: Taxman On Thin Ice

Personal Finance
Financing Summer Rites
This is the time of the year when people get married, kids start going to school, and families move cities. Hereís how you can manage your money smartly doing any of these things.

BT dot.com
Cover Story
A clutch of shoestring online travel agencies isnít just racking up hits; itís raking in profits, too.

The Next Wave
The Boston Consulting Groupís Rohit Bhagat speaks about emerging tech trends.

What's Hot
Firstandsecondís music gambit; Q&A with Ciscoís man in India, and other happening stuff.

Case Game
The Case Of Insurance Diversification
Should Pacific Mazda venture into motor insurance? K.N. Bhandari of New India Assurance, K.C.Mishra of National Insurance Academy, and K. Goyal of Bajaj Allianz Insurance discuss. Send us your solution which scrutinises the problems in companies like yours. We'll showcase the best solutions on-line.

Managing
Double The Pleasure
Managing one career is tough, but some professionals have mastered the art of managing two.

Careers Today
Careers Today
Help, Tarun!!!