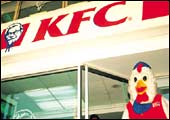 KFC's Bangalore Outlet: Needs customers, not protestors
Think of Kentucky Fried Chicken in India and the pictures that pop up are of violent Indian farmers in Bangalore burning effigies of the KFC (Kentucky Fried Chicken) founder Colonel Harland Sanders. That was way back in 1996 when KFC opened its first outlet. The company battled on for sometime despite opposition, even opened outlets in other cities like Delhi, but then shut all outlets, except Bangalore's. Now parent Yum! Restaurant International seems ready to give it a second chance. Says Pankaj Batra, Director (Marketing) Indian Subcontinent, Yum! Restaurants International: "Currently we have a KFC outlet in Bangalore which is doing extremely well. We will start opening more KFC outlets in 2003.''
According to Batra the company has been focussing on consolidating its Pizza Hut chain in the country. There are 37 outlets of Pizza Hut at present and the company has set a target of 100 outlets by 2004-end. Explains Batra: ''As Pizza Hut gains national presence, we plan to start opening more KFC outlets as well.'' In rebuilding KFC, the company plans to employ the same recipe that went into the making of Pizza Hut. And that means adding a lot of local flavour. For instance, in India over the past few years, Pizza Hut has developed and successfully introduced a range of products like Masala Pizza and a "Jain menu" that specifically suit the Indian palate.
But it's going to be an uphill climb for KFC. The other international fast food biggie, McDonalds, which also debuted in 1996, already has a chain of 40 restaurants across India. For KFC, the potential is "finger lickin' good". Start of round two: Colonel vs Ronald McDonald.
---
BOTTOMLINE
Economy Of The Indians
A Board of India Today Economists begins looking at economic issues the way they should be: from people's perspective.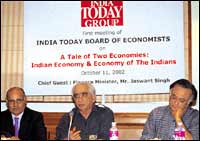 Different strokes: India Today's Editor Prabhu Chawla (left) with FM Jaswant Singh (centre, and Panel moderator Jairam Ramesh
The problem with economics-and the economy-is that it leaves the lives of a lot of people untouched. Fortunately for such people, the process of making economics intelligible has begun. On October 11, 2002, India Today (BT's sister publication) held the first meeting of its think-tank-Board of India Today Economists (bite)-on economic issues. The roundtable saw the fm, Jaswant Singh, listen with rapt attention to six top economists (Suresh Tendulkar, Kirit Parikh, Bibek Debroy, Indira Rajaraman, Siddharth Roy, and Subir Gokarn) on what the fm's agenda should be for the next 100 days.
Some recommendations: spur industrial growth, bolster tax/GDP ratio, revive manufacturing, reform agriculture and labour laws, and lower taxes. ''A reduction in taxes will not only generate more demand, but improve tax collection,'' contended Roy, HLL's Chief Economist. The FM, while expressing his inability to reduce agricultural subsidy, was categorical that the disinvestment process was still on course, though the government seemed to have lost "focus'' midway. "But there is no deviation from purpose. The government will disinvest,'' he added. Hope he's right.
-Ashish Gupta