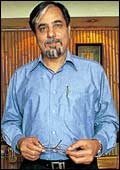 Subhash Chandra: Back at the helm
The family know its business best. Subhash Chandra, Chairman of Zee Telefilms, after a string of failed experiments with professional CEOs, has come to the conclusion that he and his brothers stand a better chance of turning around the fortunes of the beleaguered media conglomerate.
Chandra's decision to oust the professional at the top in favour of family isn't without precedent. Two years ago-also in October-the Ford family sacked its high-profile CEO, Jacques Nasser, as it disagreed with his turnaround strategy for the world's second-largest car maker. His seat was filled by the great grandson of founder Henry Ford, William Clay Ford Junior, who was also Chairman since 1999.
The similarities between Ford and Zee end there. Unlike Sandeep Goyal, who was brought in as CEO a little over a year ago, Nasser was a career Ford executive. Chandra, on the other hand, has had a go with a number of professionals-right from Vijay Jindal in the mid-nineties to Goyal in 2001-but obviously none could deliver the goods.
Perhaps, then, is it now time for the Chairman himself to go, rather than his CEOs? Unfortunately, with Chandra and his family holding on to 54 per cent of the company's equity, there's no point answering that question since there's no shareholder powerful enough to contemplate ousting the founder. ''Don't forget that it is ultimately his money and his ego that are on the line,'' points out Dr Gita Piramal, Managing Editor, Smart Manager, who believes that Chandra's huge stake will ensure that he doesn't run it into the ground. But as Sanjeev Prasad, Media Analyst with Kotak Securities, asks: ''Does he have the time?" Shareholders who feel he doesn't may not be in a position to overthrow the management, but they do have another option: To dump the stock.
---
BEAN COUNTING
A Pyrrhic Fizz
Fine, Coke's marketshare in India is growing. But, at what cost?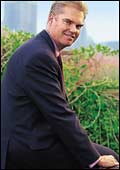 Coca-Cola India's Lex Von Behr: Another write-off
You'd think what Coca-Cola India (CCI) packs in its bottles is carbonated drinks and water. But it transpires, the company actually gives away money with every bottle it sells. Or so it seems. A little over two years after its Atlanta-based parent was forced to take a $374 million (Rs 1,683 crore in 2000 exchange rates) hit as a result of cci's disastrous acquisition of bottlers, CCI has racked up another Rs 400 crore plus in losses. It has reportedly sought permission from the Delhi High Court to write off Rs 2,086 crore in accumulated losses of its bottling subsidiary Hindustan Coca-Cola Beverages (HCCB), as a prelude to its forced 49 per cent divestment in HCCB to Indian investors. "This is just an internal adjustment towards the divestment," a CCI spokesman told BT.
Unfortunately for CCI, the write-off comes at a time when it has everything going for it in terms of the market. Its two-year old Kinley recently dethroned the reigning king, Parle's Bisleri, in the Rs 1,000-crore bottled water market. The year also marked a resurgence in sales (up 26 per cent) of its bread-n-butter carbonated soft drink brands in the Rs 5,500-crore market, and CCI's entry into lower price-points with powdered soft-drink concentrate (SDC) SunFill and its entry into hot coffee/tea with tie-up with McDonalds India. Will the entry of Indian investors change things?
-Shailesh Dobhal