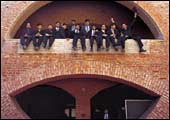 IIM-A: Ahmedabad's IIM is still under pressure to regain its former glory, but remains confident
The brick arches at IIM-Ahmedabad have had a clenched feel to them, of late. Tense, over-exerted, pressured. The recession, the job scene, the warm thrill of confusion.
But the show must go on. And so it did, as placement season 2003 got underway. Ask Rakesh Kumar, IIM-A Class of 2003. He won't forget the start he got each time the placement coordinators' walkie-talkies crackled to summon the next interviewee. Even with three not-so-demanding recruiters on his target list-India Bulls, FedEx, and Roulac-he had to exercise a degree of nerve-control. You see, some 25 batchmates had got pre-placement offers, lucky dudes, but not him. Some 70 companies had come campus recruiting this year, a good 25 more than last year, but even that wasn't much reassurance. The times were such. The days of swollen-headed job picks and dollar-dazed swaggers were not mere memories of batches past, they were a burden. Honour was at stake. Would dinner be a sullen no-eye-contact affair?
Just The Basic Facts
Thankfully, it wasn't. Statistically too, Placement Season 2003 went off fairly well. Yes, IIM-A lost the prestige of the season's top rupee-job offer-it went to a student from IIM-B who got an annual Rs 16 lakh-but the Rs 14 lakh that McKinsey offered three of its students was consolation enough.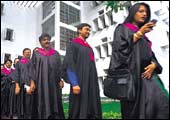 IIM-C: Calcutta's IIM not only matched IIM-A's average rupee salary, it landed big buck foreign jobs as well
Hearteningly for IIM-A, even its average pay packet registered a gain over the previous year: from Rs 5.9 lakh to Rs 6.2 lakh (still below 2001's Rs 7 lakh, but a gain nonetheless), to edge past IIM-B 's average and equal IIM-l's and IIM-C's. On this parameter, though, all the IIMs have been overshot this year by FMS-Delhi, which recorded the highest average of Rs 6.9 lakh, followed by XLRI-Jamshedpur's Rs 6.8 lakh. The season's highest dollar-paying offer, of $130,000, also went to an IIM-B student. In contrast, IIM-A 's best foreign job offer, from US-based Capital One, was a mere $82,000-just $5,500 higher than IIM-B 's average dollar offer, and a stomach-churning drop from the $225,000 that an IIM-Ahmedabad student wrangled in 2001. Even IIM-Calcutta had a peak dollar offer of $95,000.
Things have changed, and IIM-A is only too keenly aware of it. However, pay is not everything, and IIM-A is still what Director Bakul Dholakia calls it, "a brand by itself". And a brand that draws the best corporate raiders. IIM-A was proud to have Lehman Brothers, McKinsey, and Capital One as its Day Zero recruiters this year. By the end of four days, IIM-A students had landed foreign jobs with Goldman Sachs, ABN Amro, Merrill Lynch, Morgan Stanley, and Citigroup Asset Management, among others. But surely, the fact that Infosys recruited nobody from IIM-A must hurt?
The B-school that has cause to be smug this year (with the possible exception of FMS), is IIM-B, which has done remarkably well with foreign job offers from such blue-chips, as American Express, Deutsche Bank, General Motors and Lehman Brothers. And it did well in summer placements too. "This year," boasts Professor Ganesh Prabhu, Chairperson, IIM-B Placements, "we saw the highest average number of offers per company in recent years." Yet, perhaps the real contender for India's B-school premierhood is the newly founded (ISB) in Hyderabad, which doesn't feature on the chart here because it has a 'rolling placement' system that'll give the complete picture only in May.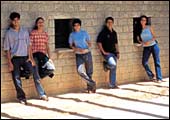 IIM-B: Bangalore's IIM is now on a roll, relatively speaking, bagging the best-paying jobs
Through In Waves
Sectorwise, the return of information technology was the story of the season. "The significant factor," says Professor Ravi Sundar, Chairman, IIM-Lucknow placements, "was the resurgence in the it sector." Infosys, Wipro, TCS, and HCL Technologies were the frontrunners, here. Otherwise, consulting was down, finance steady, and banking unexpectedly generous.
Investment banking retained the glitter of its high-risk high-return international postings. Marketing? Tightfisted, but still fairly buoyant, on balance. FMCG giants Procter & Gamble and Hindustan Lever led symmetric raids, as always, though many of the aspiring whizkids-at least those caught red-handed showing feelings-seemed somewhat more enthused by the cola arch rivals, Pepsi and Coca-Cola. It figures.
INDIAN SCHOOL OF BUSINESS

Swank campus, star-cast faculty, blue-chip backing, wwork-ex as a prerequisite, an Harvard B-school style. Why else would anybody talk about Hyderabad's ISB?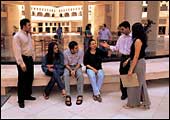 Well, for the simple reason that it got stunning job offers for its very first batch-the Class of 2002. The highest rupee offer? Rs 28 lakh. The highest overseas offer? $220,000. The average rupee salary? Rs 8.5 lakh. The average dollar salary? $82,000. Sure, it's an older crowd of students, but still. This year, so far, Indian School of business's (ISB's) average Indian offer is Rs 8 lakh and average dollar offer, $66,000 (not counting non-Western postings), with the placement process ending only in April 2003.

Drawbacks? ISB can't match the IIMs' formidable old boys network. Moreover, it costs a little over Rs 11 lakh-several times an IIM diploma. But then, it's an ideal B-school for career-switchers such as IAS-man Raj Kamal, 32, District Magistrate of Korba, Chhatisgarh, soon to join McKinsey at four times the pay. Work experience works, say recruiters. "The perspective of ISB graduates," explains Pratik K. Roy, Head (hr, Corporate), Novartis India, "is much closer to the real world than those at the other B-schools."