Want a job that's harder than the CEO's? Try being his wife. Here's how the typical job description reads. Wanted: Girl with above-average looks and IQ. Must be able to cope with pressures of the husband's job, put his interests above her own, manage the household independently even as the husband travels 20 days a month. Must raise children to the exacting standards of the husband. In case of joint families, must take care of the in-laws as well. And, oh, must absolutely make a charming host.
Now, on top of this, try becoming a record-setting insurance agent, a successful entrepreneur, an innovative educationist, a hot-shot professional, an acclaimed business historian, or simply a symbol of hope for the wretched. Difficult? You bet. Impossible? Not quite. Take a look at our list of First Wives of India Inc.-25 of them to be precise. Unlike their famous husbands, our ladies don't make the stuff of pink dailies and business magazines. Yet, despite living in the overwhelming shadow of their famous husbands, they have managed to carve out a meaningful life for themselves. A life that, despite its mundane familial demands, touches numerous others in a variety of ways.
So what makes these privileged women leave the relative comfort of their homes to try and fulfill a myriad difficult roles? The answer ranges from a "if we don't, who will?" of Geetanjali Kirloskar to "it's my way of flirting with my husband" (Ritu Nanda) to "to me money is not a means of pleasure, but a tool to heal" (Sudha Murthy). Whatever be the answer, the underlying thread is the same. These are women with great passion, boundless energy, and plenty of creativity.
Still, they'll be the first to admit that when you are a CEO's wife, your husband and your family take precedence. Got a late evening meeting that clashes with the dinner your husband is hosting for a foreign partner? Better reschedule your meeting. Planning a business tour? Go ahead, but make sure it doesn't clash with your children's exams. The point: While these women are ambitious personally, they are not crusaders out to change the world. Instead they are very smart and very fortunate women, who, in their different and limited ways, are living out what they passionately believe in.
Ladies and gentlemen, allow us to introduce to you, in alphabetical order, the Amazing First Wives of India Inc: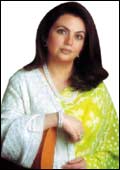 NITA AMBANI
Mother Courage
Two days after an earthquake struck Gujarat in January 2001, Nita Ambani flew into Anjar armed with relief supplies and words of encouragement. While the devastation moved her, it didn't petrify her. How? Only three years ago, she had helped her husband and Reliance Industries Chairman Mukesh Ambani, get the Jamnagar plant-devastated by a cyclone-up and running in a mere 14 days. But hers was more than just an extra pair of hands; Ambani had actually conceived the school, medical centre, and the market that the world's largest grassroots refinery built as part of its township. Apparently, that hard work has become addictive. These days, the 40-year-old trained dancer is up to her neck in work at the Dhirubhai Ambani International School that she opened in Bandra-Kurla Complex in November last year. The 1,30,000 sq ft school, which already has well-heeled parents queuing up, plans to keep children "rooted locally and yet build them into future global citizens". The school's hand-picked faculty includes PhDs and foreign-educated teachers. But then you wouldn't expect anything but world class from an Ambani.
-Roshni Jayakar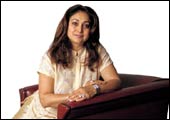 TINA AMBANI
Spreading Colours of Joy
Whenever Tina Ambani drops by at the R&D department of Reliance Industries' textiles division, she gets listened to. Not because she's the Vice Chairman and Managing Director Anil Ambani's missus, but also because she's its proven muse. Twelve years ago, the Institute of Interior Designers (Los Angeles)-trained designer helped Reliance rejuvenate a brand of premium fabric called Harmony. And for the last four years, the former Bollywood star has been the division's ambassador to the annual Heimtextil exhibition in Germany.
But since 1996, Harmony has come to mean more than just premium fabric to Ambani and hundreds of others. Every year, she organises a Harmony Show that serves as a springboard to promising artists. That's a few hundred artists who've benefited in the last eight years. Last year's show marked another turning point for Harmony. It offered the forum to Aseema, a Mumbai-based NGO that rehabilitates street children. Thanks to Harmony's support, children of the municipal school run by Aseema soon had their school building renovated. "It is Harmony for a social cause. We are able to reach out to other areas as well," says Ambani, who has two sons of her own, Jai Anmol, 11, and Jai Anshul, 7.
Harmony, it seems, finds its own natural flow. Earlier, in November 1999, Ambani organised an art auction and contributed to the restoration of Elephanta Island, a world heritage site near Mumbai. She also set up the Elephanta site museum in association with the Archaeological Survey of India, Unesco, INTACH and the Maharashtra government. In days to come, Ambani plans to do something for the elderly, although she hasn't finalised the scope or nature of the work. Says she: "At the end of the day, you feel good that you have done something meaningful and helped others." And as the gracious lady is proving, it's a wide canvas that she is working with.
-Roshni Jayakar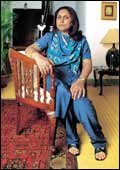 KAMINI BANGA
Perfect Complement
When your husband heads the largest FMCG company in India and you are a brand consultant yourself, there are some simple rules you need to follow. For one, no consulting for brands that conflict with those of your hubby's company. And at the Banga household, that rule is followed to the T. "For the last three years, I have not worked on brands that could conflict with Hindustan Lever's," reveals Kamini Banga, better half of HLL CEO, M.S. "Vindi" Banga. That's just as well. After all, Banga-an IIM-A grad-has been a top consultant since 1996, when she set up Dimensions Consultancy, with clients including Cadbury, Knoll Pharma, even HLL. The 48-year-old Banga has also consulted on ethnic issues for a clutch of British organisations including British Airways and the BBC. Currently, Banga-she is recovering from a surgery- is working on two books: One on leadership, and the other, a collaboration with Jerry Wind of Wharton on marketing. Also coming up is a book of poems. "It's about people like me who go through traumatic experiences. When I fell ill and realised I had malignancy, I was traumatised," says Banga. Watch out for the comeback of brand Banga.
-Roshni Jayakar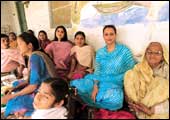 Sukanya Bharat Ram (fourth from right) with Indi Brar (second from right) at the trust campus: Making a difference
SUKANYA BHARAT RAM & INDI BRAR
A Friendly Act
To the casual visitor, the Kasturba Trust in Delhi's Bakhtawarpur Village looks like a desultory collection of hutments. But ask the 50-odd abandoned girls who live inside this modest enclave, and they'll tell you that it means the world to them. And if these girls now have a future to look forward to, it's part courtesy two friends: Sukanya Bharat Ram and Indi Brar, who've been marshalling resources to support these unfortunate girls. While Bharat Ram-wife of DCM Benetton's Vivek Bharat Ram and great grand-daughter of Mahatma Gandhi (her mother's father was Devdas Gandhi)-has been associated with the trust for the last 10 years and is now head of the Delhi chapter. Brar, wife of Ranbaxy CEO D.S. Brar, is a relatively new crusader, having been roped in by Bharat Ram about six years ago. The Bakhtawarpur trust, founded in 1945 to improve the lot of rural women, not just offers a home and vocational training courses to abandoned girls, but also operates creches for pre-school children. In some cases, it has even helped the girls wed. Says Bharat Ram, who grew up in Italy: "It's been a tremendous experience. That way, the trust has given more to me than I have to it." Adds Brar, who's a hobby interior designer and a volunteer teacher at a Delhi slum: "I saw my mother do a lot of social work when I was growing up. And I know how much a little help can mean to somebody who is desperate." The girls of Bakhtawarpur couldn't agree more.
-R. Sridharan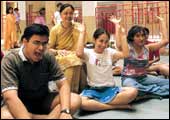 MANJU BHARAT RAM
Lesson Well Learnt
She must be every kid's dream mom. When her teenage daughter complained about the quality of education in her school, Manju Bharat Ram addressed the problem by opening a school of her own-The Shriram School. Save for the fact that it didn't have senior classes, Bharat Ram's daughter would have been the school's first student. But there are other children that the 57-year-old mother of three, and wife of SRF's Arun Bharat Ram, is making happy through her school, which, like some other progressive schools, focuses more on learning than teaching. Says Bharat Ram, who's also worked to promote the cause of rural craftsmen and the blind: "The idea is simple. To help every child realise its full potential not only in academics, but as a human being." Truly, a lesson for all.
-R. Sridharan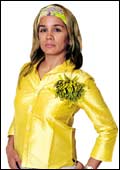 AVANTI BIRLA
Magic Mantra
For somebody with (self-admittedly) no head for numbers, Avanti Birla hasn't done too badly. Two years ago, when her global search for designer furniture yielded little that she liked, Birla-Yash Birla's better half-set up a store of her own, called Yantra. Then came Birla Lifestyle, which operates Coffee Mantra (a coffee shop), Image Inc. (a personal grooming advisory) and riah (that's hair spelt backwards), a hair salon. Says Birla: "My businesses are a desire fulfilled." As any CEO will tell you, get the business right, the numbers will take care of themselves.
-Swati Prasad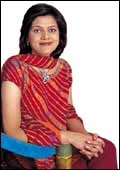 NEERJA BIRLA
Art For Heart's Sake
Every month, Neerja Birla takes it upon herself to fulfill the wishes of as many children as possible. Often, the wish is modest-a Barbie doll, a pc, a music system or a bicycle. Just the same, Birla takes the requests very seriously. For they come-through the international Make-A-Wish Foundation-from children between three and 10 years of age who are terminally ill. "Children are close to my heart. Anything that will get a smile on their face means a lot to me," says the 32-year-young and charming Birla, wife of A.V. Birla Group Chairman, Kumar Mangalam Birla. That's one reason why she's pushed her husband to set up a world-class, 67-acre, higher secondary school in Bangalore. Scheduled to open in June 2004, the school aims to help students reach their maximum potential.
But education is just one of the many things the multi-faceted Birla does. When she's not busy with her two children (Ananyashree and Aryaman Vikram), Birla is busy generating ideas and setting direction for Birla Academy of Art and Culture in Mumbai. Although she has no formal training in arts, she's picked up enough on the job and today is an avid enthusiast along with her husband. The family often visits the academy on Sundays, and at other times hops galleries across the city whenever exhibitions are on. "To me art should be visually attractive," says Birla. Like the hugely successful Art Access Week that she organises annually to showcase a wide range of creative expressions in every medium and style.
In between all this, Birla-to whom family always comes first--also finds time to help out the Cancer Patients Aid Association and The Akansha Foundation, an NGO that cares for slum children. Still, Birla has many more plans that she says are still evolving. Godspeed.
-Roshni Jayakar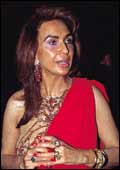 PARMESHWAR GODREJ
Style Czarina
It's been a few years since Parmeshwar Godrej gave up interior designing as a business. Not surprised? Try this: Did you know that for the last 13 years the wife of Godrej Group Chairman Adi Godrej has been supporting a street kid named Sanjay. Or that she's helping friend Michael Kadoorie to get the Sir Elly Kadoorie School for the poor in Mazgaon, Mumbai, going? Or that she is on Richard Gere's foundation to combat Aids. No? Now you do.
-Roshni Jayakar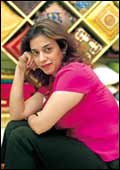 PRITI HIRANANDANI
Cottage Culture
Fancy carved neem (azadirachta indica) pencils? Head for Priti Hiranandani's The Culture Shop in Powai's tony Galleria. And that's just one of the many curios that the 40-year-old's ethnic warehouse stocks. But how does real estate-her husband Surendra is part of the realty Hiranandani family-mix with Indian handicraft? "It started as a hobby," reveals Hiranandani, "and it was my husband who encouraged me to convert my hobby into a business."
Although the shop has an upmarket address, it is targeted at all and sports items priced from Rs 40 to Rs 4 lakh. "It's a myth that art is elitist," says the mother of three. The shop has its own vendors (20 at last count), but Hiranandani and three of her colleagues travel to different parts of the country to find "artifacts that are not very commonly found". Hiranandani's favourite hunting ground? Rajasthan. Having found a niche, Hiranandani now plans to open two more outlets in Mumbai and then move out to other places such as Delhi and Hyderabad. Popular culture? You bet.
-Brian Carvalho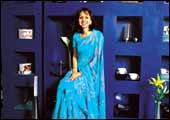 DEEPIKA JINDAL
Steeled For A Cause
She set up the Jindal Design Centre two-and-a-half years ago because, well, nobody else seemed to be doing anything to promote-yes-stainless steel. And husband Ratan Jindal, who heads a large integrated stainless steel company in India, didn't want to get into downstream products because of related headaches. So the wife came up with an idea: set up a design centre that won't just promote consumer products made of stainless steel, but actually build intellectual capital by conducting workshops for designers. In September last year, Jindal even set up a factory in Bahadurgarh (Haryana) to manufacture her range of "Art D-inox" stainless ware, which retails through a few upmarket stores in Delhi. That apart, the mother of two helps run Jindals' two schools and a hospital in Haryana. "It doesn't matter whether I succeed or fail in my venture," says the 38-year-old of her design centre, "but what does is that I tried." Indeed.
-R. Sridharan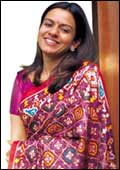 SANGITA JINDAL
Activist Art Lover
When the Jindals fly into the JVSL plant in Vijayanagar, husband Sajjan looks right to the plant and his better half to the left towards the township-her brainchild. The township, which has adopted 19 villages around the plant, received the PM's trophy this year. Says the 41-year-old mother of three: "I was always impressed by the townships and social work of the Tata and Godrej groups." In 1983, she started a school out of a flat in Vasind (near Mumbai) that now has grown into a 1,000-children-strong institution. That apart, Jindal is the President of Art India, a magazine she founded eight years ago, and a part-time activist against illegal hoardings. Incredibly, she's even found time to help a Japanese traveller launch his book on India's heritage sites.
-Swati Prasad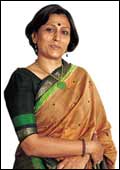 KALPANA KAR
Citizen Kar
Some people think Kalpana Kar is crazy. Can't blame them. For, every day, six days a week, Kar puts in a punishing 12 hours at the Bangalore Agenda Task Force (BATF) office in upmarket Richmond Town. In return she gets zilch. Monetarily, that is. Otherwise batf-an initiative of concerned citizens to address civic problems of the city-is almost everything that Kar, wife of Microland's Pradeep Kar, ever wanted to do. "I had achieved career and monetary success. It was time to payback my dues to the society," says the feisty 44-year-old. An M.Phil from Oxford, Kar joined the Tata Administrative Services (TAS) in 1984, and went on to work with Tata Unisys and Titan Industries. She even helped hubby set up Microland, one of the biggest networking solutions companies in the country. "I feel that competent corporate people should bring systems and processes to government machinery so that it starts delivering effectively," says Kar. Besides solving civic problems, she crusades for cancer awareness as the Director of Cancer Patients Aid Association. If making the society better is a mad venture, then Kar doesn't mind being its crazy CEO.
-Venkatesha Babu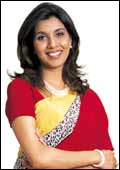 GEETANJALI KIRLOSKAR
"Action" Star
When she was seven months pregnant, Geetanjali Kirloskar rode a rickety bus to Coimbatore for a 4:00 pm presentation. Reckless? May be. But that's classic Kirloskar: Ambitious, dogged, and fearless. Today, the 36-year-old wife of Toyota Kirloskar Motor Vice Chairman Vikram Kirloskar, is the President of Lintertainment, which focuses on marketing and promotion of Hindi movies.
But it's been anything but smooth sailing for Kirloskar. Immediately after she got married at the age of 19, she left for the small town of Harihar (Karnataka), where the family had a machine tool factory. To be able to relate better to her engineer husband, she even spent seven months working on the shopfloor. Later, she signed up as a trainee at the family-owned advertising agency Pratibha, where the challenge was of a different sort. "One of my biggest challenges at Pratibha," says the fast-talking Kirloskar, "was to prove myself as a professional. And since it was a family-owned agency, I had to work doubly hard." If that meant burning the midnight oil with the others on an important sales pitch, so be it.
By late 90s, Pratibha was in trouble, and despite Kirloskar's stint as the CEO, it was apparent that its future lay in being part of a larger group. IPG bought into Pratibha spin-off Quadrant and asked Kirloskar to head it. But she quit early last year, when she found that 14 years of working had left her with little time for herself or her family. A vacation to Italy later, Kirloskar-who's also acted in a Girish Karnad movie and is shooting for a Tamil movie-returned with the idea of a Lintertainment buzzing in her head. Like they say, you just can't keep a good woman down.
-R. Sridharan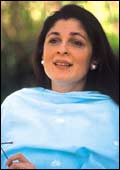 ANU MAHINDRA
Woman of Verve
In 2000, when India entered its 53rd year of independence, Anuradha Mahindra didn't go dizzy with patriotic pride. Instead, the Publisher and Editor of women's magazine Verve had the quarterly adopt six girls and sponsor their education. To those who knew the 41-year-old Mahindra, it came as no surprise. And not just because the wife of M&M Vice Chairman and Managing Director Anand Mahindra has two girls (17 and 14) of her own. Like the magazine she runs (it's aimed at the fashion-conscious but intelligent woman), Mahindra likes to keep the big picture in mind. The jet-setter socialite, whose interest in writing developed early, also manages two other publications: Interiors And Lifestyle India and Man's World. And what does she like most about her work? The range of issues she gets to straddle-from the catwalks of Paris to the streets of Mumbai.
-Shilpa Nayak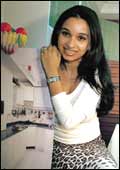 SHEETAL MAFATLAL
Closet Coup
Do up your home best, and win a company. No, that's not a zany marketing scheme, but the story in short of how Sheetal Mafatlal ended up in charge of an also-ran home products company. And under her stewardship, Mafatlal Home Products has transformed from a manufacturer of modular kitchens to a full-fledged modular home furniture company, with both retail and institutional customers. The company is also the only one to have its own manufacturing unit that uses only imported raw materials. Says travel-buff Mafatlal, whose husband Atulya is the Vice Chairman of Indian Dyestuff Limited: ''I love to do home interiors, therefore, it was easy to turn things around at MHP.'' Talk about synergies.
-Shilpa Nayak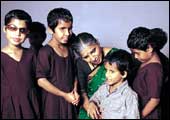 SUDHA MURTHY
Software Samaritan
Her eyes closed, Sudha Murthy is speaking into the phone to somebody in Bhubaneshwar. "Money is not a problem, it will be released as per schedule." Dressed in a starched black cotton saree with yellow border (a hand-me-down from her daughter, because it's been five years since she last bought a saree), Murthy is taking stock of a hospital that her Infosys Foundation is helping build in Bhubaneshwar. The spartan room that the Foundation's Trustee, and wife of Infosys Chairman and Chief Mentor, N. R. Narayana Murthy, occupies is barely 10x8. Her staff: all of two, comprising a personal assistant and an office boy.
But obviously, the size of her office is no measure of the work the 52-year-old mother of two does. In the seven years since the Foundation was set up, Murthy has helped build orphanages, a rehabilitation centre in Chennai for mentally retarded women, dharamshalas in various hospitals, more than 10,000 small libraries in schools of rural Karnataka, and a girls' hostel in Pune. It's the misery of the under-privileged that moves her. "For many people, money is a means of pleasure. But to me it's a tool to heal," says Murthy, who doled out Rs 8 crore from her own account last year to help Bangalore municipality build public rest rooms. Says the lady, who speaks of Jamsetji Nusserwanji Tata and J.R.D. Tata as her inspiration (she once worked for Tata Engineering): "I am not the owner, but merely a trustee of god's money." Looking at her, you know that she means it.
-R. Sridharan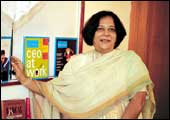 GITA PIRAMAL
Corporate Chronicler
I never thought I would be an entrepreneur, and certainly not at 47," says Gita Piramal jokingly, referring to her 15-month-old management journal, The Smart Manager. But that's not the only thing Piramal, wife of Blow Plast's Chairman Dilip Piramal, didn't think of in her life. She never thought she'd ever be a journalist (for FT, among others), or write books (seven, including the best-seller Business Maharajas), or even get a PhD in business history from Bombay University. "There's no particular ambition in me. I am a drifter," states Piramal, poker-faced. If only all drifters could be as successful.
-Swati Prasad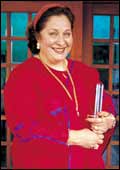 RITU NANDA
Super Agent
She's sold more insurance policies than anyone else in the country, and she was also the one to get LIC its first eight-digit policy. Yet, Nanda, better half of Escorts Group Chairman Rajan Nanda, never set out to be an insurance agent. Her first attempt at business was Nikitasha, a cooking appliances company named after her children Nikhil and Nitasha, which died a quick death. A dejected Nanda-who recently wrote her father's biography-became a homebody, until a friend suggested 15 years ago that she become an insurance agent. "People laughed when I said I was going to be an insurance agent," recalls Nanda. Today, she also runs the RNIS College, with 64 licensed branches in seven locations. And nobody is laughing now.
-R. Sridharan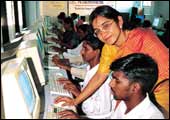 NANDINI RAJU
Binary Benevolence
At Alambana's office-cum-training centre in Secunderabad's Marredpally, about 30 children are getting their first feel of a computer. But these aren't school kids on summer vacation. Rather, they are the children of drivers, rickshaw pullers and other illiterate parents. The three-month course will train them in ms Word and the English language. And hopefully, at least some of them will do other than pull rickshaws or drive trucks and buses. Or at least that's what Nandini Raju hopes. And she may be right. Since July 2001, Alambana-it means "support" in Sanskrit, and is a trust run by spouses of Satyam Computer employees, a company headed by Raju's husband, B. Ramalinga Raju-already has "graduated" eight batches, and some of the students have actually found jobs in small companies or have chosen to pursue higher studies. Says 43-year-old Raju, a brand new mother-in-law: "We are trying to help redistribute intellectual and economic capital especially among the urban poor to achieve a more balanced society." Apart from Alambana, Raju is involved in health and environmental projects, and in guiding a school that Satyam has adopted. She set up screen-printing units in August 2001 for women to make paper bags and greeting cards, among others. Despite her son's recent marriage, Raju has no plans of letting up on her work. The Byrraju Foundation, set up by her husband in 2001, in the memory of his father, has adopted 110 villages with the idea of improving rural health and education. That should keep Raju busy for a long time to come.
-E. Kumar Sharma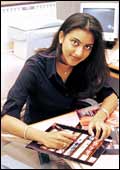 DEEPTI REDDY
City of Joy
Does it take a New York-raised, 11-year-old resident of Hyderabad to make its denizens feel proud about the historic city? Apparently, it does. Three years ago, Deepti Reddy-wife of Dr Reddy's MD & coo Satish Reddy-launched an online city magazine "Wow! Hyderabad" because there was so much happening in the city. Courtesy the dot-bust, Wow! is now an offline magazine, but very much "a long-term player," says the 28-year-old. Give her five.
-E. Kumar Sharma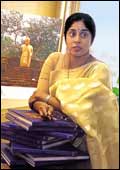 RENUKA RAJU
Temporal Pursuits
For the past one year, Renuka Raju has been sifting through data on Andhra's birth rate, migration patterns, existing school curriculum and fee. No, the Master of Education from American University isn't turning a demographer. Instead, this is the groundwork for a chain of affordable schools that she plans to set up. In between, Raju-wife of Nagarjuna Group supremo K.S. Raju-has found time to help restore an old temple destroyed in the 16th century. "Besides rehabilitating an important local deity, the project will spur local tourism and, hence, the economy," explains Raju, who is also a director of the group-promoted management academy. Another project on her plate: marketing of Bohemian crystals, for which she has tied up with manufacturers in Eastern Europe. "I'd rather spend my time with artisans than at kitty parties," says Raju. Like the other First Wives must be saying, join the club.
-E. Kumar Sharma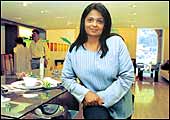 CZAEE SHAH
Happy-Go-Lucky
The menu on Czaee Shah's four-month-old nosh in south Mumbai is as unconventional as the restaurant owner. You will find the world's vegetarian food-ranging from dosas to pastas to Chinese dishes to continental fare-under the same roof. That's pretty similar to how Shah, wife of Mukand Ltd's Suketu Shah, describes herself: a woman of varied interests. From collecting art to running her business to managing her home, the 45-year-old Shah likes everything and says that all are her priorities. A bad experience with Comma, a lifestyle store she co-founded, did not stop Shah from launching Ceezee Foods, which manages Nosh. Says Shah, who's also been a writer for Marg and The Indian Express: "If I could not be an art collector, I would have been an art historian. If I could not open a restaurant, I would have been a manager at a restaurant." In other words, just do it.
-Swati Prasad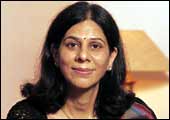 GEETA UPPAL
F For Food
At the government-run primary school in Peenya on the outskirts of Bangalore, enrollment of students last year jumped from around 500 to 800. Dropout rate, which used to be 40 per cent, has petered to around 3 per cent. Credit the change to the shy Geeta Uppal, wife of ABB MD Ravi Uppal. What did the trick? Hot food, which under an iskon project Akshya Patra, is supplied to various schools in Bangalore. For the Peenya school, Uppal cajoled ABB to be the Akshya Patra sponsor. Says Uppal, a trained child psychologist: "You can't teach to children on empty stomach." Uppal, whose two children are studying abroad, has also adopted five children, including two of her maid. Says the 45-year-old: "I feel blessed that I have an opportunity to give back to society."
-Venkatesha Babu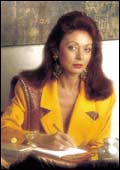 MAUREEN WADIA
Model-Maker
She isn't just the woman behind Bombay Dyeing's Nusli Wadia, but also the woman behind a thousand pretty faces-including top-notch models such as Aishwarya Rai, Lisa Ray and Aditi Govitrikar. Twelve years after she first launched Gladrags, a bi-monthly lifestyle and fashion magazine, Maureen Wadia remains a force to reckon with in Mumbai's beauty industry, even launching a pageant for married men and women. Although she inhabits the rarified world of glamour, Wadia-Lakme's first model-is hardly your typical socialite. Party regulars complain that it's impossible to get her to show up at any do. The only shows you'll likely find her in are her own. But then that, as Wadia might explain, is work.
Her public reticence is hardly surprising, considering that Wadia (of Irish descent) is still the hands-on editor of Gladrags and also in-charge of two charitable hospitals that Bombay Dyeing runs. The 57-year-old Wadia, a one-time Air India hostess, is a relative late-comer to the world of business. She didn't start working until her two sons (Jeh and Ness) were grown up. No doubt, she's making up for lost time.
-Swati Prasad