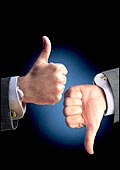 Roughly a year and three months ago, in March 2002-so begins one of the possibly-factual, possibly-fictional strands in the murky tale surrounding the exit of Britannia Industries Managing Director Sunil Alagh-the board of directors, chaired by Nusli Wadia, got a whiff of erratic and frequent personal expenditure binges embarked upon by their flamboyant, go-getting 56-year-old CEO. The expenses, goes the story, were totally out of whack with what had been approved by the Chairman, and allegedly included huge foreign exchange outgo overseas and entertainment payments. Wadia's decision to elevate Senior Vice President Nikhil Sen as coo on March 27 last year, say proponents of this theory, was motivated by this knowledge. Another story doing the rounds claims the dirt hit the fan in April this year when, in accordance with US gaap convention, the top brass at Britannia had to sign a compliance report, which stated amongst various other things that their expenditure was for the good of the company. On April 10, this version goes, Alagh was told to sign the report, which he refused. That is when, the tale concludes, the board smelt a rat, and decided to dig up Alagh's expenditure, for some reason since 1994-95.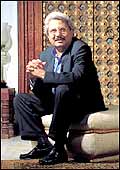 Sunil Alagh

, Ex-CEO/Britannia
The long and short of that exercise according to some of the numbers floating around is that of Mr and Mrs Alagh's total expenses between 1994-95 and 2004 (till date) of Rs 5.4-odd crore, only 1.78 crore was approved by the chairman. The remaining Rs 3.64-odd crore-allegedly incurred on varied items ranging from mobile phones to car rentals to alphonso mangoes to liquor to prawns-is apparently what Alagh used to bankroll a no-holds-barred party over the past decade. On June 4, Alagh was sacked as MD and CEO of Britannia Industries. The official reason (as told to the stock exchanges): Alagh, "as a Managing Director, had conducted himself in a manner clearly incompatible and inconsistent with the duties and responsibilities he owed as Managing Director... (and) had breached the trust and confidence...reposed in him by the Chairman and the board of directors...."
Alagh's may be a higher-profile exit of a professional CEO in recent times, but he isn't the only one to have left abruptly or before his tenure ended, or in a huff. In the West, few eyebrows are raised when a head at the top rolls, simply because there are so many of them rolling, as various studies reveal. In 2001, for instance, more than 1,000 US CEOs were sacked. Not just that, two-thirds of the world's major corporations have replaced their CEOs at least once since 1995. If CEOs aren't being sacked, their tenures are rapidly shrinking. Two years is considered long enough these days for a boss to make a difference. Back home, that phenomenon is beginning to play out as well, as promoters and stakeholders crack the whip. Dilip Pendse, Sandeep Goyal, Ram S. Ramasundar, Ravi Deol, Pavan Bhatia, and Deepak Chandnani, and at least one CEO of Fiat who obviously didn't take to India too much are just some instances of CEOs whose terms ended unexpectedly and rather abruptly. "As the divorce between management and ownership begins to play out, this will soon become a common phenomenon," says chartered accountant Shailesh Haribhakti, CEO, Haribhakti group.
WHY CEOS HAVE TO GO
GREED TAKES OVER:
Magnetic chairs, alphonso mangoes, wall paintings, prawns, liquor...we all love them. Just keep a check on the tab.
THE JOB'S TOUGHER THESE DAYS...: Shareholder value is the buzzword, and stakeholders are crying out loud for performance, quarter after quarter.


...AND THERE'S LITTLE TIME TO PROVE ONESELF:

The days of Jack Welch-like tenures at GE-or Russi Mody back home in the eighties-may well be over. Today two years is long enough.
Neither Wadia nor Alagh were available for comment (a faxed request for a meeting with Wadia went unanswered, and Sanvari Alagh, one of the former MD's two daughters, answered Alagh's mobile phone, saying that he would not comment on the matter). And as to just which of the stories and numbers floating around are true, and which aren't, your guess is as good as ours. Indeed, the mystery surrounding Alagh's messy exit, and the stories that purport to detail the run-up to it do not end there. There's one that goes that when the Danone representatives on the Britannia board (Wadia and the French foods major jointly own close to 50 per cent of the company) were told about the MD's alleged financial misdeeds, they along with Wadia thought it fit to given Alagh an honourable exit-by April 2004. What hastened the end remains a mystery. At the time of writing, the Britannia board had decided to appoint an independent firm, C.C. Choksi & Co., to undertake an independent examination of relevant papers and material and to submit their report to the board.
If the stories floating around about Alagh's alleged binge are even remotely true then the monies involved aren't as important as the frequency with which he misused his office. One detail concerns a personal party masquerading as a sales conference; another, a distributor meet that never happened. Alagh also stands accused of gold-plating branding and sponsorship deals with producers for serials, a few of which had his wife as a co-actor.



Dilip Pendse

,
Ex-CEO/Tata Fin.



Ram S. Ramasundar

,
Ex-CEO/Electrolux Kelvinator
Whilst Alagh has chosen to maintain a stony silence even as the accusations flew thick and fast last fortnight, at least one of his friends came to his defence. Satish L. Maneshinde, a Mumbai advocate who has represented Alagh on an earlier occasion-he stresses that he's not going to be Alagh's counsel this time round-says the board and the auditors owe an explanation to Britannia shareholders. "What were they doing for all these years? When the financial position of the company was put to vote, were they signing the balance sheets blindly? This seems like a witch-hunt." Adds Sandeep Farias, Head, Corporate & Securities at law firm Nishith Desai Associates: "The board is considered as an overall supervisor. It is important that appropriate supervisory procedures are put in place in order to ensure that it lives up to its responsibilities." At the time of writing, Maneshinde was threatening to give the story a twist by saying he was considering representing "certain shareholders formerly in control of the company, who had approached him" to take action against the Britannia board.



Ravi Deol

, MD/Barista



Sandeep Goyal

, Ex-CEO/Zee
It's now up to C.C. Choksi & Co to do its bit. To be sure, the former Britannia CEO isn't the first to feel the heat from charges of financial chicanery. Just as Alagh was at one time Wadia's blue-eyed boy (having played his part in ousting former controlling shareholder, the late Rajan Pillai) Dilip Pendse, the former Tata Finance MD, enjoyed the confidence of Ratan Tata. Tata's trust was belied, as it seems is Wadia's. The similarities end there. Pendse was slapped with charges of cheating, falsification of accounts and criminal breach of trust.
Whether Pendse became the fall guy can't be said for sure, but experts point out that India Inc is littered with carcasses of CEOs who abruptly fall out with their promoters. "Often owners almost act like a mower. Whenever the CEO raises himself and the company into a new orbit, the owner feels threatened and the CEO gets chopped off. That's when the real value of a professional CEO is seldom understood," points out Sunit Mehra, Country Head of headhunting firm Hunt Partners.
EXCESS STORIES

Enron's Jeff Skilling

WorldCom's Bernie Ebbers

Tyco's Dennis Kozlowski

If you think Indian CEOs (or some of them) lead extravagant

lifestyles at the cost of the shareholder, think again. Everything pales in comparison with the high-jinks of a few CEOs in the West-particularly with the excesses of one Dennis Kozlowski, former Chief Executive Officer of Tyco International.

The Enrons and the WorldComs may have all had their trysts with corporate notoriety, but Kozlowski easily takes the cake- make that a giant cake with exploding breasts, along with one part of the male anatomy that normally isn't waved about. That cake was reportedly a part of the $2.1-million party Kozlowski had to usher in his wife's 40th birthday.

Kozlowski, needless to say, got the boot. (For good measure, the Securities & Exchange Commission slapped the former CEO and two others of the Tyco top brass with civil fraud charges, for allegedly failing to disclose multi-million dollar loans taken and, in some cases, never repaid).

Chief executives in India may just be beginning to come under fire, but if what's happening in the West is any indication, the heat has only just entered the kitchen.
Mehra adds that the concept of a professional CEO is new to India. But then there are those promoters that appear to already have had enough to do with them. Subhash Chandra, for instance, after a longish experiment with professional managers, has decided that the reins are best in his control. The founder-Chairman of Zee Telefilms is now the hands-on CEO too. Another family member Lakshmi Goel was appointed head of the news channels. Sandeep Goyal, the last professional CEO to grace the Zee headquarters, survived a little over a year, having made little progress in redeeming the beleaguered broadcasting giant. Goyal declined to comment to BT as he was still working with Zee in an advisory capacity.
Sometimes the vision of the CEO may be in total divergence with that of the promoter, which actually can make you wonder whether the latter was sleeping during the job interview. Or perhaps he just forgot to ask that relevant question. Sometimes, though, shareholders keep changing and you can't blame any single party for the misunderstanding. Consider the case of Barista, which has Tata Coffee as a 34.32 per cent shareholder and-not for too long, though, he's off in August-Ravi Deol as its MD. The Tatas were unhappy with Barista's losses and its business model. The Tatas pushed for a franchisee-led expansion, which Deol was apparently against, at least initially. Deol insists that his relationship with the two major shareholders (promoter Amit Judge and Tata Coffee) are "very fine", but sources point out there was a divergence of view with at least one of them. Industry observers reveal that one of the shareholders was keen to see the last of Deol. The official line, according to Tata Tea (Tata Coffee is a subsidiary) Managing Director H.R. Khusrokhan, is that "Deol completed his three-year contract" and moved on.



Pavan Bhatia

,
Ex-CEO/Domino's



Harpal Duggal

, Former CEO and Partner/Optimus
Another CEO faced a similar fate. Pavan Bhatia's 18-month stint as CEO of Domino's Pizza India came to an abrupt end in May 2001. His strategy for expansion (he quadrupled Domino's outlets from 25 to 100 during his tenure) was junked by the company's board, 'encouraging' Bhatia to leave. Bhatia was not available for comment and Optimus' former CEO and Managing Partner Harpal Duggal quit, claiming Polaris hadn't coughed up the promised sweat equity.
Of course, no promoter likes red on their balance sheet. Chances are the rate at which that blot keeps expanding would be in proportion to the number of headhunters the CEO sounds out. Electrolux Kelvinator, for instance, was saddled with a Rs 144-crore loss on a turnover of Rs 463 crore. Ram S. Ramasundar quit the company after a five-year stint as CEO last November. The loss might have been just one reason for his exit. "There were hidden liabilities, bad debts, huge accounts receivables and bad stock," says a top source at the company. AB Electrolux did not want his leaving to be abrupt, and that's why Ramasundar was asked to fill the post till a new CEO was found. Ramsundar rubbishes this theory. "I had spent five years with the consumer durables industry and wasn't happy with the growth rates. It was an unprofessional industry, and I did not want to take all that stress and strain. I was asked to stay back, in fact Electrolux was even considering a Far Eastern posting for me, but I said no," he says.
Clearly, the CEO's perch has never been as precarious before. Promoters are quick to clip wings of power-struck professionals, the greedy have to now factor in audit committees, disclosures and transparency, and what's more they'd be foolish to expect the promoter to do a clean-up job when they dirty their hands. At the same time, the job's getting tougher these days as stakeholders bay for either performance or blood. And to top it all the CEO doesn't have all the time in the world to deliver those results. Still eyeing that corner room?
WHAT RECRUITERS WANT FROM ASPIRING CEOS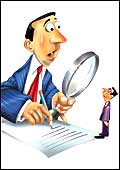 KEEP THOSE HANDS CLEAN: A clean image right throughout one's career is a must. Just being on business magazine covers isn't enough (or is it?)

GET IN AND DELIVER: Today's CEO isn't going to be around for ever. On an average he has two years to prove himself. Five-year terms aren't to be taken for granted any more.

BE PREPARED FOR ONE-TIME ASSIGNMENTS: Willing to turnaround a company in 18 months-not a day more? Perhaps there's a mandate for you somewhere out there.
A CEO'S SURVIVAL KIT
IS IT WORTH IT: It's easy to (mis)use power for material benefits when at the top. But think what could happen to you-and your family-if the dirt hits the fan.

STRATEGY IS FINE, BUT PEOPLE MATTER TOO: Yes, you've got it all figured out, but make sure you have the right people around you-and treat them right.

KNOW WHEN TO LET GO: Fine, things aren't working out. Don't waste time planning how to extend your tenure. It won't work.