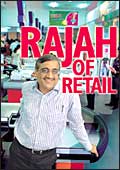 Pantaloon's Biyani: Defied skeptics to emerge as the #1 retailer in seven years flat
It's manic Monday at Knowledge House. Standing behind his desk, Kishore Biyani is answering e-mails on his compact Sony Vaio hooked up to a 15-inch Flatron monitor, simultaneously talking on the phone and sipping tea, when one of his two cellphones rings. Few conversation bursts later, he clicks it shut and barely has he turned, fists on the table, towards this writer to guide him through the de rigueur PowerPoint corporate presentation, that coo Ved Prakash Arya pops in his head to say that everybody is waiting in the boardroom for the Monday review meeting. Wearing an open collar sky-blue Arrow shirt, navy blue trousers and a disarming smile, Biyani doesn't have any of the craggy patrician features and commanding presence one typically associates with high-powered corporate CEOs. The energy and sense of purpose on the second-floor corner room of Pantaloon Retail's corporate headquarters-tucked away in the far-flung Mumbai suburb of Jogeshwari, best known for its theme park Fantasy Land- though, is very palpable and real.
For one, the ideas just keep gushing out-spouting as if from the proverbial fountainhead. Flagship brand Pantaloon is in the midst of a brand overhaul. Perceived as a men's apparel brand, the lifestyle format is being worked upon by two design teams. "It has to be fashionable, youthful and fresh," Biyani is emphatic, doodling furiously with a pencil on an A4 pad. Then there is his dream mall: a 350,000 square feet (sq. ft.) shopping space filled entirely with his own brands and services-Pantaloon, Big Bazaar, Indigo Nation, Planet Sports, quick service restaurants, Marks & Spencer (M&S), and food courts. Brands, retail and real estate; Pantaloon's three growth engines coming together as one. Squibbles, scratches, and circular lines... the doodling continues.
Then there is Home Town. The first 250,000-sq. ft. home store shall open in nine months and stock everything from white goods, furniture, hardware to electricals, besides offering property services. Five stores are planned in quick succession, involving an investment of Rs 250 crore, against projected revenues of Rs 1,500 crore. By the time Biyani, who calls himself Chief Knowledge Officer, has moved to outlining the contours of his proposed Rs 250-crore real estate venture fund, Kshitij, two scribble-covered sheets lie torn and crumpled beside him. Questions about how these towering ambitions are to be funded are dismissed with his characteristic entrepreneurial flourish. "Raising finances has never been an issue with us," he says.
PANTALOON RETAIL:

Mistakenly perceived as a men's store, the lifestyle chain is being repositioned to appeal to younger shoppers

CENTRAL:

Malls is another area where Biyani has big plans. He has floated a company to develop retail properties
But then again, the 43-year-old has always thought big, and won. Pantaloon Retail, his listed company, expects to close this year with a turnover of Rs 1,100 crore-for perspective, last year revenues were Rs 650 crore. Go back not too far-1997 actually-and you'll find that Pantaloon has grown from being a three-store retailer with just Rs 60 crore in revenues. Yet, when the financial year ends in June, Pantaloon Retail would be spread over 2.2 million sq. ft. and 75 stores across 12 cities. In fact, these days it's not unusual to hear senior managers talk of working towards a revenue target of $2 billion (Rs 8,800 crore) and a sprawl of 10 million sq. ft. within the next four years.
Coming Into His Own
A little over seven years ago (August 1997, to be precise), when Biyani opened his first Pantaloon family store in Kolkata's Gariahat, few retailers could have dreamt that the commerce graduate, who started off with an investment of Rs 7 lakh and capacity of 200 trousers a day, would rise so rapidly. When Biyani talked about his "pan-Indian retailing model", reactions ranged from good-humored incredulity to downright derision. That is, till Biyani proved them wrong. Take the test case of Kolkata. He invested Rs 5 crore in the first Pantaloon store, including a Rs 40-lakh promotional campaign-unheard of for a retailer with just one store. Surprisingly enough, the response was overwhelming. With daily footfalls of over 1,200, it notched up Rs 10 crore in sales in the first year. Small wonder, the hard-nosed businessman still has a soft corner for Kolkata. In quick succession, Biyani opened two other Pantaloon stores, followed by the first Food Bazaar. His transformation from a manufacturer-he'd started off in the family textile trading business-to a retailer had begun.
BIYANI'S GET-BIG-QUICK STRATEGY
The good and bad of it.
The Pluses


+ Has built up scale faster than any other retailer
+ Is willing to experiment and make bold bets
+ Has "Indianised" all accepted norms of global retail
+ Focussed more on what matters to the customer

The Minuses
- Stretching his resources thin with diversifications
- Is still largely a one-man show, although that's changing
- Hasn't yet invested in IT systems in a big way
- Not spending enough time on consolidating the business
On the face of it, there's hardly anything outstanding about Pantaloon Retail's business model. It's a fairly textbook, multi-format store, though heavily Indianised and focussed on the mass consumer. What's different is the combination of old-fashioned entrepreneurial abilities (like being able to read the consumer's mind, taking gigantic risks coupled with shrewd business sense) and excellent networking that's swung the fortunes in Biyani's favour. Says Shashi Kumar, General Manager, The Hub, a 2.5-lakh sq. ft. mall at Goregaon, Mumbai, who used to work for Shoppers' Stop: "More than a pure retailer, he is an entrepreneur, completely unafraid to use unconventional methods to achieve his goals, while keeping the bigger picture in mind."
In fact, Biyani-who says he can size up a person in the first few seconds-has an uncanny ability to gauge what the consumer is really looking for. So, while many competitors were blindly trying to apply Western merchandising and retailing models in the Indian marketplace, Pantaloon zeroed in on one single attribute: the average Indian consumer's obsession with bargains. This was the single platform around which he built both his value businesses: Big Bazaar and Food Bazaar. He also wagered on the fact that in-store ambience per se doesn't matter if there's enough discounting happening. Ergo, Big Bazaar can get away with stockpiling everything from plastic containers to loose rice in gunny bags, reducing the aisle width to just about fit in a cart.
As any retailer will tell you, it's the combination of efficient merchandising (buying and promoting the goods the stores carry) and operations (running the stores) that makes a successful retailer. Biyani, ever the contrarian, has always believed that once you get the merchandising right, the rest fall into place. And once convinced, he backs it up with full financial might. Within six months of the Kolkata Pantaloon launch, he had rolled out Hyderabad and Nagpur, investing a further Rs 5 crore towards an untested format. In October 2001, three Big Bazaars were rolled out in the space of 22 days. The 50,000-sq. ft. stores stocked anything between 80,000 and 90,000 SKUs (stock keeping units) and involved investments of Rs 10 crore each. This was followed by a similar flurry of Centrals-125,000 sq. ft. seamless malls in Bangalore and Hyderabad (250,000 sq. ft.), with one in Pune coming up next month.
BIG BAZAAR:

Firmly positioned as a value chain, Big Bazaar and Food Bazaar focus not so much on consumer comfort as savings. They symbolise Biyani's retail philosophy, which is essentially "pile them high and sell them cheap", like Wal-Mart's Sam Walton once said
How does Biyani manage to be fast and decisive? By relying primarily on his gut and instinct, cultivated by observing and interacting with thousands of customers over the years. While many consider this foolhardy, it seems to have paid off handsomely. So, while other retail chains spent months crunching numbers, poring over spreadsheets trying to factor in catchment areas, approach infrastructure, socio-economic profiling, all it took Biyani was a walk round the block to identify the most critical factor in the retail business: location.
Relying often on gleaned insights like the fact that while most people prefer to do their everyday shopping in the neighbourhood, they like to head farther off when it comes to satisfying their aspirational needs, Pantaloon managed to lay hands on prime properties. Going against popular perception has not just fetched him favourable rates, but also earned the goodwill of mall developers like Atul Ruia of Phoenix Mills who even today remains a close friend. Mid-February, Biyani cemented the friendship by picking up a 16 per cent stake in Mumbai-based Ruia's Galaxy Entertainment, which owns sports bars and bowling alleys.

FoodWorld (Raghu Pillai, President & CEO, seen here) possibly best understands large format food retail, but has been slow to expand nationally
Big Gets Bigger
Today, even competitors privately admit (though most of the large retailers Business Today approached for this feature refused to comment) that Biyani's bets have paid off. His retail empire successfully rests on four robust formats: Big Bazaar hypermarket, the food and grocery business Food Bazaar, original brand Pantaloon and "seamless malls" Central. Arvind Singhal, Chairman of retail consultancy KSA Technopak, who till a year back felt that Pantaloon was doing nothing right from a classical retail point of view, is today a convert. "Closest to achieving economy of scale, national footprint, widest share of consumer spending basket (food, groceries, clothing, house wares, accessories), extraordinary dynamism and entrepreneurship, lightning fast execution, and very good performance of the stock in the last 12 months allows great flexibility in raising further capital to fund growth," he points out.
And growth for Biyani shall come from a larger share of the Indian aspirational consumer's wallet. Currently, Pantaloon claims to have a little over half the consumer wallet, through offerings in the food, apparel and home need segments. Biyani plans to up this significantly by entering new formats like home improvement, leisure and entertainment, and specialty stores. So, be it indoor cricket or an Indian alternative to coffee chains like Barista, Biyani's proposed ventures are once again unconventional. Says a senior manager with a South India-based retail chain: "Whether he'll be successful in all areas depends on how success is defined. Even if he succeeds in three out of six, it will still be a success and he can always quit the unsuccessful ones by about 2008 or 2009."

Shoppers' Stop (MD & CEO B.S. Nagesh seen here) is the biggest player in department stores, and plans to expand following its IPO
Among the experiments planned is a "farm to plate" format in food retail, which currently accounts for a fourth of Pantaloon's revenues, but is expected to drive future growth. The new strategy involves, at one end, getting into contract farming and private labels and, on the other, offering adds-ons such as freshly ground spices and wheat, bakery, and takeaway gravies. Once again, it's a typical Biyani brainwave: unorthodox, but based on a shopper's real needs.
It's lunch time. Biyani, accompanied by coo Arya and four family members (elder brother Vijay handles banking relations and Anil looks after production; cousin Rakesh is in charge of Central and brand relations while another cousin Sunil handles production), is sitting down to a pure vegetarian Marwari lunch. As the little steel and glass bowls move around the revolving table, most of the talk centres around shops and how they're doing. Biyani and his family as promoters hold 40.48 per cent of the Pantaloon stock, which in the last one year has soared from Rs 297 to Rs 836. This values Pantaloon at Rs 1,679 crore (as on February 16) and pegs the value of the Biyani family's holding at Rs 680 crore. Kamlesh Ratadia, Analyst at Mumbai-based Enam Securities, sums up the appreciation succinctly: "Valuation is a function of ideas, execution and scalability, and Pantaloon scores highly on all the three parameters."
Meanwhile, Biyani is working hard to remove the perception that Pantaloon is a one-man show. Realising the importance formalised structures and technology will play as it takes the next leap forward, he's begun to put together a core team of professionals, typically drawn from top-notch FMCG companies (see Biyani's A-Team). But what's really brought Pantaloon into the public eye is the series of high-profile deals it has recently pulled off. Pantaloon Retail acquired a majority stake in Bangalore-based Indus League Clothing, paying Rs 24.09 crore for a 68.29 per cent stake. In a single stroke, Biyani has gained access to a 60,000-piece-a-day manufacturing unit at Bangalore and, more importantly, two strong national brands, Indigo Nation and Scullers, which will help Pantaloon position itself as a branded apparel player.
Biyani's Inspiration:


The Man From Bentonville
Secreted away somewhere is a heavily underlined (and dog-eared) copy of Sam Walton's classic, made in America. One of Biyani's treasured possessions, it is said to contain the secrets to his retailing success. And what Sam could not teach the 43-year-old commerce graduate from Mumbai's HR College, the streets did. Organising sponsorships for dandiyas, trading textiles to selling denim, he has done it all. Hailing from a conservative Marwari business family-he still stays in the same Napean Sea Road flat with his brothers and parents-Biyani says it's a combination of luck and being a contrarian that has helped him get where is. While he travels nearly three days a week, he still sticks to his daily regimen of 40 minutes of yoga and an evening walk along with his strict adherence to a cheese- and butter-free pure vegetarian diet.

A voracious reader-he gave up reading fiction 20 years ago-he's a die-hard fan of management and motivational literature. Influenced by writers like Stephen Covey and Anthony Robbins, framed pictures of whom grace his office walls, Biyani picks up a topic for a year and reads all the available material on that. This year, it's design management and change that's caught his fancy. While most mornings are spent in meetings at Oberoi's Belvedere or Taj's Chambers, which double up as a second home, he likes to reach home by nine, to spend evenings with wife Sangeeta, who runs a wedding decorations boutique, and daughters Ashni (19) and Avni (14). Apart from a few childhood friends, Biyani nowadays spends most of his time with real estate developers like Atul Ruia of Phoenix Mills or Pia Singh of DLF. The two Hindi movies he's produced may have bombed at the box office, but he still rates cinema as the best form of creative expression.
Then there was the 49 per cent it acquired in Planet Sports, the sole franchisee of M&S, which also holds distribution and licensing rights for sports brands like Wilson, Puma, Speedo and Converse. In terms of outlets, there are six of M&S and 25 of Planet Sports. Says KSA's Singhal: "While one gives him an excellent vehicle for acquiring and managing brands, the other fills gaps in his product portfoliio." Before the ink could dry on this deal, Biyani sold 4.98 per cent stake in Pantaloon to media giant Bennett, Coleman & Co. for Rs 70 crore. While Biyani says it's purely a financing arrangement (money in return for stock), insiders say that a tacit understanding has already been reached with the publishers of The Times of India that of the Rs 80-90 crore Pantaloon plans to spend next year on advertising, a significant portion (Rs 15-20 crore) would be given to them. Finally, with a stake in Galaxy Entertainment, Biyani will get to go after the leisure and entertainment segment, which is said to account for 6 per cent of the aspirational consumer's spend.
Competition Ahead
Such aggressive deal-making is what could hold the difference between survival and death. With almost all large retailers stepping up growth plans, the Indian retail space is getting increasingly competitive and will become cut-throat, with foreign direct investment almost certain to be allowed in. Shoppers' Stop, still the leading departmental store in the country, has a formidable presence in clothing and accessories, especially in the metros. Armed with an incisive customer database and strong technology backbone, the K. Raheja group company, whose Red Herring prospectus has already been filed with the Securities and Exchange Board of India, is sure to kick off growth once its initial public offer comes through.
Then there is the Dubai-headquartered Landmark Group's Lifestyle. With a successful presence in the Middle East, it straddles a product portfolio ranging from clothing and footwear to house wares and accessories. Often said to have a format closest to Pantaloon, its Baby Shop and HomeCare concepts hold tremendous potential. While predominantly in South India, RPG Retail's FoodWorld has a good grip on the large format food and grocery retailing. However, it does not see itself taking on Pantaloon headlong. Says Raghu Pillai, President and Chief Executive, RPG Retail: "Our strategy is to look at higher share in the total grocery spending of the consumer, whereas Big Bazaar with its portfolio of businesses is aiming at the share of the wallet." Westside, promoted by the Tata Group company Trent, is a competitor too. With a successful mix of private labels and national brands, Trent is said to have one of the best operating margins in the lifestyle segment.
Biyani's

A-Team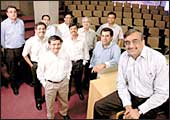 The man and his men: Biyani with COO Ved Prakash Arya (second from left, rear) and other key executives
Today I'm looking for people who can control me," says Kishore Biyani. These are strange times at Pantaloon. For someone who's publicly stated that he lays little store by an MBA degree, five IIM graduates (no less) have come aboard recently. As have 52 assorted MBAs and 36 chartered accountants. Over the next 15 months, employee strength at Pantaloon shall double to 14,000. Pantaloon's entrepreneurial energy, street smarts and can-do attitude is clearly being supplemented with more formalised skills and learnings. Heading Biyani's professional line up is Chief Operating Officer Ved Prakash Arya, the 35-year-old former head of retail house Globus, who came aboard a year back. C.P. Toshniwal is an old Biyani hand and bears the critical designation of Head (Corporate Planning). Supplementing Toshniwal's analytical and logistical prowess is Sanjeev Agrawal, Head (Marketing), who has 14 years of experience in FMCG biggies like P&G and HLL. Bina Mirchandani, an MBA from Jamnalal Bajaj, is Category Manager-Pantaloon and, with over 25 years of experience in merchandising, is responsible for apparel procurements, as is Rajan Malhotra who heads the same function for Big Bazaar. Chinar Deshpande, the 36-year-old Chief Information Officer whose 14-year stint includes assignments in the US, is responsible for automating the entire value chain as efficiently as possible. Then, there's Rakesh Mittal, who heads manufacturing, while Hans Udeshi heads general merchandise at Big Bazaar. Swelling the ranks are FMCG veterans like Damodar Mall, a former business head at HLL's Sangam Direct, who joined as President (Foods) a few days ago. Representing the family are elder brother Vijay who handles banking relations, and Anil who looks after production. Cousin Rakesh is in charge of Central and brand relations while another cousin Sunil handles production.
Retailers, especially in a price-sensitive market like India, make money from making the supply chain more efficient. Through a combination of cutting costs and sweating assets, it's possible, say industry experts, to improve the return on capital (roc) by 10-12 per cent, which for an efficient retailer should be 30-40 per cent. Thus optimum inventory stock, maximising realisations per square feet, identifying products with highest margins, and ensuring depth and width of products is the name of the game. Says Ireena Vittal, Partner, McKinsey: "Retailers need to not only understand and roll out successful formats, but also constantly replenish them with newer formats."
In other words, there's much more to retail than piling them high and selling them cheap. To be successful, retailers will need to renew formats quickly, as formats that earlier lasted, say, 10-12 years, today burn out in three to four. Here Biyani will need to be on his toes. But as global experience in the industry shows, it's often easier to get a format wrong than right. There are inherent risks to building a super-sized retail empire. The retailer must learn to strike a balance between economies of scale and regional (even store-wise) disparities. In addition, when retailers ramp up in anticipation of a consumer boom like what India is currently experiencing (see I'll Take Two, page 80), they must know how to manage when there's a downturn. That's what differentiates a Wal-Mart from a Kmart. At the moment, though, the only risk Biyani's Pantaloon seems to run is of growing too fast, too soon.