Consumption paradise: From shoes for kids to a second car, home loans to eating out, trips to the ATM to indulging that impulse or just hanging around burning some money at malls, Indians are doing more of everything. No one is complaining
We are not a billion hungry, starving people anymore," says Captain G.R. Gopinath. He pauses for effect, smiles to let you know that the punchline is coming, and delivers it with the smugness that's only natural in a man who launched India's first discount airline Air Deccan (he is its Managing Director) 17 months back and proved cynics wrong with a business model that, well, flies. "We are a billion hungry consumers."
That original quote brings us to the original question: Is it boom-time? Or, actually, what characterises a consumption boom? Is it when factories start running out of capacities, companies scramble to expand, and jobs are aplenty? Is it when consumer sentiment, already high, looks set to go higher? Is it when markets, across geographies and product categories, stop worrying about what the government is doing to make lives better, and grow, and grow? Or is it when marketers, always quick to congratulate themselves for excellent marketing strategies, admit in a rare moment of truth (brought about by happiness) that sales will continue to grow even should they stop all promotional activity?
This writer is saved the trouble of picking from the alternatives: everything, you see, is happening all at once (see Indians Are Buying More...). It's the season of plenty in all consumer markets in India, and everyone is invited to the party. "Sales have risen this year, despite no help from the government in terms of reducing the excise duty," says B.V.R. Subbu, President, Hyundai Motor India, with the fact that car sales crossed the million-units-a-year mark for the first time in 2004 backing up his statement. An obviously buoyant Motown has lined up a car launch every 10 days in 2005. "The mood is more upbeat," adds Raghu Pillai, President (Retail), RPG Group. "At some level, supply is creating its own demand."
With 50 malls up, and another 250 set to mushroom across the country over the next three years, the organised Rs 28,000-crore retail industry is growing at a scorching pace of 25 per cent and more; by 2008, this, reckon experts, will be a Rs 1,00,000-crore industry. Yet, high-street sales have not suffered, with Delhi's Connaught Place, Mumbai's Linking Road and Bangalore's Brigade Road thronging with shoppers, and not just those of the window variety. "I would say that the strong underlying buoyancy in the consumer market is lifting sales for everyone," admits Ajay Kaul, CEO, Domino's India.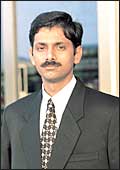 "Over the last five years, 20 million households have been added to the upper middle class"
V. Vaidyanathan
Senior GM and Country Head (Retail Banking)/ ICICI Bank
Should you care to listen (shopping, after all, is a time-consuming activity), marketers will tell you that the growth, for the first time ever, is secular, across regions and across cities of all sizes. "What's remarkable is that virtually every state has come to the party," says Atul Sobti, Executive Director, Hero Honda. "Right now, we cannot make enough motorcycles to meet demand." This, when the company sells 230,000 motorcycles every month. This time, goes the consensus, the growth is real.

An Ideal Recipe For Growth
First, this boom is not hype-led, for marketing activities are merely following the boom, not causing it. "Over the past year, marketers have slowly realised that it is time to invest in the brand, once again, beyond promotional advertising," says L.V. Krishnan, Chief Executive of tam, a media monitoring company. Cautious marketers have first read the signs of growth in the market, and only then decided to invest either in upping capacity or in communicating more aggressively with consumers.
They didn't start the fire, but they sure are fuelling it now. Everyone, from Hero Honda to Hyundai to LG to Samsung to even companies in the until-now-growth-anaemic Rs 48,000-crore fast moving consumer goods industry such as Hindustan Lever and Britannia, is engaged in capacity-expanding exercises. The past year has seen an average increase in the length of commercials from 21 seconds to 23 seconds, across channels and across categories (given that media rates are always on the up, that's a big deal). And as many as 33 new television channels were launched last year, in genres as varied as news, kids, lifestyle, reality, nature and history. Why, even the expansion-shy print media saw action, with newspaper groups reaching out and launching or planning editions that will make them truly national in reach.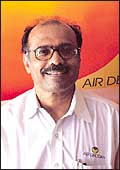 "We are not a billion hungry, starving people anymore. We are a billion hungry consumers"
Captain G.R. Gopinath
Managing Director/Air Deccan
Second, this boom has slowly crept up on us, and has been built brick-by-brick, not landed like manna from the heavens. "We as a country never had a prosperity plan but now, by sheer momentum of synchronous individual bits of action, we find ourselves in the middle of one," says Santosh Desai, President, McCann Erickson. Irrational exuberance, this isn't. "I have never felt this upbeat in the last 22 years I have worked in this country," says Nitin Gupta, Country Manager, MasterCard. And even marketers in categories that are, well, not-so-hot, are looking happier.
Consider the Rs 20,000-crore market for televisions, washing machines, refrigerators and air conditioners, which grew at about 6 per cent in 2004 and saw price erosion across categories. "There is a new wave of change and everything is moving well," says Ravinder Zutshi, Director Sales, Samsung India. Growth in this category is, at this point in time, characterised by islands of opulence such as the markets for frost-free refrigerators, flat- and plasma-screen televisions, fully-automatic washing machines and the like, but marketers like Samsung expect the rest of the market to do well soon. "An EMI-led sales pitch, which most durable marketers have caught on to, will be a major trigger for growth now on," say Soumitra Ghatak, Head, Sales & Marketing, Godrej Appliances. "Today Barista as a brand is growing organically, and that says a lot," says Brotin Banerjee, Chief Operating Officer, Barista Coffee Company, a 120-store chain. That says a lot, not just about the fortunes of the otherwise troubled pioneer of the coffee café culture in India, but also on the state of the consumer market in the country. At Barista, walk-ins are up 20 per cent, and spends, by anything between seven and 10 per cent. Almost everyone else in the services business, hotels, restaurants and airlines, speaks of organic growth too, at rates exceeding 20 per cent. "Even one-two years ago spending Rs 30 on a cup of coffee was a no-no. Today, Barista is not considered expensive," adds Banerjee. Everything is within the Indian consumer's grasp now.

The Basis Of It All
With India's top 2,046 companies, cutting across sectors, adding over 74,075 new jobs in just three months, January to March 2005, according to a survey by Ma Foi, a Chennai-based staffing major, things are looking good on the jobs front as well. Employee stock options are back in fashion as talent retention becomes imperative in the face of a virtual business explosion. "The atmosphere at most companies is changing. Offices are becoming more relaxed and employers have also started giving softer perks like funding children's education abroad and paid holidays," says Mohit Mohan, Vice President, Gilbert Tweed, a headhunting firm. Suddenly, the organisation seems to have become a friendlier face, with some even while throwing those gentle, no-poaching agreements between rival firms into the bin. "Employees come to us from anywhere; we believe in an individual's right to choice and livelihood," says the communication head of a Mumbai-based major business process outsourcing (BPO) firm. "I see the IT sector driving consumer confidence," adds Jerry Rao, Chairman and CEO, Mphasis. "Banks, for example, are giving out consumer loans more freely; the growth of it means benefits are also percolating to smaller cities." The man is right. The 40 per cent growth in the Rs 1,40,000-crore consumer loan market for anything (from homes to audio systems) comes largely from the new consumer. "Over the last five years, 20 million households have been added to the upper middle class, and they have been partly responsible for this growth," says V. Vaidyanathan, Senior gm and Country Head, Retail banking, ICICI Bank. For instance, almost 60 per cent of the Rs 60,000-crore home loan market lies outside India's top 10 cities.
"Our growth has been fuelled by the middle class and we have gone about our business like a mass marketer with our average consumer spend at a mere Rs 20-25," says Vikram Bakshi, Managing Director, McDonald's India. In burger-speak, middle-class means anyone with a monthly income in excess of Rs 2,000. According to National Council of Applied Economic Research (NCAER), there are already over 50 million urban Indian households that fall into that category. In January 2005, McDonald's 67 outlets in the country sold 1.6 million burgers, 20 per cent over what it had done a year ago (which was a 40 per cent increase over the previous year). And that is just 1 per cent of the potential market. If things go well, imagine what awaits us...
-additional reporting by Kushan Mitra, Rahul Sachitanand, Amanpreet Singh,
Supriya Shrinate, and Priyanka Sangani