Yesterday Once More?
He may have been I-banker #1 last year, but that's over now.
Name: Pramit Jhaveri
Designation: Managing Director and Head (India Investment Banking), Citigroup
Age: 40
Landmark Deal: GE Capital's sale of 60 per cent to GAP and Oak Hill for $500 million
Favourite Quote: "Celebrate wins with your team and don't take losses to heart; most importantly, have fun on the job"
"The scoreboard is always zero; last year's deals are a distant memory."
Even if you top the league tables (at least one of the many put out)? Evidently yes. Pramit Jhaveri, Managing Director and Head (India Investment Banking), Citigroup, can't afford to bask in the glory of 2004's conquests. He's just in from London where he was working out the pricing for UTI Bank's GDR offering. "Isn't it a little late to be talking of last year?" quips Jhaveri, who nevertheless makes a (pretty successful) switch into rewind mode.
Of the 13 deals Citigroup executed last year, Jhaveri zeroes in without much ado on the most significant one. "Oh, that would be the GE Capital deal where GE sold 60 per cent to General Atlantic Partners (GAP) and Oak Hill for $500 million (Rs 2,200 crore)." The transaction involved a leverage finance component to the tune of $250 million (Rs 1,100 crore), with the capital coming from Citigroup and American Express. Is the built-in capital arrangement the reason for clients choosing Jhaveri's team over other investment banks? "We certainly like to develop investment banking dialogues with our major lending relationships, but there are several successes that we have had even where a commercial banking relationship does not exist."
To be sure, 2004 was heavy with tech deals for Citigroup having advised Flextronics on the acquisition of Hughes Software, as well as being instrumental in IBM's acquisition of Daksh, the delisting of eServe and an increase in Citigroup's stake in the company from 44 to 94 per cent, and the delisting of Digital Globalsoft, with Hewlett-Packard increasing its stake in the company from 51 to over 90 per cent. "We very much like to follow an industry-led approach and believe the next 12-18 months will see major activity in oil and gas, technology and healthcare-a large component of which will be cross border in nature," says Jhaveri, whose idea of de-stressing is a "short holiday with the family-could be anywhere: Rajasthan, Goa, wildlife reserves..." India Inc.'s new-found itch to go global coupled with mncs' renewed interest will ensure he keeps travelling outbound too.
---
Striking Whilst It's Hot
He abhors management tomes, but revels in getting managements to the table.
Name: Rajeev Gupta
Designation: Joint Managing Director, DSP Merrill Lynch
Age: 47
Landmark Deal: Holcim-ACC-Ambuja
Favourite Quote: "In the past year, the size of deals has become large. We are not used to this in this part of the world"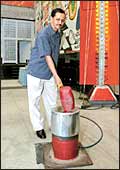 He's one of the few of his tribe to have treaded the turf on the other side of the fence too. Rajeev Gupta, Head of DSP Merrill Lynch's Investment Banking and Mergers & Acquisitions business, was once upon a time CEO of a company called Cosmo Ferrites, before he joined DSP Merrill a little over a decade ago. Now Joint Managing Director at the firm, Gupta has spent over the past five years closing more than 75 M&A transactions, with DSP doing just under a billion dollar worth of deals in 2004. If Gupta is pleased as punch, it's not so much because of last year's numbers, but also because he finally sees the India story unfolding, which will result in bigger-ticket deal-making. "For the first time we are seeing inflows that only a few years ago would have been unthinkable." Gupta knows what he's talking about: Earlier this year, he represented Holcim in an $800-million (Rs 3,520-crore) deal with Gujarat Ambuja, which allowed the Swiss cement major to gain a foothold in acc and another Ambuja company.
Mega deal-making, though, isn't alien to Gupta. Last year, DSP played a role in Idea Cellular buying out Escotel, and shortly afterwards his team was approached by Singapore Technologies Telemedia and Telekom Malaysia to buy out a third of AT&T Wireless' stake in Idea Cellular (J.P. Morgan was also a co-advisor). Another significant deal in 2004 was the sale of Hughes Software to us major Flextronics, simply because the conventional wisdom at the time was that there was practically no strategic interest in acquiring a software firm. After cement, Gupta suggests pharma could well be the epicentre of M&A action. "I don't expect too much activity in cement over the next year or so," says the IIT BHU and IIM-A graduate who's happier reading P.G. Wodehouse. "No management tomes for me," he squirms. Right Ho Rajeev!
---
Never On A Sunday
He's got clients queuing up, but he still takes the requisite day off.
Name: Ashok Wadhwa
Designation: Partner and CEO, Ambit Corporate Finance
Age: 43
Landmark Deal: United Breweries' joint venture with Scottish & Newcastle
Favourite Quote: "In India, investment bankers are often treated as brokers. The value-add that comes from the bankers is not always recognised"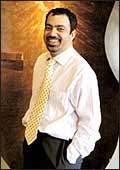 Between meetings with his son's school principal and journos, he manages to get some work done as well, jokes Ashok Wadhwa. But the CEO of Ambit Corporate Finance did manage to get some serious work done last year, in which his firm moved up the league tables from seventh to third position, edging out a couple of blue-blooded investment banks in the bargain. He's also got a good reason now to spend some more time at work: Last July, Wadhwa and his team moved into a spanking six-storey building in Central Mumbai.
Indeed, the chartered accountant-lawyer rolled in one has come a long way. Starting as Arthur Andersen's first employee in India, Wadhwa quit the firm after 14 years in 1997 along with a few colleagues to set up Ambit, positioned as a one-stop shop for financial consulting and accounting. "Having the sort of background I do is a definite value-add, as is the experience of working with well-instilled processes (at Andersen)." What's more, Ambit also has a tax division (RSM), which reinforces the one-stop shop concept. As Wadhwa puts it: "We don't have to go out and seek advice on related matters."
In the past couple of years, Wadhwa has succeeded in transforming Ambit from a boutique outfit to a full-fledged I-bank, which is reflected in such mega-transactions as Bharti Tele-Ventures' takeover of Hexacom, Star TV buying into Balaji Telefilms and dhl's acquisition of Blue Dart. Of 2004's 14 deals, UB's offer of a 37.5 per cent stake to Scottish & Newcastle is still etched in Wadhwa's memory not just because of the value of the overall deal (Rs 950 crore), but because of a couple of unexpected complexities, including an unsolicited offer from another large global player. Clients are sitting up and taking notice. "Not only do we have our clients coming back to us, but even the counter-party has more often than not approached us to do work for them," boasts Wadhwa, an avid runner and cricket fan, who reserves Sunday for his family. It won't be long, though, before clients begin disturbing Wadhwa on his off-day too.
---
Healer Dealer
He likes to hear out his clients, especially what they choose not to say.
Name: S. Sriniwasan
Designation: Executive Director (Investment Banking), Kotak Mahindra Capital Company
Age: 39
Landmark Deal: Patni's buyout of Cymbal Corp.
Favourite Quote: "Our model is different from that of other investment bankers"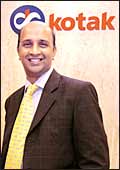 You won't hear too many in the individualistic, chest-thumping world of I-banking spouting "we are not individual-centric", but for S. Sriniwasan, Executive Director (Investment Banking), Kotak Mahindra Capital Co., cutting deals is invariably a team effort, with at least two, if not three, senior honchos involved directly in a transaction. "Our model is different from that of other investment bankers," points out Sriniwasan. "This gives a cushion to our customers. If one of the team leaves, he won't take the relationships with him."
Sriniwasan obviously is in no mood to leave, having had his hands full of late with several key transactions, including eBay's buyout of Baazee.com, the restructuring of Hindustan Motors (and an infusion of private equity into it) and the more recent open offer by McGraw Hill Company (a Standard & Poor's subsidiary) to increase its stake in crisil to 51 per cent. But the deal well etched in his mind is Patni Computer Services' buyout of Cymbal Corp. of the US. "The $70-million (Rs 308-crore) deal is the biggest by an Indian it company," gushes Sriniwasan, who works out four days a week, and still manages to hit the office before 9 a.m.
There's no typical day or deal for Kotak's key dealmaker, since each has its own set of different challenges. Yet, what's crucial to most deals, according to Sriniwasan, is the ability to get into the skin and the mind of the client. "The main task is to understand what the client really needs, and this often involves reading between the lines-to understand what the client is saying even whilst he is not actually saying it."
Life for investment bankers gets difficult on the sell side, and for Sriniwasan it's no exception. "First you have to convince him to sell his running business. But the most important part is to make him agree to the price." Convincing the government, for instance, to dilute its stake in Maruti wasn't a piece of cake. "Eventually we got the government a control premium of Rs 1,000 crore," grins Sriniwasan, who worked a fair bit on the structure of that deal too. Perfection is clearly Sriniwasan's mantra, in all spheres of life, whether it involves mastering the fine print of a transaction or reaching the gym by 6.30 a.m., or even "perfecting the skill of not spilling coffee on my shirt during drives".
---
Young Blood, Young Bank
He's got 10 years in I-banking, he's only 33, and he's the deal honcho at a 10-month-old bank.
Name: Aditya Sanghi
Designation: Country Head (Investment Banking), Yes Bank
Age: 33
Landmark Deal: Private placement for Suzlon Energy
Favourite Quote: "Whether buying or selling, a lot of thought and commitment needs to go into each deal because of its huge people impact"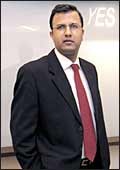 At 23, he was making board-level presentations to India Inc. on behalf of Lazard India; at 24, he was part of a three-member team handpicked to set up kpmg's corporate finance business; today, at 33, he is Country Head (Investment Banking), Yes Bank. Sitting in the 10th floor glass, chrome and leather office of Yes Bank, Aditya Sanghi lets in on his secret: "Deal-making is not finance, but great negotiating, marketing and client management skills." Today Sanghi heads an eight-member team-where incidentally the average age is 30-that's notched up Rs 500 crore from three deals in less than a year.
It helps that Sanghi-who till recently headed Rabo India Bank's M&A team-is part of a young and vibrant organisation. The Rana Kapoor-headed Yes Bank, which got its banking licence barely 10 months ago in May 2004, has just filed its draft Red Herring prospectus with SEBI, a clear indicator of the aggressive growth plans it has in mind. The brief given to Sanghi and his team could not have been clearer: "Build a top quality, middle market investment bank catering to emerging companies in India."
After 10 years in investment banking, the deal closest to his heart is one he did in November 2002. It was the sale of mutual fund Pioneer ITI's business to Franklin Templeton, a Rs 300-crore deal. Led by the maxim every good dealmaker claims to abide by-buy at the lowest price and sell at the highest-Sanghi, then with Rabo India, was able to get a rate nearly double that of the market. This was done through a "controlled auction" he devised, where 11 potential suitors were taken through a series of steps, culminating with a one-to-one negotiation.
Trying new things is something that's not restricted to deal making. A self-confessed food lover-his current passion is Lebanese-Sanghi also likes to discover new cities, preferably on foot. The Delhi University Chemistry graduate and MBA from iim-Bangalore, who unwinds with his weekend game of squash, says the role of a dealmaker is also a very responsible one. "Whether buying or selling, a lot of thought and commitment needs to go into each deal because of its huge people impact."
---
Mr. Moneybags
Since starting up in 2004, he's pulled off a number of big-ticket financing deals. Now for some M&As.
Name: Sanjay Agarwal
Designation: Head (Global Corporate Finance), Deutsche Bank India
Age: 38
Landmark Deal: Sole advisor on Reliance Industries' $207-million acquisition of FLAG
Favourite Quote: "You are only as good as your next deal"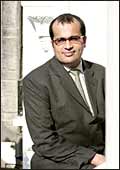 Bounding around in his first-floor office in Deutsche Bank House, a stone's throw from Mumbai's CST station, Sanjay Agarwal looks very much the consummate dealmaker, replete with striped suit, sleek brogues and designer glasses. That's a perception further reinforced by a quick glance at the league tables. Formally set up in January 2004, Deutsche Bank's Global Corporate Finance division closed the year with seven deals-most of them financing transactions-totalling $1.5 billion (Rs 6,600 crore). As for pure M&A, Deutsche pulled off one $207-million or Rs 910.8-crore deal (according to Indata)-it was the sole advisor on Reliance Industries' $207-million acquisition of flag--but if Agarwal, Managing Director on the equities side, and Piyush Gupta, Director and Head (Debt Capital Markets & Corporate Coverage Group), are understandably happy, it's because of the progress the fledgling has made in just one year.
Deutsche Bank started off with a bang when it caught the market's attention with the deal it struck for Reliance Industries' zero coupon $178-million (Rs 783.2-crore) convertible. While competition (read: other investment bankers) was aware of the opportunity up for grabs, it could not find any way around the 21-day wait required till the next extraordinary general meeting of the company. It took some innovative thinking to hit upon the solution. "We used a financial instrument called 'when-issued' that had been used by us internationally. Instead of waiting, this enabled us to lock into the favourable premium and yield rates," elaborates the 38-year-old Agarwal. And yes, the transaction was pulled off over a weekend!
An MBA in finance from the University of Massachusetts and a Delhi University B.Com graduate, Agarwal started off his career with ICICI, Delhi, way back in 1989. Since then it's been a rapid climb: ANZ Grindlays, Kotak, Goldman Sachs and now Deutsche. To be sure, being part of a global financial conglomerate means that specalised expertise across sectors is only a phone call away. Gunit Chadha, CEO, Deutsche Bank India, sums up the advantages of being part of the euro 840-billion (Rs 48,72,000-crore) Deutsche Group: "A large distribution base, large private capital reserves and strong customer relationships." Perhaps in 2005, we'll see Deutsche's Indian arm exploiting those strengths to grab more pieces of the action on the M&A front.
---
Been There, Doing That
He worked on the first large government disinvestment. And he's hungry for more.
Name: Ashok Mittal
Designation: Director and Co-Head (Investment Banking), HSBC
Age: 40
Landmark Deal: IBP divestment in 2002
Favourite Quote: "You need to identify the deals that are doable and then focus on them"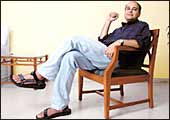 In the claustrophobic meeting room adjacent to HSBC's frenzied dealing rooms on the sixth floor of its India head office, Ashok Mittal-in a navy blue shirt, silver cuffs and Windsor knotted tie-is a picture of perfect calm and composure. Speaking slowly in his measured speech, the 40-year-old Co-Head (Investment Banking), HSBC, is outlining GAIL's acquisition of 9.5 per cent in China Gas Holding. "I think what swung it for us was the global network of expertise, and the understanding of the oil and gas market." The $32-million (Rs 140.8-crore) deal was pulled off in 19 days flat.
It's not speed alone. HSBC prides itself most on the relationships it has established with its clients in India over the years. Organised around sectoral practices like transport and logistics, energy and utilities, and telecom, HSBC's 15-member investment banking arm is run jointly by Mittal and Co-Head Ravi Menon. Spanning M&As, equity markets, private equity and project finance, HSBC has notched up a clutch of prestigious "tombstones" to its credit. So be it a $390-million (Rs 1,716-crore) assignment from Telekom Malaysia on its entry strategy for India or IBP's $145-million (Rs 638-crore) merger with Indian Oil Corporation or advising Cargill on a 51-per cent acquisition in Parakh Foods (and the subsequent demerger of its edible oils business that fetched $174 million or Rs 765.6 crore), HSBC has been at the forefront of the competitive "beauty parade" that has become synonymous with this industry.
So what tips does Mittal, a self acknowledged workaholic, have for aspiring dealmakers? "I would say the acid test is the ability to handle multiple pulls and pressures that come with handling large complex deals. Successfully juggling multiple hats is a must." Mittal, a Physics graduate from University of Wooster, Ohio and an MBA from IMI, Delhi, has juggled quite a few deals since he started off his career 14 years back with investment bank Lazard in Kolkata. But the IBP divestment in 2002 is still one he considers as the most challenging. "It was the first large Government of India divestment, and one had to navigate, develop processes and chart new territory," says Mittal, who feels it's clearly instinct that sets the men apart from the boys. "You need to identify the deals that are doable and then focus on them."
---
It's In His Veins
Lineage helps, but it's fantastic when you can live up to it by finding your own niche.
Name: Rajiv Memani
Designation: CEO and Country Managing Partner, Ernst & Young
Age: 37
Landmark Deal: ONGC Videsh's acquisition in Sudan, worth $720 million, the largest upstream acquisition from India
Favourite Quote: "The gull sees farthest who flies highest" (from Richard Bach's Jonathan Livingston Seagull)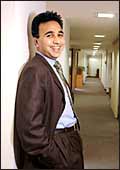 Music's loss, it appears, is corporate finance's gain. Although 37-year-old Rajiv Memani regrets not giving much time for music in his childhood-he is now making up though by taking classical music classes during weekends-he is unlikely to complain. For Memani got to work his way up in audit firm Ernst &Young (E&Y) initially as a tax executive and later as a top dealmaker. What's more, early last year he succeeded his father Kashi Memani as Country Managing Partner of E&Y.
Memani, a trained chartered accountant, was responsible for setting up E&Y's corporate finance practice (now called Transaction Advisory Services) in 1998. The firm till then used to do only tax work. Within four years, in 2002, E&Y became the #1 firm in volume of deals advised (including cross-border transactions, which Memani claims is a strength of the firm), according to Bloomberg League Tables. The firm still retains the #1 position in number of deals and a postion in the top three or four in terms of the value of transactions.
Memani credits his fast growth in M&A sweepstakes to his "fantastic relationship management" skills, something which he bequeathed from his influential father Kashi. "M&A decisions are taken at the highest level. So while you need to have a good relationship, the emphasis is on credibility," says Memani. "When they know you are Kashi Memani's son, they would meet you. But their expectations are also high, so only your work would matter."
But what would help E&Y is that it's a niche player. "Our focus is on transactions worth $10-200 million (Rs 44-880 crore)," says Memani. "We have to create our own niche and that's where a large part of the Indian market is." He has played advisor to private equity transactions in Hindustan Times (2003 and 2004) and in Jubilant Organosys, to name just two, both in the mid-size segment. But he is no stranger to big-ticket transactions too. For instance, E&Y advised ONGC Videsh in its $720-million (Rs 3,168- crore) acquisition of TGN BV, the company that owns the Greater Nile Oil Project of Sudan (the largest upstream acquisition from India). But what distinguishes E&Y from others is that unlike a DSP Merrill or a Kotak, less than half of its business comes from Mumbai, the commercial capital. It still helps being headquartered in Delhi.
---
Middleman? Nah, He's Your Friend
It's a good time to sell, and this man will help you fetch a good (but realistic) price.
Name: J. Niranjan
Designation: Joint Head (Investment Banking), ICICI Securities
Age: 39
Landmark Deal: The proposed MTNL-BSNL merger
Favourite Quote: "Work is my main hobby"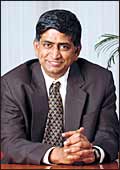 It helps being a big fish in a bigger pond, as J. Niranjan will readily testify. The Joint Head of the ICICI Securities' Investment Banking arm joined the institution 14 years ago (in the merchant banking division), and it's been quite a ride since then. "As investment banking is built on trust, we leverage our (the group's) strong long-term relationships (in financial services), which often results in multiple transactions," says the IIT Bombay and IIM-Bangalore alumni.
Such leverage is in ample evidence by way of the high-profile deals I-sec concluded last year, as well as the ones it's currently working on. For instance, I-sec is leading a consortium that's advising the government on the proposed BSNL-MTNL mega-merger. "We have submitted our report to the government within the tight deadline (January-end)," says Niranjan. He's also advising the UB group on the voluntary open offer for Shaw Wallace. His past big bangs include the Tatas' buyout of Hughes Telecom, Siemens vdo's merger with Siemens and the demerger of NIIT's technology business. I-sec was also roped in as a firefighter when the government objected to VSNL's investment in Tata Teleservices. "Both parties were satisfied with our observation."
Niranjan is upbeat about higher growth rates in the deal market. "Though we don't have a culture of massive buying and selling (like in the West) now, things are improving." He's got reasons for that optimism, the main one being the renewed aggression of big private equity investors-like, one of his, clients Actis (formerly CDC). "Unlike traditional promoters, they don't have any emotional attachment to their investments," explains Niranjan. He would also like it if Indian promoters could get a bit detached from their businesses, and there's no better time to attempt that than in a rising secondary market, where the benchmark index has polevaulted into unchartered territory. Of course, it would need an effort to convince promoters to bail out at a particular price, as it's difficult for many of them to agree to realistic valuations in such bullish times. "(But) smart sellers should exit in times like this," advises Niranjan, who manages to find time for hobbies that include reading and Carnatic music. The adrenalin rush, of course, can only come from closing a deal.
---
Floats Like A Butterfly...
Her softspeak may delude you, but the hardnosed deal-making won't.
Name: Vedika Bhandarkar
Designation: Managing Director and Head (Investment Banking), J.P. Morgan India
Age: 37
Landmark Deal: AT&T's sale of stake in Idea Cellular
Favourite Quote: "Ambulance-chasing will not work; I believe in trust and long-term value and repeat business is the best measure of how much trust you inspire in clients"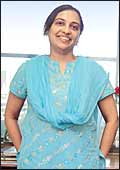 Vedika Bhandarkar, managing director and Head (Investment Banking), J.P. Morgan India, could be mistaken for a college lecturer in her starched cotton Dhaka sari and reticent demeanour. Except that Bhandarkar is nowhere near as voluble as a college professor, and is quick to apologise for using "too much jargon". Atypical of an investment banker perhaps, but when it boils down to business, she exhibits all the gumption and aggressive pursuit required to bag the most lucrative deals in the market.
Admittedly, at three M&A deals in 2004, J.P. Morgan hasn't exactly been on a hot streak ("half-a-dozen deals would qualify the year as successful", shrugs an ever modest Bhandarkar). "M&A has always been a focus for us, but last year we spent a significant amount of time on financing transaction and also expanded our team. In fact, nearly 90 per cent of the revenues were from financing deals last year; this year we expect to see it nearly equally split between M&A and financing deals."
Yet, when it comes to value, J.P. Morgan pulled off a whopper of a deal: Singapore Technologies Telemedia (STT) and Telekom Malaysia's purchase of AT&T Wireless' 47.7 per cent stake in Idea Cellular, coupled with an infusion of equity, totally valued at $700 million or Rs 3,080 crore (DSP Merrill was a co-advisor). "We (a four-member team, she stresses) had been pitching to international telcos for some time, sounding them out on the fact that regulations were getting sorted out in India." More significant, though, is the relationship she succeeded in building with STT and Telekom Malaysia. Bhandarkar had worked earlier with the latter when the company had increased its stake in Usha Martin, which was later bought out by Hutchison. "Ambulance-chasing will not work; I believe repeat business is the best measure of how much trust you inspire in clients," says the IIM-A grad, who has mixed feelings about being a woman in a testosterone-driven business. "It's good because nobody can be rude to you beyond a point-which comes in handy in a multiple book runner type situation-and bad because you get left out of a lot of the (male) bonding, and men are continually trying to strike the right balance on propriety." That's life.
HOW WE DID IT
Ask any investment banker what he thinks about league tables, and the answer in most cases won't be printable in this magazine. After all, there are league tables, and there are league tables-some that don't consider overseas targets (which makes them anachronisms in today's age of outbound cross-border deals), others look at only deals completed, whilst yet others prefer to go by all announcements. How did BT do it? Well, it's largely influenced by one of the listings put out by Indata (though not necessarily in order of ranking or merit) and our list has a rich mix of investment banks (DSP Merrill, Kotak), commercial banks (HSBC, Citigroup), audit firms (E&Y), boutiques (Ambit) and a couple of new kids on the block too (Deutsche and Yes Bank).
The bottom line: League tables will come and league tables will go, but India's hottest dealmakers are here to stay.