They are all well qualified; many of them have engineering and management degrees. But they still decided to take the road less travelled to chase their passion. Some savvy entrepreneurship and lots of struggle later, this brave new band of boys has established adventure tourism as a small, but growing, niche within the country's travel and tourism sector.

Jayesh Morvankar, an engineer-MBA, fed up with his jobs, first in ad agency HTA and then at tech major Iridium, decided one day to call it quits and follow his gut. "I realised that I was not cut out for the corporate world. I wanted to follow my passion for the outdoors and, therefore, decided in 1998 to chuck my MNC job and get into outdoor adventure full time," says Morvankar, who is also a trained mountaineer from the Nehru Institute of Mountaineering. His company, the Mumbai-based Odati Adventures, specialises in terrestrial adventure sports like trekking (in Maharashtra and in the Himalayas), rock climbing, rappelling, waterfall rappelling and cycling.

Santosh Kumar, who runs adventure sports boutique getoffurass out of Bangalore, entered the sector through a different route. He started with a store selling adventure sports equipment before sensing an opportunity in the market for conducted adventure sports tours. "There's a huge demand in Bangalore, especially from it professionals," he says.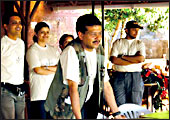 Time to thrill: Vasant Limaye finds trained outdoor experts to bring in a lot of value to the business


As the tourism industry in the country matures and evolves, and as well-healed Indians gain greater exposure to the lifestyles of their counterparts in the West, adventure sports and related tourism activity is slowly taking root in India. But it is still a very unorganised and young industry (figures on the size of the industry aren't available). "It's a tough business proposition. To begin with, it is capital intensive. The initial investment on equipment, most of which is imported, can run into several lakh," says Sanjay Rao, who set up the Mumbai-based Nirvana Adventures, that specialises in offering training in paragliding, in 1997. "We lost money for the first five years, but now, we're out of the rapids," he adds. Soumit Doshi, co-founder of India Outdoors, the only public limited but unlisted company in the business, had a similar experience. "We struggled to sell adventure tourism to the masses initially as Indians weren't well informed about it. But now, I see a change. Many companies are opting for Outdoor Management Development Programmes (OMDPs) for their executives and this is generating greater awareness."

The gestation period for an entrepreneur is a minimum of 5 years. While Odati Adventures is yet to break even, India Outdoors, which clocked revenues of Rs 6 crore in 2005-06, is growing at about 40 per cent per annum. Nirvana Adventures, meanwhile, is growing at 30 per cent. It conducts five-day certified courses in paragliding that cost Rs 14,500 per person and charges Rs 1,500 for a day's (10-15 minutes, really) joyride.

Today, all adventure sports companies cater to companies in a big way. On average, 60 per cent of the revenues come from OMDPs and 40 per cent from adventure sports programmes catering to individual clients. Ram Priyan, of the Bangalore-based Ozone Adventures, for instance, targets only large corporate groups for outbound learning activities (also called experiential education). Each group comprises 35-50 individuals and he charges around Rs 2,000 per person per trip on an average. "Corporates today are willing to spend large sums of money on such activities and many of them have senior people who are itching to head outdoors to try everything from river rafting to mountain biking," he says, pointing out that while adventure sports junkies prefer to head to the Himalayas (which also has massive rivers like the Ganga) to get their fix, the less daring like going to south India, which also offers several options. "Large tech companies such as Infosys, IBM and Wipro see this as a great way to build team spirit and bonding," says Priyan, who also sells an assortment of camping, hiking and protective gear.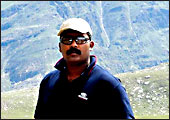 Chasing dreams: getoffurass's Kumar provides tourists with personalised guidance


However, the industry is hamstrung by several factors. The most obvious one: safety standards. "Even a single accident can pull the entire company down," says Vasant Limaye, who started the Pune-based High Places in 1985 with four British partners, to offer adventure holidays to European clients. He later parted ways with his partners in 1992 and set up shop on his own. Related to the issue of safety is the presence of several inexperienced people in the business. "Trained experts bring a lot of value to the business," says Limaye. If an outdoor expert has a certification from Nehru Institute of Mountaineering (NIM), Uttarkashi, or Himalayan Institute of Mountaineering (HMI), Darjeeling, it is an added advantage. "Certification helps as clients want to know about team leaders and their qualifications," says Pranav Kukreti, a Narsee Monjee alumnus, who co-founded the Delhi-based Trek 'n' Rapids, adding that he feels that hands-on experience is more important than courses.

Another problem the industry faces is that not all trained experts take it up as a full-time profession. Most work as freelancers on weekends, primarily because of poor pay. The industry is still very small and seasonal, so full-time employment is also difficult to find. Most freelance outdoor experts get Rs 500-1,000 per day. But sometimes, players get lucky. High Places recently hired Surendra Chavan, who climbed Mt Everest in 1998, to head its operations. Chavan, who worked in Tata Motors for almost 25 years (his last designation was Manager, Administration), has now decided to say goodbye to the corporate world and pursue his passion for the outdoors and adventure sports. "While it is absolutely mandatory for all team members to undergo rescue mission refresher courses, they are not necessarily professionally qualified in this field; there are, in fact, no formal courses on adventure sports (except mountaineering) in the country," says Vaibhav Kala, founder of Aquaterra Adventures. Adds Chavan: "There has to be a certifying body to certify companies and clubs in this business. This will ensure that skilled guides for trekking, rock activities, rafting and camp managers enter the field."

Every player that BT spoke to for this report agrees that the future is bright. The popularity of TV channels such as Discovery, AXM, Adventure One and National Geography is creating more awareness about adventure sports in the country, and this, they say, is bound to translate into more business for everyone involved. However, a lot more needs to be done to create greater awareness at the basic level. So, while the industry has a long way to go, the players who are already in the business are looking forward to growing with it.

-additional reporting by Rahul Sachitanand and Pallavi Srivastava