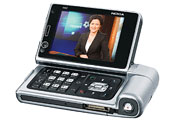 What is it? Live TV on mobile phones. "There is great potential for delivering live TV to a mobile phone. Indian subscribers have been quick to take up innovative mobile services and offering the latest in infotainment and live TV will certainly address this demand," says Sanjiv Mittal, Chief Executive of Bharti Telesoft, which is offering this service.
Who's offering it? As of now, no one. But three different combinations are currently in various stages of deployment. While Nokia has begun a pilot service with Doordarshan, Reliance Communications has tied up with Sun TV and Bharti Telesoft with Vimio, a mobile product solutions firm. Closed group trials are underway.
How much does it cost? Reliance will charge subscribers Rs 15 per session of five minutes, while a shorter clip of one-to-two minutes will cost Rs 7; in addition, subscribers will pay 10 paise per KB viewed on their mobiles. Rates for the DD-Nokia and Bharti-Vimio services haven't been announced.
What's the catch? The service requires phones with video playback capability, which is limited in India. Also, Indian networks don't yet offer enough bandwidth to watch TV for extended periods of time.
---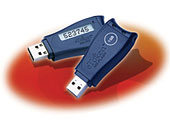 What is it?
An eToken is a cigarette lighter-sized device that you plug into the USB port of your computer, enter your username and password, and start working. It protects owners of digital content and services from identity theft and unauthorised access.
Why is it needed? An eToken provides two levels of authentication-the physical possession of it as well as your username and password, compared to only the username and password combination which can be stolen. Areas like internet banking, e-commerce and e-learning need more solid authentication.
How's it implemented? The vendor, Aladdin Knowledge Systems, imports the implementing organisation's digital signature into eTokens and integrates it with databases of usernames and passwords. The eTokens are then distributed to the users. The process takes just a few days.
How much does it cost? Rs 2,000-5,000 per eToken depending on the applications to be protected and their storage capacity; it is currently available in capacities ranging from 256 MB to 4 GB.
---
DIRECT TAX MOP-UP
Status: Rs 3,44,050 crore (April 2006-February 2007).
Impact: Increased revenue mobilisation means the government will have to borrow less from the market, freeing up funds for other (mostly corporate and retail) borrowers. Secondly, revenue buoyancy will allow the government to increase its spending on infrastructure and other developmental activity.
INTEREST ON CAR LOANS
Status: Rs 1,56,848 crore (as on March 30, 2007).
Impact: There was robust appetite for credit in the economy. However, the recent interest rate hikes are expected to lead to a slowdown in credit offtake during the current financial year.
---
P-WATCH
A bird's eye view of what's hot and what's not on the government's policy radar.
ANDHRA COURTS INDUSTRY

Making a pitch: Chief Minister Reddy
Having bagged several it sector investments, the Andhra Pradesh government is now aggressively marketing the state to non-it sector companies as well. "The total incentives extended by the state will amount to close to 20 per cent of the project cost. The equivalent in other states works out to around 8 per cent of the project cost," says Venugopal Dhoot, Chairman, Videocon, who preferred Andhra Pradesh to West Bengal for his Rs 1,000-crore semi-conductor unit.
So, what's the key to attracting investments? Land, water and power at concessional rates, says Dhoot, who decided on Andhra Pradesh early this month. "Over the past two years, we have been gathering information on the incentives other states are willing to offer and have been systematically trying to better that," says a state government official.
The thrust on non-it areas does not come at the cost of the IT industry, though. In the case of land allotment for Infosys' second campus in Hyderabad, the government is considering an alternate location since the current one is caught up in legal wrangles.
Surely, non-exclusive marketing efforts will go a long way in ensuring inclusive growth in the state.
-E. Kumar Sharma
STATE PLANS TO FILTER NEWS
MORE LEVERS
» Norms in the works to define sensitive information
» May be tailor-made for specific sectors
» Aimed at averting use of information as a competition tool
Till recently, information from the government was anything but forthcoming. Then came the Right to Information (RTI) Act, which allowed you access to government dealings. But what constitutes sensitive information and what doesn't is something the government is grappling with. So expect new norms to follow shortly from the office of the Central Information Commission (CIC), which implements the RTI Act.
Where does it cut? Private sector interest is rampant in sectors where state or state-brokered procurement is high- Defence, Railways, Power, Oil & Gas sectors top the chart. The challenge: ensuring national security; and providing information that is not used as a competition instrument. Evidently, it's about understanding the value of information in the marketplace. Hope, the bureaucrats get it right.
RBI FIRES SALVO AT P-NOTES

The reserve bank of India does not lose an opportunity to remind the Finance Ministry that the use of Participatory Notes (PN) in the country's stock market needs to be curbed. Earlier this month, it wrote a letter to North Block suggesting an urgent need to amend the existing regulations on short-term volatile financial portfolio inflows.
The reason: swelling foreign inflows of Rs 2,20,523 crore of net investment in Indian equities at last count-with over 1,000 registered FIIs in India and 40 per cent of these funds relating to PNs issued by the FIIs. RBI's aversion to PNs began a few years ago owing to a lack of identity information of the PN holder on an upfront basis. Governor Y.V. Reddy's objective now is two-fold-ease the central bank's job on battling inflation by stemming availability of funds and safeguard against any sudden pull out of "hot money" (FII pullout could trigger a free fall for the rupee in the foreign exchange market). Will the Finance Minister blink?
---
P-WATCH COLUMN
The why, what and how-to of policy making.
BACK TO BASICS, PLEASE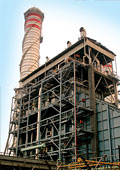 Every now and then, new controversies erupt in the Indian power sector. Just when the ghost of the Dabhol (now Ratnagiri) project was beginning to fade away, the behemoth 4,000 mw Sasan ultra-mega project has gained prominence. And, for most part, it is for the wrong reasons.
Sloppy tendering by the state-owned Power Finance Corporation has now forced the authorities to reopen the award to the Lanco-Globeleq consortium on the grounds of alleged misrepresentation of facts relating to its financial abilities to execute the project.
The intensity of this controversy is understandable-the tariffs offered are extremely competitive (Lanco has offered a tariff of Rs 1.18 per unit while Reliance, a close second, had bid Rs 1.29 per unit) and that too from the private sector which has shied away from participating in the power sector. The reasons for the latter are well known-for every rupee of power sold, only 65 paise is recovered, the rest lost to theft and technical losses.
And, therein lies a larger debate flowing from the principal question: is this tariff reflective of the promoters' willingness to settle for lower profits, hoping that consumers will pay and investments to reduce technical losses will happen at a fast pace?
Not really.
Consider: The tariff quoted does not include profits that the promoter can reap from selling coal (from the captive mine) to other power companies, given that the reserves are in excess of requirement. Hence, any comparison with the existing profile of generation tariff from new plants, which hovers around Rs 1.50 per unit, in itself provides little justification for the government to broker the ultra-mega projects.
TALE BEARER
A GENTLE REMINDER
Earlier this month, Essar's top management got a taste of its own medicine, at the hands of the bureaucracy. The issue: whether or not the Vodafone sale breached the 74 per cent FDI norms. The government's take: inspector raj to monitor the FDI door, which continues to remain only ajar on account of security concerns.
Naturally, resistance from the company followed-only to be reminded about a letter that it had written to the government against Egyptian telecom major Orascom a year ago. The reason: security concerns.
-BC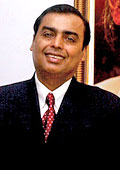 KEEPING WITH THE TIMES
Generally, interaction between the corporate world and the government depends on the extent of regulation. But what happens when power shifts from the government ministries to the regulator, a phenomenon that is on the rise? Visits to the regulator increase. And, what better proof than the visit that was recently paid by Mukesh Ambani to the Secretary of the Petroleum Regulatory Board-even before the formal appointment of the members. Telling, it is.
-BC
There is, no doubt, a compelling argument in favour of government intervention-with rampant power shortages of as much as 20,000 mw, the need for quick capacity addition is imperative. Furthermore, the inadequately developed fuel sector-whether coal or gas or hydel resources-puts off private interest in the power generation business.
How, then, should the ultra-mega power policy be altered? First, ramp down the capacity of the projects (two bid out, seven more to go) to under 2,000 mw as that will allow many more players to qualify. Besides, they will be far more viable as the possibility of payment default reduces. Secondly, recognise that until now, market appetite for private power has mostly been in the region of 500 mw projects with lenders, who meet as much as 70 per cent of the project cost, daring no more. Clearly, if the market were ready for more private power, in terms of the key business constraint, payment ability, it would have happened without the Centre's assistance. The Centre ought to go easy on steroids.