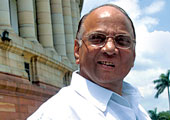 BCCI's Pawar: The going is tough
Crises and controversies are not unfamiliar territory for Sharadchandra Govind Rao Pawar, 66. The Maratha strongman, as he is often called, a four-time Chief Minister of Maharashtra, is now Union Minister for Food and Agriculture. But it's his other job, as President of the Board of Control for Cricket in India (BCCI), that has kept him in the news recently. The early exit of Team India from the World Cup has thrown open the can of worms that is Indian cricket. Perhaps Pawar's instincts as a politician got the better of those of Pawar the administrator. All the solutions-from pay cuts for cricketers to the cap on the number of products a player could endorse to talk of dropping or "resting" underperforming seniors-reek of populism. They are also seen as arbitrary and one-sided; Sachin Tendulkar and Yuvraj Singh have been served notices to explain their comments on the situation to the media, but coach Greg Chappel's leaks of team information have been glossed over. Can these measures really cure Indian cricket? The jury is divided.
Meanwhile, things haven't been going well for Pawar politically. His party, NCP, which runs Maharashtra in coalition with the Congress, received a drubbing at the hands of the Opposition Shiv Sena-BJP alliance in the Mumbai municipal polls, calling into question the longevity of the Congress-NCP alliance.
These are obviously not the best of times to be in Pawar's shoes. But the man is a survivor and is known for his canny instincts. He will need to draw on all of it to ride through the storm that seems to be enveloping everything he has touched recently.
---
$6.5 billion (Rs 27,950 crore): FDI inflow into India during the October-December quarter, according to the latest balance of payment figures
28 per cent: Average annual growth of India's services exports over the last five years. The corresponding figure for merchandise exports is 22 per cent
1,534,166 sq. km: Total agricultural land in India
148: New Delhi's rank in human resource consulting firm Mercer's 215-city Quality of Living Survey. Two Swiss cities, Zurich (#1) and Geneva (#2), top the list. Mumbai ranks #209.
$37,668 billion: India's projected GDP by 2050, almost at par with the projected US GDP of $38,514 billion
Rs 7,310 crore: The projected tech spending by India's retail industry by 2010
Rs 8,60,000 crore: The total worth of the Indian food sector
Rs 6 lakh: The annual salary of President A.P.J. Abdul Kalam; this translates to $13,964. US President George W. Bush, British PM Tony Blair and Russian President Vladimir Putin draw $400,000 (Rs 1.72 crore), $370,046 (Rs 1.59 crore) & $67,464 (Rs 29 lakh), respectively
500,000: Likely shortage of knowledge workers in India by 2010, according to a McKinsey report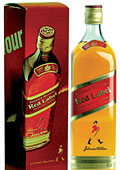 17: The number of incidences of load shedding manufacturers face in a month in India. The numbers for Malaysia and China are 1 and less than 5
70: Percentage of new cars made in the US that have iPod-compatibility as a standard feature
£2.5 billion (Rs 21,000 crore): Value of Scotch whisky exported worldwide last year, an all-time record. Export volumes were also at a new record high of 1.05 billion bottles. The US was the largest destination, and imported Scotch worth £400 million (Rs 3,360 crore)
---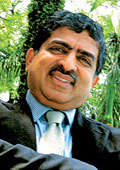 ANNOUNCED: By Infosys Technologies, the appointment of Nandan Nilekani as Co-Chairman of the company w.e.f. June 22. The boardalso appointed Kris Gopalakrishnan, COO, President and Joint MD, as CEO and MD, and S.D. Shibulal as COO. N. R. Narayana Murthy will continue to be the Chairman.
RECORDED: By the Index of Industrial Production (IIP), a growth of 11 per cent during February 2007, against 8.8 per cent in the correspondoing month last year. The manufacturing sector improved by 12.3 per cent in February compared to 9.2 per cent in the same month of 2006. However, the poor performance of the electricity sector acted as a dampener and restricted the overall growth rate.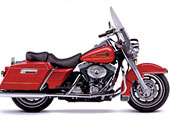 TWEAKED: By the Government of India, the import norms for motor-cycles to allow the import of 800 cc and higher Harley Davidsons from the US; these bikes will have to adhere to Euro III emission norms. Thus far, India had restricted the imports of high capacity bike as there are no local facilities to test the vehicles.
RANKED: By Deloitte Tax LLP, India as the world's eighth-largest market for M&A deals in the first quarter of 2007. It ranked 11th in 2006. The figures for the first quarter are 83 per cent higher than that of the full year figures of last year which were at $13.97 billion (Rs 60,071 crore). India has surpassed China and South Korea in the Asian league table and is only behind Japan in the M&A market.
REDUCED: By Bajaj Auto, the price of 100 cc Platina by Rs 3,000 to Rs 33,000. The bike is Bajaj's last remaining 100 cc offering in the Indian market. The company has already announced its plans to exit this segment. The offer was made possible by the tax cuts and excise incentives offered by Uttarakhand where it has set up a new plant.
CROSSED: By India's foreign exchange reserves, the $200-billion (Rs 8,60,000-crore) mark for the first time. Forex reserves for the week ended April 6 stood at $200.34 billion (Rs 8,61,462 crore), giving India the #7 spot among emerging markets.
---
The passenger vehicle market grew 20.7 per cent in 2006-07 to 1,379,698 vehicles. Production facilities for over 1 million additional cars were spoken about and Maruti inaugurated its brand new facility at Manesar, Haryana. But with interest rates rising, was 2006-07 the top of the cycle? That will only be answered over time though March numbers for mid-sizers did take a slight tumble and two-wheeler sales growth has begun to taper off already. But until then, munch on these juicy numbers for the year.
---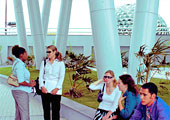 Foreign interns: Part of Indian strategy
The Infosys leadership institute, located on the company's 315 acre campus in Mysore, is becoming a key cog in the company's globalisation strategy. It is, at any given point in time, the temporary home to well over 100 American interns and has evolved into something of a calling card for an industry trying to play down the threat of job losses in the West. "We will hire 300 Americans over the next year," says T.V. Mohandas Pai, ED and Head of Education & Research at Infosys.
Its cross-town rival, Wipro, meanwhile, has announced plans of recruiting 500 employees in the UK over the next year. "The expansion is part of a strategic initiative to build a strong local presence there," says Sudip Banerjee, President of Wipro's Enterprise Solutions Division. Cognizant, too, is ramping up its roster of local recruits in Europe.
This will do much to assuage local trade unions such as Amicus in the UK that have been critical of the Indian IT sector for allegedly taking jobs away to low cost centres in India. But there are allegations that Indian IT companies pay less than the industry average in these countries, a claim denied by industry executives. "We have to compete for the same talent in the UK and the US and can't afford to offer sub-standard pay," says Infosys' Pai.