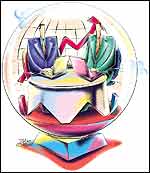 First, the bad news: we tried really hard to find even a glimmer of a recovery in the third-quarter results of companies; we failed. There doesn't seem to be one coming. There is, of course, the chance that we may be wrong (and we'd love that for once) and that the rise in demand is being met from inventory that is clogging the distribution channels of companies, but that seems remote given the diversity of our sample: 25 sectors in all.
Now, the not-so-bad news: those companies that managed to reinvent themselves, or their business processes are faring better than those that didn't. But you knew that.
Nothing sums up the state of things better than the third quarter results of the country's largest private sector company, Reliance Industries. Although the company posted a 20.17 per cent increase in profits (over October-December 2000), that was solely due to the sale of its holding in Larsen & Toubro to Grasim. Without that, RIL's net profit actually fell 4.1 per cent, the first such in three quarters.
There was some better news from consumer products behemoth Hindustan Lever Ltd. The company's power-brand strategy by focussing efforts on its 30 strongest brands seems to be paying off: it registered a 16.3 per cent growth in net profit, even as the growth in its turnover remained sluggish at 4.3 per cent. ''Companies,'' says Rupen Roy, a director, at audit and consulting firm PricewaterhouseCoopers, ''need to reinvent themselves to stay on top.''
BUDGET TALK

Inspired By The Bollywood Idiom
The motion pics likely to figure in the FM's speech

Yashwant Sinha: What's his favourite?
It will soon be that day of the year again. A day (February 28) when Finance Minister Yashwant Sinha will hold forth on the state of the economy with millions hanging on to his every word. True to tradition, Sinha could season his speech with names of Bollywood blockbusters. He has a wide choice this year. He could well begin his speech with Mujhe Kuch Kehna Hai (I have to say something), talk about his Lagaan (tax) reforms. And although Dil Chahta Hai (the heart wants) to provide tax reliefs to the common man, he may be unable to do so. Worse, he may be forced to impose new taxes. Then, everybody will have to suffer Kabhi Khushi Kabhie Gham (Sometimes there's joy, sometimes sorrow) for the betterment of this country. So Filhaal (for the time being) the masses will have to suffer, but Gadar (rebellion) will not be tolerated.
The largely export-oriented software services industry didn't give much reason to celebrate either. While almost all significant companies in the space posted an increase in sales, a closer scrutiny revealed a dismal picture. Infosys managed to up its volumes by 3.4 per cent, but its billing rates declined by 3.2 per cent. And the smaller companies didn't just show a dip in sales and profits, they also seemed unable to increase their client-base. ''Business will be increasingly hard to come by,'' acknowledged Infosys CEO-designate Nandan Nilekani at a recent seminar.
There are some who see the proverbial light at the end of the tunnel. Says Confederation of Indian Industry President Sanjiv Goenka, whose Spencer & Company (it runs the Foodworld, Health & Glow, and Musicworld chains) booked a profit in the quarter: ''We have to get our priorities right. The retail business is showing definite signs of picking up. Other retailers have probably not fared as well, but the reason is not the market but the way retailing is done.'' K. Vaidyanath, Executive Director of ITC is also upbeat: ''We have learned to live in an environment where our basic product (tobacco-related) is under pressure.''
Why, some of these voices even emanate from sectors that haven't done well, such as steel. Says Tata Steel Deputy Managing Director T. Mukherjee, ''We have continually stressed on cost management and that has helped us turn in profits.''
The oil companies have done well as the deadline for dismantling the administrative price mechanism approaches, pharma companies have bucked the trend to an extends as the country moves away from price controls on drugs, and some consumer goods-such as two-wheelers-are looking up primary because of falling interest rates.
The notes struck by executives like Goenka and Mukherjee are part, though, of what is largely a threnody. Mukherjee himself is quick to acknowledge that ''the market is sluggish and the manufacturing sector is generally down''. And Deepak Agrawal, an associate vice president with Kotak Securities, says q3 has seen some of the worst corporate performances in the last three years. ''I don't think there is any recovery on the horizon.''
Navin Agarwal, the head of brokerage Motilal Oswal's institutional broking practice, strikes a contrarian note, but even he admits the October-December quarter has been bad for Indian companies. ''The q3 results can't be taken alone. More crucial are parameters like pick-up in cement volumes, auto volumes, a spurt in the order books of engineering companies, rise in bank credit...there is a general pick-up and optimism in these areas.'' His take: we are in the midst of a recovery and the q4 results of companies will prove that. Agarwal may be true to some extent: the sales of two-wheelers rose 17 per cent in December 2001, which is generally considered to be a bad month. A lot will depend on the rabi crop, and HLL CEO M.S. Banga has already expressed his concerns on that front.
The scenario is perhaps best summed up in the outlook presented by Infosys (one can trust those guys to be candid): ''Short-term uncertainties remain and we are cautious about long-term opportunities.''
-Suveen K. Sinha with additional reporting by Debojyoti Chatterjee, Vinod Mahanta, and Abir Pal
---
C-SPEAK
Good News, Bad News
So is the Indian IT services sector under threat, or at the threshold of new opportunities? A bit of both, says Nasscom.
When you have Pramod Mahajan, Minister, Parliamentary Affairs, Communications and Information Technology, a handful of Nasscom head honchos, a couple of McKinsey Principals, and a motley bunch of it professionals all in one room (or at least in one hotel), it can mean only one thing: it's time for Nasscom's annual industry jamboree, where strategies, projections, and a few pipedreams get whipped up with visible animation and apparent belief. The theme this year was predictably: ''India Software Inc-Sustaining Growth''.
Sundry industry bigwigs held forth at the three-day event, but easily most looked forward to was the preview of the Nasscom-McKinsey Study 2002, the final version will be released in April. Says Phiroz Vandrevala, Chairman, Nasscom: ''The initial findings highlight the new growth opportunities. New verticals like utilities, healthcare, retail, transportation; services such as BPO, R&D, net-related services, mobile enablement, and security and business continuity services; and geographies such as Germany, France, Italy, and Australia.''
As per the preview, the IT services industry has grown at over 45 per cent annually over three years, and has been the most value-creating sector in India. The McKinsey consultants pointed to three fundamental changes: first, the near-term demand has shifted from new application development to maintenance/product enhancement as customers cut it budgets and get focused on ROI. The move towards an offshore business model is expected to accelerate, and different customer segments with unique needs are expected to emerge. Second, globally, companies are increasingly leveraging India to offer offshoring as part of their offering. Third, India will see competition from emerging locations, particularly China, in the next few years. The preview stressed that the immediate threat from China would be in the areas of R&D services and the Japanese market. You can't have it all your way, right?
---
Q&A
''I Made A Mistake Asking For An Extension"

D.R. Mehta: calling it a day
D.R. Mehta, Chairman, SEBI, talked to BT's Roshni Jayakar 10 days before the end of his seven-year stint. Excerpts:
Q. Do you think that you were singularly unlucky in that several major scams happened during your tenure?
A. Not all scams occurred during my tenure. For instance, the vanishing companies scam didn't.
Does SEBI have punitive powers?
SEBI is the least powerful body in the regulatory world.
SEBI seemed lax on monitoring...
The primary responsibility of surveillance all over the world is that of the exchanges.
What are your regrets?
My only regret is requesting an extension for two more years.
On a scale of 10, how would you rate your own performance?
I would not like to be presumptuous. But I can say that Indian markets today are the most modern and safe. The system has worked.
---
PSYCHOBABBLE
Inc. To Shrink
That's right, in an effort to get the best out of their employees companies are even offering them counselling support.

Achal Bhagat runs a helpline for an MNC
When Kiran Anand, a senior executive at a large Delhi-based software services hotshop couldn't take any more she logged on to helpme.com on the company intranet. Anand was neck deep in work, but she was also in the midst of undergoing treatment for infertility; she couldn't travel, but thought the inability to do so would make her less valuable to her company. The trained social worker who ran helpme.com for the company suggested, in true agony aunt fashion, that Anand have a heart-to-heart chat with her CEO. It worked.
With work becoming more intense and intruding on personal- and family-space, companies are scrambling to transform their hr managers into part-time counsellors. Dr Reddy's Labs, Marico, GCMMF, and Hughes Software are some companies that have done so. Says Saumen Chakraborty, Senior Vice President (Corporate HR), DRL: ''Everyone is encouraged to speak out loud about their problems, personal and professional.'' Adds Pratik Kumar, Vice President (Talent Engagement & Development) Wipro Technologies: ''Playing counsellor is part of every hr manager's job.'' Those who are averse to playing shrink can always outsource the function from people like Achal Bhagat, a senior consultant at Delhi's Apollo Hospital who runs a helpline for an MNC. Reach for that couch.
---
JOBS! JOBS! JOBS!
Is the market looking up?
You won't get a firm answer to that, but push and prod, and head-hunters venture tentatively optimistic answers that indicate that the worst may be over. ''Come the new year, and we have seen encouraging signs,'' says Atul Vohra, a partner at Heidrick & Struggles. Leading the pack doing the hiring are TELCOs, insurance newbies, and consumer product companies that have, as Ronesh Puri, CEO, Executive Access, puts it, ''been reshuffling people to combat bad performance.'' One reason for the turnaround could be the return of business confidence. ''The economy is showing signs of recovery,'' claims LG's hr head Y.V. Verma, who has already filled some 30 positions this year. But the good news, alas, doesn't extend to the entry level.
---
BUDGET MOVES
The Sensex And The Finance Minister
Can finance minister Sinha's next budget break the jinx?
It doesn't surprise us that the markets are on a roll. It's happened four times in the last five years as a run up to the presentation of the Union budget. And irrespective of how the Sensex has behaved on the Budget Day (it has displayed no biases in either direction), there have been prolonged bear phases in the wake of the budget in as many years. Will this year's budget be the exception that disproves the rule? Some analysts think that it may. But if the stockmarkets look up it will not be because of anything the fm is expected to say or do, but because most stocks are available at attractive valuations now.