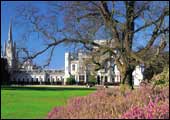 Ashridge: Founded as a monastery in the 13th century, Ashridge today is a top B-school in the UK
Leadership," explains angus Clark, "is like Tai Chi. It's about balance, harmony, and oneness with your environment." It's seven in the morning and it somehow seems appropriate that we should be talking about leadership standing on the lawns of Ashridge-one of the leading B-schools in the UK-just a few feet away from an oak tree planted by Queen Victoria around 1823 when she was four or five years old. For, I've flown 6,500-odd kilometres just the day before to Ashridge to partake in a leadership conference intriguingly titled "The Roots and Treetops of Leadership". It's the third in an ongoing series, I am told, and this year there are some 90 participants, largely from the UK, but including some from places as far off as South Africa and Gambia.
Ten minutes before in the Wyatt Room, where the 11 of us stopped for coffee, fingers were crossed. Although August is supposed to be one of the "driest" months in London, the sky looked ominously grey. Sure, Angus would have been more than happy to conduct his class indoor, but we really wanted to be out there among the ancient trees, breathing the sweet crisp air, and relishing the thought that we were standing where Queen Elizabeth I may have once walked as a child. Mercifully for us, the clouds decided to bear their load for one more day, and I got my first taste of Tai Chi. (The next day it rained, but unmindful of it the group-considerably smaller, courtesy bar bingeing the previous evening-spent three quarters of an hour doing Tai Chi on the lawn).
First Impressions
Tai Chi is nice, but too slow for an impatient man like me. And the thing about Tai Chi and leadership? There's no disputing the fact that we need leaders with energy and ambition, particularly those who can keep their cool in a crisis. Tai Chi I dare say is an excellent way of achieving that inner balance. Does Tai Chi make great leaders? I guess that would be stretching things a bit. But then, Angus never said it did.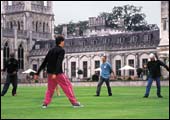 Angus Clark (in purple track pants) taking us through the "swing". Angus was the last westerner to study with Tai Chi grandmaster, Chi Chiang Tao.
The roots and treetops analogy, nevertheless, was apt. The roots are the young in the organisation, the stem and branches the middle management, and the treetops, the senior management. The question implied was how do treetops continue to inspire and energise the roots. Some answers came on day one from Mads Ovlisen, Chairman of Novo Nordisk. A one-time lawyer, Mads ventured into pharmaceuticals and today heads the Danish Kroner 23.77-billion Novo Nordisk. Somewhere along the way, Mads must have forgotten all about law, because at the insulin giant, he's doing unlawyer-like things. He's a champion of something called the "triple bottomline reporting" (that's the first time I heard of it). This is a measure of the company's performance on three fronts: social and environmental responsibility, and economic viability.
Every year for more than a decade now the company issues a report on the triple bottomline, detailing how it fared on issues like eco-efficiency, bioethics and animal welfare, access to health, particularly in developing countries, and the overall socio-economic impact of Novo Nordisk's global operations. What I found interesting, however, was Mads' take on leadership. His job, he said, was to get his employees excited about working in Novo Nordisk. Or "make them feel like running to work every morning". In these days of shareholder value, it was reassuring to find that there are CEOs who think excited employees are worth their effort.
Later in the evening, all of us were invited to express our own ideas of leadership through sculpture. For that we had to split up into groups of four or five and walk along a trail in the Ashridge garden. Along the way, the groups were supposed to pick up objects that could go into the making of their sculptures. Back in the fernery after their hour-long stroll, the teams were offered a range of sculptural aids-from spray paint cans to thermocole to glazed paper to duct tape-to build their creative pieces.
The result, variously, was hilarious and stunning. One group built an inverted pyramid out of three sticks and dangled something in the middle to suggest the regenerative part of leadership, and somebody else had returned with a silkworm and put it on a garden lamp with a glass cup on top to symbolise transformational leadership. I stuck a short stick-like branch of a tree on a piece of thermocole and called it 'The Mahatma' (it was a hilarious sight).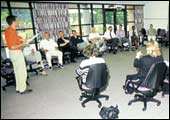 At breakout sessions like this one, participants were encouraged to explore their own styles of leadership.
Coming Full Circle
For most of us, a big part of Ashridge's charm was its history. Edmund of Cornwall, nephew of King Henry III, founded Assherugge in 1283 as a monastery. Following the Dissolution (between 1535 and 1539, Henry VIII ferreted monks and clergy out of their monastries and convents when the Pope refused to agree to Henry's divorce of Queen Catharine of Aragon), Ashridge became a royal home for Henry's children. When his daughter Elizabeth I died, her Lord Chancellor, Thomas Egerton, bought Ashridge in 1604.
Thereafter, Ashridge was owned at different times by Bridgewater and Brownlow families. During the First World War, Ashridge was offered as a convalescent home by its then owner Adelbert Wellington Cust, also called Lord Brownlow III. When he died in 1921, Ashridge was to be put under the hammer. But pressured, the British government stepped in and helped the National Trust purchase Ashridge. A period of uncertainty followed during which some contents of Ashridge were auctioned. Finally, it was acquired by Urban Hanlon Broughton and gifted to the Conservative Party. He set up the Bonar Law Memorial Trust (Andrew Bonar Law was Britain's Prime Minister between 1921 and 1922), and Ashridge became a college for training Conservative Party workers.
Only in 1957 did some companies including Unilever, Guinness and Shell come together to create the idea of a business school at Ashridge. By 1959, the school began offering executive development programmes, and thirty years later it graduated its first batch of executive MBAs. Now, Leslie Hannah, its CEO, wants to create an international profile for Ashridge. And between India and China, he's betting on the great elephant.
But looking at Perween Warsi, I couldn't help but wonder if a leader needs an MBA at all. Warsi first came to the UK in 1975 as a young mother. Frustrated by the quality of Asian food sold in the supermarkets, Warsi started making samosas in her own kitchen and selling to local stores. Today, the "Samosa Queen" is the richest Asian woman in the UK, and her £100 million empire spans four factories, 1,300 employees, making everything from Indian to Thai to Malaysian foods. In fact, her vindaloo inspired a hit football song in the UK during the World Cup (football) in 1998.
Back on the plane to Delhi, as I looked back at the three-day conference, one thing became apparent to me. Leadership is not about sterile systems and processes. Rather, it's about inspiring and guiding people. Of making them do things they never thought they could. As I threw back my second bottle of airline wine and pulled the eyeshade over, I think I saw the image of an old, fast-walking man flash by in my head. Or was it the poor sod I saw at Euston Station? Whatever...
TREADMILL

Fix Your Form
Bad form in weight training is the worst you can do in the gym. For one, not doing exercises correctly negates their very benefits. For instance, if your shoulders do more work than your triceps, cable pulldowns are unlikely to help you build your triceps. But worse, when bad form becomes a habit, you run the risk of injuring yourself. Here's a quick run-down of some common mistakes we all run the risk of making and how to fix them.
Bench Presses: A typical mistake that beginners make on the bench is to change the arch of the spine while lifting the bar. Apart from the fact that this doesn't help in building the pectorals (chest muscles), over a period of time it can lead to debilitating spine injuries.
How to fix it: Place feet firmly flat on the ground while lifting and concentrate on keeping your upper body motionless while you lift the barbell. If your spine tends to change shape, reduce the weight you're benching.
Triceps Pulldown: Most people who try to increase the weight they pull down use their shoulders to push. That's silly because this isn't an exercise for the shoulders but for the triceps.
How to fix it: Keep your shoulders low and your elbows tucked into the sides of your body.
Biceps Curls: If you find your upper arms moving forward, then your targeted muscles-the biceps in this case-aren't doing the work.
How to fix it: Keep your elbows close to your body throughout the movement and your wrists slightly outwardly stretched. The latter helps in maximising the benefits of the curls your do.
Lat Pulldown: This is obviously for the upper back muscles but you'll be surprised to see the number of people in gyms who use their arms to do most of the work.
How to fix it: Through the exercise of pulling down the bar, keep your back stretched so that your shoulder blades approach each other (a trainer I know says try to bring them as close as to be able to hold a pencil between them!). This targets your back and not your arms.
Crunches: While doing abdominal crunches, don't swing your head forward. This can cause neck injuries.
How to fix it: While doing crunches, touch the tips of your fingers to either your temples or just behind the ears and imagine you're holding a cricket ball between your chin and your Adam's apple. Your neck stays straight and the crunches rip your belly.