The Bangalore Think-tank: (From left) Ravi V. Melwani of Kemp's Fort, Prakash Nedungadi of Madura Garments, Irfan Razack of Prestige Estates and Projects, Suhel Seth (moderator), Bijou Kurien of Titan, and Nakul Anand of ITC Hotels
So, has it? Who better to ask than some of India's top retail strategists. So Business Today invited Ravi V. Melwani, Managing Partner, Kemp's Fort, Bijou Kurien, coo, Watches Division, Titan, Irfan Razack, MD, Prestige Estates and Projects, Nakul Anand, Executive Director, ITC Hotels, and Prakash Nedungadi, President, Madura Garments, to thrash it out-moderated by Suhel Seth. Excerpts:
Seth: The sole task this evening is to draw blood. Go for these gentlemen. Challenge them. Make them feel miserable, but most importantly, enjoy yourself. Now, the topic. 'Has India missed the retail bus?' The south is often touted as the area where it all began-the Foodworlds and the Nilgiris. Is it a phenomenon restricted only to this region? And what kind of retail are we talking about? May I invite Nakul Anand to kick it off.
Anand: Statistics tell us that retail in India is fairly large. It's about 58 per cent of our Gross National Income. Going by that, there's no reason to believe that we have missed the retail bus. But only 2 per cent is 'organised retail'. If you look at per capita retail sales, we're about $200, compared to the $1,150 international average. The space per supermarket for every 100 persons in Delhi is 0.3 sq ft, compared to about 200 sq ft in Hong Kong. The reasons? We've grown up in a paternalistic regime of control, the Licence Raj. Yes, there are visible signs of change. There are 6-8 million sq ft of supermarket or hypermarket space coming up. While retailing has a long way to go, in the modern sense of the word, India hasn't missed the retail bus.
Seth: Ravi, what do you feel?
Melwani: The retail bus? The fact is that India is still on the retail bicycle, which means that India has a long way to go for the bus to arrive. I remember when we wanted to open a 20,000 sq. ft store on M.G. Road, there was no big store in India. People thought we'd fail. But I thought that if there could be large departmental stores around the world, why not here? Now we have Kemp's Fort, a 300,000 sq. ft store.
India will succeed in retail when our policies go in the right direction. On travel, people ask me, "You've come to import toys? What's the duty?" I say, "45 per cent." They go "Whoa!" So we've got to be patient, but we'll get that retail bus when it comes.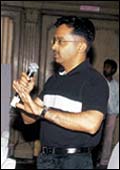 Retail-talk: Retail gurus bat some tough questions
Some questions that the audience of 200 threw at the panel.
Where is Indian retailing vis-à-vis store brands?
Nedungadi: I think it's just a matter of time. Look at some of the sari stores. These are store labels, and they advertise with five-page ads in national magazines. In consumer goods, manufacturing capacity is concentrated with only a few player.
Isn't the Indian shopper a bargainer at heart?
Melwani: Well, these women will never go to a Bata showroom and say "thoda kum kar do". There will be a consumer who will always want to bargain, but I don't believe she enjoys bargaining.
Razack: Bargaining reflects consumer insecurity. The consumer doesn't know what the right price is. If she's sure that this store gives the best bargain, it's fine.
Will virtual shops kill retailing?
Kurien: There will be various forms of retailing, and e-tailing is another format of retailing.
Seth: I'm confused. Will the bus ever come? Reminds me of 'Waiting for Godot'. Bijou, has India missed the retail bus, bicycle, any 'vahan' you choose?
Kurien: Autorickshaw, maybe. I don't think we're as slow as a bicycle and I don't think we're going as fast as a bus. Archaic real estate laws, multiple taxation systems-all these inhibit retail. We have fragmented retailing. Organised retailing is emerging very slowly, and only in a few cities. But it's poised to grow. In the it revolution, we missed the mainframe to get straight to PCs. In retail, we'll probably leapfrog weaker formats.
Seth: Perhaps the retail revolution should've started bottom-up, in smaller places. Prakash, what's your take?
Nedungadi: We have to be careful we're not taken for a ride. We have to find our own solutions to things. What do we mean by retail bus? We mean a total change in the shopping experience-unorganised to organised. We're talking about a big concentration of trade. That's why, a bus and not an autorickshaw or speedboat or something.
I met this person in Germany, who spoke of the German retail revolution. He said: "Look, when it happens, it will happen not at a progression that is arithmetic, but exponential." When it happens, it's going to be a rocket. It will create a climate of creative destruction, which could happen in the next 10-15 years. My parents live in a suburb of a small town in Kerala called Mavilikar, which has an under-50,000 population. Fifteen years ago, there was no gas, no kerosene-nothing out there. Today, it has two supermarkets. Latur has one of our best-selling Peter England stores.
Seth: Bus, cycle, auto, rocket... I'm marvelling at the transition. There's one person on this panel who's responsible for the red ink on most retail balance sheets. That's because these guys artificially prop up real estate prices-that's what they are accused of. Has retail in India ever considered partnership as a plank of growth? Irfan.
Razack: Actually, the retail bus will wait-for all of us. Now, the issue is what real estate can do for retail. At first, we put up a few malls, which failed. Still, we said, "No, it doesn't mean that malls are bad." We didn't know how to do it. Now, we're putting up our first well-designed mall, and we're partnering with some retailers. The concept is changing to family entertainment centres. We call it shoppertainment. I see huge scope. But supply chain sophistication has to rise.
Seth: What about manpower training, logistical management, processes and the delivery systems... have we got these right? And what about regulation problems?
Melwani: Not having good enough manpower is a problem. People choose to work in retailing only as a last resort. Now, finally, we're getting professionals.
Nedungadi: On training, there's a lot of science to be learnt, but there's a feel to it too. Read Jeffrey Archer's As the Crow Flies, and you'll see what I mean.
Razack: We have managed to remove this Urban Land Ceiling Act, which brings down land prices. But we still have a lot of antiquated legislation, concerning multiplexes, for example.
Seth: To sum up, there's an obvious belief that we are on the path to retail nirvana-a retail boom.
---
''Has Chennai Fallen Off Indian Advertising's Map?"

The Chennai Panelists: (From left) David E. Friedman of Ford India, Srinivasan K. Swamy of R.K. Swamy/BBDO, Ravi Santhanam of Mahindra Holidays and Resorts, Suhel Seth (moderator), Vijay Ramachandran of Citibank, and Ajay Vidyasagar of Vijay TV
Unfair, perhaps, to put it so bluntly. The panelists? David E. Friedman, Managing Director and President, Ford India; Srinivasan K. Swamy, CEO, R.K. Swamy/bbdo Advertising; Ravi Santhanam, President & CEO, Mahindra Holidays & Resorts, Ajay Vidyasagar, General Manager (Regional Channels), Vijay Television Ltd; and Vijay Ramachandran, Vice President & Head (Marketing Services), Citibank, N.A. Relevant soundbites from a heated session:
Seth: The general perception across India-and it may be perception, and management of perception is the business of advertising and marketing-is that Chennai is no longer the active brain-cell that it used to be in the Indian advertising firmament. David.
Friedman: I wonder how you can look at an increasing prosperous city of six million, and wonder if it's fallen off the map. I don't think it has, and I don't think it will.
If you look on the creative front, look at our 'Josh Machine'. It's invented here. Our Ford Ikon marketshare here is more than any other place in India. So it's the Josh Mecca, maybe. Conservative? I'm not sure.
Seth: Can one Josh make Chennai rock?
Vidyasagar: I think it's wrong to even ask. Fifteen years back, the top agency of Mumbai used to bill around Rs 100 crore. In Delhi, it was around Rs 75 crore, Bangalore around Rs 35 crore and Madras Rs 25 crore. Today, Mumbai would be clocking Rs 1,250 crore-plus, Delhi Rs 500 crore-plus, Bangalore Rs 200 crore-plus and Madras Rs 70 crore-plus. This is what you see. But if you dig deeper, you'll find a retail-advertising boom. Chennai also drives regional TV, and C&S brands here get Rs 200 crore of revenue.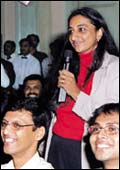 Ad-libbing: The audience grills the panel
Some rather perturbed questions from Chennai's ad crowd.
Who's asking this question (the topic)? In Chennai, we've never even thought about it. And what are the benefits of being on the advertising map?
Seth: The point was to debate whether being on the map is at all relevant to the creative contributions that a city makes to the advertising and marketing processes.

I'm the woman, by the way, who did Josh Machine-in Chennai. Vijay, do you want us to release some scam ads to get on to the map?
Ramachandran: No. It's important to be focussed on communication, more than the advertising alone-on what is relevant for a brand and for a client. It goes several stages beyond scam ads.
Seth: Srinivasan, is Chennai hemmed in by language?
Swamy: There are enough agencies here handling national accounts. Ford is an example. We also have small Chennai clients that have grown large, CavinKare being an example. It's many Joshs that drive Chennai.
Seth: But why have this topic at all, then? Has Chennai not marketed itself well? Honest answer, Vijay.
Ramachandran: Three things constitute presence. One, what is the peer acceptance in other cities of Chennai as an ad city? Two, do professionals want to come and work here for reasons other than personal? Three, is there a record of work that builds brands, generates sales and wins awards? Probably not. Next, consider the three Cs. First is the Consumer. Do we have articulate, educated consumers? Of course, yes. The second C-Companies that advertise nationally, like Ford and Citibank. You can probably count them on the fingers of one hand. The third C is the controversial C, which is the quality of creative talent here.
Seth: So, what are you saying about creative people here?
Ramachandran: Could be better.
Seth: Oh, don't behave like George Bush. Ravi...
Santhanam: Let me be honest. On the two occasions that my marketing team was based in Chennai, I chose to source ad services from outside Chennai. And if a third occasion comes, I would do it without hesitation. Was Josh really done in Chennai? I'm not too sure. I'm a Chennaiite, I love Chennai. It does not matter if this city is not an ad Mecca. Also, in today's world, location is not a source of competitive advantage. How does it matter? But it certainly matters whether you're on the marketing map. Brilliant Tutorials was the first to advertise education services across India in a big way.
Seth: So, has Chennai fallen off or not?
Santhanam: You can't fall off something that you're not on.
Seth: So, where does Chennai stack up? Srinivasan.
Srinivasan: I don't buy their perspective on Chennai. The commercial capital of India is Mumbai. Consequently, the advertising capital is Mumbai. But we have clients from other parts of India, even MNCs, seeking support from us here in Chennai.
Seth: David, do you think we've not been able to manage the perceptions of the people outside Chennai?
Friedman: Possibly, possibly not. Yes, Ravi, we really did Josh Machine here.
The Chennai Crossfire brings to a close this year's round of BT debates. The round was kicked off on July 26 in Delhi, and this was followed by Mumbai. Bangalore and, of course, Chennai. Other than the irrepressible Suhel Seth as moderator, constant presence was maintained by the four Crossfire partners, Taj Holiday Resorts and Palaces, Indian Airlines, Alliance Air and McDowell's Signature (with BPL Mobile joining up for the Mumbai round). BT thanks them all.