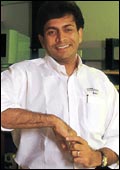 Mani Kantipudi, Director, IIDC: Helping Intel become an e-corp

900
Rs 120 crore
34 Invention Disclosures and 8 Patent Filings
1999
INTEL
India Inside
Over a 100 million computers the world over bear testimony to the contribution of the Bangalore-based Intel India Development Center.
Three fleeting seconds of digital squiggles on a computer screen could probably sum up the contribution of Intel India Development Center better than many reams of text. The display, called bios by those in the know, and the text that appears between the time a user switches on his pc and the familiar Windows logo appears by those not, was developed in India (and has been installed in over 100 million PCs).
The swank six-storeyed glass-and-chrome structure in Bangalore's busy Airport Road is immune to the slash-and-burn evident in the rest of Intel's operations, a 4,000-reduction in workforce. Instead, Mani Kantipudi, the young-looking 35-year-old Director of IIDC, is considering hiring more for the 900-strong facility. "We believe the technical talent available here could be effectively leveraged to drive Intel's growth."
Some of IIDC's efforts go into ensuring that Intel meets its target of becoming an e-Corporation by 2004. These range from procurement and inventory management systems for Intel's chip fabrication plants to networking protocols for the company's vast operations (it is present in 45 countries). Kantipudi is loath to put a number to such work but admits that, "these systems have given a net benefit of hundreds of millions of dollars for Intel."
Outside Intel, IIDC is involved in the design of the next generation of Intel routers (yes, the company makes them, and it is a multi-million dollar business for it worldwide) and is the only Intel-facility in the world doing so. So, there.
-Venkatesha Babu
---
HP
Silicon Alley
The original garage start-up HP's Indian R&D facility is its second-largest after the one in San Jose.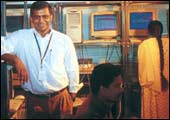 Gautham Natanasabapathy, VP, HP-ISO: Driving high-end research

1000
Rs 288 crore
3 patents, 38 patent filings, and 108 invention disclosures since inception of which 3, 21, and 61 respectively have been in the past 30 months. 1989
The HP printer on your desk may well have been designed in the company's r&d facility (called hp India Software Operations) in Bangalore. "We conceive, architect, and release products out of Bangalore," says Gautham Natanasabapathy, Vice President, HP-ISO. In terms of both size and importance, the Bangalore facility is second only to the company's central nervous system, its San Jose HQ. Almost a third of the work that goes into the HP version of Unix (HP-UX), which runs on high-end servers is done out of India as is a fifth of the R&D effort that goes into the company's Storage and Openview software. Natanasabapathy figures ISO must have helped the company save some $40 million (Rs 192 crore) in the past year alone and in just these three categories. As for the work, it's as high-end as can get: among the ISO's achievements are a utility to manage distributed security on Unix networks, and a Service Location Protocol, a method of organising and locating resources on a network in such a way that maintenance of existing devices on the network and the addition of new ones can be achieved without reconfiguring individual workstations. "Our belief in India is summed up in the fact that the HP India research facility is the second-largest one after the one in San Jose," says Natanasabapathy.
-Venkatesha Babu
---
GE
Jack's Legacy
Some of GE's finest R&D work is happening at the John F. Welch Technology Research Center in Bangalore.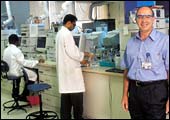 Guillermo Wille, MD, John F. Welch Technology Research Centre: Leading GE's R&D thrust in India

1,600
Investments thus far: Rs 384 crore
17 patent filings 2000
There's an air of mystery around the John F. Welch Technology Research Center in Whitefield, an industrial township on the outskirts of booming Bangalore. The company is, in part, responsible for this. Security is tight, and a giant incinerator located on the premises ensures that even the waste doesn't tell tales. Don't let the sense of mystery cloud your senses. Some of GE's bleeding-EGDE work is done out of this 35-acre spread, the company's second largest research facility after the one at Schenectady. From nanotechnology to biotechnology to photonics to advanced propulsion systems, anything is fair game for the centre.
The JFWTRC has already started making its presence felt within the conglomerate. It has helped GE Medical Systems develop an MRI machine that can help doctors see blood vessels hidden behind bones, something traditional MRI machines couldn't do. The secret: a computer aided visualisation technique patented by the centre. If that's too esoteric, here's a taste of the more mundane: JFWTRC has helped the company's consumer durables arm reduce dishwasher noise levels significantly by using water splash acoustics. Other breakthroughs include Lexan, a plastic that goes into making safer cars and materials that can create better optical and magnetic media. Phew!
The centre hasn't been awarded any patents yet, but Guillermo Wille, its Managing Director, believes it is only a matter of time before that happens. "We have filed for 17 patents in areas as diverse as chemistry, engineering systems, medical imaging, and electronics." "Given the potential here, we see this trend accelerating." Only, the company is unlikely to make much noise about that.
-Venkatesha Babu
---
CISCO
The Silk Route(r)
It doesn't design routers yet, but Cisco's R&D facility in India does almost everything else.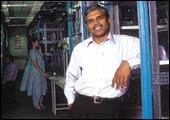 S. Devarajan, VP & Head, IGDC: Cisco's India play is long-term

700
Investments thus far: Rs 252 crore
30 patent filings2000
Cisco didn't really need a development centre in India. After all, India's finest software companies such as Infosys, Wipro, and HCL Technologies had dedicated resources working on projects for the company that can claim to run the internet. Still, the San Jose, California-based router major persisted, established its India Global Development Center (IGDC) in 2000. Today, the centre has 700 employees, has filed for 30 patents, and focuses on core research areas relevant to the networking company. "The India play itself is a strategy for Cisco," explains S. Devarajan, Vice President and Head, IGDC. "We want to effectively utilise the kind of technical talent available in the country." As for a made-in-India router, Devarajan admits it may be some time away, but (why aren't we surprised) doesn't rule it out.
-Venkatesha Babu
---
IBM
Big Bloom
One of the five IBM research labs outside the US, the India one is working on areas as diverse as bio-informatics and e-governance.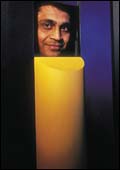 Manoj Kumar, Director, IBM Research Labs: The USP is fundamental research

75
Investments thus far: Rs 50 crore+
5 patents awarded in 20011998
You can't find a better place for a research lab. IBM's is located within the sprawling 320-acre campus of the Indian Institute of Technology, Delhi. The lab's objective-to bring innovation to the IBM product line-may seem mundane, not the areas it is focussing on: electronic commerce, e-governance, computational biology, weather forecasting, and technologies that can improve human-computer interaction. Dr Manoj Kumar, Director, IBM Research Labs, believes his facility is perhaps the only one "involved in fundamental research". "We don't even know what our efforts will lead to (in terms of end-products)," he laughs. The research itself is no laughing matter. A significant portion of IRL's efforts is focussed on helping online marketers target their customers more effectively. The other big initiative at IRL is knowledge management, an effort to help companies organise information in such a manner as to facilitate its retrieval automatically, intelligently, and with a provision for customisation. Then, there's an effort to develop software that can assist genetic research. And another to facilitate the automatic translation of text from one language to another (Machine Translation). Today, there are 10 projects in these areas, and a few others on at IRL. "Each of these areas are promising," explains Kumar. "I often wonder how many (of the projects) will have a major impact; I hope most do."
It helps that the parent is focussed on core research. In 2001, IBM was awarded the most number of patents (3,411) by the US Patent and Trademark Office. And the total number of patents held by Big Blue exceeds the aggregate of those awarded to hp, Intel, Compaq, Sun, Microsoft, Dell, Apple, EMC, Oracle, Accenture, EDs, and AOL. Last year, the company spent more than $5.6 billion (Rs 27,274.24 crore) on research worldwide.
IRC's own achievements-five patents awarded in 2001-may seem insignificant in comparison to this formidable array of statistics. Still, some of the five deal with bleeding edge applications like collaborative computing and parallel processing. It looks good.
-Vinod Mahanta