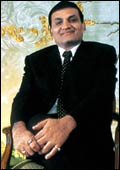 RAJKUMAR N. DHOOT: The public comes first
Rajya Sabha MP Rajkumar Nandlal Dhoot can't stop raving about Sanjay Leela Bhansali's Devdas. The RND family, Dhoot, his wife, three daughters, and a son, caught up with the sequin-tinted lachrymose offering and couldn't have enough of it. Much like Devdas, 45-year-old Dhoot has two loves, public service and private interest (the Dhoot family runs the Rs 4,000-crore Videocon Group). Just when it looked like Dhoot was set for greater things in public service-his party, the Shiv Sena, wrangled a ministerial berth for him in the Finance Ministry-business played spoilsport. Several constituents in the ruling National Democratic Alliance, even some people within the Shiv Sena, contended that if Dhoot were to be appointed Minister of State in the Finance Ministry, Videocon would have to withdraw its participation in the disinvestment process for the tenure of his stay in North Block. Videocon Chairman Venugopal Dhoot would have none of that. Then the Shiv Sena suggested Dhoot's name as a possible replacement for Union Power Minister Suresh Prabhu, but Dhoot chose not to push his case. "They're still ready to offer me MoS (Finance), but I am not interested as my group is bidding for some PSUs," says Dhoot. And so the man who hasn't been on Videocon's Board for five years now has to be content with distributing free medicines at the group's hospital in Aurangabad, macadamising the road to Gangapur village (from where he hails) out of his annual mp fund, and absorbing the strains of Mohammed Rafi classics in the backseat of his silver S-class Mercedes. No business, no politics, only public service.
On A Roll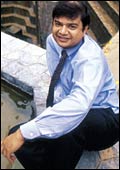 SANJAY GOVIL: The gamble paid off
Don't ask Sanjay Govil about slowdown. chances are, he doesn't know the word. The 36-year-old quit his Bell Atlantic job on an impulse to launch a technology services firm; since then, his Infinite Computer Solutions has gone from $365,000 in sales in 1997 to $41.5 million last year. Small wonder, then, that in June this year, Govil bagged Ernst & Young's Greater Washington's Young Entrepreneur of the Year Award in the technology services category. ''The day I resigned, on my way back home the enormity of what I had done hit me,'' says the Canada-born Govil. Rustling up $1,000 from his savings, Govil started the business from home. Thanks to his Bell connections, he managed to get his first client. Apparently, Govil did good work, because business simply soared thereafter. Now, he's talking of expanding his back-end operations in India and also of getting a strategic investor into the company. If he manages to keep the pedal pressed to the floor, he may just sign a big deal for himself.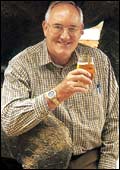 GORDON DEN: Playing ball and having it too!
A Heady Job
How many consultants do you know who've also been national-level cricketers? If none, it's probably because you missed hearing about Gordon Den. Back in the 60s, the 63-year-old Den was a professional fast bowler in South Africa, who represented the Eastern Province and played alongside legends like the (Graeme and Peter) Pollock brothers. Fine, Den didn't make it to Cricket's Hall of Fame. But he's done just fine on the beer front. For the past 23 years, Den's been an international technical consultant to South African Breweries. His job: watch over the overall "beer culture" across SAB's operations in Africa, Asia, and Europe. (Yes, the job also pays him.) So, what's the master consultant's list of top five beers? "Heineken (Dutch), Moose Head (Canada), Hansa Pilsner (South Africa), Guinness (Ireland), and Dreher (Hungary)," he counts in one breath. Saddened that Kingfisher doesn't figure on it? That's because Den doesn't think India is a big beer drinking nation-yet. Let's see if SAB can change that.