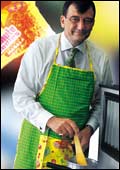 Nestle CEO Carlo Donati
For a Rs 1,937 crore company, Nestle India makes little noise. It lives life in a competitive cocoon, its Chairman and Managing Director and senior execs rarely speak to the press or to analysts out of turn, and it has acquired, in its 90-year stay in India, a more conservative-than-conservative image. The man at the helm, 55-year old Swiss national Carlo Donati, is the very image of his company: large, well-built, careful with his words, conservative, and yet, not above showing his disdain when it needs to be showed. Understanding both man and company, then, would require some reading between the lines, and there are enough lines to be read.
Exhibit A: "Within a month of coming here I saw an internal report referring to price increases. I asked who decided product prices. I was told that it was the product manager and I said that from now on only I will make that decision."
Exhibit B: "If you keep increasing prices and continuously push volumes into the system it will choke the pipeline. At some point, this approach will backfire."
Exhibit C: "What do you believe in, profits or margins?"
The first two were spoken in the course of these correspondents' meeting with Donati. The third was the man's response to persistent questions by an analyst on the company's entry into the high-volume, low-margin dairy business.
Over the past three years Nestle has lowered prices
Nescafe

16%


Nestle Kit Kat 20%
Milkmaid

25%


Maggi Ketchup

10-12%


Maggi Soups

15%


Sampling of products on which prices have been reduced.
Nestle has also introduced 25 new low price point packs such as
Maggi 2-minute Noodles
Nescafe Sunrise
Frutips TWINS
Nestle Chocostic
Maggi Imli Sauce
Nestle Dahi
Take the three, stir them together, add a pinch of Donati's oft-repeated 'bottom-line dictating top-line' philosophy and the result is something that should shake up all preconceived notions about the Swiss MNC: that the route to the market-beating quarter-on-quarter profit growth the company boasts will increasingly depend on its ability to play the price card-with its existing products, and with its new products.
To cut to the chase, Nestle is going mass, exploring the math of low-priced offerings, and low margins-something that should increase usage across its product portfolio. Not too long back, the least-expensive Nestle chocolate was the Rs 5 Munch (the largest-selling chocolate offering in the country). Today, it is the Rs 2 Chocostick. Over the past two decades Nestle's two-minute brand Maggi noodles has become a household name in India. So much so that a taste-refurbishing exercise caused an uproar of the new-Coke variety. In 2000, the brand's franchise became even wider: low-income households could sample the product, available in a 50 gram pack priced at Rs 5. And starting July 2002, Nescafe has been available in a single-use sachet (Rs 3). Why, yesterday's premium player is even entering paisa territory, with Frutips Twins (confectionery).
If that isn't enough indication of Nestle's new-found enthusiasm for the mass-market, its track-record in 2001 surely is: it reduced prices of two brands, Maggi Tomato Ketchup, and Maggi Soups, launched a staggering 18 new low-priced brands or packs, and forayed into the dairy market where it competes with price-warriors such as the Rs 2,336 crore, 800-pound gorilla of the business, Gujarat Co-operative Milk Marketing Federation (gcmmf), popularly known as Amul after its larger than life brand. "We are now getting into the everyday consumption arena, with affordability driving new consumer segments," says Suresh Narayanan, Executive Vice President, Nestle. 'Everyday-consumption' and 'affordability' may be part of some marketers' vocabulary, but it certainly is new to Nestle's.

Not enough reach
India's dairy majors aren't unduly worried by Nestle's foray into the business. "They're very small in the fresh dairy business," says R.S. Sodhi, General Manager (Marketing), GCMMF. "They still seem to be in the experimental stage." Nestle's dairy-strategy is tinged with caution, and with good reason. As Amul Gogna, Executive Director, ICRA, a credit rating agency points out, "It would be quite difficult, both financially and technically, for a new player to develop cold chains in India." GCMMF's cold chain is the largest (all of 18,000 deep freezes), and this, after 45 years in the business. And another MNC, Britannia Industries promises to pose a challenge to Nestle with its recent joint venture with New Zealand-based Fonterra, Britannia New Zealand Foods. ''With Fonterra as a partner, we will aggressively push to become a leading dairy company in the country,'' says Naveen Chopra, Marketing Manager, Britannia New Zealand Foods.
The befuddling logistics of mass-market distribution, in dairy and in other businesses, could overturn Nestle's apple cart. Donati may pat himself on the back for the company's monsoon-proof urban focus but to really succeed in the volumes game-and the mass-market is all about volumes-the company has to look at the lower economic strata in urban areas, even explore the semi-urban hinterland for growth opportunities.
If it doesn't, the competition will. In the Rs 1,200-crore confectionery market, for instance, Nestle has launched products at all the right price points-Frutips, Polo Holes, Chocostick, and Activ V-but it is up against the might of ITC's 2.5 million strong distribution chain. The tobacco major bought Polo rival Mint-O from Candico earlier this year. And Amul's milk, butter, and curd are available in some 100,000 stores. Donati is defiant-"It is necessary to have an efficient supply chain. But it is also important to develop products and price points that provide value for money to customers"-but the company will need more than that to compete in price-sensitive, man-eat-man, distribution-led categories. As for that defiance, much of it seems misplaced, especially in the context of what has happened in Nestle's water business. Its Pure Life brand is a non-starter of sorts, unable to compete with Bisleri and Kinley. "Nestle has over-estimated the market for a premium brand," explains Nirav Seth who tracks the Fast Moving Consumer Goods sector for Mumbai-based SSKI. " It has to necessarily bring down the price (of Pure Life)."
"I still believe water is a good idea," defends Donati. "At Rs 12 we currently have some problems with volumes but if we have to manage for the long-run then our pricing should allow the business to be sustainable." Meanwhile, the Nestle team is working to reengineer the water business.
If milk and water pose one kind of distribution challenge, then its traditional product categories do another. To reap rewards from its 25 new low-priced stock keeping units (or packs), Nestle will have to extend its 650,000-strong distribution network into 3700 remote towns. Narayanan claims the company plans a separate distribution network for its low-priced offerings. This network will deliver a portfolio of products to smaller towns. Some of Nestle's product launches need to be seen in the context of this portfolio. Butter and fresh milk are virtually commodities and there's no way Nestle can really compete with GCMMF and with regional milk co-operatives on price. Ergo, they're probably portfolio builders that make it economically viable for Nestle to reach smaller towns. "The cost of distributing products to remote towns is more," admits Vineet Khanna, Vice President (Supply Chain), Nestle. "That's why we are putting together a portfolio of products that can go to C-class towns." Adds Sujay Mishra, a FMCG-analyst at Kotak Securities, "Nestle defines its market in terms of what it can serve with its value added products, unlike HLL which is not unwilling to play the commodity game." Milk and butter, then, will make dairy distribution viable, and yoghurt (Dahi) and a clutch of value-added products (flavoured milk, lassi, even ice cream), will, the company reckons, take care of the rest.
The conservative core
The competition may claim Nestle's newly discovered love of the low-end is a reactive strategy-"They're under too much price pressure from us," chuckes Amul's Sodhi-but analysts believe the Swiss multinational has a larger gameplan. "It is true they're finding the going tough in dairy, thanks to Amul," says SSKI's Seth, "but Nestle traditionally enters any market with the long-term in mind."
Conservatism, then, continues to call the shots at Nestle. Two recent launches, Maggi Chinese Noodles and Maggi Imli Sauce, have been contained to two markets, Delhi and Mumbai, for close to six months now.
"We plan everything for sustainability over the long-term," says Narayanan. "We do not live quarter-by-quarter as some other FMCG companies tend to do." That may be one reason why Nestle isn't committing itself, yet, to the biscuit market.
And that is perhaps the reason Nestle is immune to the buzz being created by Barista, Qwiky's, and Café Coffee Day in the coffee bar business where its own Nescafe Cafés are a distant also-ran. Donati is quick to counter that Nestle's wait and watch strategy is largely driven by the fact that the cafes are an image building exercise. "Coffee cafes are very high cost models and I do not know how money can be made in a sustainable manner," he adds referring to the huge rents and operating expenses coffee chains tot up.
It is unlikely that Nestle loses its conservative core in its gambit to become a mass-market player. The memories of its 1997 debacle, when its then CEO (Donati's predecessor) Darius Ardeshir launched 31 new products and line extensions (most were unsuccessful) are fresh in its mind. Still, that fondness for firm ground hasn't prevented the company from putting in motion efforts targeted at making a go of the mass-market strategy: an alliance with Nilgiris Dairy, a large player in the southern markets; and the possible acquisition of a stake in Maharashtra-based Dynamix Dairy which will give it a local-edge in the Western markets.
Ironically, what was until yesterday considered Nestle's biggest weakness-conservatism-could today help its mass-market strategy succeed. Donati, however, rumoured to be up for his next posting in December this year, may not be around to see it.