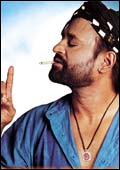 Late at night-anytime after 10.00 P.M in Chennai-when most honest citizens are asleep, I walk up Anna Flyover in the city's arterial Mount Road for another look at the billboard. It dwarfs the others around it, the ones advertising cellular phone services, shirts, jewellery, and the latest Kollywood (the Tamil film industry, from Kodambakkam, a borough that houses most studios) release. It stands over 15 metres tall and shows a man dressed in black with an unkempt mane and healthy stubble. He has a beedi (local cigarette) tucked into one corner of his mouth in the fashion of Eastwood's Man With No Name and an ornate kukri-like knife clasped in one hand. His other hand is making the forked-finger gesture commonly seen at rock concerts. The billboard is of reigning Kollywood superstar Rajnikanth in his 150th celluloid offering, Baba, but my business with him isn't about movies. It is, if I can get to meet him, about, well, business.
TAKE FIVE




Rajnikanth's last five releases have all been super-dooper hits.

Film

Year of

Total

Overseas

Release

Collections

Earnings

Baasha

1995

Rs 25 crore

Rs 3 crore

Muthu

1995

Rs 40 crore

Rs 10 crore

Arunachalam

1997

Rs 30 crore

Rs 5 crore

Padayappa

1999

Rs 38 crore

Rs 6 crore

Baba

2002

Rs 60 crore

Rs 10 crore

All figures are industry estimates
There's no denying Rajnikanth's status as superstar. His last five releases have grossed around Rs 200 crore. Nor is there any question over his dominance of the Tamil film industry. Baba, for instance, could account for at least a sixth of the industry's takings this year. There's more to the man. Shivaji Rao Gaekwad, now 53 and balding, is the most durable brand of southern kitsch-a long, and no doubt, strange trip for a man who once served as conductor aboard Bus Number 11 in Bangalore-and has been so since he adopted the more saleable Rajnikanth name, on August 15, 28 years ago. "Brands start representing places and countries of their origin. Rajnikanth has, in many ways become a face of Tamil Nadu," says S. Ramachander, Director of the Chennai based Institute of Financial Management and Research.
THE STAR'S BUSINESS MODEL

Rajnikanth's Lotus International has a unique business model.


Shah Rukh Khan and Kamal Haasan: Production nightmares

Rajnikanth produces his own films, and on a tight budget. Baba, for

instance, couldn't have cost him more than Rs 5 crore. Lotus comes out with a new release every two years and sells the motion pic directly to 260 theatres across the four southern states. Irrespective of the performance of the film, it makes its money-some Rs 60 crore, that could go up to Rs 75 crore in the case of Baba. Music rights, and international rights are just the icing on the cake. And yes, Rajnikanth gets to keep his cake and eat it too. Not too many of his peers follow this model. Kamal Haasan, after some disastrous attempts at film production, sticks to acting and directing. Shah Rukh Khan boasts a production outfit, Dreamz Unlimited, but apart from two flops, the company has nothing to show for its three years of existence. Besides, given the huge market for Bollywood releases, distribution is a logistical nightmare and Khan, even if he so desires can't probably go the Rajnikanth way. However, Khan retains distribution rights for the Mumbai territory-much like Amitabh Bachchan used to do in his heydays.
With 1.5 million registered fans who are only too willing (dogmatic zeal and all) to serve as brand ambassadors, Rajnikanth is one of the most consumer-focussed businesses in the country and out of it. One of his earlier films Muthu was dubbed in Japanese, titled Eiki (The Dancing Maharajah), and earned an estimated Rs 8 crore in Japan. With an eye on that market, one of Baba's female leads is Japanese actress Keiko Yamato.
Only, Rajnikanth isn't in the entertainment industry; he is in the messiah one. Six years back, he swung the course of an election by making a televised appeal to voters to pick the DMK-TMC combine and they did. And Baba is essentially the story of how one man saves the Tamils from corrupt politicians.
Money And Muscle
I don't get to meet Rajnikanth-his spiritual advisor, Virginia-based Swami Satchidananda, who is believed to have motivated the actor into making and starring in Baba, dies and Rajnikanth flies to the US-but I get to meet his wife, Latha Rajnikanth. Ms Rajnikanth is widely believed to be the brain behind Lotus International, Rajnikanth's production company. Once an aspiring playback singer-she gave it all up after her marriage-Ms Rajnikanth also runs a clutch of educational institutions in the city. The meeting happens in her office in Abhiramapuram, a South Madras neighbourhood. The office is nondescript; there are huge-and I mean huge-photographs of the Rajnikanths on the walls. Ms Rajnikanth is plump, sports a boyish hair-cut, and speaks in a soft singer's voice. She fulfils her artistic urge by releasing a Tamil pop album every year. "Questioning my husband's earnings are unparliamentary," she laughs. "It is a private business."
THE STAR'S FOLLOWING

Rajnikanth's fan-following could turn a multi-level-marketer green with envy.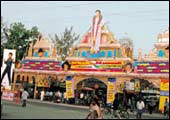 Fan frenzy: Theatres in Cut-out Nadu turn into temples of worship
Ever since his parents took him, then a child of five, to a screening of Rajnikanth's Payum Puli (Pouncing Tiger) in the early 1980s, Rajnidasan, now 26, has devoted his life to the worship of his idol. He is a member of a 1.5 million-strong tribe that could come in useful when Rajnikanth decides to enter the world of politics as most people expect him to. The fans don't get much in return-block reservations, special shows, a chance to see their hero in flesh, and maybe, just maybe, a photo-op with the man himself-but since when have groupies worried about returns?
Rajnikanth doesn't believe in the traditional distribution channel (see The Star's Business Model). Instead, he sells his motion pics directly to theatre owners. "Saar is a shrewd businessman,"gloats an aide. "He has the money and the muscle to arm-twist anyone in the industry." Lotus International, which also produced Baba, has sold it to 119 theatres in Tamil Nadu alone. Here's how the numbers work: a theatre pays the company a minimum 'guarantee' amount that could vary from Rs 30 lakh to Rs 75 lakh (for larger cities). At an average of Rs 50 lakh, Baba's takings will be at least Rs 60 crore. "For the past 10 years, Rajnikanth hasn't had to worry about hits and flops," adds Chitra Lakshmanan, Secretary, Tamil Film Producers Association. "He competes only against himself and that is a luxury even his Bollywood counterparts don't enjoy."
G. Venkateswaran is a pioneer of sorts in the Tamil film industry. Brother to marquee director Mani Ratnam, he chairs GV Films, one of the first film-production companies to go the IPO-way. He estimates that Baba could have set Lotus International back by Rs 5 crore and that it could earn around Rs 40 crore. Lakshmanan's estimate is around Rs 65 crore. Fact is, no one really knows how much money Baba will make, although the general consensus is that it will make money, and lots of it. "Everyone associated with a Rajnikanth film profits-producers, distributors, actors," gushes L. Suresh who owns and runs Ananda Pictures one of Tamil Nadu's oldest film distribution houses. Ergo, Baba could make anything between Rs 50 crore and Rs 150 crore, depending on who you are speaking to (and I spoke to quite a few people in the know). The magnitude of money involved-huge by any standards-even prompted uncharacteristic proactivity on part of the taxmen. Not surprisingly, when Baba premiered in Chennai, the Director General of Income Tax investigation, N.P. Tripathi, was a special invitee.
THE STAR'S HANDLERS

A core team of two looks after Rajnikanth's image and business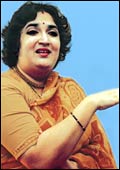 Latha Rajnikanth: The brains behind
Rajnikanth leads a highly reclusive life: he reportedly spends up to six months a year in the US and in ashrams in the Himalayas. Wife Latha Rajnikanth keeps a close eye on the operations of Lotus International, Rajnikanth's production and marketing company. "We share responsibilities to the extent possible,'' she says. Satyanarayana or Dalapati (commander, and it comes from one of Rajnikanth's films, directed by Mani Ratnam) as he is known is as influential as Rajnikanth himself. His job is to keep fan clubs, distributors and other intermediaries happy and manage Rajnikanth's image. The buzz is that Aishwarya, Rajnikanth's elder daughter who served as Baba's assistant director, is being drafted into the cabinet.
MAN OF THE MASSES

What explains Rajnikanth's popularity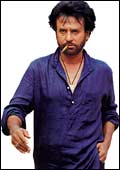 One of the definitions the Concise Oxford Dictionary has to offer for 'camp' is, ''affected..., done in an exaggerated way for effect..." From the way he runs his hand through his mop of hair, to the manner in which he throws up a cigarette and then catches it between his lips (it's tough; just try it), Rajnikanth is pure camp. It is this camp that appeals to the average Tamil. Cho Ramaswamy, the editor of satirical weekly Tughlaq may believe that ''when people see corruption all around them they find Rajnikanth as an alternative with high integrity'', but the man's appeal largely revolves around his on-screen image. ''Young people like his histrionics,'' says M. S. S. Pandian, an eminent sociologist who authored The Image Trap, a book about the impact of film-star-turned-politician-turned-chief-minister M.G. Ramachandran on Tamil society. ''They're Rajnikanth's biggest and most-committed group of followers."
Brand Magic
Outside one of the Chennai-theatres screening Baba, fans are garlanding his cardboard likeness, and propitiating it with milk and honey; elsewhere, I read about two people who die when violence erupts over a political leader's comments that Rajnikanth, a man from Karnataka, lacks the moral authority to lead the Tamils; and outside another Chennai theatre, Rajnidasan, 26, (see The Star's Following) has just made an offering of 150 white pumpkins (this is the star's 150th film, see) to keep the evil eye at bay.
So, what accounts for the unlikely magic of the man? "He is straight-forward, an achiever, and someone who is genuinely concerned about the goings-on around him," says actor turned journo-cum-political-commentator Cho Ramaswamy. "That's a breed of public personalities that's almost extinct today."
His fans couldn't care less. They adore Rajnikanth because of his on screen image-campy style, dollops of old-world sentiment about family values and all that, and one-liners-and his low-brow films. "Movie-making is a business, and Rajnikanth is an astute businessman," says a producer. "He will not experiment." No New Coke, please, we're Rajnikanth fans.
Hit or flop, Baba has served its role in perpetuating the Rajnikanth brand, the Rajnikanth business, the Rajnikanth legend. Suresh of Ananda Pictures believes the film is "settling down nicely", and Lotus may have recouped its investment many times over but, Rajni'money-be-damned'kanth knows Baba hasn't struck the chord he expected it to with his following.
ONE-LINERS THAT SELL

Remember Dirty Harry's, "Go on punk, make my day". Well, Rajnikanth can better that.
» Baba late a varuvaan anaal latest a varuvaan
Baba may be late, but he will be the latest (From Baba)
» Baasha oru murai sonnal nooru murai sonna madiri
If Baasha says it once, it's like it has been said a 100 times (From Baasha)
» Andavan sollran Arunachalam mudikkaran
God proposes; Arunachalam disposes (From Arunachalam)
» Bomb potta than vedikkum. Baba sonnale vedikkum.
There is an explosion when a bomb is thrown; but there is an explosion when Baba merely talks. (From Baba)
On the way to the airport, to catch a flight that will take me out of Cut-out Nadu, I drop by a theatre screening Baba. There I run into P. Muthukumar, a 25-year old Rajnikanth devotee who saw the star's last film Padayappa, 12 times. He has seen Baba twice, can't take it a third time, and is trying to sell his ticket (he booked a good three weeks in advance).
Rajnikanth knows the feeling. Before the release of Baba he said he wished to quit on a high. "Despite the profits, he knows Baba hasn't appealed to his fans, and that's why he will do another film soon," says one of his aides. Yes, Tamil cinema's profit machine will run again. There will be a Superstar release one last time. One more motion picture will perpetuate Rajnikanth's messianic aspirations. And then, maybe, he'll really turn messiah.