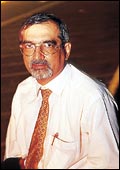 Anil Nayar, President (Mobility), Bharti Tele-Ventures: In telecom, life's a blur
Every time a customer calls to complain about network congestion, Anil Nayar knows that she's only a drop-call away from switching over to a rival cellular services provider. That's a big reason why Nayar, Bharti Tele-Ventures' 51-year-old President (Mobility), doesn't wait for complaints before starting to troubleshoot. Instead, Nayar and his team pick up the truck load of data that they maintain on their 7.37 lakh subscribers in Delhi circle, crunch it to find out who's most likely to dump Bharti's AirTel in favour of a rival operator (Delhi has four cellular operators, including the latest entrant idea). That done, the next step is to figure out how to keep these potential "churners" from leaving.
But does churn management, that's what this data crunching exercise is called, work? Sure, says Nayar, pointing out that prior to its implementation, the churn ratio at Bharti touched a peak of 3 per cent, but now it's just a little over 2 per cent. Still, that's not really the point Nayar wants to make. Says he: "If we hadn't done anything about it, the rate could have gone beyond 3 per cent." Considering that the average cost of customer acquisition in the mobile business is as high as Rs 3,000, retention directly impacts the bottomline.
Bharti cottoned on to churn management way back in November 1999, when in one of its quality meetings, it was noticed that the single-biggest factor in opportunity cost (or non-conformance in telecom-speak) was churn. Immediately, the company set about pulling in all the data it had on its customers. The idea was to meld discrete bits of data into an intelligent whole; something that would betray the churner. Was it poor service, network congestion, or ill-suited tariff plans that the customer was most complaining about? If the probability of churn could be predicted accurately, then not only could the glitches in service be fixed, but the bottomline improved.
MAPPING THE CHURN


The customer attributes considered in a churn analysis by telcos are...
» Customer Demographics
» Contractual Data
» Technical Quality Data
» Billing and Usage Data
» Events-type Data*
...and the most commonly used historic variables are...
» On-Air Time
» Number of Calls
» Revenue Generation
* Events like customer address change Source: SAS
TOOLS

This is a datamining technique used to predict a customer's likelihood to cancel service or his propensity to churn. The probability scores range from zero to one. If a customer has a churn score of 0.73, it can be interpreted as "this customer has a 73 per cent likelihood of canceling service."

One of the analytic techniques used to estimate customer's value is referred to as Life Time Value (LTV). A simplistic method for calculating LTV score is based on revenue and tenure. The LTV score is then put into discrete categories-high value, medium value and low value based on a set of business rules.

A number of data mining techniques like cluster analysis or self-organising maps can be used to analytically detect segments that exist based on patterns in customer data. For example, a high value high risk customer. Segmentation allows companies to prioritise their churn targets.
As Bharti started dialoguing and looking for ways and means to make sense of the customer data, it was led to American datamining major SAS' churn management customer relationship management (CRM) solution. Its software tools allow the user to sift through enormous quantities of data that the business generates to find hidden patterns and trends that will help in customer retention. Explains Gourish Hosangady, CEO and Managing Director, SAS India: "The online application enables a company to build a 360-degree view of its customers, and create customer-specific strategies for greater loyalty."
Customer retention, however, is only one part of churn management. It also makes the overall organisation much more effective by identifying potential problems and opportunities. For example, in one of its markets in West Delhi, Bharti was able to optimise its coverage by studying customer complaints and usage behaviour. In another busy commercial market, it was prompted to set up extra-powerful transmitters because an analysis of the complaints revealed that there were more users operating out of basement offices. The end result of such analysis is that it allows Bharti to manage its network investment much more effectively.
So how do the churn tools work? It starts with a search database, where information is stored in a structured manner. Data mining software pulls together all the raw data in whatever form it is held into one system (also called data warehouse), and combs through it using artificial intelligence techniques or complex mathematical models. The SAS datamining techniques predict a customer's likelihood of cancellation or switchover by scoring them on a scale of 0 to 1. If a customer scores 0.73 it means there's a 73 per cent chance of her churning. Ergo, the lower the score, the more contented the customer. Once you know the scores, it is easy to figure out which customers to go after first, or which customers (like defaulters) to let go.
Bharti did not stop at churner identification. It went a step ahead and used data warehousing tool to launch new products. For example, when statistics showed that a number of pre-paid subscribers in Delhi were not locals, but business visitors who subscribed to AirTel back in their hometowns, Bharti launched regional roaming for pre-paid subscribers. Says Nayar: "Data is a powerful resource, and it is up to you to find business insights in it."
From Retention To Cross-Selling
Another good thing about data is that every kind of business generates tonnes of it. And across industries there is a farily common denominator in terms of CRM-happy customers. Therefore, be it services, manufacturing, or retail, all industries can deploy CRM tools like churn management. Agrees Hosangady: "The common theme for companies irrespective of their industries is to identify trends and patterns about their customers and serve them better."
CASESTUDY


Churn in Banking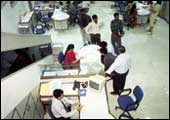 StanChart: relationship banking
If you had 2.5 million customers, competitors who routinely poach your customers, and products more or less generic, how do you keep your customers from straying? As the bank in question, Standard Chartered Grindlays, discovered, by getting inside the mind of your customer. That means understanding the customer segments, assessing and maximising lifetime value of each customer, modelling "what-if" scenarios, calculating customer risks, and designing effective marketing campaigns. What it boils down to is turning a mountain-load of data into intelligence. For instance, by analysing the mix of products a customer purchases, StanChart gets to know what other products to sell to her and when. In fact, the Diva credit card for women was the product of one such exercises. Says Sedjwick Joseph, Head of Business Intelligence Unit, StanChart: "By deepening our relationship with the customer and adding value to the products and services we offer, we make sure she does not migrate to competition." Makes sense, since losing a customer hurts two ways: One, the bank has to spend on acquiring a new customer and, two, that's bad for the brand.
CASESTUDY


Churn in Retail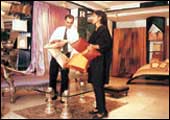 Ravissant: smart sales

How do you manage churn when there is no contract to start with? That's the question the Mumbai-based upmarket retailer Ravissant faced when it wanted to not just keep its high-value customers but also sell more to them. Ravissant-it retails exclusive fashion wear, home furnishing, sterling silver and jewellery-decided to rely on IT. Using a customer relationship management software from SAS India, the retailer began building intelligence on its customers' buying habits. The data warehouse builder provides information on a range of attributes, including highly profitable customers, their buying history, fast moving SKUs, inventory levels at each department, and profitability and qualitative sales analyses. Thanks to superior customer profiling, Ravissant is able to cross sell and "up sell" to its most precious customers. Says Ravi Chawla, Managing Director, Ravissant: "The outlet is now able to attend to the individual needs of each customer and offer products as per their liking and spending range." The result: A happy customer is a loyal customer.
Take, for instance, banking. With varying customer demands and ridiculously low switching costs, banks are focusing on building customer loyalty. One way to do that is to sell her more and more of the bank's products. That's exactly what StanChart is doing with its churn management and datamining tools. For example, when an auto loan customer nears the end of her tenure, her value to the bank starts diminishing. Enter analytic capability in a CRM solution, which enables the bank to better anticipate customer behaviour and thereby identify new opportunities for continued value. Hypothetically speaking, if a customer is in the age group of 30 to 45 years, then for the same EMI is she likely to trade her old car (say, Maruti 800) for a more expensive car such as the Ford Ikon or Opel Corsa? The CRM solution will most likely have the answer.
Selling new products to existing customers pre-empts additional costs of advertising, marketing, administration and all the other elements of customer acquisition. This in turn implies high margin and a pricing advantage over competitors who must bear these costs. Says Sedjwick George Joseph, Business Intelligence Head, StanChart Grindlays: "For any bank that is scaling up or adding customer to its base, it becomes imperative to use analytics to add value to the customer during (her) lifecycle with the bank and thereby maintain a competitive edge."
Sometimes, CRM tools can also help relaunch products. Just ask Goodlass Nerolac Paints. In December last year, the company revived an acrylic emulsion paint brand (Allscapes) given up for dead soon after it was first launched in 1994. Using sales data to analyse buying patterns, the company realised that if it manufactured the base and did shade matching at the dealer counter, there could be a new efficient way of selling paints. Allscapes, therefore, was relaunched in 38 ready-to-use shades.
Similarly, last year when the demand for paint slumped, the company analysed sales of paints in bulk, retail and small packs for the corresponding period of June-August, 2000. The analysis revealed that while overall paint sales were lower, bulk packs were doing brisk business. Explains Anuj Jain, General Manager (Marketing), GNPL: "This meant new construction work was on while repainting requirements had fallen." Predictably, the company increased production of bulk packs.
Be warned, though. CRM tools like churn management are not a panacea to marketing ills. For one, the investment in such solutions ranges from Rs 80 lakh to Rs 2.5 crore, typically spread over three years. Besides, data is data. Unless you as the user can innovate and make the data sweat, you are unlikely to get the breakthroughs you would expect this kind of investment to yield. Points out Nayar of Bharti: "Sometimes the success rate is down to 30 per cent, but being mathematical models, we can tweak the model a bit to increase the success rate of the tool." That said, the goodness of CRM tools lies in the fact that they force you to consciously look for customer risks and opportunities not visible to other marketing mortals.