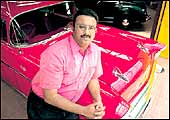 TITUS & CO
FOUNDED: 1997
HOURLY BILLINGS:
Rs 3,760-Rs 8,225
SPECIALISATION: M&A, Project Finance, Telecom, Biotechnology, Litigation
MAJOR CLIENTS: Aventis, US Exim Bank, Marubeni, Siemens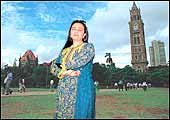 CZB PARTNERS
FOUNDED: 2002
HOURLY BILLINGS:
Rs 2,820-Rs 16,450
SPECIALISATION: Corporate Finance, M&A, Arbitration and Litigation
MAJOR CLIENTS: Lafarge, Alcan, British Gas, JP Morgan-Chase
Anand Pathak rarely gets to holiday. But in April 2001, the Managing Partner of Delhi-based P&A Law Offices squeezed some time out for a vacation to Jaipur along with his wife and kids. They were on an elephant back negotiating snaked pathways to Amber Fort, a sprawling 16th century structure on a hillside, when Pathak's mobile phone rang. It was his Delhi office calling. ''Anand, can you be on line for a conference call now?'' his associate asked. Perched atop the elephant, Pathak helped Rediff.com sew up its acquisition of the Illinois-based Value Communications Corporation.
Unusual? Maybe the elephant bit is. But seeking out a 40-year-old Cambridge and Yale graduate with more than a decade's experience in law firms in the US and Europe to give finishing touches to a $3- million (Rs 14-crore) deal? Certainly not. After all, Pathak represents what you could call a new breed of young lawyers who are seen less in the black robe and more in pin-striped suits, offering cutting-edge legal services for Indian and multinational companies. The new legal eagles are outward-looking, enterprising, client-friendly, and draw from international experiences. They are not just litigation lawyers. A big chunk of their work includes non-litigation practices like mergers and acquisitions, joint ventures, intellectual property or advising an entry strategy for foreign companies.
They also negotiate power purchase agreements for power projects, restructure corporate debt, draft the shareholders' agreement for disinvestment of public sector undertakings or offer advice on sale or acquisition of brands. They have specialised practice groups in telecom, information technology, insurance and intellectual property. They run multi-partner, professional law firms, and offer transparent partnership track for personal growth of their associate lawyers. For instance, Dua Associates, a Delhi-based, 100-lawyer firm, has a full equity partner to take care of the entire administrative and hr work-a first in India.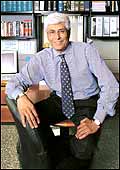 NISHITH DESAI ASSOCIATES
FOUNDED: 1984
HOURLY BILLINGS:
Rs 2,820-Rs 16,450
SPECIALISATION: Project Finance, EPC Contracts, Derivatives, Intellectual Property, Biotechnology
MAJOR CLIENTS: Transamerica, Prudential, General Atlantic Partners, Sumitomo Bank, ICICI Ventures
The Makeover
In other words, Indian law firms have come of age. Since the early 90s, a number of law firms have mushroomed in cities such as Delhi, Mumbai and Bangalore, and most of these are headed by young but talented lawyers. Says Lalit Bhasin, Managing Partner, Bhasin & Co., and President of the Society of Indian Law Firms: "They have very good infrastructure, employ latest technologies, and their offices can be compared to those of any good law firm in developed countries."
That's quite a change from the firm of yore that was family-centric or dominated by one powerful personality. No doubt, some of the biggest lawyers-Fali S. Nariman, Harish Salve, Kapil Sibal, K.K. Venugopal, or Abhishek Manu Singhvi-still enjoy top-of-the-mind recall. The difference between them and the new-age law firms is that while the former are top litigating lawyers (most of them take up only Supreme Court cases), they are not a one-stop shop for legal services like the latter.
What's led the transformation, of course, is the change in business environment. With liberalisation, business became global and complex. There were joint ventures to be struck, technology agreements to be drawn up, complex revenue- and profit-sharing deals to be negotiated, and sticky IPR issues to be sorted out. Suddenly, the plain-vanilla lawyer found himself out of depths. Says Ajay Bahl, Managing Partner, Ajay Bahl & Co, a Delhi-based law firm: "It became clear that it was difficult for one single person to look after the entire legal needs of a company. The stakes were higher." This not only resulted in the growth of new law firms, but the old ones were forced to restructure. Personality-based practice gave way to team-based practice.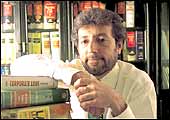 AJAY BAHL & CO
FOUNDED: 1986
HOURLY BILLINGS:


Rs 3,760-Rs 15,275


SPECIALISATION: Media, Privatisation, Tax, Corporate Transactions and Advisory, International Litigation
MAJOR CLIENTS: NewsCorp, ESPN, Motorola, Microsoft, Conagra, Bacardi Martini, Disney
Consider Amarchand Mangaldas, one of the oldest law firms in India (set up in 1917). It's the largest law firm in the country, with 140-odd lawyers on its roll, and has expertise in a range of areas. "Size and quality are very important parameters for a firm. It's directly linked to timely delivery and results," says Shardul Shroff, Managing Partner, who leads the non-litigation practice at Amarchand (His wife and partner Pallavi Shroff takes care of litigation matters).
For instance, in February this year, ONGC mandated the firm to complete the debt restructuring of Mangalore Refineries and Petrochemicals Ltd (MRPL). The job had to be done before March 31, otherwise the company would have been referred to BIFR as a sick company. The task was mammoth, but Shardul and a team of 10-12 lawyers in Delhi and Mumbai negotiated the restructuring package with MRPL's 22 lenders and signed up the deal in about 30 days. Says A.N. Sinha, Advisor (Downstream), ONGC, who is now in charge of MRPL: ''The tremendous commitment and personal attention they have shown is a far cry from that of the lawyers of olden days.''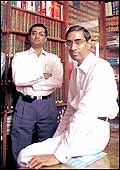 SURANA & SURANA


FOUNDED: 1971
HOURLY BILLINGS:


Rs 3,525-Rs 16,450


SPECIALISATION: Foreign Trade Transactions, IPR, Information Technology, Corporate and Commercial Law
MAJOR CLIENTS: Hyundai, GMAC, Murugappa Group, Videocon, Tidal Park, Perfetti Van Melle
Catching A Wave
The boom in new areas like information technology, biotechnology and media has come as a blessing for law firms like Nishith Desai Associates in Mumbai, P&A Law offices, Ajay Bahl & Co., and Dua Associates in Delhi. Walk into Nishith Desai's office and you would meet not just lawyers but doctors, management graduates, CAS and engineers who have picked up a degree in law to complement their basic specialisation. The firm, which also has an office in California, believes in "bringing a multi-disciplinary research dimension into the legal profession". So if a venture capitalist client wants to know about the upcoming legal, ethical and IPR issues in India, Desai has a team to help him out. But don't dismiss this law firm as a backroom player. It was involved as legal counsel for various cross-border acquisitions, including BFL Software's purchase of MphasiS, and foreign listing of Indian companies like Infosys, Wipro and Rediff. Delhi's Dua Associates is one of the first firms to set up separate practice groups for banking, insurance and privatisation. It has advised on more than 15 PSU disinvestment cases, both on the buy and the sell side. To accommodate non-lawyers, it has even formed a separate arm, Dua Consulting, which will work on public affairs, financial planning, and regulatory approvals.
The USP of Anand Pathak's P&A Law Offices is that his firm can practice in Europe, the US and Canada, besides, of course, India. This has helped the firm grab a lot of work from Indian it companies who are looking for acquisition targets abroad. For instance, P&A has managed all the foreign acquisitions of Rediff.com and HCL Technologies. Pathak, who has worked for 10 years with a US law firm Jones Day, also has a set-up in Silicon Valley. Currently, Pathak is helping a leading Indian it company plan its foreign float.
From 1994 onwards, there has been a spurt in the launch of satellite channels, and this brought forth several issues like piracy, theft of signals and so on. Ajay Bahl & Co. is one of the first Indian firms to cut its teeth in media and broadcasting law. Bahl, a ca-cum-lawyer, did a lot of work in this area for NewsCorp, ESPN and Star Sports and also structured the split of NewsCorp and Zee in 2000. Outside media, Bahl has advised Kuoni Travels in its acquisition of Sita Travels in 2000 and Chevron-Texaco's purchase of Kolkata-based Tide Water.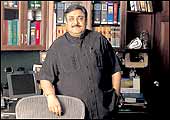 LUTHRA & LUTHRA
FOUNDED: 1989
HOURLY BILLINGS:


Rs 4,700-Rs 16,450


SPECIALISATION: Project Finance, Insurance, Corporate Litigation
MAJOR CLIENTS: Rolls-Royce, Hewlett-Packard, Lockheed Martin, Citibank
In the case of Pravin Anand, it was the dramatic changes of past two decades in trademark, copyright, design and patent laws, besides the introduction of new legislation like the it Act, Competition Act, and Plant Variety Protection Act that gave his patent law practice a major fillip. Today, his Anand & Anand, an IPR boutique, is the top-most firm in the area. Ask Anand, the Managing Partner, how many patents he has helped file, and the answer is "thousands". He was also the counsel for Philips when the International Cricket Council filed a case against the company for ambush marketing during the last cricket World Cup. Anand won the case for Philips.
But the Bahls and Anands are hardly the only firms to have gained from the opening up of the Indian economy. In fact, even some first-generation law firms have hit the big times in a relatively short period. Delhi-based Luthra & Luthra, for example, came from nowhere, but is now one of the top grossers in the country, with annual revenues of more than Rs 50 crore and high-profile clients such as Rolls-Royce, Lockheed Martin, Bank of America, and Hewlett-Packard. Set up in 1989 by Rajiv Luthra, 45, a first-generation lawyer, the firm shot into prominence by doing a lot of work in project finance, then a relatively new area for Indian lawyers. Luthra's firm has been an advisor for about 40 power projects. What came handy was Luthra's 15 years experience in his father's accountancy firm. "When we negotiate a power purchase agreement, we not only look at the pure legal issues but we also analyse its implications for the irr (internal rate of return), profits and other risk matrix," says Luthra.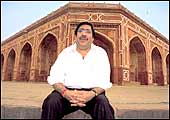 ANAND & ANAND
FOUNDED: 1923
HOURLY BILLINGS:


Rs 9,400-Rs 16,450


SPECIALISATION: IPR
MAJOR CLIENTS: Yahoo!, IBM, Intel, Ford, Tatas, Philips
The rise of 36-year-old Diljeet Titus has been equally phenomenal. He set up Titus & Co in 1997 after quitting his job at D.C. Singhania & Co. Now 98 per cent of his clients are multinational corporations. Titus has advised pharmaceutical giant Hoechst on its $205-million (Rs 959-crore) acquisition of Indian biotechnology company Proagro in 2002. This is one of the largest acquisitions by a foreign company in India. His firm is currently advising US Exim Bank for restructuring the repayment of $300 million (Rs 1,403 crore) equipment finance given to Dabhol Power Company and also a $80-million (Rs 374.25 crore) loan to Jindal Vijayanagar Steel. With just 23 lawyers on his rolls, Titus clocks a revenue of about Rs 10 crore a year, probably the highest in India in terms of revenues per lawyer.
However, in Bangalore, it is the story of young Sajan Poovayya, H. Jayesh and Ajmal Edappagath that's got the legal circles talking. A 31-year-old gold medalist from the National Law School of India University, Poovayya set up Poovayya & Co in 1999, after a brief stint in the UK. He already counts GE, Wipro, Apollo Hospitals, ITC, and Tatas among his clients, and has annual billings of Rs 1.2 crore. Jayesh, on the other hand, set up Juris Corp in 2000, as a financial and derivatives law specialist, and today consults clients like Citibank, Barclays Bank and Bank of America. Edappagath, 33, specialises in it and cyberlaw, and advises the International Telecom Union, among others, on technology-related legislation in Asia-Pacific countries.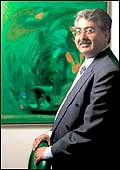 AMARCHAND MANGALDAS


FOUNDED: 1917
HOURLY BILLINGS:


Rs 4,700-Rs 14,100


SPECIALISATION: M&A, Corporate Finance, Commercial Litigation
MAJOR CLIENTS: Coca-Cola, Tata Group, ICICI Bank, Kotak Mahindra
Although Delhi-based firms dominate the estimated Rs 600-crore legal services market in India, there are Mumbai-based CZB Partners and Chennai's Surana & Surana who can be counted among the top 10. CZB Partners, promoted by Zia Mody, 47, (daughter of Attorney General Soli Sorabjee), has been in the thick of virtually every M&A action in India. Be it Lafarge's $300 million (Rs 1,403 crore) acquisitions of cement divisions of TISCO and Raymond, Alcan's $165 million (Rs 772 crore) divestment of equity in Indal to the A.V. Birla Group or advising British Gas on its investments in India, Mody's firm has done it all. Chennai's number one law firm Surana & Surana has clients like Hyundai and GMAC (the finance arm of General Motors). Hyundai, which came into Chennai one-and-a-half-years later than Ford, actually rolled out the first car from its factory faster than the Detroit giant, and Hyundai has acknowledged the success of this to Surana, which successfully liaised between the state government and the company.
There is no doubt that a silent revolution is underway in the field of legal services, but what may hold back its growth are restrictions like the 20-partner limit for firms and even archaic things like a ban on advertising, hosting of websites and directory entries. The Naresh Chandra Committee on corporate governance has recommended that the limit be raised to 50, which, if accepted by the government, can do wonders to the growth of firms. But as for lifting the ban on self-promotion, it's up to the Bar Council of India. After all, there are some laws that even lawyers can't beat.