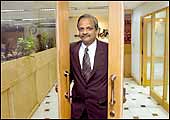 No two leaders follow the same leadership style. Yet, what is common among all great leaders is that they give the utmost importance to staying in touch with ground realities. And that is the key to being successful as a leader.
The higher one moves in the hierarchy, the easier it is get divorced from the plethora of activities happening at the grassroots level. This is exactly what a leader must guard against. At the top, one usually receives information that has been filtered at various levels of the hierarchy. But as a leader, one needs to see through that information and go deep down to find out the reality at ground zero. This is necessary if the organisation's customers and employees are to be kept satisfied, and if the leader is to stay informed about what is happening at the different levels of the organisation.
Being a leader is all about working together with people, encouraging them, training them, making them feel a part of the picture. So the first maxim of being a good leader is ensuring employee involvement-acquainting the team with the goals of the organisation and driving team members to perform better.
The second maxim of good leadership in business is to keep customers happy. A leader has to possess the highest level of commitment towards his or her customers and orient the organisation's employees to continuously come up with solutions and information on products and services the customer wants.
It is the responsibility of leaders to provide vision and purpose to their teams, even while encouraging team members to achieve their creative potential. The most important task a leader can perform for his or her organisation is to help employees focus on their strengths and help them realise their full potential.