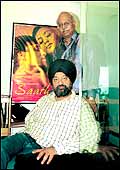 Saurabh Srivastava (standing) and Bobby Bedia of Kaleidoscope: Corporatising entertainment
For decades, Bollywood has had a tried and tested way of making movies. Get a script (especially one that resembles an old blockbuster), rope in a "lucky" director, slap together a team of big stars, raise money from anybody who'll lend (don't ask questions about his background), rush a "muhurat" shot and then on hope that things work out exactly as you expect them to. And that's pretty much what Bobby Bedi, movie-maker and Managing Director of Kaleidoscope Entertainment, did too.
Enter Saurabh Srivastava in 2000. A well-known it veteran, Srivastava-who still dabbles in venture capital as the founder-chairman of Infinity Technology Investments-turned his focus to Bollywood because it had "brilliant moviemakers, but no movie managers". Ergo, one of the first things that the 57-year-old Srivastava, who is a director at Kaleidoscope, did was to stand the touchy-feely movie making principles on their head. Movies, he decreed, would be managed like any FMCG product. There would be market research, there would tight schedule and budget controls, and there would be scientific marketing.
So, has Srivastava delivered? Hindi movie Saathiya, starring newcomer Vivek Oberoi and Rani Mukherjee, was released in December 2002, and raked in more than Rs 18 crore in India, the US, and UK. Mian Maqbool, another Hindi movie starring Naseeruddin Shah and Tabu that was already two-and-a-half months into production when Saathiya was launched, has been completed and will hit the silver screen on December 19 this year. Critics at the movie festival circuits (in Delhi, Toronto, and Marrakesh) have given it rave reviews. A third movie, American Daylight-a story revolving around India's new call centre phenomenon-is in post production, a fourth (called The Rising, and starring Aamir Khan) is getting ready to go on the floor, and a fifth is under preparation.
MOVIE-MAKING, KALEIDOSCOPE STYLE
Script:


Run it through distributors; if not excited, dump it


Director:


Depending on the script, get the right director and star cast


Production:


Draw up detailed budget and time schedules, monitor daily


Financing:


Tap own shareholders and partners, cover risks via a completion bond


Marketing:


Sell the movie like any other FMCG product
Even as recently as last year, Kaleidoscope, like most producers, did just one movie a year. Multiple productions, like what it currently handles, was made possible by the new management system. But it's not just movie volume that Srivastava is chasing. He is projecting a spectacular growth in profits-from Rs 1 crore last year, to Rs 5 crore next year, and a whopping Rs 200 crore by 2007-8. "Around that time, we'll take the company public," says Srivastava.
Take Two
If Srivastava decided to bring in modern management into movie making, it's not because he thought, but because he knew, that's what the industry needed. Consider this: The risks involved in movie production are actually not huge. Most producers, Srivastava says, can recoup almost 70 per cent of their investment through a combination of box office revenues, TV rights, and overseas sales. Most of the risks are actually pre-release. A large number of movies that are started, don't get completed; a lot of those that do get completed vastly overshoot their budget; and a significant number also get canned because there is no distributor interest in it.
Kaleidoscope mitigates its own risks by approaching movie making like a new product launch. Ideas and scripts, which can come from anybody, are filtered through reputed directors and distributors. Those that don't pass muster, are killed straightaway. Once the movie goes into production, detailed budget and time schedules are prepared by production managers and line producers, and submitted daily. There is a weekly cost report that highlights "cost to complete" under each head against the budget, and variations if any are tracked and attacked. Kaleidoscope even uses a special software for film budgeting and scheduling, called Movie Magic. "Just like in any other business, intelligent planning helps minimise costs and maximise profits," says Srivastava.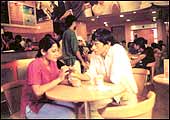 A new cup of tea: American Daylight focuses on a gen-now theme
When it comes to marketing, the company thinks like any other marketer of FMCG products. While getting the distributor buy-in ahead of production minimises risks related to the release, it doesn't help create buzz in the market. That's where creative thinking comes in. For example, two scenes in the movie American Daylight have been shot in two Barista outlets, and Kaleidoscope will try to promote the film through promos in such coffee pubs, including contests for tickets to the movie. Says Bedi, who himself has an MBA in finance from Jamnalal Bajaj Institute of Management Studies: "American Daylight is essentially a first-of-its-kind for Indian audiences. Its gen-now theme, will, in all probability, find mass acceptance among the urban young. Since they are our target audience, we need to sell the movie accordingly."
However, even the best of audience can be unpredictable. Therefore, much like a fund manager, Kaleidoscope follows a "diversification" strategy. Each film has a different budget (ranging from high to low), a different theme, different creative teams, even a different target audience. There are other ways in which the company hedges its risks. Big budget movies (like The Rising) are usually co-productions, and even these are covered by Film Finances Inc., which guarantees completion of the movie, should the producers run into financial problems. Chances of Kaleidoscope going bust half way a movie are remote. Its capital comes from investors who have bought shares into the company, and not from ad hoc movie financing. And where it does borrow, it is usually from financial institutions like the IDBI.
So, what do Messrs Bedi and Srivastava want Kaleidoscope to be? "A leading entertainment player in India and of Indian entertainment in the world," says Srivastava. That, of course, will depend on how the company's launches in the pipeline do. And Srivastava would do well to keep his fingers. This, after all, is Bollywood.
---
What's the Buzzword?
A Bain & Co. survey finds that use of management tools has jumped.
THE POWER TOOLS
From across continents, the most popular tools.
North America
Outsourcing, Reengineering, and Downsizing
Europe
Change Management and Knowledge Management
Asia
Customer Relationship Management
Source: Bain & Co. www.bain.com
Here's some news. The management tools that managers in the US had so disdainfully abandoned in the heady days of mid-90s are storming their way back into corporate boardrooms, office cubicles, and factory shopfloors. According to a recent survey by Bain & Co, a top consulting firm in the US, there's been a dramatic increase-60 per cent-in the number and types of management tools that companies across America are using compared to two years ago.
Bain, which launched this ongoing survey in 1993 to gather data on the use and effectiveness of popular management tools, cites the tough economic conditions as the reason. And what America's beleaguered managers are trying to do, the survey suggests, is four-pronged: Preserve customer revenues, prepare for growth, prepare for contingencies, and focus on ethics. According to Darrell Rigby, a Director of Bain & Co, and the creator of the survey, tools like CRM, contingency planning and knowledge management "rose through the ranks, both in usage and satisfaction".
Interestingly enough, the survey also points to differences in usage of tools across geographies. In Asia, for example, managers focused more on CRM and customer segmentation, while those in Europe put greater emphasis on Change Management and Knowledge Management. In contrast, managers in North America focused not so much on revenue growth as cost cutting, using methods such as downsizing, outsourcing, reengineering and stock buybacks.
But as Rigby says in a release, "too many companies are whistling in the dark". So, what's a manager like you to do? According to Bain, step one is to get the fact rights. All tools have their pluses and minuses; understand them fully. Two, "champion enduring strategies, and not fleeting fads". Three, choose the right tools for the right job. And finally, "adapt tools to your business system and not vice versa". In other words, use management tools because they help your company perform better. And not because they are fashionable.
---
Ripe For Picking
Trade unions train their sight on a budding industry, the call centres.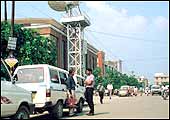 Soft targets: If trade unions have their way, the Qualises outside call centres may give way to banners and pitched tents
The 11th congress of the Centre of Indian Trade Unions to be held from December 9 to 13 in Chennai will discuss a whole lot of crucial issues, but one of them is unlike anything it has dealt with before. The subject: "How to expand union activity to new areas like call centres and the IT industry," says Tapan Sen, National Secretary of the left wing CITU.
For an industry worried sore over high employee attrition-an annual average of 35 per cent-this is a totally unwelcome attention. But it's easy to see why the unions are licking their chops. At last count, the BPO industry employed some 1.7 lakh people, mostly in the age group of 20 to 25, and employment is growing at over 60 per cent year on year. Most of the call centres, there are about 200 of them, pay Rs 10,000 as starting salary and the work can often be uninspiring. But how easy will it be for these anachronistic unions to make converts? "We have to find innovative ways to infiltrate them," confides Sen. "The first step will be to contact some employees and convince them about the need for unionisation," he adds. ''Initially, (the trade unions) will start off as friendship clubs," predicts G. Sanjiva Reddy, President of the Congress-affiliated Indian National Trade Union Congress (INTUC).
How real is the spectre of unionisation at BPO companies? Sujit Bakshi, former CEO of HCL Technologies' BPO operations and currently President of V-Customer, has already gone on record to say that repetitive work might give rise to unions. In a bid to prevent that, HCL's BPO outfit has limited the staff strength to 500 in any one centre. But Raman Roy, Chairman and Managing Director of Wipro Spectramind, rubbishes such a possibility. "I don't think there is any chance (of trade unionism) in the foreseeable future. But if you start writing about all this, people will get ideas," Roy protests.
Trade unions say that wherever there is an employer-employee relationship, there is scope for them. However, BPO pundits argue that the question of collective bargaining arises only if the employees are oppressed. As long as their aspirations and ambitions are being met, and as long as the top leadership is willing to listen to them, there is no reason for collective bargaining. Says Aniruddha Limaye, VP (Corporate hr & Training), e-Daksh Services: "Bad hr practices may create a climate for trade unionism. But if you involve employees, hold open houses and review meetings and maintain a two-way communication, then it's unlikely to give rise to union activities.''
But not everybody is ready to take chances. According to industry sources, GE Capital International Services, one of India's largest BPOs, has already prepared a report on the possibility of trade union activity in the fledgling industry. Apparently, the report has found that Maharashtra, Kerala and West Bengal could be prone to unionisation. In fact, BT learns that a lot of companies scouting for new BPO locations are using this report as a guide. GE, however, had not answered an e-mailed questionnaire when BT went to press.
So, the next time you call your card company or bank and are told that the operator is unavailable, it may not be a tea break that's keeping him away.
-Sahad P.V.