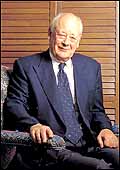 If you've ever thought long and hard about your job, and the context of that job, you probably owe something to Charles Handy, the Irish-born business thinker who made 'discontinuous change' a truism. He alerted people to the relentless force of business efficiency, warned them about the end of corporate certainties, and pondered the future of self-employed professionals long before there was a 'market' for such thoughts.
What distinguishes him, however, is the humanism he has brought to the analysis of the capitalist world as it evolves. In fact, many see in his writing less a reflection of his experience working with Royal Dutch Shell, or even his MBA from MIT's Sloan, and more of his moorings as an Oxford graduate in history and philosophy.
In his influential book The Age of Unreason, Handy uses G.B. Shaw's distinction between the reasonable man (who adapts to the world) and the unreasonable man (who tries to make the world adapt to a vision) to urge his readers to face the current turbulence, and think beyond the standard limits. In The Age of Paradox, he also worries about the flaws of market capitalism, setting the sombre tone for his subsequent exertions on the human quest for purpose. Is this it? Each man for himself? Is a company just a piece of property? "I think the rhetoric of the stockmarket is concealing from us the fact that what we're actually talking about is owning other people," he sighed, once. Modern day McCarthyists, stay calm. What Handy wants, harmlessly, is a reversion to shareholders as caring investors rather than gamblers. In fact, the role he plays is that of a causes-of-the-revolt sort of analyst, invaluable to capitalism's perpetuation.
Institutionalisation and leadership are Handy's other big preoccupations. Oxford is over 650 years old. So is Japan's Mitsui. Yet, other organisations could in theory outlast them. "The interesting thing about organisations is that they can make the assumption that they're never going to die. And the reason you stay immortal is that you have discovered what's unique about you. The job of the leader is to work that out. To express it."