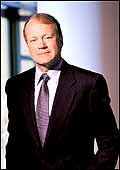 John Chambers, the CEO of Cisco has had, much like his company, a torrid two years. Fuelled by hype surrounding the internet and telecommunications businesses (and by the fact that for a brief period in those heady days, the company was more valuable than Microsoft), analysts and publications labeled Cisco, the organisation of the future, and Chambers, one of the best CEOs going. Then the bottom dropped out of the market. Circa 2003, however, as Chambers points out repeatedly in the course of this interview, Cisco hasn't done too badly for itself. It is still the market leader and has weathered the bad times better than most of its competitors. Chambers is also confident that Cisco has hit upon the perfect business model for the future, one he calls a network virtual organisation. He spoke to BT (which sought the interview to understand how one of tech's gold standards had weathered the tech slowdown) in Cisco's New Delhi office through the company's internal network on a Cisco IP telephone, a product that is increasingly finding customers among companies keen to reduce the cost of intra-office communications. As he tells it in this interview, sometimes it does pay to eat your own dogfood.
John, it's been two years since you were in India and the Indian telecom market has really grown. Are you happy with what your Indian subsidiary has achieved in this period?
I think it's more than a subsidiary sales arrangement. If you watch what we are attempting to do in India-and we've done this only in three, maybe four countries around the world-we are focused (on the country) from a R&D perspective and a service perspective; we have key strategic partners in India, and a subsidiary for sales operations. With a combination of the four, I am very pleased with where we are.
What are the expectations you have of Cisco's Indian operations?
I have very high expectations of our engineering services and sales operation in India. I also have very high expectations of India as a whole because of its education system and the opportunities it has for carving a future where education and the internet will be two great equalisers.
There has recently been a change at the top in Cisco India...
Cisco India has been performing well and is a top performer in the region. I am confident that this will continue under the leadership of Rangu (Ranganath Salgame, the new President, India and SAARC operations).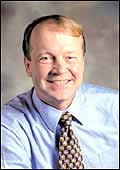 "Cisco has reorganised itself, restructured itself and focussed itself"
You have a large development centre in Bangalore. How critical is this to Cisco?
What is the future of business? We think the model for the future is what we call a network virtual organisation. This simply means that you focus on your core expertise and outsource to others what they have major advantages in. To make this work effectively, you have to maintain very high control over the strategy and the execution. This is what we are doing with our centre in India. It actually serves the organisation across the world (in terms of engineering services). (To put this in perspective), as an organisation Cisco has outsourced manufacturing for 12 years.
The pace of acquisitions made by Cisco has come down in the last couple of years. Is growth through acquisitions becoming more and more difficult?
No. I don't think so at all. I think you shouldn't think about acquisitions in isolation, but in the context of your overall strategy. We have the unique position of leading the whole networking industry. Our market capitalisation is around 70 per cent of the entire industry's market cap. That's a nice way of saying that the expectation of the financial community from us, as compared to (expectations) from our top three or four competitors is higher. If you look at companies that are successful innovators, they did it themselves during the 1970s and 80s; in the 1990s, they did that and they acquired (companies that had innovated technologies). Cisco led the way in acquisitions all through the 1990s. In this decade, it's doing it yourself and acquiring companies and partnering. If you look at our pace of acquisitions, it is starting to pick up again.
If there is one thing that sets apart Cisco's products and Cisco's technology from that of the competition what would it be?
Let's make it three. If we look at what Cisco is able to do that our peers in the industry struggle with, it is the ability to transform technology into business process; change productivity. That's what most of the people see Cisco doing.
Second, we are the only company that has positioned itself to play across technologies in its business: to be the leader in your own network, to be a leader in the internet, to be a leader in the wireless networks, to be a leader in the cable networks. So, if you look at applications that will enable a network virtual organisation, you can choose any combination.
The third element that I think we bring to these companies is the ability to protect their investment: (for instance), we can add a card to a switch and make it a router; or add another card for security; and another to bestow it with a PBX (internal exchange) capability.
When you came down here in 2000, Cisco was on a roll. I think it had just come off being the most valuable company in the US for a couple of days. Magazines were calling it the organisation of the future. But the last couple of years haven't been kind to you have they?
I think every it company in the world has had a very tough last couple of years. The NASDAQ has fallen by over 80 per cent. If you look at our top 11 competitors, their market capitalisation has gone from $937 billion to $40 billion, the same as it was in 1995. Our market capitalisation since 1995 is up over 1,000 per cent. I think our relations hips in the industry and the relations hips with customers and key strategic partners have become dramatically better, not just over the last two years but over the last seven in a way that our competitors have not managed to do. I think world-class companies have to handle the good times well and have to handle the challenging times well and I think most analysts would say that we have led our industry in both times.
Could you elaborate on how you've handled the challenging times well?
When you are in challenging times, the lesson to learn is very simple. First, you need to understand whether it is an industry phenomena or something you did yourself. Second, you determine-if it's not something you did, (that is)-how long it (the recession) is going to last and how deep it is going to be. And third, you get ready for the eventual upturn. That's true regardless of industry in challenging times. We said it (the challenging times) would last longer and run deeper that anybody expects. (We said it would be) the 100-year flood. We were right about this prediction and during that time-period we came up with a plan that really got our company ready to run a different implementation of our strategy at a different pace. We also got ready for the upturn: (we focused on) productivity and fast growing new technologies and segmented our markets.
Our productivity increased by 22 per cent just by moving resources to new markets. So we have over 40 per cent of our engineering resources (focused) on router-research in new countries and it was nowhere near that two years ago.
We've used technology ourselves to dramatically increase our productivity.
Your key customers must be equally focused on costs. So has that put your profit margins under some kind of pressure?
We deliver continued price-performance improvement to our customers at an unbelievably fast pace that exceeds (the pace defined by) Moore's Law, and that of our industry. We did offer peak performance price reduction on strategic products. We're coming down the price performance curve at a rapid rate and yet we have done what no one in the industry has done: increased our gross margins (while lowering price and improving performance). That, most people would agree, is world-class execution and we've used our own technology (to increase) productivity, as well as some very fundamental business practices to achieve that.
Remember that this industry lost $500 million in the first quarter of this year and we made a billion in cash. Cisco has reorganised itself, restructured itself, and focussed itself.
Have the last couple of years changed you, your style of leadership?
I think you learn more about a leader and a company during tough times than you do in good times. To lead in hyper-growth periods is very difficult, very challenging, but I think most people would agree that to lead in periods on contraction is even more challenging. It can't be much fun. Most people would say that once we got over our initial surprise, nobody in the industry executed (the revival) strategy better than Cisco.
Whether its our leadership team, including myself, or the company, we have emerged from periods of rapid growth and rapid contraction stronger, a much more effective company with closer relations with customers, a company that has learnt to master productivity. In most people's opinion, we are well positioned to lead our industry by a long way. At the same time we are focused on staying customer-driven and we have a management team that probably planned the best (strategy for bad times) as a team. Our overall strategy and our architectural process has not changed at all; in fact we are better positioned in our industry than we were even two years ago.