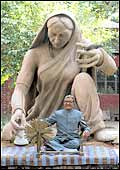 KVIC BY THE NUMBERS
Revenues
Rs 10,193 crore
Earnings
Rs 3,398 crore
Sales outlets
7,000
Number of products
487
Employment
66,00,000
Villages covered
3,00,000
Figures for 2002-03
Mahesh Sharma, chairman of the Khadi and Village Industries Commission (KVIC), has a pet peeve and it has to do with-you guessed it-his pay packet. Last year, the 54-year-old pulled in a mere Rs 1.44 lakh in pay compared to Rs 215 lakh of Hindustan Lever Ltd's Chairman M.S. Banga. Revealingly, Sharma's choice of benchmark is not incidental. Although KVIC is a little-known government-owned enterprise, it clocked Rs 10,193 crore in sales last year-Rs 293 crore more than HLL-making it the biggest marketer of consumer products in the country. So, will his employer reward Sharma with a 200-time increase in pay? Will you grow wings tomorrow?
The fact remains that KVIC, set up in 1957 under an Act of Parliament to promote khadi and village industries, is one of the fastest growing consumer marketers. It grew its revenues 14 per cent last year compared to, say, HLL's flat topline. It sells goods ranging from soaps to shampoos to processed foods to leather products to handmade paper, besides handloom and khadi, through 7,000-odd stores across the country. It has generated employment for more than 66 lakh people so far and could do so for another 25 lakh by 2006. It has helped set up 6,000 cooperative institutions and has funded 165,000 village entrepreneurs. And over the last five years alone, it has invested Rs 5,000 crore in venture promotion. Says Sharma, who has a doctorate in rural technology systems from IIT Delhi and ran an NGO in Jharkhand before joining KVIC in 1998: "In the next five years, we hope to double our sales to Rs 20,000 crore."
What drives this quiet cottage giant? The answer lies in KVIC's unique organisational structure. Since it was set up with the express purpose of promoting village industries, KVIC operates like a huge incubator. First of all, it helps village entrepreneurs by funding up to 30 per cent of their project cost (upto a maximum of Rs 25 lakh). Then, it weighs in with technical support, helping them source raw materials, set up their small factories or units, and finally get their products across to the consumer. In the current five-year plan (2002-07), KVIC will invest Rs 7,500 crore in promoting village industries, add 1,000 outlets every year, even invest Rs 2,000 crore in-surprise-biotechnology.
Network of Entrepreneurs
In other words, what KVIC really does is to create entrepreneurs. Like Sanjay Dutta and his wife Ruma. In 2001, the duo approached KVIC for assistance to set up a village industry unit for making herbal cosmetics. The Indian Overseas Bank gave them a loan of Rs 1.2 lakh (30 per cent of it came from KVIC via IOB) and the couple chipped in with Rs 1.5 lakh. Located down the narrow lanes of Aali, a nondescript village in Badarpur near Delhi, their Dev Blenders is a modest affair. In a 400 sq ft hall on the ground floor of a dilapidated building, a dozen men and women-apparently in their early 20s-busily work on personal herbal care products ranging from soaps to lotions to face cream. In the first year, the Duttas totted up Rs 7 lakh in sales, but last year they more than tripled it to Rs 23 lakh.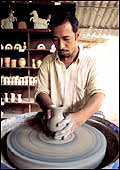 Yusuf Meherally

Centre: It offers employment to more than 100 artisans and boasts a turnover of Rs 42 lakh
Initially the Duttas got marketing support from KVIC, whose outlets in Delhi bought about 60 per cent of their production. The remaining was sold to ethnic stores like Eicher's Good Earth. But early this year, the husband-and-wife team attended an export fair at Delhi's Pragati Maidan and received some enquiries from buyers in the UK and Spain. Buoyed by Rs 4 lakh of orders, the Duttas are now betting big on exports. "Our products have passed stringent tests for toxicity in the labs of the importing countries," says the husband.
There's more. London-based retailer Selfridges has initiated talks with Dev Blenders for sourcing herbal products, while a few other buyers have also approached it for contract manufacture of herbal products, which would be branded and sold. "Frankly speaking, we are not able to meet the demand. It takes about 10-15 days to execute the orders," says Deepak Bali, Dutta's partner in the venture. Which is why the unit is planning to increase its capacity of 1,000 soaps (125 grams a piece) a day to 2,500 pieces. All this will boost the topline to an expected Rs 40 lakh this year and Rs 1 crore by 2006.
Dutta is not wary of competition in herbal cosmetics from big players like Marico Industries and Shahnaz Husain. "Our USP is genuine and hand-made herbal products, and there is a market for it." In fact, Dev Blenders has all of just one machine-an emulsifier to make creams, and it cost only Rs 20,000. The rest of the work, including manufacturing and packaging, is done manually. "The government wants to promote units such as ours since it generates local employment and keeps villagers from migrating to cities," says Dutta.
One such man who stayed on in his village and hit the big times is Salim Kagzi. Now 72 years old, Kagzi set up a handmade paper unit in 1965, but the big breakthrough came about only in 1992, when he was invited by UNIDO to attend a fair for ethnic products in New York. The exposure was huge and Kagzi-named so because he belongs to a community that for centuries has hand made paper-started getting big orders from abroad. That year, he approached KVIC for a loan to ramp up his operations and hasn't looked back since. His Salim Papers' turnover has soared from Rs 32 lakh to Rs 12 crore.
Kagzi's story doesn't come as a surprise to Bharat Deep Vadhera. Till five years ago, the 44-year-old was a company secretary at a handicrafts company. But on the advice from some friends in Spain, Vadhera set up Ethnic Overseas in Noida, near Delhi, to export ethnic furniture and handicrafts. As recent as last year, all that Vadhera did was to buy and export. But in February 2002, he approached KVIC to help set up a manufacturing unit. Today, it makes wooden and iron furniture and also refurbishes colonial furniture for export to the UK and Spain. Vadhera also sources all of his handicraft requirements (mainly made of glass, brass and beads) from a village near Dadri in Uttar Pradesh. Says Vadhera: "KVIC offers me direct access to villages and to the right artisans." Vadhera's unit has almost doubled sales to Rs 1.50 crore since 2000-01.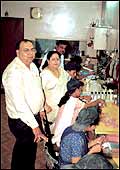 Sanjay and Ruma

Dutta/Founders/Dev Blenders
Two years ago, the Duttas approached KVIC to set up a village unit. Today, it rakes in

Rs 23 lakh

in revenues
Goodness For Goodness' Sake
However, it's not just individual entrepreneurs that KVIC has promoted. Charitable institutions and societies figure on its list, too. In 1989, when Deepak Tyagi passed out of IMT Ghaziabad after his MBA, he was 23 and an idealistic. Instead of joining his family's engineering business, Tyagi decided to set up a charitable trust Sushila Gramodhyog (Sushila is his mother's name) and got it registered as an institution under KVIC. The initial capital of Rs 1 lakh came from KVIC, while the family contributed 900-square yards of land. The society is now one of the largest manufacturers of khadi textiles in North India, with expected revenues of Rs 11 crore this year. More than half its sales are accounted for by supplies to government agencies like the Border Security Force and the Indian army, and the rest is sold through outlets owned by the society. It provides employment to some 3,000 spinners and 200 weavers, who earn about Rs 1,500-Rs 3,000 a month. "I wanted to do some good work," says Tyagi.
And so did contemporaries of freedom fighter Yusuf Meherally like Dr G.G. Parekh, S.T. Parekh, and Madhu Dandavate, among others, who set up the Yusuf Meherally Centre near the Karnala Bird Sanctuary in Maharashtra's Raigad district. Founded in 1961 as a charitable institution, the centre makes products ranging from edible oils to soaps to pottery to baked products. And some of the locally popular brands of soaps like Kutir, Sandal, and Sarvodaya are sold through KVIC outlets. Last year, the centre clocked Rs 42.17 lakh in revenue, which is growing at 12 per cent annually.
But setting up a unit under KVIC doesn't mean it's all smooth sailing thereafter. For instance, Adarsh Gram Vikas Udyog, set up in 1999 in Raigad district of Maharashtra, touched a turnover of Rs 3 crore in a matter of two years on the back of government purchases, but when that dried up, its turnover plunged to Rs 82 lakh in 2002. The saving grace was a carbolic soap brand Parivar, which fetched Rs 44 lakh of the turnover.
That depending on government sales alone could spell disaster is a lesson Chingleput Sarvodaya Sangh, a leading silk sari manufacturer in Kancheepuram, learnt the hard way. The Sangh has two silk producing centres and its saris are sold through KVIC outlets. But it is now facing stiff competition and declining customers. Says its Secretary, R. Ravikumar: "We have to be aggressive in marketing. If we do not meet targets we will perish." A big reason why the Sangh is facing a cash crunch is state government dues: Rs 40 crore at last count.
In part to prevent such problems, KVIC recently set up a marketing unit, Confederation for Promotion of Khadi & Village Industries (CPKVI), which will do its bit to find buyers. "The CPKVI has already procured orders worth Rs 18 crore from the government this year for shoes, honey, pickles, soaps, leather items and khadi textiles. This will be passed on to various societies and village industry units," informs Tyagi, who is also the Secretary of CPKVI. Going by his own experience, Tyagi reckons that for aggressive entrepreneurs, KVIC offers tremendous potential. And if Sharma manages to rope in more and more entrepreneurs under the KVIC banner, he may well continue to lead giant private sector marketers like HLL. As for his pay cheque...well, that's another story.
-additional reporting by Dipayan Baishya and Nitya Varadarajan