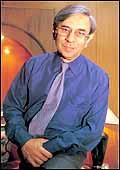 Homi Khusrokhan, MD, Tata Tea: Growth is where Tetley is
Bishop Lefroy road in Kolkata is best known for being home to Satyajit Ray. Not surprising, then, that the ochre-yellow, two-storey building bang opposite the late filmmaker's mansion, rarely catches a passing eyeball. If there's anybody distressed at the slight, it's not Homi Khusrokhan. The Managing Director of Tata Tea is getting plenty of spotlight, thank you. Reason: His company's three-year-old, $400-million acquisition of British premium tea brand, Tetley-a deal that was dubbed a costly disaster soon after it was announced-is proving to be its smartest move yet. ''I guess I could say 'We always told you so','' chuckles the 59-year-old Khusrokhan, who previously headed Glaxo India, before joining Tata Tea in February of 2001.
That's not an empty boast. Dalal Street, which punished the stock pushing it off its peak of Rs 632 in January 2000 just months before the deal in March 2000 to a low of Rs 116 in September 2001, is beginning to acknowledge the value of the deal. Since the beginning of this calendar, the stock has risen some 70 per cent to Rs 300-the highest in 30 months. (Just for the record, Tetley was acquired via a special purpose vehicle, Tata Tea GB, which continues to be separate from Tata Tea.) So what's new about the story that has D-Street all ears?
A Heady Brew
Actually nothing. It's still the story of how a struggling tea plantation company became, in one deft move, one of the world's biggest branded tea players. Only that now the deal looks much more convincing. The more immediate provocation, from the earnings-hungry investor's point of view, is the debt restructuring that took place last day of February this year. Under the new deal, the £171 million (Rs 1,316.7 crore) of outstanding debt, which carried an average cost of 10.22 per cent per annum, has been swapped with £174 million (Rs 1,339.8 crore) of fresh loans (£3 million, or Rs 23.1 crore, covers the transaction costs), borrowed at an average cost of 6.7 per cent a year. That translates into £6 million (Rs 46.2 crore) of savings annually-not exactly chump change.
Crush and Curl

Since 2000, the Tatas have put Tetley through some major restructuring.
» Shut down the Australian plant and shifted production to Cochin this year
» Sold Tetley's private label business in the US last year
» Closed three plants in the UK and US, retaining one in the former
» Pruned workforce from 1,500 to about 1,100 currently
» Swapped high cost debt for low cost debt at 6.7 per cent per annum, early this year
But that's only a small part of the story that Khusrokhan and Vice Chairman R. Krishna Kumar, who put his reputation at stake by championing what even today is corporate India's biggest deal, are selling to their investors. The big story goes something like this: Tea prices in India are falling (from Rs 76 to Rs 54 per kg over the past five years), loose, or unbranded, tea is muscling out the branded players, whose marketshare has only of late inched back to 37 per cent after dropping to 32 per cent in 1999, and per capita tea consumption is stagnating at 650 gms. The only option for a company like Tata Tea, which has seen its revenues and profits shrivel (See The Big Squeeze) over the last four years, is to move into markets and segments that are growing. Says Krishna Kumar: ''It was evident that Tata Tea had to move on and be a global player if it was to continue on its growth path.''
As the world's biggest black tea bag brand, Tetley-which the Tatas tried to acquire once before in 1995-brings Tata Tea both volumes in the short term and greater opportunities in the long term. In the UK and Canada, Tetley already leads the market with 29.4 per cent and 43.4 per cent shares, respectively. In Australia, it is the fastest-growing tea brand, and in the US it has 11.5 per cent of the black tea bag market. And after moving into Pakistan and Bangladesh, both big tea-consuming markets, Tetley is getting its act together in the Middle East, Africa, and Russia, where it is giving the final touches to a new distribution network. The £6 million that it has freed up in annual cash flow will no doubt help beef up Tetley's operations in the new and existing key markets.
But it's unlikely that one common strategy will work across these markets, even if they were on the same continent. Take Europe, for example. In the UK, tea is a beverage of every day consumption. But in France, tea is not only more expensive than coffee but is also treated as a drink for special occasions. Thus, while consumers in Britain may be more price sensitive, those in France may want more exclusive products and may be prepared to pay a premium for them.
The difference in consumption habits is no doubt one big reason why Tetley wants to grow its non-black tea bag business. Currently, its flavoured tea bags, fruit teas and herbal teas fetch only 5-6 per cent (a market estimate that Tata Tea would neither confirm nor deny) of its revenues. But Tetley's Managing Director K. Pringle sees a huge market potential. In an analyst conference call earlier this year, he cited the $5-billion (Rs 22,500 crore) tea market in the US, where $3 billion (Rs 13,500 crore) of the market is for ready to drink tea, $1 billion (Rs 4,500 crore) for fruit and herbal, and only the remaining $1 billion, for black tea. And Tetley currently only sells black tea in the US. Therefore, to grow Tetley only has to do a good job of launching new drinks.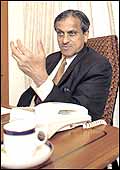 "Tata Tea had to move on and be a global player if it was to continue on its growth path"


R. Krishna Kumar/Vice Chairman/Tata Tea
Payback Time
If things are looking a lot better at Tetley today, it's because of some major decisive moves that the new management lost little time in making. First off, Tata Tea decided to shutter two of its manufacturing facilities in the UK, retaining just one. In the US, where capacity was freed up after it exited the private label business, it turned its facility in Marietta, Atlanta, into a joint venture with Harris Tea. In Australia, it relocated the Melbourne-based unit to Cochin. According to Tata Tea's Director Finance Anil Goel, the move was prompted by not so much the fact that Cochin was cheaper as the fact that the Melbourne facility was constrained for capacity, and instead of investing in a bigger plant in Australia, it made sense to relocate the unit to Cochin.
Many critics expected the acquisition to falter because of the stark cultural differences. Tata Tea was more of a sleepy plantation-dependent company, whereas Tetley did not own a single plantation and sourced all its leaves. Then, there were issues relating to compensation structures and overlap in functions, among others, that could have proved a stumbling block. But surprisingly enough, merging the two entities operationally (legally they are still separate) did not throw up any major glitches. Says P.T. 'Percy' Siganporia, Deputy Managing Director, Tata Tea: ''We had been working actively with Tetley even before the merger, so I guess the culture issues that generally plague mergers of this scale were non-existent."
Today, the Tetley and Tata Tea teams work closely. There are management committees that Khusrokhan and Pringle head jointly. Task forces have also been created in areas such as marketing, supply chain, and procurement. (Boston Consulting Group continues to help with the integration). Tata Tea has even transferred specific skills, such as tea buying, sourcing, and blending from Tetley. For example, it has moved from a ''heritage system''-an old-world, touchy-feely system-to Tetley's uniform computerised rating system, Broadbrush. Says Siganporia: ''With Broadbrush, you don't have to be at the buying place physically, besides it is easier to assemble recipes. Both yield a huge jump in productivity.''
But for Khusrokhan, there's plenty of work to be done at home. Although his company straddles the entire market spectrum from economy to premium, HLL is still the leader with a 33 per cent share (org data for April 2002-March 2003). Then there are regional brands and a clutch of small, nimble unbranded players who are undercutting their bigger rivals through aggressive pricing.
Having Tetley in the fold, then, enables Tata Tea to ride out the market troughs much more evenly. But what Krishna Kumar and Khusrokhan want of their ''big hairy audacious growth'', as it is referred to internally in the company, is something as simple as the cuppa their stuff makes: To make Tata Tea the world's largest branded tea company. And as of now, things seem right on track.