THE RANKINGS
1. MUMBAI


2.

HYDERABAD


3.

CHENNAI


4.

KOLKATA


5.

BANGALORE


6.

DELHI


In Order of Safety
Eight years ago, when Georgia Anne Francis moved to Bangalore from Muscat, she thought the Garden City would be loads of freedom and fun. She was right. Bangalore did offer a new sense of freedom, but fun was often marred on the streets. "It is routine for a single woman to be ogled and whistled at even on major roads of the city," says Anne Francis, 28. She isn't the only woman in Bangalore to feel this way. A BT-NFO India survey of 350 working women in six metros-Bangalore, Chennai, Delhi, Hyderabad, Kolkata and Mumbai-shockingly reveals that India's Silicon Valley is also the second unsafest city. Says Gautam Nath, Director (Corporate Services), NFO India: "That comes as a complete surprise, since popular perception is to the contrary."
What makes it so? The discomfort stems primarily from attitude-of men and the local administration. For example, a greater percentage of working women in Bangalore feel that public is most unhelpful when they are in trouble; they also feel that local police provide inadequate protection to them; and no doubt for these reasons, the women most afraid-after Delhi, the worst city on the survey-to venture out alone after 9 PM are Bangalorean.
But no city breaks working women out in sweat like Delhi does. The national capital has the most number of women who dread working late or spending time with their male colleagues-within and outside the office-after office hours. Besides, more working women in Delhi think that men are resentful of having them in the work place.
So if you are a woman, just where should you be working? The Hottest State for Business (See Business Today, September 28, 2003) is also home to the safest metropolis for working women. In Mumbai, women have no problems using public transport to get about, working late hours or partying late into the evening with male colleagues. It's also the best city for single women. What do women say in Hyderabad-the next best city-Chennai and Kolkata? Turn the page to find out.
MUMBAI
Salaam, Mumbai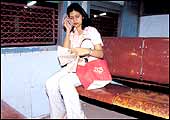 As safe as it gets: Shirsat has taken the local train home at three in the morning and felt totally safe
You can hate the city for its squalor, sprawl, or cramped chawls, but you can never ever hate Mumbai for its people. Just ask Suvarna Shirsat, 28, a chartered accountant and manager at accounting and consulting firm Ernst & Young Cap Gemini. "There are places like Bandra-Kurla complex that get quite lonely after seven in the evening, but you almost never feel unsafe," declares the Mumbaikar.
Shirsat leaves her Andheri home at eight in the morning and the office bus drops her at her Vikhroli office by nine. On days when she misses the bus, Shirsat has to take either public transport (bus or train) or an autorickshaw to reach office, but she never feels unsafe. Unlike Delhi, Chennai, or Bangalore, autorickshaws and taxis are paid strictly by the meter and they almost never take you for a ride. In her previous job, Shirsat has even taken the local train back home alone three in the morning without any worry, she says.
The sense of safety also means that Shirsat can shop alone or hang out with friends or colleagues from office in the night, or catch a late evening show and never have to fret about it. "Also, the work environment is really cool and professional," says Shirsat. Carry on, Mumbai.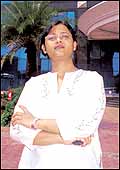 Traditional at heart: Dorothy Thomas likes the city's considerate work culture and traditional life
CHENNAI
Conservative But Safe
How do you stay out of harm's way? if you were to ask that to a working woman in Chennai, she'd probably say, "By playing it safe." Like Dorothy Thomas. A resident partner at Kochhar & Co, (and the only woman lawyer partner in Chennai), Thomas heads a team of 12 attorneys and travels abroad almost every two months. In Chennai, her day typically begins at 8:30 AM and ends at seven in the evening. But there are days when the 29-year-old has to work late (mostly for clients overseas) into midnight, and for those days she has a strategy. She takes an hour's break after seven and returns to work straightaway, but with minimum of jewellery on her. Says Thomas, who studied law in Pune and worked in Delhi, Bangalore, and Mumbai, before moving to Chennai: "Driving to and from work in a car is safe, but you wouldn't want to go out alone late in the evening with expensive jewellery on you; that would be inviting trouble." She also says that the city's male executives are generally courteous and considerate, although the city is not as safe as it used to be (she grew up in Chennai). No wonder, it's Hyderabad and not Chennai that is the second-most safe city for working women.
BANGALORE
Not So White Collar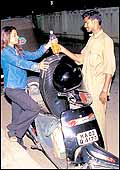 Bad vibes: Anne Francis distrusts most auto drivers, although this one is an exception (photo dramatised)
One time when her Kinetic Honda ran out of fuel on her way back home late in the evening, it was an autorickshaw driver who proved to be her knight in shining armour. But that was just once. Even today, whenever Georgia Anne Francis hails an autorickshaw in Bangalore, she always checks out the driver before hopping in. "There are visible clues in their appearance," explains the 28-year-old. "Those smelling of booze I definitely avoid, and I also don't hire them if I get negative vibes. A woman can never be too careful." Ergo, when Anne Francis is driving on her own, she avoid roads that are not well lit. On that count, Bangalore has definitely surprised Anne Francis, who works as an assistant to fashion designer Manoviraj Khosla. Eight years ago when she moved base from Muscat, she thought Bangalore would be a welcome change. In many ways it has been, but in many others, not. Despite the city's tech mecca label, eve teasing is common, complains Anne Francis. And a recent break-in at her apartment complex in Cooke Town has not added to her confidence. "Most people here are extremely nice and friendly, but there can be nasty exceptions." Bangalore, take note.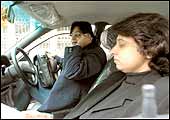 Worst of the lot: For Sisters Nidhi and Manisha, even driving on their own is no guarantee of safety
DELHI
Crime Capital
For some days now, sisters Nidhi and Manisha Kapur have been toying with the idea of buying themselves a knife, or a similar sharp object, each that can be carried in their hand bags. An extreme move? Perhaps, but when you are living in a city where 355 women were raped-including a Swedish diplomat recently-in just 10 months this year, you can't be too careful. Especially for Manisha, who is younger of the two and travels to suburb Gurgaon, where she works as a Senior Manager (IT) with a leading MNC, the daily commute is a serious cause for concern. Not only is her drive long, but it's poorly lit and patrolled. Nor does Nidhi, who works in Delhi, feel safe driving on her own. "Even during the day I drive with the windows rolled up and the cellphone handy," says Nidhi.
Both have long given up on public transport (Delhi's infamous Blueline buses), which they feel are dens of eve teasers and molesters. Unsafe evenings have meant less of socialising. And when the sisters do party, they shack up at the host's rather than risk driving back home late in the night. For working women, the sisters say, Delhi is a disaster waiting to happen. Let's hope they are wrong.
-Payal Sethi