41-50 The most densely populated age interval in BT's listing of The 25 Most Powerful Women in Indian Business: 12 women; 6 of them under 45 fall in this category.
8 The number of women in the 51-60 age interval; 4 of them are 55 or under.
28 The age of the youngest person in the list, Balaji Telefilms' Ekta Kapoor (far left)
73 The age of the oldest person in the list, Trent's Simone Tata (left)
TAFE'S MALLIKA SRINIVASAN (LEFT) AND KINETIC'S SULAJJA FIRODIA MOTWANI ARE BOTH MBAS AND WORK IN THEIR FAMILY BUSINESSES
44 & 42 The most common age in the listing: three women each.
48.88 Average age of the most powerful women in India
8 Number of MBAs on the list.
4 Number of MBAs if you exclude the ICICI managers in the list
9 Number of women in the list who work in their family businesses.
The three women on the list who have founded companies have actually created industries
3 Number of founders on the list. Villoo Morawala Patell (left), Kiran Mazumdar Shaw (centre), and Shahnaz Husain.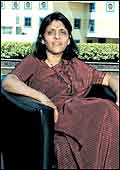 4 out of 5
Number of ICICI managers in the list who started their careers with ICICI. Lalita Gupte (left) is one
8 Number of professionals who are still in their first jobs
13 Number of professionals on the list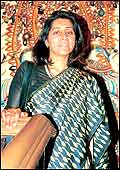 Finance/Banking
The industry with the most representation in the listing: 8 women. HSBC's Naina lal kidwai is one of them
Software/IT
Most surprising absence in the listing: no women