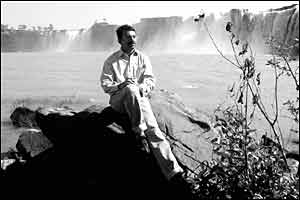 DR. A. JAYATHILAK
Managing Director, Chattisgarh Tourism Board
If sound can warm, that of a z2600 Turbo D1 engine revving surely will. It is 7 am somewhere in Chattisgarh, a state carved out of Madhya Pradesh three years ago and the fog is thick enough to be cut with a knife. That doesn't seem to dampen the style of a lanky five feet nine inches individual clutching a Nokia Communicator who opens the door of the steel-grey Scorpio and slips into the passenger seat, all in one lithe motion. He rummages through a heap of cassettes-the sound tracks of old and older-than-old Hindi motion pics-finds one that he seems to like, slips it into the Kenwood system, and nods to the driver. The customised four-wheel drive pulls out, its halogen headlamps burning a path through the morning mist.
This has been Dr A. Jayathilak's daily schedule for the last eight months: leaving early, returning late, crisscrossing the 16 districts that make up the state, and taking in hundreds of miles, over dusty tracks and village roads. The speedometer on Jayathilak's Scorpio, his favourite steed, and just six-months old, shows a staggering 28,000 kilometres, a little over 150 kilometres a day. No, Jayathilak is not a wandering minstrel or a troubadour though his itinerary and his appearance-pensive, bespectacled-does bear uncanny resemblance to one. As the Managing Director of Chattisgarh Tourism Board, this 37-year-old Indian Administrative Service (IAS) officer's goal is to make the state one of India's preferred tourist destinations, an objective he pursues with near-fanatical zeal.
"When I took over about 18 months ago, the biggest problem with Chattisgarh," chuckles the qualified doctor (think medicine) from Thiruvananthapuram, "was that people didn't know where it was." To rescue his state from such anonymity, then Chief Minister Ajit Jogi roped in Jayathilak. The man had already built a formidable reputation in the tourism industry as Managing Director Kerala Tourism Development Corporation (KTDC) and as one of the powers behind the state's successful God's Own Country campaign. But he realised very quickly that what worked for Kerala would not necessarily work for Chattisgarh. For one, he knew Kerala; he couldn't say the same thing about Chattisgarh. And so, the 1991 Kerala cadre officer-IAS officers are assigned to a state at the beginning of their career; transfers across states is rare; it took seven months for Jayathilak's transfer papers to be processed-whose Hindi is yet patchy began his all-consuming peregrinations that would involve hitting the road from 7 am to 10 at night, waking up at 4:30 in the morning to catch up with e-mail and picking one's way through one of the most remote and backward states of the country.
Travelling comes easy to Jayathilak, born into a middle class family in Thiruvananthapuram. His parents were executives at the government-owned Life Insurance Corporation, and while toddler Jayathilak wasn't exactly an early walker, his peregrinations took off while he was in college.
The doc is a fine quizzer, and there is money to be made in the college quizzing circuit; funded by his takings and some change from All India Radio's Thiruvananthapuram station where he served as a radio jockey, he and a few friends would backpack across the country. "You could say I perfected my itinerary planning in college," smiles Jayathilak. "We used to travel at night to avoid spending on hotels and have hitched rides in train engines when low on funds." Once, while travelling in Himachal Pradesh with two of his mates, he hit upon the perfect plan to find free boarding: post offices. "A small tip, and the caretakers took pity on three guys from South India; we were not only allowed to camp at the PO, but treated to some excellent tea," says Jayathilak. The trio covered six pos in 10 days.
Travel, goes the cliché, broadens the mind; it must have Jayathilak's. By the time he finished medical college, he knew a career in medicine wasn't for him. He signed on at the Indian Institute of Management, Bangalore, for a one-year programme in health management, but his mind was made up: he would join the civil services. Not too many fairy tales get written in the IAS. People don't get postings of their choice. And those that do, rarely get to have things their way.
Jayathilak's strategy for Chattisgarh: Eco-tourism, Falls, Grottoes, and Handicrafts and Handloom
Signs that Jayathilak's career would be different (and blessed by Lady Luck) came early: he met his wife, an IAS batchmate, at the Old Delhi railway station where both were waiting to catch a train that would take them to Mussorie where all IAS officers undergo training (she too sought a transfer and is now serving as District Collector, Korba, Chattisgarh). Jayathilak's first posting was as sub-collector of Mananthavad and Managing Director of Priyadarshini Tea Estates, a state-run organisation focussed on rehabilitating bonded labourers. It was thanks to the latter that he discovered the power of the brand. The estate used to sell bulk tea; tea that was packaged and branded, Jayathilak discovered, brought a better price. It was chance that saw him land his first break in tourism: in 1997, he was named Director of Kerala Institute of Tourism and Travel Studies. From then on, Jayathilak's passion for travel and performance took over: he was soon named Managing Director of ktdc. God's Own Country was a magnetic line, but the man followed it up with his own alphabet of implementation. "A for Ayurveda. B for Backwaters. C for Culture, and D for lack of Distance. "
It's a chilly December evening when this writer, having journeyed some 300 kilometres from state capital Raipur, first meets Jayathilak. In the background is the awesome floodlit spectacle of the 97-feet horseshoe-shaped Chitrakote Falls. "I'll bet you didn't know these are the largest falls in the country with 50-60 per cent of the volume of Niagara Falls," says Jayathilak. Trivia comes naturally to Jayathilak the quizzard. Combined with his determined forays into the heart of darkness, the result is nothing short of startling: a Power Point presentation titled Where Would You Find? Chattisgarh, it emerges, is home to the world's oldest tribal community, the deepest living cave, 22,000 varieties of rice, and Asia's oldest Catholic church. All facts, stresses Jayathilak, are vetted by entities like Imperial Gazeteer and the National Geographic Society.
When Jayathilak chanced on Chitrakote, it was just 15 acres of wilderness. Today, a local hotelier, chosen after a transparent and rigorous tendering process, manages Indravati Luxury Camps. Devendra "Bunty" Singh, who runs the camp, says he has seen a 40 per cent increase in business over the past 10 months. Why, you can even pick up a Chitrakote Falls T-shirt.
Jayathilak has structured the Chattisgarh Tourism Board on the same lines as the Singapore or Malaysia Tourism Boards, eschewing the corporation model preferred by other states. "A board's role is to facilitate and promote," explains the doctor. "The day-to-day management should be left to professionals." Jayathilak is probably the board's only full-time employee. Everything else-answering calls, managing projects, e-mail management, auditing, communications-is outsourced. And the board pays market rates. Its marketing and communications, for instance, is managed by Suniti Ghoshal, who quit as head of corporate communications, Aviva to join him. Jayathilak has also formed a 15-member board comprising tourism experts, government nominees, hoteliers, airline-representatives that meets from time to time to evolve a strategy to market Chattisgarh.
Yet, the tourism crusader is quick to emphasise that he is after "class tourism, not mass tourism". His M.O. is unique: he unearths new destinations by asking village elders and busy bodies about places of interest; when he realised that the state didn't have trained guides he released ads in local papers and received 500 responses. "There were trained IIT engineers, academics, English professors, all from Chattisgarh who wanted to take up the job because the thought of being a guide appealed to them."
Halfway into Jayathilak's sojourn into Chattisgarh (he is on a three-year deputation), the results are beginning to show. Hotel chains such as Taj, and resort-chains like Sterling and Club Mahindra are scouting for properties; Indian Airlines, which used to operate three flights a week to Raipur earlier, now has one every day. Already this year, the state has attracted some 10,000 foreign tourist, 900 per cent higher than the corresponding number for 2002. And after making a success of his ABCD strategy in Kerala, Jayathilak has an EFGH one ready for Chattisgarh. "Eco-tourism, Falls, Grottos, and Handicrafts and Handloom."