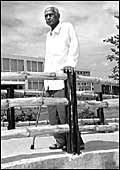 DR. GOVINDAPPA VENKATASWAMY
Founder, Aravind Eye Hospital
The first time Govindappa Venkataswamy held a scalpel over an eyeball, it took some effort to hold it steady. No, it wasn't because he, 37 years old back then, was feeling nervous. The problem was altogether different. Struck by rheumetoid arthritis when he was just 30, Venkataswamy had been battling to overcome the painful disease of the joints and establish himself as an eye doctor at the government-run Egmore Ophthalmic Hospital in Chennai. Incredibly, despite his gnarled fingers, Venkataswamy became so proficient at eye surgery that by 1960-he had moved to Madurai by then-his fame had spread to neighbouring cities.
Soon, people were coming from all over to get operated by "Dr. V" (a moniker that has stuck). In fact, he kept getting so good at his job that by 1976 he opened his own 10-bed eye hospital, which today has grown into the Aravind Eye care System, with five centres and 3,650 beds, and which, in 2002, performed a staggering 2 lakh surgeries and treated 16 lakh out patients, making it the world's biggest community eye care provider. Besides the hospitals, there's a centre for manufacturing intra-ocular lenses (at Rs 150 apiece, the cheapest in the world), an eye bank, an institute for training, another one for research, even a college that offers a Master of Science course in ophthalmology. And despite its low-cost care, Aravind is one of the most profitable hospitals in the country. Says Alfred Sommer, Dean, Bloomberg School of Public Health at the John Hopkins University in Baltimore, USA: "Not only has Aravind...made an enormous difference within Tamil Nadu, but (has) set the standard for the delivery of high-quality, practical, and cost-effective eye care for all of India and indeed for all of the world."
If Aravind's business model is a roaring success-and a model widely studied, including by the Harvard Business School-it's because Venkataswamy, at 86 the grand old man of eye care, never set out to create a profitable enterprise. (In fact, it's a trust, Govel Trust, that runs the hospitals, and the extended family owns no shares in the hospitals.) Rather, his idea was to help as many poor patients as possible and, therefore, everything was worked backwards. When banks refused to lend him money, Venkataswamy mortgaged his own house to raise Rs 5 lakh to start construction of the hospital. The civil contractors, his own two brothers, built the ground floor free of cost and the first two ophthalmologists who came on board were Venkataswamy's sister and her husband.
Although the first hospital, set up in Madurai, started with 10 beds, by the end of one year it had added another 20 and even raked in a small profit. By 1978, Aravind had 100 beds, of which 70 were exclusively for the poor, non-paying patients. (Today, of the 3,650 beds, only 775 are paid for.) At the same time, Venkataswamy brought in state-of-the-art equipment, although the rooms were spartan. The free rooms do not have beds, instead patients sleep on reed mats. Air-conditioning? Forget it. Explains Aravind Srinivasan, Venkataswamy's nephew and administrator of the Madurai hospital, who has an MBA from the University of Michigan: "Villagers are used to charpoys and they are comfortable with their relatives around them, and they do not need a whole variety of food. But in terms of eye care, we make sure there is no compromise."
Since the hospitals deal with patients on an industrial scale, the patient-handling systems resemble assembly lines. A telemedicine facility, introduced four months ago, allows villagers to be diagnosed by Aravind doctors over the internet. A webcam captures a photograph of the eyes and an online questionnaire gets information on symptoms. An eye specialist goes through the e-mailed pictures and data and conducts an online chat with the patient (the internet kiosk operator helps). When the patient turns up for his appointment at the hospital, trainee paramedics do the preliminary tests like dilation, then resident doctors examine the patient, writing down the diagnosis and making recommendations.
Patients that require surgery are dealt with in a similar assembly line fashion. In the operation theatre (OT), the doctor stands his place. Patients are wheeled in (at Madurai, for instance, one can actually see track marks in the OT), surgery is performed in about 25 minutes, the patient is patched up, and out he or she goes. It is this industrial rhythm that allows a doctor to do a whopping 25 operations a day, or about 2,600 surgeries a year. Compare that to the national average of 400 a year.
Aravind's model is a roaring success, because Venkataswamy never set out to create a for-profit enterprise
How does Venkataswamy, who thinks it is possible to eradicate preventable illness in another 10 years, manage to retain doctors with the modest salaries Aravind offers and the backbreaking work it extracts of them? With some difficulty. Every year, the hospital system loses a quarter of its doctors, but an equal number, or more, joins. Why? For one, having Aravind on the resume can take an ophthalmologist far in his career. The experience that one gathers here is unlike any available elsewhere. To add to that, the hospital sends its doctors abroad to train in new technologies.

Venkataswamy was not born a genius. Nor was genius thrust upon him; he simply grew into one. Born into a poor farmer's family in the small village of Vadamalaipuram in Tamil Nadu, Venkataswamy's is a classic rags to greatness story. As a boy, he would walk two kilometres to the school in the neighbouring village. When a school did come to his village, it forgot to bring along the teaching paraphernalia (like a blackboard, paper or chalk). Ergo, the young Venkataswamy had to write on sand brought from the nearby river bed, and spread on the classroom floor. When things improved, he got palm leaves to write on.
Had Venkataswamy continued in the school, you may not be reading this story. But fate intervened in the form of his father, who was eager to get his son a good education. Therefore, when Venkataswamy was 10, he was packed off to his uncle's at the bigger town of Koilpatti to pursue his next eight years of education. After a BA intermediate and a year of law, he switched course to medicine (this, after all, was 1944). He then joined the British army to serve in the second world war in India and Malaysia. In 1947, when he developed severe arthritis, he retired from the army.
He joined a hospital in Chennai for post-graduate training. But because of arthritis his joints became swollen and hands severely gnarled, and he had to abandon his training as an obstetrician. He underwent treatment in Chennai, and at the end of a long year he was able to stand on his legs again. "I felt as if I was on top of the Himalayas," recalls Venkataswamy, the day still fresh in his memory. In 1950, he got a break at the Egmore Ophthalmic Hospital in Chennai, but by 1956 had moved to the Erskine Eye Hospital in Madurai. Here he saw parents bring in children who had gone blind due to malnutrition. Thus began his research on Vitamin A, the lack of which is a major cause of night blindness. By 1961, he had mobilised the administration's help to launch mobile eye camps.
Four years later, on his first visit to the US to attend a conference on the rehabilitation of the blind, he struck a lifelong friendship with Sir John Wilson, founder of the Royal Commonwealth Society for the Blind (now known as Sight Savers International), which helped organise eye camps in India. In 1971, with the Sir John's help, he established a nutrition rehabilitation centre. By the time Venkataswamy retired from the government hospital in 1976, he had an eye care network in place. (In any case, he was already part of the national mission to control blindness.) That's when he thought of setting up a not-for-profit eye hospital.
Today, with Rs 175 crore in assets, Aravind wants to build its name in areas other than cataract surgery. For example, the Coimbatore hospital is focussing on ocular oncology, and the Theni hospital on glaucoma. Already, the Madurai hospital is a training ground for interns from places like New York, Boston and Chicago.
Aravind, and India, may still not meet Venkataswamy's goal of eradicating preventable blindness by 2013. But one thing will never be held against the man: That he never tried his darnedest best.