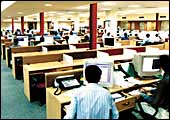 Small-town shining: Recruiters such as EXL Service are increasingly looking at small-town recruits for big-city jobs
Lazy recruiting used to be defined by sitting tight at a desk and waiting for job applications to pour in. Soon, laziness will be about looking no further than the metropolitan limits of the big city. Competitive recruiters are already venturing farther afield-into small-town India-in their search for talent. And this, mind you, is for big city jobs.
How come? The old assumption of talent necessarily migrating to the metros may no longer be valid. Small towns have a lot of job-worthy people out there, and not all of them are rushing to Mumbai, Bangalore or Delhi to grab themselves their dream careers. They are staying just where they are. Would they move if needed? Yes, they would. But for that, recruiters must get to them and make the offer.
Hicksville No Longer
Big towns, of course, have been a steady source of talent for many years now. Pondicherry, Amritsar, Dehradun, Vishakapatnam, Agra, Bareilly-their onetime inhabitants can be found in every metro today. The interesting part is the growing number of towns that are becoming hunting grounds for recruiters. Mirzapur, Asansol, Aligarh, Chandanagar, Shimoga, Nellore, Thrissur, Satara, Ongole, Rohtak...it's a long list.
Leading the way in employing small-town folk for big city jobs is the services sector, usual suspect it-enabled services, financial services, telecom or insurance.
Much of the actual legwork, and there is plenty of that to be done, is being done by the recruitment firms that are under constant pressure from clients to fulfil their growing staffing requirements within tight budgets.
Ma Foi, for example, has been on something of a small-town binge, of late, having opened recruitment offices in 35 places. It claims to be issuing over 2,000 appointment letters a month, a major jump from the past.
Staffing Solutions, another firm that specialises in 'flexi-staffing' (a form of temporary assignment staffing), meanwhile, is taking on some 500 people every month via a recruitment machine that has a presence in some 139 towns. "Definitely, there is more recruitment happening in small towns than in metros," says Abhinav Dhawan, President, Staffing Solutions.
In general, small-town recruits are more eager to perform well, expect less remuneration and don't job-hop often
It's easy to see why recruiters are so pleased with their small-town recruits. By and large, they are eager to perform well, expect less by way of remuneration and do not hop jobs as frequently as their big-city brethren. In all, they tend to be remarkably dedicated to their jobs. Moreover, they often bring local insights that help their companies better aim their services and products at the burgeoning small-town market. As for the 'awareness gap', as it was once politely called, the recruits are doing their own bit to prove the caricatures wrong. Mortified by the thought of being outclassed by their big city counterparts, many small-town youngsters have turned into avid internet surfers and manic readers of magazines, books and much else.
If there's a message of competitiveness that had to go out, small-town India sure seems to be getting it.
Big Numbers To Come
This is just the start of a trend that could attain gargantuan proportions in the years ahead, especially if other sectors of the economy get into the act as well. It helps that job seekers are more and more open to the idea of criss-crossing the country for a job. And criss-crossing means literally that, in many cases. People in Jammu, located far in the north, for example, are particularly keen on jobs in Bangalore, pretty much deep south on the Indian map. People in Mangalore, a good catchment area for paramedics and doctors, are happy to go overseas.
People in Pondicherry, meanwhile, tend to be more cosmopolitan than many of their big-city counterparts-thanks to the diversity of its populace, according to E. Balaji, Executive Director, Ma Foi. In a sense, this is the sort of advantage that Jamshedpur, Bhubaneswar and Chandigarh also boast, of being recent settlements of people drawn in specially for professional jobs, rather than traditional habitations.
There's no denying that small-town recruitment takes a lot of effort. Just filtering the applications can be something. "We have no shortage of people applying, but we have to interview many more people to recruit for our targets than we do at metros," says Balaji. If it takes 100 candidates to pick five people in a metro, by his estimate, it probably takes 175 people for the same in a small town.
But the talent exists. It just has to be hunted out. Once the effort is made, the rewards make it more than worth it, say recruiters. Overall, the numbers are swelling so fast that Ma Foi is doubling its monthly recruitment target to 4,000 over the next four months. And nobody thinks that's unrealistic. "If you think small towns can be saturated faster, the opportunities are still huge," says Dhawan.
So, the next time the late night internet surfer, sitting in the obscurity of Malerkotla, is urged by his parents to haul himself to Delhi for a job hunt, he could well tell them to 'chill' without guilt. If he's worth a big-city job, it will come to him. Talent is always sought after.
---

Penguin's Hemali Sodhi: A mind for fine print
If you can't resist the printed word, make a vocation out of it by becoming a book publicist. Your role would be to promote new and upcoming books by arousing the interest of both the media and general reader. The job involves getting books reviewed and authors interviewed, apart from all the tricks that marketers use-from staging events to designing promotional material. "At a higher level, responsibilites would include building relationships with business partners and strategising promotional activities as well," says Hemali Sodhi, Senior Manager (Marketing and Publicity), Penguin Books India. So if you are a humanities or English graduate, have the communication and creative skills needed to get across effectively, and "an abiding interest in books", as Zamir Ansari, GM (Sales and Marketing), HarperCollins India puts it, try this career option.
---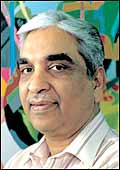 I am a 25-year-old mechanical engineer from a tier-two college in a small town. Since the past two years, I have been taking various examinations for PSU jobs and for higher studies as well, but have not been able to clear any of them, except the MAT examination in which I scored 631.5. Given this score, which colleges should I apply to so that I can ensure a good placement after I graduate? Also, I feel my communication skills are not up to the mark, and I get very nervous at interviews and group discussions (GDs). What should I do?
You could apply to any of the second-rung management colleges in Mumbai with your score. Since you have not mentioned whether you have work experience of any kind, I am assuming you are a fresher. So to improve your chances of getting through to a good b-school, you will have to work hard on your communication skills. Attend coaching classes for interviews and group discussions. Alternatively, you could round up some friends and practice gds. You could even ask an experienced professional to take mock interviews. And if none of the above help, you could approach a communication specialist.
I am 26 years old and visually handicapped. The problem started when I was in class VIII and consequently I had to discontinue my studies on the doctor's advice. However, I went ahead and completed a certificate course in vocal and instrumental music. A couple of years back, I rejoined school and completed my 10+2 from the National Open School. At present, I am pursuing my graduation. I have also done a course in computers and can work effortlessly in MS Office and on the internet. What kind of jobs and sectors should I target?
You seem to have capabilities to leverage. You could either target an administrative role involving the use of the computers or a job where you could help enter data and draft documents. Since you've learnt music, I assume you have a good voice and could, therefore, look at call centre jobs. Jobs like that of a receptionist or a front office executive should also be open to you. Aim for positions where you can grow and add skills over a period of time, and then move up from there.
I am a 28-year-old commerce graduate with an MBA in marketing. I have been working with a leading plastics manufacturing company as a senior marketing officer for the last couple of years. However, of late, I have started feeling that I am not being able to grow in my career and that I should go in for further education. Could you suggest some courses that I could opt for to maximise my chances of growth in my area of work?
Your dilemma is a bit ambiguous. You have not stated the reason for feeling the way you do about your growth prospects. If you feel you need to rise up in the hierarchy and your current company isn't offering you the opportunity, you might want to consider a change of job or even industry, that is, move to a high-growth sector. If you think you are falling short of certain skill sets, you should go ahead and evaluate those and choose your further education accordingly. There are many function-specific courses-you could attend any of the workshops and seminars that are conducted by b-schools and other institutes and opt for admission to the course that suits you best.
I am a 22-year-old commerce graduate and am planning to do an MBA. However, due to financial and other constraints, I will not be able to pursue a regular MBA and am, therefore, thinking about opting for a correspondence course in management. I want to know whether there are good opportunities for people who've done their MBA through correspondence. Which colleges in the country are considered good for their distance-learning MBA programmes?
Frankly, for a serious, long-term and high-growth career, a distance learning programme is not enough. Even though it adds a qualification to your resume, it does not compete with a full-fledged MBA. Instead, you could apply for a loan to do a full-time MBA. The other option is to work for a few years and save enough money to do an MBA later on. Since you will be putting in effort for a distance-learning programme, you may as well put it towards an MBA programme that will have a better long-term impact. Don't use financial problems as an excuse for not getting the right education.
---
Answers to your career concerns are contributed by Tarun Sheth (Senior Consultant) and Shilpa Sheth (Managing Partner, US practice) of HR firm, Shilputsi Consultants. Write to Help,Tarun! c/o Business Today, Videocon Tower, Fifth Floor, E-1, Jhandewalan Extn., New Delhi-110055.
---
High School Hiring
Jobs you can get straight out of high school.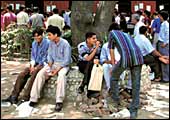 Starting young: There isn't a dearth of jobs for bright 10+2s
After school, it's college. it could also be a job, actually, with so many industries willing to recruit people with no bigger qualification than a higher secondary school certificate. The retail industry, for example, could generate close to 2,00,000 jobs for undergrads. Other recruiters include Business Process Outsourcing firms, telemarketing, hospitality and market research firms.
All have glowing reports of the competence they encounter. "Undergrads are recruited as investigators in the field division for their persistence and keen attitude," says Anupama Suneja, GM, Synovate India, a market research firm. Agrees Shikha Upadhyay, hr Head at Orion Dialog, a telemarketing company: "Of our total strength of 1,500, undergraduates make up 60 per cent, are more enthusiastic, and work very well." Among BPO units, ICICI OneSource also has tributes to pay these youngsters.
Many school leavers, meanwhile, have taken to direct selling for networks such as Amway (minimum age limit: 18 years). "The low start-up cost and the huge potential this sector has, makes it a choice for many 10+2 school leavers," says an Amway distributor. A huge opportunity, points out Arvind Singhal, Chairman, KSA Technopak, would be at the shopfloor or in logistics (at the operational level) in the textile industry, once the quota regime vanishes in 2005.
---
Original Undertaking
Why some IIT grads are joining PSEs.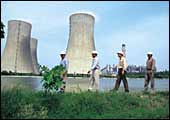 Target public sector: Jobs long ignored find favour
When you think 'IIT engineer', you think of a Silicon Valley geek to whom 'enterprise' means something born in a garage, not government office. Ironically, graduates of India's famous technology institutes are rediscovering careers at India's public sector enterprises (PSEs). "Almost 40 students applied to join us last year from the IITs, and we took several of them," boasts S.K. Jain, Director (Human Resources), Bharat Heavy Electricals Limited.
What's attracting them? According to Professor N.S. Rathi, Faculty-in-charge (Placement Cell), IIT-Mumbai, "PSEs are a great place for engineers to work if they want a good work-life balance. Students who are more keen on hard cash choose the private company route, but even though PSEs do not pay that much, the perks and job security of a PSE are unmatched. There has definitely been a perceptible change in the way students look at PSEs."