A unique mixture of demographics (more young than old) and economics (one of the fastest growing economies in the world) has bestowed India with a large, and growing number of Masters, and Mistresses of the Universe, young people who have done, and continue to do great things for their companies; high-performers, according to the lexicon of some companies; listers or fast-trackers, according to those of others. Four years ago, when this magazine embarked on its, and the country's, first ever exercise to identify India's Hottest Young Executives, it started by defining young as 40 or younger, but was eventually compelled to relax the ceiling to 42 to make up the number of 25. This year posed no such problems. The initial shortlist compiled by polling the country's most respected executive search firms (see How We Did It on page 129) boasted around 100 names. That's a good sign in more ways than one. At one level, it simply means that more companies are willing to trust young and capable executives with larger responsibilities. These enhanced roles have become possible because the companies themselves are growing, an indication of the overall health of the Indian economy and, therefore, the number of super-execs that is 40 or younger, can be yet another proxy that can be used to chart the progress of a country from developing to developed. Clearly, we're getting there.
Ved Prakash Arya
36/Chief Operating Officer/ Pantaloon Retail (India)
Shopkeeper #1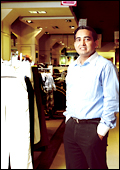 What sort of man would love to be called that? A man who has stood on the store-floor and, by his own admission, "sold 52 shirts in a single day". A man who spent nights on the site while, in his previous job, involved in the creation of the first Globus store. A man whose two children love to spend time at the stores their father oversees, thereby, providing him with an easy option to balance life and work. And a man who is feted by his boss, the notoriously hard-to-please Kishore Biyani, India's most successful retailer for his eye for "detail" and "meticulousness". The man is Ved Prakash Arya, a graduate of Indian Institute of Management, Ahmedabad, who believes he is where he is (he comes from a middle-class family in Jaipur) because "people trusted me at a young age". Well, he has proved himself: in the past 18 months he has closed two venture capital funds focussed on the retail space, a new business for the company; he is responsible for all of Pantaloon's M&A activities; and he also oversees all its strategic initiatives.
-Ahona Ghosh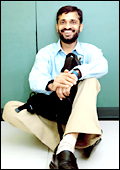 Anurag Behar
37/ Managing Director (Wipro Infrastructure Engineering) and Corporate VP, (Brand, Corporate Communication and Community Initiatives)/Wipro
Long-distance Runner
He is among the handful of individuals reporting to Chairman Azim Premji; he has handled critical functions, including innovation and quality; and there are those who believe Anurag Behar, an engineer from Regional Engineering College, Trichy, and a management graduate from XLRI, Jamshedpur, is slated for greater things. It is a good time to be heading an infrastructure business, says Behar, whose father was in the Indian Administrative Service-his efforts to enter the service proved abortive-and he speaks warmly of Wipro's culture that allows people to take on new challenges every few years. "Infrastructure is big," says the marathoner, who has run in 113 places across 17 countries. "And (our) quality initiatives have reached a level of maturity."
-Venkatesha Babu
Sanjay Behl
37/Head (Brand and Marketing)/Reliance Communications
The Right Number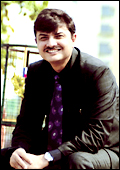 When act 1 is a 11-year stint (in marketing) at India's most respected consumer products marketing company, Hindustan Lever Limited, and Act 2, a brief but intense year-long one as the head of marketing at mobile phone maker Nokia (it sold two million phones last year), Act 3 has to be something staggering. In the case of Sanjay Behl, a product of Mumbai's Sydenham Institute of Management Studies, it is; the man is now in charge of the marketing efforts of all the businesses of Reliance Communications (he also has a group-responsibility and will be overseeing the launch of the Anil Dhirubhai Ambani Group's new identity over the next few weeks). "I have a chance to establish the culture here," says Behl, who switched jobs because he was impressed by "the mindset and vision of Anil Ambani (the Chairman of Reliance Communications)". And telecom, he adds, is the sector to work in, mentioning, only half in jest, that it is "the chaos in telecom" that keeps him going. "The explosive growth in telecom is what gives me a kick."
-Krishna Gopalan

Koushik Chatterjee
38/Vice President (Finance) and CFO/Tata Steel Company
Before Country
He is the hottest young executive in India," says B. Muthuraman, CEO, Tata Steel, of his CFO. There's more than just a CEO's pride in that statement: A chartered accountant, Koushik Chatterjee was the man responsible for Standard & Poor's rating Tata Steel two notches above India's sovereign rating. He leveraged this rating to raise $1 billion (Rs 4,500 crore) at a competitive rate, something he will have to increasingly do as Tata Steel moves towards its goal of becoming a global steel major, a goal that will require investments of $23 billion (Rs 1,03,500 crore) over the next 10 years. Chatterjee's only regret is that this means even less time to teach (which he did at XLRI while posted in Jamshedpur).
-Ritwik Mukherjee
Francisco D'Souza
36/Chief Operating Officer/Cognizant
The Accidental Indian

While in his teens, Francisco D'Souza taught himself programming to make some money on the side as a contract coder. At 24, he was already a co-founder of Cognizant Technology Solutions, an American it services company that was created to leverage the India advantage. Today, he is Chief Operating Officer of the same company and his CEO, Lakshmi Narayan, says, "Francisco has built the front-end (client-facing) organisation of Cognizant, which clearly differentiates us from other offshore players." In an industry where the ability to manage cultural diversity is becoming increasingly crucial, D'Souza himself is a bit of a cultural chameleon. He was born in Nairobi and has studied all over the world, fallout of his father's job; the man was with the Indian Foreign Service and believed that his son would be better off studying at local schools rather than the international ones that diplomats prefer. Armed with an MBA from Carnegie Mellon, D'Souza signed up with Dun & Bradstreet; then, helped build Cognizant. "I am just part of the cultural system that nourishes talent," he says modestly.
-Nitya Varadarajan

Vinod Dasari
39/COO/Ashok Leyland
Homing Pigeon
He has A US passport. Yet, one reason Vinod Dasari moved from Cummins was because he had done so well that the company wanted him back at HQ. Dasari went to the US when his family emigrated in the 1980s. With an MBA from Kellogg, he went to work for Timken which sent him to India to turn around its operations; he did and that merited a transfer back to the us. He moved to Cummins in 2002 when the company offered to send him to India to turn around its operations. At Leyland, Dasari is looking forward to helping the company take on multinational rivals. "The next big product we'll launch will be a bus to take on Volvo and beat it," he says.
Kushan Mitra
Bhargav Dasgupta
39/Senior General Manager and Head (International Banking and Global Markets Group)/ ICICI Bank
Today Moscow, Tomorrow The World

He dreamt of working for the Tata Group, and did work for Tata Motors for two years after qualifying as an engineer. Then, he left to acquire a postgraduate diploma in management from Indian Institute of Management, Bangalore, because he got bored. "I want a job that will charge you up to come back the next day," says Bhargav Dasgupta. His present job at ICICI Bank, an organisation he has been with (it was ICICI, actually) since 1992, should do that. Dasgupta is the man in charge of expanding the bank's international footprint. At the end of 2005, ICICI Bank's international business (some $7 billion or Rs 31,500 crore) accounted for 15 per cent of its total business; by 2008, this proportion, says Dasgupta, will be 25 per cent. "Initially, we followed our customers and tried to be the bank for non-resident Indians," says the man, who travels 15 days a month, "but in the past year-and-a-half, we have targeted the non-Indian community and in Canada and the UK, 70 per cent of our new customers are not Indians."
-Mahesh Nayak

Kamesh Goyal
40/CEO/Bajaj Allianz General Insurance Company
I Love Insurance
In some ways, Kamesh Goyal isn't someone you'd expect to be the CEO (he has no MBA; isn't an engineer; and graduated in 1986 from Delhi's St Stephen's College) of an insurance (he is much too young; surely, someone who is just 40 cannot head an insurance firm?) company. Then, Goyal was the youngest recruit of New India Insurance in the state of Delhi (he signed on when he was 22), and presides over an organisation of 1,700 with an average age of 26. "We have a flat organisation structure," says Goyal who moved to Allianz from KPMG (to which he had moved after almost nine years with New India) in 1999, in preparation for the sector being opened up to the private sector, something that eventually happened in 2000. "Insurance is changing completely from the perspective of customers," says Goyal, who is convinced that health insurance is the next big opportunity for insurers. Already, Bajaj Allianz is the most profitable private sector general insurer and it is a close #2 to ICICI Lombard in terms of business (among private sector players).
-Anand Adhikari
Tarun Katial
35/ Chief Operating Officer/Adlabs
Media Whiz-kid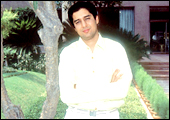 He should have ended up as a chartered accountant, but the self-confessed urge to do something "different and exciting" saw Tarun Katial jump into the world of advertising where he spent a fruitful three years with agencies such as Saatchi & Saatchi, Enterprise Nexus, and Ogilvy & Mather. "I enjoyed my work, but wasn't too happy," says Katial, implying that his itch wasn't satisfied. Then, television happened. Spotted by Sameer Nair, the Chief Operating Officer of star TV, Katial spent five years with the company, but these were the years when the flagship channel of the network, star Plus, became India's most successful entertainment channel (it remains that today with over 40 of the top 50 shows in terms of rating points). Katial was very much involved with the launch of Kaun Banega Crorepati, the game show that changed the face of Indian television and a clutch of Balaji Telefilms weepies. "My perception was that for any product to cut ice with Indian viewers, it would have to be rooted in Indian values," remembers Katial. In 2000, star, impressed by the young man, promoted him to its Asia team, but Katial didn't want to move to Hong Kong; instead, he chose to move to rival Sony Entertainment Television. "Our entire team tried to stop him as he was an asset to us, but he had made up his mind," says Peter Mukerjea, CEO, Star TV. Katial worked his magic at Sony as well with soaps such as Jassi Jaisi Kohi Nahin and a talent show, Indian Idol, modelled on American Idol. Then came an offer from the Anil Dhirubhai Ambani Group (through Adlabs) to head its fm operations (it acquired 44 licences recently) and Katial, who feels "this stint could be extremely challenging", jumped at the opportunity.
Archna Shukla
Manish Kejriwal
37/Temasek Holdings Advisors India Pvt. Ltd
Billion Dollar Dealer
Try this for pedigree: he graduated from Harvard Business School and went to work for McKinsey & Company, arguably, the world's best-known and most-respected consulting firm where he spent nearly a decade. He is married to Sunaina, the daughter of Bajaj Auto Chairman Rahul Bajaj. And he now heads the Indian arm of what is probably Asia's most aggressive private equity player, the Singapore government-owned Temasek. In two years, Kejriwal and Temasek have invested in companies such as TCS, Apollo Hospitals, Matrix Laboratories, Gateway Distriparks, Welspun India, Mahindra & Mahindra, ICICI, Reliance Capital, Shringar Cinema, ICICI OneSource, and several others. By some estimates, Temasek's investments in India, over the past two years that the fund has been active in the country, exceed $1 billion or Rs 4,500 crore. Along the way, Kejriwal, a regular swimmer who is also into scuba diving and sailing, has earned the reputation of being possessed of a golden touch. And despite the number of deals closed by Temasek over the past two years-around 12-Kejriwal wouldn't mind if Temasek were to do fewer deals in India, as long as he and his predominantly young team can add some value to the investee company. The media-shy Kejriwal (he is otherwise completely into news, whether at his 11th floor office in Mumbai's business hub Nariman Point or at home, where he watches either CNN or BBC) works hard and keeps a punishing schedule, but takes time off to spend with his wife and three-year-old son, read, or watch the latest from Bollywood. The sectors on the man's radar right now: banking, telecom, auto, it, BPO, pharmaceuticals, and export-based businesses.
Anand Adhikari
Rajesh Khanna
40/Managing Director/Warburg Pincus India
Entrepreneurial Investor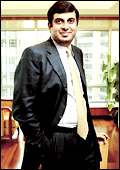 When, in 1995, Rajesh Khanna signed on with private-equity major Warburg Pincus, he did not really know what private equity was. "The first two years were spent learning what private equity was and what Warburg Pincus was about." Well, Khanna, a chartered accountant who worked with Arthur Andersen for a couple of years before going off to enrol at Indian Institute of Management, Ahmedabad (he worked with Citibank for a while before switching to Warburg Pincus), has learnt quickly. Today, Warburg has a clutch of investments in the country, is among the most respected private equity players around, and Khanna has had, and is having, a lot of fun. "For me, the kick has been in investing in companies like Moser Baer, Gujarat Ambuja, Max India, Nicholas Piramal, Kotak Mahindra Bank and HDFC," he says, singling out Max India as the most complicated deal he has closed (it required an approval from India's Foreign Investment Promotion Board). "I believe strongly in India's growth story," says Khanna. It shows: 10 per cent of Warburg Pincus' assets are invested in India. For the record, the firm's other Managing Director, Pulak Prasad, also features in this listing (see page 118).
-Krishna Gopalan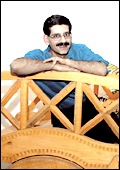 Hemant Mallik
39/Head (Marketing)/ITC Foods
The Perfect Pitch
ITC found Hemant Mallik and vice versa under a tree on the Joka campus of Indian Institute of Management, Calcutta, during placement season in 1989. Placements weren't as organised as they are now, and several senior execs from blue-chip companies found themselves waiting for a room where they could interview people. The manager from ITC, recalls Mallik, who cannot remember the man's name, just led the group of people he was to interview to a shaded spot under a tree, and started the process. "That ability to think on his feet and solve problems rather than blame the system impressed me," he says. It impressed him enough to sign on with ITC and stay with it since, and enough to treat it as a tenet of sorts, first while marketing cigarettes and recently, while helping the company find its feet in the competitive consumer foods space. Today, ITC's foods business boasts a turnover of over Rs 700 crore (think brands such as Kitchens of India, Candyman and Sunfeast). "The credit goes to the team," says a modest Mallik, "I have just played my role."
-Venkatesha Babu
Rajiv Memani
38/Country Managing Partner and CEO/Ernst & Young India
The Competitive Conservative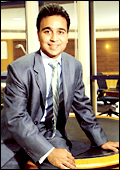 I am a staid guy," declares Rajiv Memani, proffering his tastes in music (Hindustani; Pandit Jasraj is a favourite), literature (he is reading Amartya Sen's The Argumentative Indian) and leisure activities (spending time with wife and son) as evidence. Well, there is nothing staid about the company he heads, a large professional services firm that, apart from being among the country's biggest auditors, is also among its biggest corporate financial advisers (in terms of deals closed, it is among the top three i-banks in the country). Nor can the word be used to describe his stint as CMP. His elevation to the top post, superseding several others, was not really smooth; then, some senior partners who had signed on from Arthur Andersen left, again in circumstances that were not really pleasant. "That year, 2004, was one of the most challenging in my life," says Memani. The Delhi boy (he went to school at Delhi Public School, studied commerce at the city's Shri Ram College of Commerce, and then qualified as a chartered accountant), who believes only the paranoid survive has, er.., survived, and thrived.
-Ashish Gupta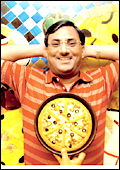 Arvind Mendiratta
38/Chief Marketing Officer/Yum Restaurants International
Master Marketer
Not too many young achievers can claim, like Arvind Mendiratta justifiably can, that they know what women want. Between 2003 and 2005, when he was Head of Marketing at Whirlpool, he orchestrated a campaign along the same theme that, he says, helped the company increase its market share in the refrigerator and washing machine category from 20 per cent to 25 per cent. "Durables is an extremely competitive business and even a one percentage point increase in share is a big achievement," says Mendiratta, an engineer from Indian Institute of Technology, Delhi, who then took the road more travelled to graduate from Indian Institute of Management, Calcutta. Then came a long stint with P&G in India, Bangkok and Singapore, the highlight of which was the India-launch of detergent brand Ariel, two years at Marico, his first shot at heading the marketing function of a company, and then Whirlpool. "Retail is an emerging sector and Yum is a leading chain trying to reposition its Pizza Hut and KFC brands in India," he says. "I thought it could be a challenging project to work on."
-Archna Shukla
Prashant Panday
40/Deputy CEO/Radio Mirchi
The Man Who Can Sell Anything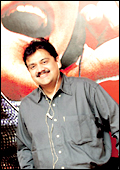 We started from scratch six years ago, and today, we can claim to be one of the largest media vehicles in the country with an audience base of 13 million," says Prashant Panday. "Even The Times of India can't boast this kind of consumer base." If Bennett Coleman & Company Limited (BCCL), the publisher of The Times of India, is unlikely to take offence at that statement, it is because Panday works for it and is speaking of Radio Mirchi, an fm station owned by its subsidiary, Entertainment Network India Limited (the company recently made an IPO). "Prashant is an excellent brand manager," says the company's CEO A.P. Parigi. Panday's and Radio Mirchi's success can be attributed to the former's approach to media-marketing: identify the target audience, come up with a relevant marketing strategy, and then think about the content. If that sounds like a marketing-heavy approach, it is because Panday, an engineer who graduated from Indian Institute of Management, Bangalore, believes "all you need to do is get your marketing formula right". Well, he's done that at Citibank, Pepsi, HLL, and now Radio Mirchi.
-Archna Shukla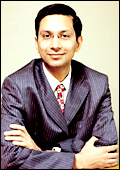 Pulak Prasad
38/Managing Director/Warburg Pincus India
The Bharti Man
It would have been a crime to headline this any other way. Pulak Prasad is the man who took the call, in 1999, to invest in Bharti Tele-Ventures (between September 1999 and July 2001, Warburg invested $292 million in Bharti). In 2005, the company sold its last shares in the telco; all told, it made a profit of about $1.3 billion (Rs 5,850 crore). Prasad downplays his role in the deal, saying only that it began with a cold call to Akhil Gupta, Bharti's CFO, and he is quick to add that "the key reason for its (Bharti's) success is Sunil (Mittal) and his team", but Warburg Pincus' role in Bharti, in terms of helping the company evolve the appropriate strategy, and adhere to the highest standards of corporate governance, cannot be discounted. Prasad, a product of Indian Institute of Technology, Delhi, and Indian Institute of Management, Ahmedabad, entered the world of private equity by chance-he was a consultant at McKinsey when he received a call from a headhunter-but he likes what he is doing. "Over the next 10-15 years, I see myself doing nothing but this," he says. "It's my passion."
-Krishna Gopalan
Subhinder Singh Prem
37/Managing Director/Reebok India
Boot-strap Operator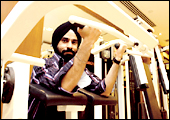 Subhinder is one shoe-maker who has made big promises and kept them all," says Vishnu Bhagat, CFO, Reebok India, referring to the adage (popular in this country) about promise-breakers being shoe-makers. That may just be a peer's approval-Bhagat and Subhinder Singh Prem signed up with Reebok around the same time, in 1995 -or it could be a numbers-man admiration for, er.., numbers. Between 2003, when Prem took over, and now, Reebok India has grown its business 150 per cent from Rs 160 crore to Rs 400 crore. Prem himself, a graduate of Delhi's Shri Ram College of Commerce, who then headed off to imt, Ghaziabad, for an MBA, credits the growth to his team. The man believes he was destined to be in the shoe business: he started off with Ranbaxy, but moved quickly to Mescos (it had a shoe business in the early 1990s), then Reebok, where he started off as Footwear Manager. In 2004 and 2005, Reebok India was named the best subsidiary within the Reebok system, "a major achievement," according to Prem. "There are many emerging markets we compete with."
-Archna Shukla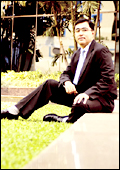 Rajiv Sabharwal
40/General Manager and Head (Mortgages and Real Estate)/ ICICI Bank
Home Depot Personified
Not too long ago, HDFC was the market leader in the retail mortgages market. ICICI Bank was not on the horizon. Today, ICICI Bank is the market leader with a 32 per cent market share. Rajiv Sabharwal can take some of the credit for that. When, in what was then ICICI, he moved to the mortgages department in 2001, disbursements were a mere Rs 100 crore a month. Today, the corresponding number is Rs 2,500 crore. "The market is large out there," says Sabharwal, "and there is a huge demand waiting to be met." In some ways, the man has the right background for the job of reaching out to people across the country (ICICI is famous for the reach of its retail mortgages products). His first job, after he graduated from Indian Institute of Management, Lucknow, was with Godrej GE which sent him to Haryana to sell refrigerators. Sabharwal has developed strong relationships with developers and launched new products but, in a country where a home is still one of those once-in-a-lifetime purchase, the man will be remembered for funding dreams.
-Anand Adhikari
Dan Sandhu
37/CEO/Vertex India
BPO-boomer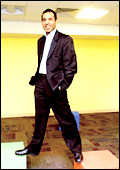 In some ways, the story of Dan Sandhu is that of a typical new-age Indian. Sandhu is UK-born, qualified as a chartered accountant, and while at Leeds Business School, promoted a rock band and launched a radio station afterwards. He worked for a media firm for some time, but then met the founders of a business process outsourcing firm, 7c, in 1998. He joined as the Head of Finance, moved to start up the Indian operations with just over 50-employees, and in December 2002, when the company was acquired by Vertex, he was asked to stay on as head of Vertex India. Today, Vertex India has over 2,200 people on its rolls and thanks to Sandhu's innovative hr practices-signing up entire families in the workforce, being driven to work occasionally in the CEO's Mercedes, being served lunch by a senior manager-retention is among the highest in the industry. "People stay in work because of people," says Sandhu, who is also emerging as a face of the BPO industry because of his involvement with NASSCOM. "It is more or less the same work and money elsewhere."
-Shaleen Agrawal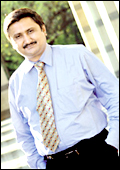 Deepak Sogani
39/CFO/Patni Computer Systems
Enjoying The Ride
He was the first professional in the finance function at Patni. Eight years ago, when Deepak Sogani signed on- he was advising Patni then in his capacity as an independent consultant-his mandate was clear: transform Patni from a diversified family-held business to a widely-owned, pure-play it services one. And the IIT-Delhi, IIM-A (1991) alumnus has been turning it on ever since. His first task was to de-merge the non-core businesses like hardware, after which foreign investors began sniffing around for a stake. First came GE, investing roughly $15 million; then, in 2002, General Atlantic Partners pumped all of $100 million (Rs 490 crore then) into the company, making it the largest private equity deal in the world in that year. "The gap deal was challenging," says the former investment banker, explaining that the needs of the family and other stakeholders had to be balanced. In 2004, the company made an IPO; the same year, it acquired Cymbal, a California-based, telecom-focussed it services player for $68 million (Rs 306 crore then); and last December, it listed on the New York Stock Exchange. "We still have some more distance to travel," says Sogani, who has seen Patni grow from a $30 million company to a $450 million or Rs 2,025 crore (as of December 2005) one.
-Brian Carvalho
Aashish Sonawala
37/Director (Sales)/GE Capital Aviation Services
High-flier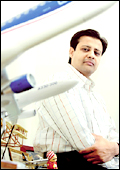 When GECAS discovered Aashish Sonawala was part of this list, the person most excited was not the man himself, but his boss, Bill Blair. That can only be an indication of how good a job Sonawala has done. In the past year alone, GECAS, the world's second largest aircraft lessor after ILFC, has placed aircraft worth over $2.5 billion (Rs 11,250 crore) in the Indian market, the world's second hottest after China. Sonawala, who has been a GE-lifer (he signed on after he finished his MBA from Boston University), attributes part of the company's success to GE's historical presence in the Indian aviation market (through GE Aircraft Engines) and part of his individual achievements to the company's culture. "This is a truly global company; this is not an American company operating across the world," he says. With the Indian aviation sector expected to grow at between 20-25 per cent over the next few years, Sonawala expects to be fairly busy over the next few years as well, "If the Finance Minister wants 8-10 per cent growth, aviation will have to play a key role, and so will we."
-Kushan Mitra

Pankaj Srivastava
36/CFO/Kodak India
Numbers Of Note
That finance pros have a role, a significant one, to play in the success of marketing-heavy consumer products companies is borne out by the success of Pankaj Srivasatava, an engineer from Delhi College of Engineering and alumnus of Indian Institute of Management, Bangalore. Since he signed on with Kodak in 2001 as the Head of Finance of the consumer imaging business, Srivastava has re-engineered the company's supply chain and inventory management systems, just the kind of thing that makes CEOs happy. "He keeps a business perspective in mind while taking financial decisions," says Ravi Karamcheti, Managing Director, Kodak. Not surprisingly, Srivasatava, named Chief Financial Officer this year, admits that "the opportunities given to me by this company have been tremendous".
-Ahona Ghosh
Rahul Verma
34/Senior Director (India HR)/Accenture
People Person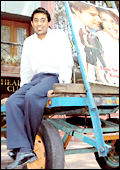 There are few people in the IT services space that can claim to have worked for the same company. There are fewer still who can claim to have been made Head of hr at 27. Rahul Verma can, on both counts. In 2001, when Accenture (then known as Andersen Consulting) decided that it was time to scale up its operations in India, and pay some obeisance to that 'offshoring' trend that had created several of its Indian rivals, it had a workforce of just around 200 in the country. Today, it employs 16,800; Verma, a graduate in economics from Delhi University who went to Pune's Symbiosis to specialise in personnel management, has overseen that growth. The son of academics (his parents are both Ph.Ds and met while studying in what was then the USSR), Verma could have been expected to become an engineer or a doctor. The man himself had other plans; he had always considered himself a people's person. "HR is not a staff function, but a line one," he says, something that is particularly true of the IT services business. Part of Verma's success can be attributed to his philosophy of trying to solve any problem from first principles (as opposed to just accepting conventional wisdom). For instance, when Accenture felt the need to hire more people, Verma's approach suggested that it first hire hr pros, who could then help the company scale up its operations. Rather than hire mid- and senior-level hr execs from other firms, Accenture hires young people on the basis of a screening test and their aptitude for hr, and then puts them through a customised Accenture-XLRI two-year weekend course (Accenture pays for part of it) even as they learn on the job during the week. "Create, don't borrow or steal," says Verma, who was rejected twice by XLRI when he was trying to specialise in hr. "All of us appreciate the insight and the strategic view Rahul brings to the table," adds Chet Kamath, Managing Partner, Accenture India.
-Venkatesha Babu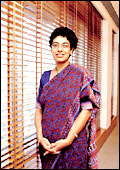 Ireena Vittal
37/Partner, McKinsey & Company
Conscious Consultant
Humour of the self-deprecating kind is a welcome trait in a man or a woman. It is doubly welcome in a successful woman who works for the world's best-known consulting firm, McKinsey & Company. "Business," says Ireena Vittal, who calls McKinsey a terrific university where one works for the best clients and hires the best people, "is simple; we complicate it." Well, since 1996, when she signed on with the firm, she has been 'complicating it' in sectors such as retail, consumer goods and energy, and 'complicating' it successfully at that. No one in India, she claims, has a successful model (for retailing) because "the consumer is always ahead of you". "No one has a format that will work," she adds. The job, despite having spent 10 years on it, is still fun, says Vittal, because she is "still learning". Even her stints with Nestle (her first job) and Max (she helped launch Max's mobile telephony service in Mumbai), she claims, were good learning experiences. "At Max, we had about 90 days to launch the brand in Mumbai and we knew nothing about the category," she recalls. The lady, who travels for around 12 days a month (made bearable by the fact that husband Gopal, too, travels a lot), still manages to catch up with her reading (no management books for her please; "they're boring") and believes that this is a good time to be in India. "To me, the present is important," she says. "I think we in India are lucky to be alive at a stage considering the amount of action that is taking place."
-Krishna Gopalan
Gopal Vittal
39/Regional Category Vice President, Asia, (Fabric Cleaning)/HLL
Uber-salesman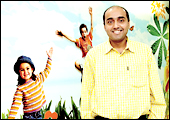 For 16 years now, ever since he graduated from Indian Institute of Management, Calcutta, in 1990, Gopal Vittal has worked for the same company, Hindustan Lever Limited. Ask him about that and he will quickly clarify that his association with the company dates further back; after his graduation from Madras Christian College, he worked with Brooke Bond (which merged with HLL in 1996) for a brief while (saving enough money for a vacation to the North East of the country, that he still recollects fondly) before moving on to IIM-C. Today, he travels for 16-17 days a month (work-life balance maintained by the fact that his wife, Ireena, is also a fast-tracker at a consulting firm) and has a region-wide responsibility that he is thrilled with. "The kick comes from dealing with different cultures, like in Thailand and Philippines," he says. Vittal recollects the relaunch of Lifebuoy, between 2001 and 2003, fondly. "The period was a turnaround for the brand," he says. "Since then, its turnover has doubled." And his responsibilities, many times over.
-Krishna Gopalan
---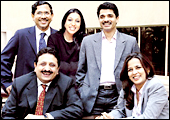 Bringing it all together: (Seated left-right) Transearch's Atul Vohra and Accord's Sonal Agrawal; (standing left-right) Ma Foi's K. Pandia Rajan, Shilputsi's Purvi Sheth and Stanton Chase's Venkat Shastry
METHODOLOGY
How We Did It
How did business today identify the 25 hottest Young Executives in the country? As a first step, we solicited the participation of the country's largest and best-known executive search firms. Five of the firms (the same five that had participated in the last edition of the survey)-Accord, Shilputsi, Ma Foi, Stanton Chase and Transearch-agreed to participate in the exercise. Each was asked to create a list of executives who were 40 or under, who had consistently been on the fast-track in their respective firms, and who had done something of note in the past 18 months. The firms were asked to exclude those individuals that had already appeared in earlier editions of the study. A team of Business Today editors created a shortlist of around 100 from the individual listings sent across by the search firms. In late February, senior editors of the magazine and the heads or senior partners of the search firms met in Mumbai to discuss the entries in the shortlist. The criteria: an age of 40 or lower, currently employed (not between jobs), a consistent track record, and a significant achievement in the past 18 months. Other factors considered included the size and the complexity of the business their companies were in, and their impact on their companies and industry as a whole. While due care was taken to ensure enough representation for all sectors, no quotas were set. The result: the third listing of BT's Hottest Young Executives in India.