Around 35 kilometres from Bangalore's showpiece Vidhana Soudha (where the government of Karnataka works from), as you head in a South-Easterly direction, the traffic, intense thus far, lessens. Instead of the dense concrete jungle littered with glittering glass and chrome structures which dot the city's skyscape, large empty spaces beckon; it is almost as if the clock has been turned back to another, more peaceful era in the garden city's history. Welcome to Kanakapura (literally, Golden City). However, on weekends and holidays, this single-lane road suddenly bustles with activity. Automobiles of every description-from the Ambassador of yore being plied as a taxi to a Mercedes S class carrying a corporate bigwig-suddenly choke this Golden City Road. There is a reason for that. This is Bangalore's Spiritual Boulevard with three major ashrams located on it. One is the HQ of the Art of Living (AOL) headed by Sri Sri Ravishankar (of Sudarshana Kriya fame). Another is Nataraja Gurukula Adventure Academy run by a Belgian-turned-naturalised-Indian Guru Freddy, who emphasises martial training to calm the mind. And the third is the ashram of Rishi Prabhakar who has his own brand, Sidhha Samadhi Yoga.
In a city that employs over two lakh techies and BPO associates constantly working against the clock to meet seemingly impossible deadlines, stress is an inevitable way of life and mental and physical fatigue is becoming increasingly commonplace. Given the 80-hour workweeks and constantly looming project deadlines, taking a break acquires a completely new meaning for these stressed-out code-jocks. They are flocking to a raft of spiritual sanctuaries for an extended dose of soul searching, away from the hustle and bustle of the over eight million people that live in India's Silicon Valley. "Stress is something that people can live with and not be ruled by," says Sri Sri Ravishankar, founder of the AOL movement, which recently attracted around three million people to its Silver Jubilee Celebrations in Bangalore. "People tend to lose their soul when they are faced with stressful work. Indians have always been intensely spiritual people," says Dr L. Manjunath, a practicing psychologist. "After achieving levels of material prosperity in a couple of years in contrast to a couple of decades it took their parents, these youngsters are looking for a larger meaning to life."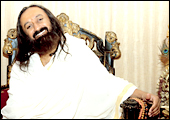 ART OF LIVING
Now a major movement, Sri Sri Ravishankar's Sudarshana Kriya, a meditation-technique, targets both the body and the mind; AoL even has a corporate wellness programme
Evidence that some techies find this meaning on Kanakapura Road can be had at Sri Sri Ravishankar's verdant 70-acre ashram. The place overflows in a sea of white as a motley crew of disciples and wannabes mingle in the tiled courtyard and amphitheatre, waiting for instructions from their Guruji. Hundreds more are in the midst of a session of Sudarshana Kriya in the main hall. Intense meditation isn't, however, the only reason drawing people like Sriram Chandrasekharan, 32, a Microsoft employee to AOL. "I've been associated with this movement for 10 years now and it's been very beneficial to me, both in terms of making me less stressed and alert and improving my immunity and therefore, decreasing my sick leave." "Over the last six years," he adds, "I haven't had even the smallest sniffle."
It's not just the young who believe in AOL, with senior pros like A.L. Rao, the coo of Wipro, also being vocal supporters. "This has had an extremely positive effect on me, both physically and mentally, and the kriyas are something I can't do without every day," says Rao. On his frequent trips abroad, Rao meditates at airport lounges. And AOL itself has smartly launched a Corporate Executive Programme (CEP) to cater to the growing need for a 'wellness' aid.
"We have put over 2,000 of our employees through the CEP and the benefit can be seen in terms of greater alertness and focus on the job and a more balanced life overall," says Aadesh Goyal, Corporate Vice President (Human Resources), Flextronics Software Systems. Interestingly, fresh recruits at FSS have to go through the CEP within six months of signing up with the company.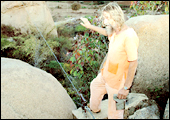 NATARAJA GURUKULA ADVENTURE ACADEMY
Run by Guru Freddy (his disciple Eric Swami is seen here), NGAAA is not for the faint-hearted. Think rappelling rock climbing and a tough obstacle course
Despite its imposing presence on kanakapura Road, however, AOL is not the only option for people looking for some mental peace. A further 20-km down the road is the HQ of Rishi Prabhakar, an engineer-MBA-turned-yoga guru, whose Siddha Samadhi Yoga tries to calm down the restless mind through short, but intense meditation. "People are too worried about the kind of material goods they can buy and how quickly they can do this. The onus then is more on material well-being than spiritual peace of mind," says Prabhakar who has over 100 ashrams, across 20 cities today and uses Rishi Tapokshetra, as the headquarters (it is a 32-acre campus that is greener-than-green) is named, as a yoga finishing school of sorts for a three-day advanced course, after students have initially learnt the art at one of the centres within a city or town.
"This course isn't as difficult as I initially thought and the benefits were immediate," says an Infosys employee, who'd rather not be named. "I am able to either focus intently on my job or switch off completely and relax."
Rishi Prabhakar believes that a sense of self-fulfilment is often missing among the young techies who visit him for some intensive de-stressing. "You have to be able to say: If I am happy with what I am doing, I won't be stressed. Happy people are always more productive," says the Smiling Swami.
Also on spiritual boulevard is the nataraja Gurukula Adventure Academy (NGAA). Unlike the sheltered (and in the case of AOL, even luxurious) confines of other soul kitchens, this academy makes no bones about its down-to-earth nature. It is run by Guru Freddy, a Belgian academic-turned-holy man (he's unwell and cannot meet with BT; his disciple, Eric Swami, a German-turned-naturalised-Indian, shows us around). The spartan ashram looks part military boot camp, part nature resort. NGAA has been used by several it companies to build team spirit, enhance bonding and a sense of responsibility. And a group of 30 MBA students from a B-school is expected there on the day we visit.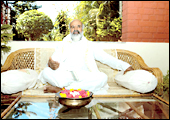 SIDDHA SAMADHI
With over 100 ashrams, Rishi Prabhakar's Siddha Samadhi Yoga seeks to calm the restless mind through short, but intense bursts of meditation
For starters, NGAA is certainly not for the faint of heart, with rappelling, rock climbing and a full obstacle course among its main attractions. "It's not always about finishing first or completing a course the fastest with us; we try and judge who acted more responsibly while helping a colleague or who had better ideas to finish a course," says Swami, as he shows us the way to navigate the Burma Bridge, one of the obstacles on the course. Dressed in a faded orange jumpsuit, the eternally dishevelled-looking Swami speaks fluent Kannada and is the chief architect of the place (literally the academy's Mr Fix It, mending everything from a faulty electric motor to laying down the flooring for a guest room) and says that raagi (millet) is the staple for guests.
The amenities are basic, with the men sharing bathing facilities and mud-floored tents being the only accommodation. Given its tough as nails disposition (this reporter is still suffering from Swami's vice-like handshake), NGAA is extremely popular with law enforcement agencies. It has also gained increasing acceptance with an increasingly adventurous tech crowd. "We've had a number of tech companies, including Infosys, send people over to take the course and their feedback was positive," says Swami, adding that several others have now lined up to try out the academy's "boot camp".
For code-jocks burnt out by a constant battle against an ever increasing workload, it is not just the much-celebrated pubs of Bangalore or a trip to the visiting on-site shrink that helps them de-stress. There is clearly another option at hand. All they need to do is hit the golden road.