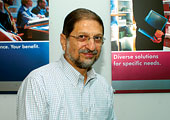 "All our internal job vacancies are posted on our intranet and anyone is free to apply"

Zarir Batliwala
Vice President, HR/ HP
Hospitality Pays
Help, Tarun!
Over the last three years, Prasad Kompalli, 32, Senior Vice President, sap NetWeaver Development, sap Labs, has morphed from managing a small 20-person team to heading a 300-strong team responsible for key strategic decisions at the German enterprise software giant's global headquarters in Walldorf. And he isn't the only one. Rather than being content with operating in a restricted geographical or operational framework, many execs such as Kompalli are leveraging India Inc.'s global expansion to evolve into global managers. This change is happening on two fronts: one, Indian companies are going global like never before, compelling their managers to adjust to working on a larger scale; and secondly, MNCs are tapping Indians for many global positions.
These are lucrative positions and often the first step in the climb to greater heights in your employer's global pecking order. But it is important that you equip yourself thoroughly for the task at hand before going ahead and applying for the position. Bear in mind that apart from your core competence in your chosen field, you will also need a host of soft and cultural skills that you either took for granted in your job in India or, worse, didn't even know you needed.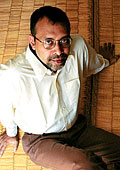 "Our managers are encouraged to take responsible positions outside India"

Bhaskar Das
HR Head/Cognizant
Kompalli, who credits his meteoric rise to support from his employer, says: "There are many opportunities if you're willing to hunt around and take risks and face challenges." hr execs at large multinationals add that the best opportunities may often be right in front of you and it's only a matter of making the most of them. "All our internal job vacancies are posted on our intranet and anyone is free to apply. We encourage people to apply for jobs anywhere in the world and there are no geographical restrictions," says Zarir Batlivala, VP, HR, at HP India.
Companies such as sap and hp provide extensive cultural and business reorientation programmes that train executives for global positions; and senior managers are often mandatorily put through these courses. Satish Venkatachaliah, VP HR, SAP Labs India, says the company has a variety of programmes for its executives, ranging from two-day workshops on "the global software professional" to one on "managing virtual teams" conducted in six modules.
Being able to work with a multi-cultural and multi-racial workforce is perhaps the most critical characteristic that needs to be acquired. "This was a gradual process for me and it took 12 to 18 months, before I became comfortable with the work culture," says T.V. Hariharan, Managing Director, Europe, for 24/7 Customer, who relocated to London four years ago from the BPO operator's Bangalore operations. He points out that the changes can be basic cultural alterations related to work-life balance (mixing the two is a strict-no-no in the UK) to more specific issues of business ethics and code of conduct. Adapting to different cultures, understanding employee attitudes, work timings and respecting their work styles are also extremely important. "Five years ago, Indians taking on global roles used to face tremendous hurdles gaining acceptance from their peers, but the situation has improved now," says Praveen Kumar, Vice President, Nortel Services, Asia, who works out of Singapore.
HOW TO GO GLOBAL


The Ambitious Manager's Checklist.
» Look around for opportunities; your company's intranet is a good place to start.
» Equip yourself to operate outside India; learn inter-cultural and soft skills. Learn a sport like squash, tennis or golf.
» Make sure you take crash/longer courses on the compliance and regulatory issues
» Prove your worth by taking up and delivering on difficult assignments no one else wants.
» Have patience: getting used to a new environment takes time and perseverance.
According to executives, becoming a global manager involves a diverse set of skills and traits, which can be learnt within the confines of a classroom and on the job. "Having a global mindset is perhaps the foundation of this entire process. Having worked in different cities and markets is an added advantage," says Subash Rao Director, hr, Cisco India. Some companies have institutionalised this process. "Our managers are encouraged to take responsible positions outside India and are groomed accordingly," adds Bhaskar Das, VP, HR, at Cognizant India.
Companies in sectors such as financial services, infrastructure, hospitality, engineering and metals are also following a similar path. "While cultural sensitisation is a pre-requisite for these relocations, the more critical quality is the ability to quickly understand and be able to operate in a more dynamic and competitive environment than is available at home," says Sanjay Jain, Head of Marketing, Bajaj Allianz.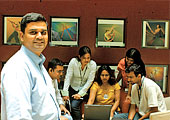 "Having worked in different cities and markets is an added advantage. A global mindset is perhaps the foundation of this entire process of becoming a global manager"

Subash Rao
Director, HR/Cisco India
In sectors such as financial services, the rules and norms covering areas such as risk and compliance (and the ethics involved therein) can vary widely from country to country. HR heads and executives say that at least a crash course (and, if possible, a more detailed programme) on these issues is a mandatory step. "Executives need flexibility and strong domain knowledge not only in the operational aspects of their job, but also an understanding of global trends and how to customise broad strategies for a local market," contends Jain.
The rise of the Indian services industry means that sectors such as hospitality, too, are leveraging the Indian managers' global ambitions. For example, Taj Palaces and Resorts has begun to globalise its presence and has begun to re-orient its employees accordingly. "Adapting to a work culture in advanced countries where the workforce is more aware about their rights than their obligation to perform is the challenge; the service orientation towards guests in many advanced countries is more mechanical than natural. Adhering to high guest service standards is, therefore, becoming increasingly difficult in advanced countries. This is a factor that Indian managers need to adapt to," says Yogesh Sriram, Head, hr, Taj Palaces and Resorts.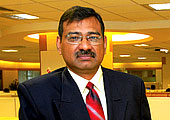 "Indian managers have a higher uncertainty-avoidance threshold than their counterparts in the West"

P.C. Rajiv
HR Head/ABB India and
South Asia
Part of the adaptation process, say managers, is a drastic change in mindset. "Indian managers need to develop a much broader outlook, both personally and professionally," says Murali Bala Subramanyam, Executive VP of RPO Worldwide, a US-based recruitment process outsourcing firm and subsidiary of Bangalore-based it solutions company iGate. "It's the nuances of different markets and economies that Indians need to adjust to: Australia has strict rules on labour and the time that people spend at work; in Japan, removing non-performing employees is an extremely costly proposition; and it is not as easy as people think to hand over a pink slip in the us," says Nortel's Kumar.
The good news for Indian managers is that most of them already possess the basic skill sets required to operate on the global stage. "Indians are masters of managing chaos at home; so they can easily adapt to more streamlined markets in the West," claims Neeraj Gupta, Executive Vice President of Patni Computers, who has worked both in the West and here. ABB's Head of hr, P.C. Rajiv, sums up the issue. "Indian managers have a higher uncertainty-avoidance threshold than their counterparts in the West. This ability to take quick decisions in the face of ambiguity is something they must leverage on the global platform."
So, the next time your boss gives you a difficult assignment, grab it with both hands. It could well be your ticket to the world.
---
Hospitality Pays
The hotel industry is recruiting by the thousands.
India has 160,000 hotel rooms (which are affiliated to Federation of Hotel & Restaurant Association of India) and about 300,000 rooms, which are not. The shortage: 100,000 rooms, according to an FHRAI study. Given the hospitality industry's standard room-employee ratio of 1:2, there is clearly room for the creation of 200,000 jobs. "The indirect employment generation potential is five times as much," says Rajesh Mishra, President, FHRAI. Currently, 281 star hotels with 30,000 rooms are being built across the country. That means at least 60,000 direct jobs will be created over the next two years. "We are still in a pre-boom stage. When the hospitality boom reaches its crest, there will be a dearth of trained manpower," he adds. So, if you're looking for a job and meet the criteria, the hospitality industry could well be your ladder to success.
FACT BOX
WHO'S HIRING: Indian Hotels, East India Hotels, ITC Hotels, Leela Group, and every other large, medium and small hotel chain and even standalone properties.
WHO'RE THEY HIRING: MBAs and pros from rival chains and graduates of hotel management institutes.
AT WHAT LEVEL: At all levels. mid-level, junior and entry-level recruitments are most common. Some senior-level movements are also taking place.
AT WHAT SALARIES: At senior levels: Rs 20-50 lakh p.a.; at middle levels: Rs 8-20 lakh p.a.; at junior and entry-levels: Rs 2-8 lakh p.a.
WHAT ARE THE NUMBERS LIKE: At least 60,000 jobs will be created over the next couple of years; this may rise to 200,000 over the following three.
---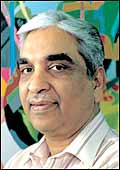 Q: I am a 21-year-old pursuing MSc (Operational Research). I am interested in doing a management programme after completing this course. Will it help my prospects? Also, name a few reputed institutes I could consider.
A programme in management will definitely help and enhance your career prospects. I would recommend a full-time mba programme. There are several reputed institutes offering MBA programmes-IIMs, FMS, XLRI, Symbiosis, ISB, etc. Most of them have stringent entrance criteria-so you will need to be prepared. All the best.
Q: I have done my post-graduation in agriculture. At present, I am working in an agro-input-based industry. I wish to make a switch to retailing. Is there any training or course I need to take to make the switch?
You must realise that the retail sector is very different from the one you are in now. However, if you are sure this is the line for you, there are certain things you must keep in mind. Retailing is a fast growing industry. There are many career streams available within the industry-sales, merchandising and purchase to normal corporate functions like hr, finance, etc. So, you will have to choose a specialisation depending on the function you want to get into.
---
Answers to your career concerns are contributed by Tarun Sheth (Senior Consultant) and Shilpa Sheth (Managing Partner, US practice) of HR firm, Shilputsi Consultants. Write to Help,Tarun! c/o Business Today, Videocon Tower, Fifth Floor, E-1, Jhandewalan Extn., New Delhi-110055..
---