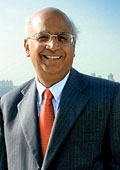 TCS CEO S. Ramadorai: If TCS maintains its pace, it could soon become more valuable than Accenture
Starting march 20 this year, Tata Consultancy Services' customers in the us and the UK began waking up to a brand new message from India's biggest it services company: 'Experience Certainty', full-page ads in top business publications such as the Wall Street Journal and the Financial Times, urged CXOs at large corporations. In a business where project cost overruns and delays are par for the course, TCS' invitation was elegantly simple. Over the next 10 months, TCS will spend a not-so-insignificant $10 million to reinforce the message across key markets.
'What's so great about an advertising campaign?' You might ask. And the answer would be that this isn't just another branding exercise from the Mumbai-headquartered company. In fact, it is its first ever, and also the first from India's best-known it triumvirate, which comprises, besides TCS, Infosys and Wipro. Until three years ago, TCS, India's oldest it services company, was merely a division of Tata group holding company, Tata Sons. It didn't have to publicly disclose its numbers, and neither did it bother to make noise about its status as India's biggest it player.
As it turned out, that was a mistake. Thanks to its media-savvy Chairman and CEO-and perhaps, the New York Times columnist and author, Thomas Friedman-it was Infosys that had a better brand recall among customers worldwide. (Indeed, recently, the otherwise meticulous newspaper, the Economist, incorrectly described Infosys as India's largest it services company. Similarly, TCS' banking software product BankOne pulls in $120 million (Rs 504 crore) a year, but it is Infosys' smaller offering Finacle that is better known.) Then in August 2004, TCS went public and suddenly it had to match not just the reporting standards of the two Bangalore-based rivals, but assert its identity as an independent company responsible to its shareholders.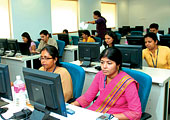 TCS Development centre: In just three years, the headcount at TCS and its local subsidiaries has almost doubled to 89,419
Therefore, in October 2005, when TCS approached New York-based strategic branding firm Siegel+Gale to conduct a brand recognition study, it knew it had a problem to fix. But it didn't quite know there was a huge opportunity to tap as well. Recalls Phiroz Vandrevala, Head of Corporate Affairs at TCS: "The study revealed that IBM and Accenture were the top it outsourcing firms in terms of brand recall in the market. But people were not sure which firm was third in the pecking order. Some said it was EDs, some TCS, some CSC, some Capgemini. We want to be that third player." Yes, you heard him right. TCS is no longer talking about climbing up the brand pecking order at home; it's talking about a quantum leap globally.
That might sound a little too steep coming from a company that less than a decade ago was perceived as the world's largest bodyshop for programmers. But then, with its recently declared results (2006-07), TCS has stood up and asked to be counted among the best in the business. The numbers alone tell quite a story. Annual revenues crossed the $4-billion mark. That's an incredible billion dollars a quarter, making TCS the 11th largest player globally. In terms of market capitalisation, TCS is ranked 4th globally, behind IBM, HP and Accenture. TCS also ranks 5th in the global pecking order in terms of headcount with 89,000-plus employees. During the last financial year, TCS hired 32,462 people-crudely put, that's 89 employees hired every day of the year, or three fresh faces an hour (assuming TCS works 24x7 including on Sundays).
"We are moving towards a new pricing model, like in Diligenta, where revenues depend on number of policies serviced"


S. Mahalingam
CFO/ TCS

"IBM and Accenture are the top IT outsourcing firms in terms of brand recall. We want to be the third player"


Phiroz Vandrevala
Head of Corporate Affairs/ TCS
The Leap Ahead
But the real story in TCS is the one beyond the numbers or even its quest for an international brand image. It lies in the new ground the company is trying to break. It also lies in some of its inherent weaknesses that it has tried to overcome. One such bugbear faced by TCS and most of its Tier-I peers is what the IT industry nattily calls 'the linearity of revenues and headcount'. In plainspeak, it means that revenue growth for companies such as TCS, Infosys and Wipro has become synonymous with employee addition (also see 'Rebooting Indian IT' BT, February 11, 2007). In TCS, for example, revenues moved up from Rs 9,727 crore in 2004-05 to Rs 18,685 crore last financial year-a 92 per cent jump. Headcount, meanwhile, has almost doubled from 45,714 to 89,419 employees.
S. Ramadorai, a TCS lifer and CEO of 11 years, concedes that breaking this linearity is an important issue for the company. "We never wanted headcount and revenues to be linear. So, if we look at the number of people we had when we were a billion in revenues and the number of people we have now at $4.3 billion, you will see that the ratio has changed," says Ramadorai who adds that the company's focus on R&D will eventually help it break the linearity. "So, the question we continue to ask ourselves is, 'when we achieve $10 billion or $6 billion, should it be on the current ratio of headcount?' And I believe it will be achieved more efficiently," he says.
TCS is already taking strides in breaking this linearity. For one, TCS is looking at bolder and more innovative pricing models. "Traditionally, you estimate projects in terms of the number of people or the amount of time required to complete it. But now we are moving beyond that. The future models may be service-oriented models, where you are paying on a transaction basis. Any M&A that we have done-be it fns, Comicrom-has been done to leverage intellectual assets than people assets," Ramadorai points out.
TCS: THE GOOD AND THE BAD
STRENGTHS
Scale: With 89,000-plus employees, this is one monolith that will be tough to ignore. TCS today is among the top five companies worldwide in terms of headcount. Economies of scale are easier to achieve at this size.
Truly global: With its international acquisitions in the UK, Chile and Australia and its Chinese joint venture, TCS is probably better placed than most of its Tier-I peers when it comes to a global delivery model. With almost 9% of its employees located outside India, TCS has gone truly global. Growth in new geographies like continental Europe and Latin America is a pointer in that direction.
Emerging service lines: Service lines like global consulting, BPO, Infrastructure management, and assurance services fetched 18 per cent of revenues in FY '07 up from 10 per cent in previous financial year. These growth engines, as TCS calls them, are likely to gain momentum in the coming quarters.
Product focus: With its acquisition of FNS, TCS plugged a hole in its banking services offerings by acquiring a core banking solution. The acquisition will lend a product focus to TCS banking offerings. The company, in fact, attributes big wins like the Bank of China deal to these enhanced offerings.
WEAKNESSES
Not listed internationally: TCS is perhaps the only Tier-I Indian player that is not listed in the US. However, it is believed that TCS is mulling an overseas listing soon.
Branding: Compared to an Accenture or an IBM, TCS is not yet a well-known brand in the boardrooms of Europe (and to some extent even the US). In Europe, Accenture has boardroom relationships spanning decades. TCS plans to fix this with its recently launched "Experience Certainty" international campaign, which will run for at least 10 months and cost $10 million.
Hasn't perfected investor relations: For a company that has put out 11 quarterly results, TCS has come a long way. One look at the recently announced quarterly results is enough to prove that there's a lot more transparency. But compared to Infosys, TCS is still a notch behind.
Margins: Compared to some of its Indian peers, TCS' margins are a bit smaller given its huge revenue base. TCS contends that the company would prefer to focus on long-term growth over short-term quarterly profit margins. Striking a balance between growth and profitability will be a challenge.
Diligenta is an apt example of the newer pricing models that TCS is experimenting with. In 2006, TCS created Diligenta, a UK-based subsidiary. Diligenta was spun off from a closed-book life & pensions (L&P) operations that TCS acquired from Pearl Group under a 12-year, £486-million BPO deal that was inked in October 2005. That deal made TCS one of the largest players in the L&P outsourcing market in the UK, with a closed book of 4 million policies. Like TCS CFO S. Mahalingam explains, "The pricing model in Diligenta depends on the number of policies we service. In a sense, it's a transaction or outcome-based servicing model. It's not a simple time and material model. Of course, there is a risk involved-what if the number of policies goes down? But it's a calculated risk we have decided to take."
TCS also bets that its full services model-wherein the company offers a bouquet of services from plain vanilla application development and maintenance to BPO to business consulting-will eventually lead to bigger and more profitable deals coming its way. The company points out the fact that nearly 18 per cent of its revenues for FY '07 accrued from high growth services such as BPO assurance, consulting, and infrastructure-up from 10 per cent the previous year. Also, four of the 12 $50-million deals that TCS won in FY '07 were driven by a strong infrastructure component. "The pace with which new services are getting adopted and becoming core is just astounding. BPO and infrastructure are $250-million businesses each today. All of them have an aspirational plan to become $500-million or $1-billion businesses each. Then we will look at additional services," says N. Chandrasekaran, who heads global sales and operations, and is the man to watch at TCS (See CEO in Waiting?).
CEO IN WAITING?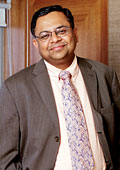 "BPO and infrastructure are growing fast and could soon become $500 mn- $1 billion businesses each"
N. Chandrasekaran

Head, Global Sales and Operations/TCS
Sixty-three-year old Ramadorai joined TCS nearly three decades ago as a trainee engineer. But come mid-2009, when he turns 65, Ramadorai will step down as the CEO. So, who's next? TCS, as expected, is not talking about a beauty parade. But sources in TCS say that N. Chandrasekaran, 44, who is an Executive Vice President and heads global sales and operations, is tipped to be favourite for the hot seat. The man has been with the company for more than two decades. Under his leadership, TCS forayed into new markets in Eastern Europe, China, Latin America and the Middle East. Chandrasekaran is also credited with setting up TCS' global Networked Delivery Model.
TCS has quite a few eligible candidates in senior management to pick and choose from for the top job. There is the soft-spoken S. Mahalingam, 59, who is currently Chief Financial Officer. Mahalingam has been around since 1970 and the feathers in his cap include the $1.7 billion IPO listing. He is also credited with setting up the TCS centre in Chennai. Another candidate is Phiroz Vandrevala, who is an Executive Vice President and heads corporate affairs at TCS. Fifty-three-year old Vandrevala, among other stints, has been Chairman of industry body Nasscom. S. Padmanabhan, 49, is another TCS veteran who heads HR. He is the man responsible for managing the extraordinary clip at which the headcount is growing at the organisation.
Cherry Picking
To enhance its offerings for specific verticals (like banking, for example), TCS has also made a series of reasonably small-tab acquisitions that seem to be paying off. The acquisition of Australian firm Financial Network Solutions, for example, filled a void in TCS' banking offerings-a tried and tested core banking software. TCS credits recent big deal wins like the $140 million Banco Pichincha deal and the $100 million Bank of China deal to added strength of fns' core banking solution. And analysts seem to like such cherry picking. "TCS has made eight relatively small acquisitions in the past three years that, although individually contributed less than 4 per cent in revenue, were successful in capturing synergies," says a Macquarie Research report on TCS. "For example," the report elaborates, "TCS paid $63 million to acquire fns, Comicrom and AFS which produced $330 million of deal flow (Banco Pichincha, Bank of China and Qantas)."
What's perhaps more important for TCS is that its product business has got a boost, thanks to the fns acquisition. Like Mahalingam says, "If TCS makes a mark as an international product company as well, fns will be the one that seeded it. We are creating a complete product orientation." In fact, Macquarie Research expects revenues from TCS' products business to almost double to 5 per cent by 2010.
Another key initiative at TCS, in the last two years, has been to expand its global footprint thereby strengthening its global network delivery model and gain entry into new markets. TCS' acquisition of Comicrom in Chile is a case in point. The acquisition not only opened up the Chilean BPO market but also provided TCS access to other Latin American markets like Ecuador and Brazil. As a result, revenues from Latin America have doubled to $159 million (Rs 667.8 crore). Acquisitions apart, TCS has been ramping up aggressively abroad-it added nearly 6,000 employees in FY '07. Thanks to such ramping up, almost 10 per cent of TCS' employees are foreign nationals. "In most of our global delivery centres, less than 5 per cent of our people are from India. We want to build an independent, capable, profitable location in each of these locations," says S. "Paddy" Padmanabhan, who heads hr at TCS. Adds S. Sabyasachi, Senior Director, NEOIT, a Bangalore-based consultancy: "Decentralised decision making with globalised delivery and sales operations enables greater customer focus and provides nimbleness."
With delivery centres from China to Chile, TCS is among the most spread out globally among its Indian peers. Such a wide spread is not without challenges. "I would say we are a global multinational that is headquartered out of India. The workforce we have today is predominantly Indian and that has to undergo a change. Employees wherever they are have to adopt the TCS value system. That's the number one priority in becoming global," says Ramadorai.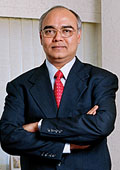 "In most of our global delivery centres, less than 5 per cent of our people are from India"
S. Padmanabhan

Head (HR)/TCS
No Cake Walk
If there is one question that TCS is asked often by analysts and the press, it is about its lower margins compared to Infosys. TCS says such comparisons are unfair. "If you look at our revenues, 9 per cent of it comes from the domestic market unlike other companies. There is bound to be margin difference," contends Ramadorai. If margins are lower back home, why is TCS in the domestic market at all? Ramadorai explains that local engagements offer an opportunity to execute complex projects, where acceptance of a domestic player like TCS is high.
So, what's the road ahead for TCS? What will it take for TCS to reach the rarefied Top Three league? $500-million deals? Big Bang acquisitions? Industry experts are not too sure. First of all, there are not too many $500-million deals in the global market. What's happening is that customers are unbundling large contracts and parceling them out to three or four different vendors. That has reduced the size of deals. Secondly, like Arup Roy, Senior Research Analyst for Gartner's it Services Market Group, says, "Indian it services players, including the Tier-I players, are risk averse. They generally are not willing to undertake asset takeover that are part and parcel of $500-million deals."
Roy has a point. The two biggest companies in the Tata Group, Tata Steel and Tata Motors, have it outsourcing deals not with TCS, but IBM. Also, of late, none of the large domestic outsourcing deals has gone to any of the Indian it majors. Bharti Airtel and Idea Cellular, two of the largest domestic 'managed' it outsourcing contracts, are again with IBM. Reason? Customers don't think any of the Indian it service providers has the sort of depth and breadth that IBM has. "One of the challenges, therefore, in being perceived as a global brand is in making the transition from being low-cost delivery to high-value delivery," says Sabyasachi. That's quite possible, given that quite a few of the large it MNCs have already started doing high-end work out of India (See Come for Cost, Stay on for Innovation on page 80).
As for TCS buying out one of the top six players in the us or Europe, the chances are slim. That's not just because TCS is sitting on cash worth $250 million (Rs 1,050 crore), compared to $1.41 billion (Rs 5,922 crore) of Infosys and $1.2 billion (Rs 5,040 crore) of Wipro. The bigger reason is that the margins of the top western players are far lower than those of the Indian players. "The best players among the Big Six have grown by 10-15 per cent. In contrast, Tier-I Indian players are growing at 40 per cent, while achieving an operating margin of something like 25 per cent," says Paris-based Dominique Raviart, Senior Analyst with Ovum research. "In other words, the Indian vendors are achieving three times as much in terms of revenue growth and margins than the best Western players."
That seems to be the line of thinking at TCS, too. Ramadorai does not rule out a large acquisition, but says that margins would be paramount. "The reason TCS and Indian it companies are valued (so highly) is because of the margins we generate. Scale at the cost of margin dilution is not an option. If we find a way in which you can get the margins to acceptable levels in that synergy, we might consider it," says Ramadorai.
In its almost 40 years of existence, TCS has evolved from being India's first private it outfit to becoming India's largest it company. Now, it plans to go where no other Indian technology firm has gone before-the topmost echelon of the pecking order. The good news: from where TCS stands today, that seems just a few rungs away.
-additional reporting by Venkatesha Babu
---
Come for Cost, Stay for Innovation
Thus far, multinational IT companies have been drawn to India for its low-cost advantages. But now they are beginning to discover, and exploit, some high-end skills.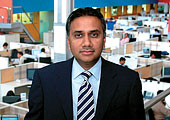 Scaling Up: Salil Parekh-led Capgemini has set up global centres of excellence across several sectors such as telecom and pharma in India
When IBM recently bagged a large SAP implementation project in China, it scanned its operations across 160 countries and 1,35,000 employees in its global services division to identify the right person to spearhead its operations in the fast-growing market. It finally zeroed in on Atanu Ghosh from its Bangalore office, on the recommendation of Amitabh Ray, Director of Global Delivery at IBM Global Services India (IGSI). Why? For one, IGSI has the largest number of IBM's SAP professionals under one umbrella. For another, and the bigger reason, Ghosh had a track record of handling similar complex projects, making him the best suited for the task. Says Ray: "IBM is a global company that leverages the best resources for our clients. Two of the largest SAP implementations worldwide are being led from India."
Interestingly enough, this is not an instance restricted to the SAP vertical within IBM or, indeed, to IBM. Perot Systems recently set up its operations in the Philippines, but guess who it turned to for the purpose? Its team in Bangalore, not Plano, Texas, where it is headquartered. "We parachuted a team from India into Manila as we had the necessary knowledge base and expertise. Increasingly for most multinational vendors, their Indian operations are not about cost but value," says Padma Ravichander, MD of Global Application and Solutions Division of Perot Systems India.
Accenture is another it multinational that's doing high-end work out of India. Consider a recent example: A major credit company had been having trouble updating customers on their reward points. It wanted Accenture to develop an IT solution that would cut down the delay from 12-16 weeks to something more acceptable to its customers. "We helped re-architect this solution from the ground up, which meant understanding the client's business, looking at the existing solution and building solutions to meet specific customer requirements," says Sandeep Arora, Lead Executive, Accenture Delivery Centre for Technology, India. To improve the process, Accenture involved team members from not only the traditional software engineering side, but also consulting. With the result, updating reward points now takes just a week.
"Two of the IBM's largest SAP implementations worldwide are being led from India"


Amitabh Ray
Director, Global Delivery, IBM Global Services

"Global customers are leaning on our India centre to develop new value added services"


G.B.S. Bindra
Director for Global Engineering, LogicaCMG
Cost it Was
Until recently, India's big appeal to it MNCs lay in its low cost of talent. "It is a well-known fact that, on an average and for similar skill sets, an Indian it resource costs just a third or even less than his or her international counterpart, in spite of the recent wage inflation," says Gautam Sinha, CEO of TVA Infotech. Cost continues to be the major attraction, and critical to the competitiveness of the IBMs and Accentures, who must now increasingly fight Indian vendors such as TCS, Infosys or Wipro for it outsourcing contracts. That's one reason why the global biggies have been bulking up furiously in India. IBM's domestic headcount has surged from 8,000 five years ago to 53,000 now. Accenture has gone from 2,000 to 35,000 in that time, while some others like EDs and Capgemini have acquired companies (MphasiS and Kanbay, respectively) to hit the ground running.
The CEO of a top Indian it company who did not want to be named says that the current tussle for dominance in the $500 billion global it services industry may well go in favour of Indian vendors, since all that they need to do is to establish a more global footprint (not just sales offices but support and development centres), while the MNC rivals have a tougher job of building their base in India even as they dismantle much of their expensive base internationally. IBM's Ray pooh-poohs this argument saying that for companies like IBM, India is just one of the several low-cost destinations, which include Eastern Europe, China and other Asian countries. The Indian it CEO argues that while this may be so, most growth in numbers, at least in the near future, will come from India. "We have the largest pool of skilled it manpower. It is inevitable that they grow here," he says.
From Cost to Quality and Now Innovation
There's no doubt low cost is the reason why headcounts are going up in India, but better quality and innovative capabilities are turning out to be the proverbial icing on the cake. "In our own case, we have established global centres of excellence in the financial services, telecom, pharma and digital media sectors in our Indian operations," says Salil Parekh, Executive Chairman, Capgemini India.
One of the reasons why the it MNCs are able to do this, Forrester Research India's Sudin Apte points out, is that they have built significant scale in their plain vanilla business of application development and have gained confidence in the ability of their Indian teams to undertake more high-end work. Accenture, for example, is executing a 90-country SAP implementation, covering multiple languages, multiple modules and is using the latest SAP NetWeaver stack for a chemicals giant. Something like this would never have come India's way even a few years ago.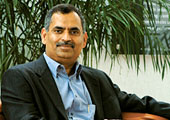 "We're doing high-end work in India. We're combining consulting & engineering to deliver innovative solutions"
Sandeep Arora

Lead Executive, Accenture Delivery Centre for Technology
Even more interestingly, researchers at the company's recently inaugurated lab in Bangalore have just completed a prototype software that will allow a geographically dispersed team to (virtually) touch and feel the it environment at a customer site besides performing impact and analysis tests from anywhere at Accenture's 47 global locations. "There are many opportunities for research and projects to be undertaken from the ground up in India," says Lin Chase, who relocated from Silicon Valley to Bangalore to drive the evolution of this facility.
IBM's Ray, on the other hand, declares that a full 30 per cent of the work his company does out of India can be classified as high-end. "It is actually the IT multinationals that have realised that the quality of manpower is so top notch that we can address global customers sitting here," he says. In fact, an IBM consultant in a retail project in Bangalore is billed at the same rate as a similar resource sitting in, say, America. IBM India's remote infrastructure management services is the largest in the world and serves 400 clients across Asia-Pacific, EMEA (Europe, Middle-East and Africa) and the us.
At HP India, too, the focus is as much on innovation as low cost. A service oriented architecture (SOA) centre in Bangalore plays a critical role in defining and delivering services to hp customers worldwide. This centre is part of the $500 million commitment made by hp to SOA globally. Head of the centre, Srinivas Gorur says it is much more than plain-vanilla it services since it involves conceptualising new ideas and taking it to market.
It's not just the top it MNCs that are looking beyond cost. There are smaller companies such as the Anglo-Dutch Logicacmg focussing on high-end work. G.B.S. Bindra, Director for Global Engineering at Logicacmg, points out that several global customers are leaning on its India centre to develop new value added services platforms. "This is not about adding some functionalities to our existing product. Our engineers actually meet with customers and spend time architecting these solutions with them," says Bindra.
Getting the right talent, of course, remains a challenge for companies focussed on high-end it. But as Pari Natarajan, Co-Founder and CEO, Zinnov Consultants, an offshore research and consulting company, says, "A lot of them believe that over the next few years, the talent in India will mature to a level where they are able to contribute to product innovation and, therefore, are investing heavily in training and cross-border travel." It's a trend that will further consolidate India's position as the preferred it destination of the world.