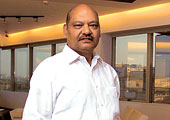 "Steelmaking is the next logical step following the acquisition (of Sesa Goa)"
Anil Agarwal
Chairman/ Vedanta Resources
After copper, aluminium and zinc, it could well be time for non-ferrous metals maverick Anil Agarwal to begin making steel. His company, the London-headquartered Vedanta Resources, appears set to become the only manufacturer in the world that produces all the four metals-with capacities of global scale and size. Last fortnight, the $4.77-billion (Rs 20,034-crore) giant, which is listed on the London Stock Exchange, took its first step towards fulfilling its plan to become a steelmaker by acquiring Mitsui & Co's 51 per cent holding in iron ore major Sesa Goa for $980 million. Says Agarwal, Chairman, Vedanta Resources: "Steelmaking is the next logical step following the acquisition." In 2004, Vedanta had signed a memorandum of understanding with the Orissa government to put up a 6-million tonne steel plant. That blueprint could be revisited, even as company officials don't rule out a partnership with a global steel player.
If the steel venture for some reason does not materialise, Vedanta will be perfectly happy extracting value from the mining business of iron ore. After all, there's a scarcity of mines internationally, Sesa Goa is able to produce 10 million tonnes (mt) of iron ore annually, it has reserves of 207 mt (which will last 20 years) and also prospecting licences in Jharkhand. Sesa Goa's capacities will be in addition to Vedanta's copper mines in Zambia, where it produces 2 lakh tonnes annually.
WHAT SESA GOA BRINGS TO THE TABLE
» Vedanta has acquired the iron ore miner for $1.37 billion
» Sesa Goa accounts for 1.3 per cent of sea-borne iron ore trade, globally
» Produces 10 million tonnes (MT) of ore annually, and has reserves of roughly 207 MT, equivalent to 20 years of mine life
» Mines are located in Goa, Karnataka and Orissa, and the company has prospecting licences in Jharkhand
» A little over three-fourths of sales are on long-term contracts
» Has its own pig iron and met coke business, each with a capacity of 2.5 lakh tones per annum
Even as Agarwal hones his mining abilities and blueprints a foray into steel, he's set to ramp up capacities in the metals he currently produces, which he hopes will propel him into the top quartile of global metal manufacturers by 2010. By then, Agarwal is targeting a capacity of 1 million tonnes each for zinc, copper and aluminium. "Once we reach those capacities, we will be amongst the top 3-4 metal producers in the world," says Agarwal. Currently, Vedanta is #5 in zinc with 0.48 mt, #8 in copper with 0.56 mt and doesn't figure in the top 10 in aluminium, as it has a capacity of just 0.4 mt (the #1 player, United Company rusal, can produce up to 4.1 mt annually). Vedanta has earmarked an outlay of close to $6 billion over the next four years in its bid to get into the 1-million tonne club. The projects include an alumina project in Orissa, second zinc smelter in Chanderiya in 2008, and an aluminium project in Jharsuguda in two phases in 2009 and 2010 (see In Investment Mode). Since 2003, Vedanta has already spent roughly $1.1 billion, on smelter and mines expansion, de-bottlenecking exercises and on power and aluminium smelter projects.
Despite such huge pressures of capital expenditure, Vedanta has for long remained a debt-free company (although the purchase of Sesa Goa will change that status). That it's able to do so is primarily thanks to its ability to rake in oodles of cash from its operations. For the nine months ended December 2006, the company had earnings before interest, tax, depreciation and amortisation (EBITDA) of a little over $2 billion on revenues of $4.77 billion, which translates into chunky margins of 42 per cent at the EBITDA level. Growth, too, has been heady-revenues have doubled and EBITDA has surged 235 per cent over the previous corresponding nine-month period. Funding growth with such cash flows-estimated to average $6 billion over the next four years- shouldn't be much of a headache for Agarwal and his finance whiz Tarun Jain. "Strong metal prices will continue for the next 18 months, and that will help us maintain a 30-40 per cent growth in revenues in the coming few years," says Jain, Director (Finance). Zinc accounts for 56 per cent of the total EBITDA of the company, while copper and aluminium account for 31 per cent and 13 per cent, respectively.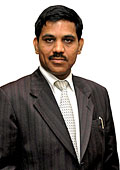 "Strong metal prices will help us maintain a 30-40 per cent growth in revenues"
Tarun Jain
Director (Finance)
It's been quite a ride for Agarwal and Jain, who've been together since the late 80s, when their company was just a Rs 13-14 crore cable maker (then called Sterlite Cables). Agarwal, who cut his teeth by trading in metals, is today worth some Rs 18,000 crore by virtue of his 54 per cent stake in his flagship company. Over the years, boosted by robust cash flows from his metals business, Agarwal has grown aggressively via expansions as well as a series of acquisitions, many of them being former public sector undertakings. For instance, he first acquired Bharat Aluminium Company (BALCO) for Rs 550 crore in March 2001. He followed that up with the purchase of Hindustan Zinc for Rs 445 crore. In early 2000, the company rather controversially delisted from the domestic exchanges, only to set its sights on the London Stock Exchange. The intentions were crystal clear: Create a currency for global acquisitions, be in a position to benchmark with the best amongst the global competition, and attract a larger investor base.
Agarwal's ability to play in the global ballpark is one reason why he's barely blinking at the thought of paying out Rs 2,036 or $49 per share for acquiring control of Sesa Goa. That's an aggressive bid-a 20 per cent premium over the closing price on the day Vedanta announced the takeover. Agarwal had little choice but to bid aggressively as the others in the fray included L.N. Mittal's Arcelor Mittal and the Aditya Birla Group. As per the takeover code of the Securities & Exchange Board of India, Vedanta will also make an open offer to the public shareholders of Sesa Goa for acquiring an additional 20 per cent stake from them at a price of Rs 2,036 per share. If Agarwal succeeds with the open offer, Vedanta's holding in the iron ore producer will climb to 71 per cent, and the total acquisition cost will mount to $1.37 billion. Of this, $1.1 billion (Rs 4,620 crore) will be financed by debt raised at 6 per cent rate of interest, while the rest will come from internal accruals.
Analysts say it is money well spent. Points out Sandeep Shenoy, Strategist, Pinc Research, a Mumbai-based brokerage: "For a global trader like Vedanta, it's certainly a logical extension for increasing its product line. Being a specialist in the spot market, we can see Vedanta adding value to the company that will help them improve realisations of Sesa Goa." Unlike in the case of Vedanta, where all its products are sold at spot price, for Sesa Goa, 76 per cent of sales are through long-term contracts and just 24 per cent on spot-price basis. With spot prices for the metal on an upsurge and the expertise of Vedanta to trade in the spot market, analysts expect realisations to improve for the company, which will also offset the Rs 300 per tonne excise duty on iron ore exports. Of course, when prices soften, Vedanta can use the experience Sesa Goa has in fixing long-term contracts.
Ramping up: The cell house in Chanderiya Smelter in India and Konkola underground mines in Zambia
But you have to wonder: If Sesa Goa is indeed such a good fit for Vedanta, why wasn't it working out for Mitsui? There's a very logical answer, though. Sesa Goa was an insignificant business for the Japanese conglomerate, accounting for less than 1.3 per cent of its turnover. For the first nine months of 2006-07, Sesa Goa reported a net profit of Rs 354.08 crore on net sales of Rs 1,245 crore. "In a scenario where everyone is looking for raw material, the acquisition of Sesa Goa can make big difference for Vedanta," says Shenoy, who sees the iron ore operations fitting in well with Vedanta's plans to set up the steel plant in Orissa.
However, Agarwal is facing huge opposition from the local tribals in Orissa. This may convince Vedanta to take the inorganic route once, or rather if, prices begin to soften and supply exceeds demand. Says Gurunath Mudlapur, Managing Director, Atherstone Institute of Research: "The ability to identify underutilised assets and turn them around can see the company going on its own for making steel. The company is in no hurry to get into the steel business and may, in fact, wait for the steel cycle to turn before venturing into steelmaking by acquiring sick companies." The confidence among analysts is because of Agarwal's proven track record in turning around sick companies-MALCO and BALCO.
"We are always on the hunt for acquiring good assets," says Agarwal, although he may have not had just steel in mind when making that statement. According to company officials, the group has set aside a war chest of $5-6 billion for acquisitions. In the meantime, it is also looking at new avenues for growth, power generation via Sterlite Energy, a wholly-owned subsidiary of Sterlite Industries being one such huge opportunity that beckons. The company plans to participate in the government of India initiative of setting up Ultra Mega Power Projects. The group has experience in running captive power plants, which will be leveraged for generation at a commercial level. Sterlite Energy will invest around $1.9 billion in setting up four 600 mw (total 2,400 mw) thermal power plants in Jharsuguda in 2010. The first of the four units is expected to be commissioned by December 2009 and subsequently one unit every quarter. Part of the proceedings will come from Sterlite Industries, which will raise money through American Depository Receipts, although 70 per cent of the financing will come through external debt.
For now, though, Vedanta's fortunes are firmly linked to non-ferrous metals, and their prices. The good news for the group is that prices are unlikely to soften in the medium term. "Be it any non-ferrous metal, prices are expected to remain firm as there aren't major mines coming up for mining," says R. Sreesankar, Head (Research), IL&FS Investsmart. "In the near-to-medium term, we see prices of zinc, aluminium and copper to be around $3,000 per tonne, $2,500 per tonne and $5,000 per tonne, respectively," says Agarwal. "Irrespective of price, our focus will be on cutting costs and increasing volumes," he adds. That's a rather innocuous-sounding, yet highly-effective formula for blistering growth.