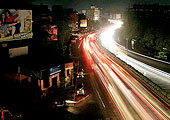 Mumbai blackout: Until recently, outages were unheard of in the city, but now they have become commonplace
Last summer, Indrani Mukherjee, a resident of Dum Dum Park, Kolkata, decided to make do with an inverter that would power a few lights and fans when the local power distribution utility switches off. This summer, her faith in the utility's services has not improved. Rather, she is shopping for more storage devices. "I stay in a top floor apartment, where I operate an air-conditioner to beat the heat. But, what's the point, if I cannot run it, thanks to frequent power supply disruptions?" says Mukherjee. "I am now scouting the market for an inverter that can operate the ACs during the power cuts."
This tale can perhaps be heard echoing in several cities across the country, thanks to the crippling shortages that get accentuated during the summer months. But what makes this summer different from the earlier ones? The economic boom witnessed during the recent past has fuelled the buying power of consumers in the domestic and commercial segment in several power-starved cities. Ironically, the very same reason is also fuelling demand for power that the sector is unable to deliver. The play out of this vicious cycle in the domestic and commercial segment of consumers is interesting.
First, power-deficit states (like Maharashtra and Andhra Pradesh) are resorting to purchase of expensive power from power-surplus states (Orissa and Jharkhand, for example). Secondly, growth in the power storage and micro-generation business is on the rise (See Taking Advantage of the Shortages). Thirdly, the power shortages bring out the stark rural-urban divide. With economic growth not having been inclusive, rural India has little resort to solutions like inverters and generators.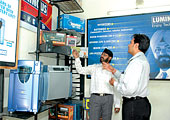 Inverter Raj: In Delhi, can't do without inverters
How are the Metros Coping?
It helps to live in Mumbai for more reasons than one. This summer, like the earlier ones, distribution utilities in Mumbai-Tata Power Company, Reliance Energy and best-have resolved to ensure continuous supply of power through the season by purchasing the 400 mw shortfall. The question is: what about suburbs like Navi Mumbai that are witnessing unbridled growth? "Power cuts happen every day for about four to five hours. We have an inverter that can run five tube lights and five fans and a TV and it costs us Rs 12,500 per annum," says Charubala A., a resident of Kharghar, Navi Mumbai.
Consumers like Charubala reflect the voice of the average power consumer in Maharashtra-sans Mumbai. The state faces a shortage of 5,500 mw with growth in demand rising at over 6.5 per cent per annum. The shortages create a market-one for storage devices. Says Kunwer Sachdeva, CEO of Su-Kam Power Systems, a top manufacturer of inverters: "While enquiries have started pouring in from Mumbai, Navi Mumbai is where the demand is largely coming from currently. Last month, we sold around 4,500 inverters in Navi Mumbai alone."
Evidently, notwithstanding the claims made by the distribution utilities, Mumbai could well head for minor power cuts, given that millions of square feet of land (read: mill land) locked up in court battles until recently are now under development.
WHAT DOES IT COST THE ECONOMY?
SUMMER EFFECT/ IMPACT
Power demand rises
Shortages rise-peak shortage of 15.5 per cent as against 12-13 per cent during the lean season
Higher sales of Inverters, DG sets
Higher power costs (DG-based power costs Rs 11 per unit) while utility supply costs around Rs 4 per unit
Higher power trades
Makes power more expensive-during summer, average traded power costs Rs 8 per unit, as against Rs 3-4 unit during off-summer seasons
Source BT research
In the case of Delhi, penetration of diesel generator sets (DG) is significant-close to 60 per cent of industrial consumers own one. With private companies buying out the distribution business in the city, the situation has improved over the last few years. "Power supply has vastly improved. We hardly experience 1-2 hours of power cuts on some days. There is certainly no regular load shedding," says Nandan Gulati, a resident of Rohini in northwest Delhi.
Thank privatisation. "The three distribution companies have invested around Rs 4,000 crore in equipment and systems, which has vastly improved the quality of service and reach," says Rakesh Mehta, Principal Secretary (Power), Delhi. But the fact remains that with load growing at around 6-7 per cent per annum, and a lack of adequate generation capacity in the state, the dependence on power supply from other states is on the rise. That's unlikely to change till 2011, when the state becomes surplus in power.
Unfortunately, the fate of Delhi's suburbs is akin to that of Mumbai. Gurgaon (in Haryana) and Ghaziabad (in Uttar Pradesh) face up to 6-10 hours of power cuts every day. Private sector-led real estate development is surely not waiting for the government to fix this problem, only that the power bills are higher for residents-Rs 11-16 per unit from DG sets as against Rs 4 per unit from the utility.
Among the service sector growth hubs, it is not just Gurgaon that has to contend with high cost of back-up power. Bangalore, too, suffers a fair bit of shortages, which have gone acute owing to the high growth witnessed this year. Says Bharat Lal Meena, chairman of the distribution utilities in Karnataka: "Consumption has grown by over 21 per cent last year. Previously, it was between 2 and 6 per cent, with most of the increase accounted for by the commercial sector."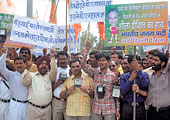 Will it happen again this year?
Faced with a burgeoning demand, the state distribution utilities are resorting to various measures to make good the shortages. "These include tapping captive sources and embarking on an aggressive drive to promote energy conservation," adds Meena.
In the case of the other two major metros in southern India, the power shortages are negligible. But while Hyderabad is power sufficient, it comes at the cost of power cuts borne by the rest of the state. Not only that, with power demand growing robustly in the city (15 per cent this year, as against 12 per cent in the previous year), the burden on the rest of the state will only get more pronounced. "Till recently, industry was faced with a three-hour load shedding every day owing to the Rabi crop season. On an average, however, power supply across the state lasts between 16-19 hours per day," says a senior government official.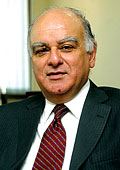 "Reforms are being pushed in a responsible manner-loans to states will be converted to grants only on demonstrable results"
Anil Razdan
Union Power Secretary
With West Bengal on a re-industrialising mode, the power shortages in Kolkata are on the rise. Says the spokesman for the local power distribution utility, CESC, "With a vibrant it sector, evening and night loads in industrial and commercial sectors are on the rise. On the domestic front also, consumption has risen. So, the only way to meet the shortages will be through setting up of new units." Although CESC claims they are confining power cuts in the city to 45 minutes or 1 hour, certain pockets in the city have already been reporting longer power cuts.
How does Kolkata's market for storage devices compare with those of other regions? Inverter market in Delhi and North India has been growing at such a frenetic pace over the last few years that Exide Industries, the Kolkata-based leading supplier of inverter batteries, has nearly stopped supplying to the home market. And, it is not as if the market in Kolkata is unattractive. "Inverter business is booming, growing at over 25 per cent per annum," says R.K. Bubna, owner of East Zone Supply Corporation, one of the largest dealers of inverters in the city.
Key Lies in Planning
Evidently, this summer will raise the power cost for consumers, across segments, one way or another. However, the prevailing robust growth in the various sectors of the economy (RBI predicts an 8.5 per cent GDP growth) will let this bill pinch as much as it otherwise would. But the fact remains that it blunts the competitiveness of the economy.
With the Central government beefing up its power sector reform initiative in the states, the Accelerated Power Development and Reforms Programme (APDRP), one hopes that the following summers are less eventful as this one. But given the high gestation period for a power generation project (three years), the process of planning and monitoring is key to any sustainable solution. Else, the proliferation of expensive back-up devices will continue its march.
-additional reporting by Aman Malik and Kapil Bajaj in New Delhi, Anusha Subramanian in Mumbai,
Ritwik Mukherjee in Kolkata, E. Kumar Sharma in Hyderabad, and Rahul Sachitanand in Bangalore