COVER STORY
The Teacher Sans

Two prophets from the motherland of Quality, a.k.a. Japan, have been trying since 1997 to convert India Inc. to the doctrine of world-class manufacturing. Just as an American, W. Edwards Deming, taught Japan quality in 1946.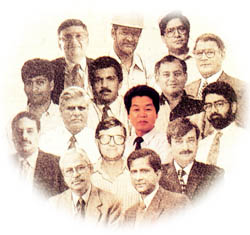 By Rajeev Dubey
Somewhere in corporate India, betraying the exact opposite of Zen unflappability, the guru has just asked the quality manager of a company that he's teaching to be world-class to provide a simple technical detail of a process. The manager, unsure of the answer, is trying to change the subject. The professor repeats the question over and over, miming rising agitation at every successive attempt to stonewall his question. Finally, he can take it no more. Throwing up his hands, the professor charges up to where the manager is standing. Everyone flinches, half-expecting Tsuda-San to assault the subject of his questions. Instead, the guru changes direction at the last moment, moving to the display projected on the screen, exclaiming-his imperfect English and soft consonants scarcely slowing him down-: ''Is this language barrier or knowledge barrier? I think knowledge barrier. If you don't know what this means, how do you check quality?'' he asks.
Elsewhere in corporate India, another teacher from the Land of The Rising Temper has just thrown a pencil at a flabbergasted manager who dared to offer a ridiculous explanation as to why unused oil flows out of the shopfloor machines in his company. Yamaguchi-San pretends to be livid. He looks as though he wished what he had just thrown was not a pencil, but at least a machete. ''Why,'' the teacher's demeanour suggests, ''doesn't this oaf believe enough in the religion of TPM to follow its teachings implicitly?''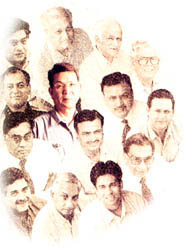 For both the gurus, the anger is just an act, a contrived display of vocal violence designed to shock listeners, capture their attention, destroy their complacence, and prime them for radical change. For, these transformational twins are maverick missionaries who're converting corporate India to world-class practices. Yoshikazu Tsuda, 64, a soft-spoken retired professor of mathematics-turned-TQM master, who is a counsellor at the Union of Japanese Scientists & Engineers (JUSE), and Sueo Yamaguchi, 52, a flamboyant career-professional at the Japan Institute of Plant Management (JIPM)-the church of Total Productive Maintenance (TPM)-are, quite simply, committed evangelists of quality, conveying their messages in staccato bursts of Oriental English, now laced with words in Hindi and Tamil.
Already, the list of their disciples is a virtual Who's Who of India Inc.'s manufacturing sector, in general, and the automotive industry, in particular. Among them: Bajaj Auto's Rahul Bajaj, Sundaram Clayton's Venu Srinivasan, Sundram Fasteners' Suresh Krishna, the A.V. Birla Group's Kumar Mangalam Birla, and Mahindra & Mahindra's Anand Mahindra. Indeed, scores of CEOs are leaving their egos and luggage of learning behind to witness the masters mercilessly take apart seemingly-sound TQM practices.

"While Indian companies can follow quality principles from Japan, they must adapt them to suit their history, culture, and values."
Adi Godrej
CEO, Godrej Soaps
Like actors in the Japanese Noh theatre, whose stylised flamboyance actually communicates content that touches everyday life, the expansive gestures and mannerisms of the gurusome twosome are also expressionist shorthand for their dissatisfaction with existing quality practices at the companies that pay up Rs 1.60 lakh as fees for each of their visitations. Both are convinced that corporate India talks much more about quality than it practises-demonstrating what they refer to as the NATO (No Action, Talk Only) factor. That's why they have developed a melodramatic form of interaction exclusively for India to drive their message home.
Backed by the canons of their respective creeds, Tsuda and Yamaguchi-who only bow their heads when they're listening closely-are working as missionaries of manufacturing practices striving to convert corporate India to the Quality Way. The catalyst in this conversion is the Confederation of Indian Industry (CII), which, along with Maruti Udyog, was instrumental, back in 1997, in persuading Tsuda to work with 2 clusters of Maruti Udyog's suppliers. The very next year, the CII persuaded Yamaguchi to play guru to the 170-member JIPM-TPM club, and a cluster of 5 Maruti Udyog vendors.
Of course, like their spiritual predecessors from around the world, these preachers are teachers too. And their strategic scripture-textbooks have their roots in global business' most striking transformational success: Japan Inc.. From Jaipur to Chennai, from Pune to Gurgaon, Tsuda and Yamaguchi are recreating a mini-Japan inside every company they work with, confident that the practices they institute will spread from these companies to their supply-chain partners and, eventually, to all of India Inc..
States Tsuda, in one of his less excitable moments: ''It is my goal to raise the managerial, operational, and technical ability through the practice of TQM.'' Adds Yamaguchi, suppressing his volatility: ''Companies are realising that TPM is not about cleaning machines. It can bring consistency in machine- and plant-performance. If they can do this, their performance will be as good as anybody else's in the world.'' And then erupts: ''I visit lots of companies with excellent business strategy. But their factories are terrible.''
Their methods, not surprisingly, are unorthodox. Tsuda-San routinely wears light-coloured trousers on shopfloor visits to pick up any dust that sloppy cleaners might have overlooked. Cleanliness-Seiso (spic and span)-is an integral component of the 5-S system he insists on companies' practising. And the temperamental Yamaguchi interprets every minor quality-infarction as a personal affront. Agrees Madhur Bajaj, 47, Director, Bajaj Auto: ''Yamaguchi is a hard task-master. It takes time to match his standards.'' For most companies, the message that comes across at the end of a Tsuda plant visit or a Yamaguchi workshop is worrisome: we are nowhere as good as we ought to be, and we are certainly not as good as we think we are.

"Guru like them can help you cross any hurdles on the journey to TQM. Only, you must have the ability to change your culture."
K. Kumar
Director, Maruti Udyog
That's probably why Tsuda and Yamaguchi-they always walk faster than their entourage on shopfloors-are corporate India's most chased gurus. In 1997 and 1998, the 2 together turned down offers to work with about 70 companies. Their selection-processes are similar: a preliminary screening by the CII's consultants followed by a personal shopfloor visit. But many companies that get through the first stage falter at the second. Admits Sudhir B. Tilloo, 52, Managing Director, DGP Hinoday, who is yet to get the nod from Yamaguchi even after 2 extensive plant visits: ''I'm eagerly awaiting his response. His work is simple, comprehensive, and action-oriented.''
Today, apart from Sundaram Clayton, Tsuda works with 17 companies organised into 2 clusters by the CII and Maruti Udyog, and Yamaguchi, with 15. So, in 1998, Tsuda spent 45 days in India while Yamaguchi was here for 180 days. Away from their families-his wife and 2 daughters in Tsuda's case, his wife and a daughter in Yamaguchi's-BT tracks the transformation that the total quality twosome are unleashing on India Inc..
BUT FIRST, THEIR GOSPELS
Tsuda-San's tenets flow from the accumulated learning of the JUSE, established in 1946 by a group of engineers intent on rebuilding Japanese industry after the devastation of World War II. One of its first acts was to invite W. Edwards Deming, a disciple of the father of Statistical Quality Control, Walter A. Shewhart-both worked for Bell Labs at that time-to teach Japanese engineers the basics of quality. And Deming introduced the JUSE to Shewhart's principles of scientific thinking personified in the PDSA (Plan, Do, Study, Act) cycle. The JUSE adopted a variant, the PDCA (Check, not Study) cycle, and named it the Deming Cycle.
Tsuda, a former professor of Mathematics at Tokyo's Rikkyo University, quit his job in 1997 to become a full-time consultant and pursue his passion-helping companies improve their quality-management practices. Says Tsuda: ''Students today are only interested in diplomas. Companies, however, are faced with the question of survival. If there is a choice between teaching at school and teaching companies, I would prefer companies because it leads to the welfare of the employees as well as the society.'' As a quality advisor, Tsuda roams the world helping out companies like Toyota (Japan), Renault (France), and Picanol (Belgium).
When he isn't whistle-stop-touring the shopfloors of India-or of Belgium and France, the other countries whose companies he works with-Tsuda serves as the course director for a programme on quality offered by the juse and an examiner for the Union's Deming Prize. He has guided 3 companies on their arduous journey to the award: Texas Instrument's Japan-based Bi-Polar Division, AT&T Power Systems, and, of course, India's very own Sundaram Clayton. Says Venu Srinivasan, 45, CEO, Sundaram Clayton: ''He has a formidable reputation. We consciously decided that we would follow whatever he said. I was sure that he would get us started in the right direction because he strongly believes-and has since made us believe-that quality starts from the foundation.''

"The cluster method is providing smaller companies, who cannot afford such teachers, the opportunity for pooling their learning."
Janak Mehta
CEO, TQM International
If Yamaguchi inspires the same kind of faith, he attributes it to the JIPM, which evolved from the Japan Management Association's (JMA) Equipment Management Committee. In 1971, a Japanese engineer named Seiichi Nakajima joined the JMA. Based on his study of American Preventive Maintenance (PM) techniques between 1950 and 1970, he crafted the concept of TPM in 1971. A JIPM-lifer, Yamaguchi has spent 25 years with the institute at various levels, learning his art on the job. ''I had to study for years to understand TPM,'' he muses.
It was Yamaguchi-whose messianic zeal is at work among companies in Saudi Arabia and Egypt in addition to India-who masterminded Vikram Cements' and Sundram Fasteners' successful bids for the JIPM's TPM Excellence Awards in 1995 and 1998, respectively. Explains V.T. Moorthy, 52, Managing Director, TANFAC Industries: ''The initial reaction of my people was that Yamaguchi's principles are impossible to implement in India. But then, we decided that if the Japanese could do it, so could we.'' Especially with Yamaguchi-San showing the way.
WHO, THEN, ARE THESE GURUS?
They're similar-and dissimilar. Like TPM and TQM. Tsuda is a loner. Even during cluster-luncheons, he can be found quietly contemplating his food in a corner. But his calm visage hides a keen mind and a perfectionist's obsession with order. His meetings and visits have to start on time and end on time; and coffee- and lunch-breaks must happen according to schedule. The logic: If a company can't manage its time, how can it manage quality? Tsuda, who actually worked for a brief while as a software-developer for the Japan Development Bank, shares the typical quant-jock's fascination for computers, using a Powerbook to take notes during his meetings with companies.
Details fascinate him. If a company claims that it has been able to achieve something, Tsuda insists on seeing the results for himself. He walks briskly through shopfloors, speaking little or not at all, scribbling notes on tiny scraps of paper, which are assiduously transferred to the Powerbook during breaks. Explains M.K. Puri, 46, Corporate Director, GKN Invel Transmissions: ''He scores over others because he spends more time on the shopfloor understanding and suggesting changes than in the boardroom mapping the agenda.'' Seconds K.N. Rattan, 56, Executive Director, Shriram Pistons & Rings: ''He is extremely sharp and analytical. It's probably because of his mathematics background. He's a keen observer.'' Tsuda spends between 2 and 4 hours on the shopfloor, content to observe and understand; rarely does he ask for a process to be explained to him. But everything that he observes stays in his head-and the Powerbook. So, if a company has not implemented them, he demands to know why.
Unlike Tsuda, who downplays his associations with CEOs and companies, Yamaguchi is never tired about narrating stories about his meetings with the late Aditya Vikram Birla and J.J. Irani. But if Tsuda is a stickler for timing, Yamaguchi carries the punctuality-fetish to an extreme: his schedule even accounts for traffic jams. He spends between 3 and 4 hours on the shopfloor, trying to understand work-cycles and processes by observation. If he finds it difficult to understand a process, he tries it out himself. And he never takes notes. Says an admiring Deepak Tandon, 40, Joint President, Birla Tyres: ''He's brilliant, but tough to work with. If you follow him, there's no way you cannot achieve world standards.''