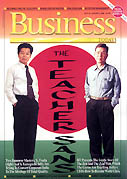 The Total Quality Gurus
Two prophets from Japan Inc., Yoshikazu Tsuda and Sueo Yamaguchi, are teaching corporate India how to become world-class. Scores of CEO's are leaving their egos and old practices in cold-storage to learn about quality from scratch. BT presents a learner's guide to the temperamental teachers, and their unique lessons in corporate transformation.

Interview: Yoshikazu Tsuda
Interview: Sueo Yamaguchi

"If the manager is sleeping, who will implement TPM?"
(Note: These are PDF files. You need to have Adobe Acrobat Reader to view them. If you don't have one, download it now.)
---
CORPORATE FRONT
Will The Singhs Let Brar Manage Ranbaxy?
The late Parvinder Singh appointed a pro as his successor, but patriarch Bhai Mohan Singh is campaigning for the return of the reins to the family. Not what the good doctor ordered for Ranbaxy.
Will Reprogramming Take Wipro Places?
After hiving off his lieutenant Ashok Soota, CEO Azim Premji is close to spinning off Wipro's software business, with an eye on a Nasdaq listing. The gameplan: globalisation.
Is Raymond's Future Hanging By A Thread?
Scion-turned CEO Gautam Singhania is trying to put unprofitable diversifications on the block. Will Raymond remain the complete company?
Can SAIL Rapidly (Re) Steel Its Future?
India's biggest steel-maker is too rusty to bear its continuing losses. Only a massive restructuring will bring the shine back.
Why Does Daewoo Drive In Circles?
It took several wrong turns despite being an early starter in India's car-market. Now N.H. Nam, Daewoo Motors' fifth Chairman in 5 years, is betting on the Matiz, the Nexia, and the Nubira to power ahead of the pack.
Can The VSNL Dial Into A Brave New World?
With its owner, the Government of India refusing to take key decisions, the company's new investments are on hold. So is the appointment of its future CEO.
---
Case Study: The Case Of The Classy Mass Banker
Should a bank operating in the premium segment look for growth in the mass market, using acquisitions if necessary? Or is it more important to maintain its positioning even if it doesn't expand its business.



RELATED DATA
Reading List
---
Policy: (Revenue-) Sharing The Spoils
Finally, the private basic and cellular phone operators have got what they were asking for: an end to licence-fees, and a shift to revenue-sharing. But that doesn't mean they can dial into profits automatically.
Retailing: Retail Revelations
It is a unique relationship that every customers has with her favourite stores. And, since no two people shop alike, understanding how consumer India shops is crucial for marketers and retailers. BT present a unique KSA-Technopak study on retailing trends.
Interview: If The Shoe Fits
For Reebok International CEO J. Yankowski, even a seemingly mass-market product like a sports-shoe must be customised for every buyer's unique requirements.
Human Resources: Retention Management
Just what practices and systems are companies using to hold on to their best human resources? A path-breaking AIMA study provides the benchmarks.



RELATED DATA
AIMA report (Power Point Presentation)
Marketing: Brand Discontinuities
Suddenly breaking the pattern of benefits traditionally associated with its product category, a brand decides to venture into uncharted territory--providing unexpected new value, using an unexpected new delivery-system, offering an unexpected new payment-system. For such discontinuities is flowing unexpected success.
Obituary: Requiem For A Visionary
On July 3, 1999, the man who had turned Ranbaxy Laboratories into a globally competitive corporation passed away. BT presents tributes to the corporate visionary from K. Anji Reddy, a contemporary; Jairam Ramesh, a friend; and Vasant Kumar, a colleague.
---
PERSONAL FINANCE
---