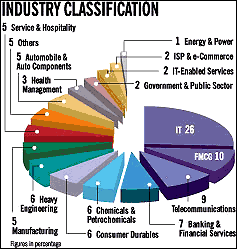 In a challenging market scenario, the implications of this research are significant. Talent clearly emerges as a critical success factor. Talent is also the most difficult to attract, motivate, and retain. It is no surprise that organisations are trying to differentiate themselves as employers of choice to ensure that they have an edge in the talent market.
The purpose of the Best Employers in India 2002 study was to understand:
What distinguishes best employers.

How best employers align their people strategy with business drivers.

Effective HR systems, practices, and philosophies.

Emerging workplace trends for the future.
Participant profile
Participation was open to all organisations in India that have been established for a minimum of three years and have not less than 100 white-collar employees. All companies across India were alerted through invitations, advertisements, and www.bestemployerindia.com.
The study covered 204 companies and data was collected from more than 52,000 employees.
The study tools were completed by companies representing:
More than 15 industry groups, with the highest participation level from information technology, followed by consumer goods (fmcg and consumer durables) sectors.

40 per cent MNCs and 60 per cent Indian companies

70 per cent publicly owned and 30 per cent privately owned.

Total employment of 91,950.
Selecting the Top 25
The selection of best employers in India was based on in-depth questionnaires completed by CEOs, HR departments, and employees of participant organisations followed by an on-site audit.
The employee engagement survey was used to assess the satisfaction level of employees about their organisation. It analysed the extent of satisfaction across seven factors-culture and purpose of the company, work environment, relationships with people in the company, nature of work, rewards and recognition, work-life balance, and growth and development opportunities. In addition it gauged the extent to which employees felt aligned with the leadership and its initiatives.
The employee survey was administered to a minimum of 75 per cent of relevant employee population, if the organisation had 500 or less white-collar employees. If the organisation had more than 500 white-collar employees, a response from 350 employees was required. Selection of employees was random across levels, functions, and locations, as per a pre-specified format. All responses were confidential-11 per cent of employees completed their survey online. Almost 85 per cent of total employees responding to the survey provided qualitative feedback about their company as well.
Completed by the HR department, the People Practices Inventory gathered information about philosophies, policies, programmes, and practices influencing the management of people in the organisation. It covered areas such as HR strategy, employer brand, recruitment, development and learning, work environment and communication, rewards and recognition, health and well-being, and balancing work and personal life, and financial security. It also provided an organisation fact-file and opportunity to detail unique practices.
Each company's CEO was asked to provide information about the business strategy of the organisation and their philosophy and approach to managing people. The CEO Survey also assessed the nature and frequency of interaction the CEO had with his employees.
On the basis of survey response, 65 companies were short listed for an on-site audit. This visit included, among other areas, an in-depth questioning of:
Core values.

Involvement of line and top management in HR initiatives.

HR measurement and success criteria.

Empowerment.

Involvement of employees in organisational change.

Openness.

Employee-orientation (Humane attitude towards exceptional situations, parity in treatment, transparency, and employee care).

Constant innovations in people programs.

Efficacy in delivery of HR services, including use of technology.

Work environment.
In addition, employee focus groups were conducted across many organisations. Validation of data received was also done.
Twenty-five best employers emerged after this rigorous exercise. There were striking similarities in approach and philosophy, but each organisation had unique ways of realising a competitive edge through its people. Each one had evolved its own effective method to show its commitment to employees. Many organisations were singular in making contributions to the country and larger community. Some managed the challenge of handling large and complex businesses as compared to newer ones. Some grappled effectively with a rapidly changing business scenario. Still others took tough employee decisions-to mutual benefit and satisfaction. There was no single formula.
What was consistent across all best employers was:
High degree of employee satisfaction, commitment, and morale.

A sense of ownership and belonging-a collective relationship fostered by the organisation.

Opportunities for accelerated growth and development.

Depth, breadth, and consistency in application of HR practices.

Unique HR practices-many of which were home-grown and based on employee suggestions.

A sensitivity towards a balance between work and personal life.

Effectiveness of HR practices in meeting needs of employees.

Alignment of HR practices with business context.

Stature of organisations in the business community as evidenced by employee and corporate initiatives.
THE HEWITT CORE TEAM: Ravi Virmani, Purva Misra, Sumer Datta and Madhavi Misra
HEWITT'S STUDY COORDINATORS: Sapna Khurana and Satish Dhasmana