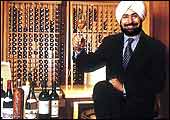 "The costs of production are the lowest in India, which is also the second-largest producer of bottles in the world"
,

Executive Director, Brindco
When Abhay Kewadkar graduated as a chemical engineer in the spring of 1984, he was attracted to what was then a decidedly strange career path. He chose to make wine. Today, as vice-president of Grover Vineyards, Kewadkar, 40, remembers the queries he was bombarded with by incredulous Frenchmen when he was sent to France's picture-perfect Champagne province for a lowdown on the art, science, and commerce of wine-making.
''Do you grow grapes in India?''
''Do you crush them with elephants if you don't have the equipment?''
''Do Indians know how to drink wine?''
''Will you be having peanuts with your champagne?''
Kewadkar always replied with a smirk, born from the confidence of a history replete with emperors who won and lost loyalties on the strength of their ability to drink wine. ''India has been growing grapes for centuries,'' he told the French. ''And we export our table grapes.''
The Best Of Both World
The old is making way for the new, even in the wine business. India's wine-makers today produce both new and old world wines. ''The basic difference between the two lies in the process and the style of wine-making and new wines are more young, fresh and crisp,'' informs Adrian Pinto, National Sales Marketing Manager, Sula Vineyards.

Wines from the new world seem to be bettering their old world counterparts due to a more approachable packaging and pricing strategy. Adds John Rogers, the International Trading Manager of McWilliam's Wines of Australia, ''Not only do the new world wines possess softer tannins, they are also delineated by variety and producer, unlike the wines from the old world that are differentiated by region and produce.''
Of course, wine drinking is a habit that Indians abandoned somewhere along the line, but like Kewadkar knew then-and a host of competitors know now-wine sales tend to flourish in modern times as an economy opens up. India is following that trend.
Some simple numbers. Wine consumption in India has been growing at 15 to 20 per cent every year since the economic liberalisation in 1991, while the developed world as a whole has seen a sluggish 7-9 per cent growth rate. Of course, the base is much, much smaller. Each Indian consumes a piffling 0.004 litres of wine every year, compared to France's 72 litres per person or Belgium's 163 litres per person. And though sales of wines are low-550,000 cases, less than 1 per cent of the entire alcohol trade (spirits: 68 million cases; beer: 72 million cases) in India-it is growing fast. About 320,000 cases of grape wines (we also drink wine from molasses) are consumed every year in India: 180,000 cases of local produce, and 50,000 shipped from other shores.
The French dominated foreign wines with a 59 per cent marketshare in 2001. But new world wine makers (California, Chile, Argentina, Australia, New Zealand, and South Africa) are gnawing at its predominance. Though ordinary table wines sell for as low as $2 (Rs 96) in their home countries, the government slaps a duty of 264 per cent, down from 425 per cent (on wines that cost less than $25 a case). Similarly, for wines more than $25, the duty now stands at 212 per cent, down from 350 per cent. Today a decent 1999 Beaujolais is available for Rs 550 in Delhi, only Rs 50 to Rs 100 costlier than the best domestic wines. It isn't just that a globalising urban society is taking to wine-even marrying it with shammi kebabs and pomfret rechad-it's also that the government is slowly beginning to accept that wine shouldn't be lumped with booze.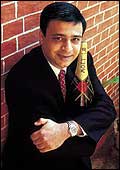 "Our marketing plans include recruiting new consumers, especially women, and generating trials and sampling"
,

Managing Director, Moet-Hennessy
The Maharashtra Model Of Free Wine
In January this year, Agriculture Minister Ajit Singh gave away 45 new wine licences to the Maharashtra government so that as many entrepreneurs could set up wineries. This happened after Singh talked about bringing wines into the fold of agricultural commodities-which means considerably lower levies.
Maharashtra-now preparing to license exclusive ''wine bars''-is readying to set up a "wine park" near Nasik where it is handing out licences to entrepreneurs for setting up wineries for as little as Rs 20,000 per unit. More incentives like a marked reduction in excise duty on wines that are manufactured and sold exclusively in Maharashtra, lower wine label registration fee and a host of other benefits. Kewadkar of Grovers', whose company is based in Bangalore, is not amused.
''It is so discriminatory,'' he exclaims of the wine registration fee. ''For outsiders, it costs a mighty Rs 2.25 lakh every year to keep the registration of a label going, whereas for a domestic producer and seller, it's been brought down from Rs 2 lakh to Rs 20,000 per year."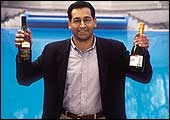 "In India, the producer cannot advertise his wines, and so innovative new measures of promotion have to be adopted"
,

Country Manager, E&J Gallo Wineries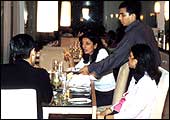 ATHENA: Mumbai's first exclusive wine bar
But it's really hard to blame the Maharashtra government if other states don't follow suit. Not surprisingly, apart from Grovers', the other two companies that seriously maintain vineyards in India, are located in Maharashtra: Chateau Indage and Sula Vineyards.
Chateau Indage, founded in 1986, sold over 8 lakh bottles last year and is expected to cross the 11 lakh mark this month. ''Our objective is to bring world wines to India and take Indian wines to the world,'' says Hans Raj Ahuja, Senior Vice President, Chateau Indage. The company has already introduced wines from Australia, France, Germany, Chile, and South Africa to India, a majority being in the bulk segment (low-grade wines that are imported in containers with a holding capacity of about 24,000 litres). ''At the same time, we are introducing new brands from new varietals (grape varieties) planted at our vineyards.''
Even Sula-founded in 1998, by a former Oracle techie from Silicon Valley, Rajeev Samant-imports a Chilean Merlot to augment their estate wines. Sula says it is so enthused with the Indian wine consumption patterns that it intends to expand its 30 acres of vineyards in Nasik to 1,000 acres in the next two years.
Grover, on the other hand, is strictly off imports. It produces and sells its wines from Bangalore and Narayangaon in Maharashtra and has got in 35 varietals in the country, of which four are currently commercial, including the premium La Reserve, specially matured in oak barrels.
TREADMILL
The food substitute
For a change, treadmill will talk about food. Make that just food and no exercise. Not an ideal fitness regime, I admit, but here goes. It's really about longish periods when you can't maintain your exercise regime and yet don't want to suddenly add all those pounds or regain a small scooter tyre around your you-know-where. Nothing can be a good substitute for exercise, but if for some reason you're forced to skip your workouts for a week or two, here's what you can do to keep the ill-effects of abstaining from the gym to a minimum. Eating sensibly helps. What's going to follow are some tips on what you could eat and yet keep your weight under check. Although meant for a no-exercise period, you could follow the same diet regime and keep really trim if you're exercising too.
The basic idea is to keep from over-eating, particularly when you're not consciously burning the calories. So instead of three big meals have four or five small ones. And here's a quick wrap on what you could eat during the day, morning to night.
For breakfast, switch to just fruits. Apples, oranges, grapes, whatever you like. Avoid bananas or chikus, but go for the rest. High in fructose, fruits are quickly digested and have the added advantage of supplying you with fibres. If fruits sound too hermit-like for you-although a friend of mine swears it's the right breakfast if you want to lose that face fat-then go for bran (grain husk that is separated from flour after milling) with a dash of low-fat milk and some fruit. Then, three or four hours later, have an early lunch. A good bet is a small salad: go for green leafy stuff like lettuce, baby corn, bell peppers, some cheese (yes, why not as long as you don't over do it?). Then, around early evening, have a snack. One suggestion: a whole-grain bread chicken sandwich without mayo or, if you're vegetarian, a cup of yoghurt, some prunes, and a couple of crackers. That leaves us the last meal of the day, dinner. Dinner could be light. My choice for a non-workout week is a couple of pieces of grilled chicken, some lightly sautéed vegetables, and a glass of iced tea.
I don't blame readers who may find all of the above really frugal. But if you're going to miss your workouts for a while, you'll have to sacrifice somewhere. An alternative? Well, just restart your workouts and start eating the good stuff!
The UB group's Bosca is India's oldest table wine. Its been around for 30 years, but no oenophile has ever taken its unrefined taste seriously. But their foot's in the door, and that's important. ''Today Bosca is doing 15,000 cases a year and we'll soon be bringing in the French, Chilean, and Australian wines,'' says B.K. Pardal, ceo of McDowell's International Brands, a UB subsidiary. But UB has lost its prime-mover advantage; it is to the wine world what the Ambassador is to cars.
The Foreign Hand In The Vineyard
Indian vintners better get their act together fast because the foreign hand is knocking the door, ceaselessly lobbying to lower central and state tariffs. ''For the market to expand, manufacturers should seriously get into wine promotion and education,'' says Rukn Luthra, Country Manager (India & Area Countries) of E&J Gallo Wineries, one of the largest wine companies in the world in terms of volume. And since liquor advertising is banned in India, innovative measures such as limited edition mailers may have to be adopted for the purpose.
That's already happening with frequent wine festivals in five-star hotels, often supported by the diplomatic missions, says Aman Dhall, Executive Director of Brindco, a liquor distribution major. Understandably, domestic wine-makers realise they can't afford complacency. ''The domestic producer should not kill the consumer on price and should never compromise on quality,'' says Pardal. Quality is paramount, says Kewadkar who believes a shakeout is imminent. ''Only those with deep pockets can do it.''
However, Indage's Ahuja contends that there is little threat to the domestic producers from foreign competition ''in the initial stages''. He adds: ''The protection available to Indian wineries through higher import duties, which may continue for another two years, will enable indigenous players fortify their existing bases.'' But Ashwin Deo, Managing Director, Moet-Hennessy India, retorts: "It is the foreign players who are actually promoting wines on a national level. And domestic players are benefiting from it.''
The heartening thing is that Indian wines are actually being exported. Grover sends 25 per cent of its total production to France and the UK and plans to enter the US market in April this year. Chateau Indage has similar export markets. Expected value: $2 million (Rs 9.4 crore), this year. That's minuscule of course, but substantive progress from that perception of elephants crushing grapes.