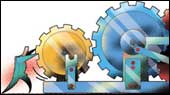 Federal reserve chairman Alan Greenspan's recent statement early March that recession is finally over and that the US economic recovery is ''already well under way'' is turning out to be prophetic. Instead of the 1 per cent growth predicted by US watchers for the first half of this year, most economists believe that the US economy is likely to grow at a much higher 3-4 per cent. Perhaps the biggest surprise, as some recent reports point out, is that the momentum actually points to faster-than expected recoveries in profits and capital spending, which were by far the hardest hit in the recession.
A strong US recovery should be music to India Inc.'s ears, especially for the much-mauled information technology (it) sector and exports, both of which depend on American markets for profits and growth. But does a faster and a stronger US recovery really put India on a high growth path-a 7-8 per cent growth for this fiscal (2002-03)? Not necessarily, because even today Indian exports account for less than 10 per cent of the gross domestic product (GDP). Therefore, some improvements in exports need not necessarily result in higher GDP growth. Again, it exports are around $8 billion a year. Also, let us not forget that there will be some time lag before exports from India pick up.
A good exports growth, however, in times of low oil prices and even lower inflation means greater foreign exchange earnings and hence less depreciation of the rupee. A stronger rupee will also mean greater international confidence and hence more portfolio investments into the country-something the comatose capital market could well do with. The hotel, tourism, and retail industries, badly affected by 9-11, are likely to see some action if tourists return. As a sector that has a huge multiplier effect, a revival in tourism could spill benefits all around.
Therefore, it is only reasonable to expect that the economy will do much better than the 4 per cent growth rate it achieved in 2000-01 (Central Statistical Organisation's final estimate). While the growth target for 2001-02 has been pegged at around 5.4 per cent by CSO's advance estimate, the current fiscal (2002-03) is likely to see even higher growth ranging anywhere between 5.5-6 per cent.
The reason for such optimism is not difficult to comprehend. Agriculture, after successive years of meagre growth, has suddenly shown a dramatic improvement in 2001-02. Growth is up from less than 1 per cent to more than 5 per cent. Even if agriculture delivers only 4 per cent growth in 2002-03, there will be an incremental income of Rs 7,500 crore in the hands of the Indian farmers, which can give a great boost to rural demand and help industry (especially the FMCG sector) chug along at a modest 4.5-5 per cent growth this fiscal. Services could gain considerably and touch the 7.5 per cent growth mark, according to Jiban K. Mukhopadhyay, chief economist at the Tatas. So a modest U-shaped recovery is sustainable.
That India too is ending its near-recessionary conditions is quite clear. Car sales in February clocked a spiffy 16.5 per cent growth over the same period last year. Another indicator of economic turnaround, the cement industry too is chugging along quite nicely. So the ''gloom-doom'' clouds and demand recession are already disappearing. And if the Reserve Bank of India-taking a cue from the Finance Minister's 2002-2003 budget, where he cut interest rates on small savings by 50 basis points-cuts bank rate even further, industrial recovery could well be underway.
Is there anything that could upset this rosy forecast? Yes, but it has little to do with the economy. On the other hand, it has everything to do with what's simmering in the states of Uttar Pradesh and Gujarat. If communal clashes flare up, the economy's recovery may be set back by several months, if not years. Let us hope better sense prevails.