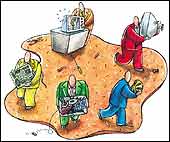 It's been a long day,'' Tamal Ganguly said to his colleague, Rajesh Sherwani, as they clambered on to the rear of their Tata Sumo. ''Yeah, but I am not complaining. I think we got a tremendous response today,'' said Sherwani.
Their faces covered with sweat and dust, Ganguly and Sherwani were headed back to their hotel in Cochin. It was the first day of roadshows in Kerala for the two executives of Big Sound, a consumer electronics major. Sherwani was the general manager for the colour television (CTV) business, and Ganguly his manager and trusted lieutenant.
''Frankly, I didn't think our Big van would draw the kind of crowd it did today,'' Ganguly said to his boss. Big Van was the CTV- and other durables-laden van that went with them on roadshows. Sherwani liked the idea of a mini-showroom on wheels because it allowed the typically shy rural consumer to touch and feel the products. And since the rural folk usually came with their entire families, it gave Big Sound an opportunity to read the pulse of the rural buyer at very little cost.
The first three months yielded phenomenal results. But then sales began to taper way below the target.
''But I wish we had sold more than three 14-inch CTVs,'' said Sherwani wistfully. ''We have another five days of roadshows. I am sure we will return to Mumbai with some crucial insights into the rural market.'' That, indeed, was the idea. With the penetration of CTVs in rural India wallowing at a poor 4 per cent (nationally it was 14 per cent), Big Sound had rightly spotted a huge opportunity. That said, it was clear that the pricing, marketing, and product design for smaller towns had to be very different from those of urban markets.
Therefore, besides familiarising the rural consumer with the Big Sound brand, the roadshow aimed at gauging certain purchase-critical factors. For example, Big Sound wanted to know what was the maximum such a consumer would be willing to pay for a colour television, given that it wasn't exactly a priority in his household. Of course, there were a handful of local brands that were already selling cheap CTVs. Sherwani's KRA was to come up with a business model (''don't forget, a profitable one,'' his CEO Suresh Mankad had hollered before they set off on the tour) for rural CTVs.
The following five days were revealing. Both Sherwani and Ganguly were amazed at how sophisticated the rural buyer actually was. At Trichur, for example, a middle-aged man, who seemed to be a fisherman, wanted to know if Electra-Big Sound's 14-inch CTV brand-had automatic channel tuning and mute facility. An intrigued Sherwani had asked the man whether he already owned a CTV. The answer was a no. So how did he know about the features? Ganguly asked. Apparently, during a recent trip to his fish merchant's house in the city, the man had sat down to watch television, and the mute and auto search were some of the features that the merchant's teenage daughter had used in those 40 minutes. Price, of course, was another issue.
Armed with their findings, Sherwani and Ganguly returned to the headquarters, and on Monday morning walked in for a meeting with the ceo Mankad, VP (Supply Chain) Sunil Prakash, and CFO Akhil Mathur. ''Welcome back, my soldiers,'' Mankad joked, looking at his marketing honchos. ''So are we or aren't we going to go rural?''
The previous night Sherwani and Ganguly had done some number crunching on their own and had decided to tread cautiously. ''Depends,'' Sherwani replied. ''We have identified a few price points. A 14-inch would need to carry a tag between Rs 5,500 and Rs 6,500. That's where all the current competitors are.''
''That doesn't leave us much on the table,'' quickly noted Prakash. ''In fact, if my back-of-the-envelope calculations are right, then our profit margins on this model will halve.''
''Do we want that kind of a situation?'' Mathur asked, looking at Mankad.
''Absolutely not,'' Mankad said. ''I don't think there is any virtue in losing money, even if it is to grow a market. In fact, the way I see it is that we should strengthen our coffers to prevail when the price wars get bloody. At the moment, there is absolutely no need to lose money.''
''But who says we have to lose money?'' Sherwani butted in. ''I think what we need to do is launch a stripped-down version of Electra. It will only have five-to-ten features like audio-video in/out, two 40-watt speakers, and pre-select sound. We don't need a sleep-timer, split-screen, auto-tuning, or more fancy features like non-reflective screen. Besides, if we offer three models, we can mix-and-match features and also get some more margins.''
''What about competition?" Mankad asked.
"At the moment, we only have three big players in rural markets," Ganguly pointed out. "Rocket, Dura, and Electon. Rocket has the biggest marketshare of them and also a bigger portfolio."
"Do we know why these players dominate this segment?" Mathur asked.
"Price," quipped Sherwani.
"Not entirely true," pointed out Mankad. " I know for a fact that Rocket last year spent Rs 50 crore on upgrading its plant. It has also switched over to new suppliers from Japan and Taiwan. Therefore, product quality has significantly improved. Am I right, Sunil?" the CEO asked his chief of supply chain.
"Yes, it's a fact that Rocket has overhauled its sourcing," said Prakash.
"So, if we have to take competitors like Rocket on, we have to work on a convincing value proposition," argued Mathur. "We shouldn't assume that our national brand equity will automatically be accepted by consumers in small towns."
"I am glad you raised the point," Mankad said. "Whatever CTV we launch for rural markets, it has to meet two criteria: it must not dilute our brand equity by short-changing the consumer on quality and, two, it must make money. Otherwise, it's a no-go."
Suddenly, Sherwani and Ganguly weren't so sure of their numbers. While opening up a new market segment was a good idea, they didn't want to sire a loss-making venture.
1 2