KESHUB MAHINDRA: Sanctity above satisfaction
Sometimes the true measure of a man lies not in the number of awards he's won, but whether he's had the moral courage to decline any. On that count, Keshub Mahindra scores full points. Last fortnight, the 78-year-old Chairman of auto giant Mahindra & Mahindra politely declined to accept the Padma Bhushan that the government wanted to confer on him. Reason? When the Union Carbide tragedy struck Bhopal in 1984, Mahindra happened to be its Chairman. Now, it's no secret that chairmanship in corporate India is only titular; few chairmen actually get involved in the day-to-day running of companies. Just the same, the chairman has certain legal responsibilities. And that's why when the victims of the Union Carbide tragedy filed a case against the company, Mahindra was one of the defendants. There's still legal action pending against him.
For Mahindra, who has more than 11 national awards under his belt, a Padma Bhushan would have been the crowning glory. Yet, as it turns out, the lure of the award for this BSc. graduate from the University of Pennsylvania was not stronger than his determination not to do anything that would make light of the grief he has publicly expressed at various occasions. Therefore, people close to the grand old man of Indian industry, point out that Mahindra-a member of several governmental committees like the Sachar Commission on Company Law-was wary of dragging the government into any controversy. In a letter written to L.K. Advani, the Union Home Minister, Mahindra-who won the Chevalier de l'Ordre National de la Legion d'honneur from the French government in 1987-explained the rationale behind his decision: "I have agonised over this matter and come to the firm conclusion that as a responsible member of Indian industry and a proud Indian, it is important for me to place the absolute sanctity of our national awards above personal satisfaction."
"I-Banker"

RANA KAPOOR: Banking on himself
We always knew that rana kapoor likes to tee off with style on the greens. Now we've discovered that he's equally effective off the course. A few months ago, Kapoor, CEO of Rabo Investment Bank India, along with his close friends and partners Harkirat Singh and Ashok Kapoor, bagged a banking licence from the Reserve Bank of India. That's the first time any group of individuals has won a banking licence. Kapoor is looking at a Diwali launch, but clarifies that it won't be a Rabo subsidiary. ''It will be our bank,'' says an ebullient Kapoor. The place and funds are still being tied up, but the man says he's clear about what the bank will focus on: retail, retail, and retail. A former Bank of America honcho, Kapoor has earned himself a snug place in the banking business. Still, launching a bank on your own isn't the easiest of things to do. So, if at the next BT-AmEx golf championship, you don't see Kapoor working on his swing, you'll know why.
Gentleman Of The Bar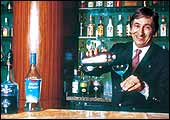 LUCIEN A. DAMBREVILLE: Mixing it all
Just like the cocktails that he so adeptly stirs up, Lucien A. Dambreville is a man of many colours. He is a 'champion' bartender, a documentary film-maker, 'camera journalist', and-phew-vice mayor of Chartres, a small town, half-hour's drive from Paris. Last fortnight, the Frenchman was seen shaking the killers (like the Paradise Cocktail in the picture) at Delhi's Grand Hyatt, which was celebrating the first anniversary of its "Whiskey Bar". The 49-year-old is also a brand ambassador for Marie Brizard, a range of liqueurs distributed in India by Brindco. But Dambreville didn't set out to be a champ bartender. In fact, 18 years ago he was struggling to become a photo journalist. It was his father who showed Dambreville what he could do behind the bar counter. So, what's the Alfa Romeo-driving, champ barman's favourite cocktail? Anisette (a liqueur flavoured with aniseed) with Schweppes tonic and champagne. His advice: "never mix fruit alcohol (like Cognac) with alcohol". Defy him at the risk of a hangover.