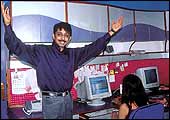 AMIT AGGARWAL, 26
Coolbuddy.com
Aggarwal has sunk in Rs 40 lakh in family money to run his youth portal. There are no profits, but from his one-room office, he and two part timers refuse to let the dream die.
C. S. Narasimhan ruefully says his portal, tnagar.com, is like the legendary chatak bird, which according to legend waits, endlessly, for the heavens to pour to quench its thirst. Narasimhan, 50, knows he isn't going to quench his thirst-for money and glory-any time soon. A small-time property dealer in Chennai's bustling commercial centre, T. Nagar (after which his site is named), he jumped onto the dotcom bandwagon hoping to target bands of home-sick US techies, to whose ranks T. Nagar contributed generously every year. The site worked, but it could not answer that fundamental dotcom question: can you show me the money?
''We wanted to keep the content very local, but maintaining its regular supply was a proving to be too expensive,'' says Narasimhan. Today, the site has mostly national and international news lifted from other sites and paltry local content, like mainly putting the board and university exam results online. Talking about revenues almost brings him to tears. ''It's a hand-to-mouth existence," says Narasimhan, the lump in his throat evident. It's been this way for five years. The advertising revenue that does come in goes to paying the three-member team-web developer, marketing executive, and reporter-of part timers.
Across the length of the subcontinent, in Delhi, Ajay Jaiman, 34, has a similar story. His portal for children (it was once considered promising enough by no less an entity than ICICI, which took a stake), pitara.com, stays afloat by providing content for Newsjoy, a publication for children. His staff strength is down from 37 to 10 and they all divide their time between the portal and other work. "Today, the internet does not provide sustainable revenues to produce good-quality stuff," says a rueful Jaiman, who left an advertising job to launch his dream.
What earthly reason makes the Narasimhans and Jaimans hang on? These CEOs of whimsically named sites-purushetra.com, p4punjab.com, pitara.com, cpmall.com, buckleyourshoes.com-who refuse to fade out as their era did in the great dotcom crash of 2001?
Well, human nature, really-just tenacity, garnished with the hope that one day, they will take their place in the sun. These dotcoms on drips have seen their teams shrink, revenues dwindle, the laughter die. But like modern knights, they revel in the fact they have survived the first bloodbath. And their penchant for outrageous quotes remains undiminished.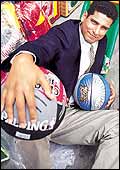 AJAY JAIMAN, 34
Pitara.com
Jaiman's portal for children--once considered promising enough by ICICI, which took a stake--stays afloat by providing content to a publication for children
"I want to be a media tycoon of the internet and run a site of the future," boasts Amit Aggarwal, CEO of coolbuddy.com. At his one-room "office" in Delhi's New Friends Colony, he and his two-man staff run the servers and-like the others of their ilk-divide their work between bravado and bare necessities. Living on life support isn't easy. Like Kumar Gaurav of p4punjab who put in Rs 5 lakh in savings and family contributions into his dream-most surviving dotcommers have day jobs to make ends meet.
"We also run a dotcom," is the credo of allindia.com, a web-consulting firm from Calcutta. Hemant Amin will explain to you how he's learned the new business model of getting by. Amin, director at allindia, also runs the popular cyber-alumni site, batchmates.com, but does so without incurring additional costs.
As for revenues, what's that?
The Many Ways To Stayin' Alive
What Amin does is to use allindia.com to display the company's tech expertise. The site's been up since 1995, but last year most processes were automated, so that one costly input-human intervention-wasn't needed. That's allowed batchmates.com to continue sending out its popular alerts to various college alumni as new members sign in. "The infrastructure is in place, and there is no incremental cost of running the portal," says Amin. A four-member team, which works for allindia.com, monitors the processes and allow Amin to keep his dream of an online globe-girdling network of alumni alive.
The hand-to-mouth existence is a saga of nerves, rapidly changing business models-if you can call it that-and sheer grit.
There's Gaurav in dusty Faridabad, Haryana, where he was once promoter of p4punjab.com, a financial portal targeting Punjabi nris. Gaurav, 24, has outsourced many content functions and reduced his technical staff from four to one. P4punjab.com manages to garner a measly Rs 10,000 every month through advertisements but expenses are around Rs 14,000. A one-time sale of NRI databases and the odd sponsorship keeps Gaurav going.
Aggarwal of coolbuddy.com just about manages to scrape together money through advertisements to cover the Rs 30,000 monthly cost of running his servers in the US and paying his two employees. "Every rupee counts," explains Aggarwal, stating what is quite obvious.
Then there are those that live-and that's about all they do. Like purushetra.com, a men's portal, whose owner isn't even in India any longer. Deepak Khanna, a software professional, left for the US in 2000. His wife, who used to run it after he left, has now joined him in the land of opportunity. Purushetra.com is live, and though it isn't updated, the Khanna clan says it can be revived at any time. "Are many people visiting the site?" is the hopeful counter-inquiry Khanna's father makes when BT calls him at his home in New Delhi. "We can start it again if that is so."
It is the way of the e-entrepreneur. To be the eternal optimist, to be in the game-even if the game itself doesn't have place for them. "If we see the chance, we will grab it," exclaims Hemant Sharma, promoter of cpmall.com, a shopping site centred around Delhi's colonial shopping district of Connaught Place. Cpmall.com, once funded by tech giant Intel and television production house NDTV, is inactive after two years of life in cyberspace. Stay alive, somehow. That's the mantra. "We are not losing money in these times, so there is no point in closing down," reasons coolbuddy.com's Aggarwal.
Hope Must Spring Eternal
Inactive or active, those who hang around, do so for the ephemeral promise of a new connected, cyber tomorrow.
It could, of course, happen. Remember that the internet today, according to tech visionaries, is much like the railways were when Robert Louis Stevenson's Rocket launched the world's first great revolution in 1829. They talk of the foundation being laid, as you read this, of the second internet, a globe-girdling ubiquitous network that will be all pervasive in the new intelligent devices of tomorrow-both wireless and fixed. If that happens, the dotcoms on drip could so easily get the elixir that they seek.
India has some 3.7 million internet connections. If that doesn't seem like much, take a step back to 1991 when the concept of the net seemed like so much ether. Despite the passing of the dotcoms, more Indians are getting connected than ever before.
That's evident in the growth that some of the comatose dotcoms display. It's a different matter that they are still some time off from converting increased traffic into revenues. Coolbuddy.com generates five million page views per month. Pitara.com, which was once updated every day, is now updated infrequently. But it still manages four million page views per month and has a list of committed users. Gaurav of p4punjab.com, who works as the head of the e-commerce division of a company, says he is now planning to quit his job and return full time to his beloved portal from July 2002.
Batchmates.com may find it hard to generate revenues, but it has witnessed an upsurge in registrations. With more than 6.2 lakh members today, Amin mulls over the thought of introducing a small fee that will earn him some revenues, launch expansions-maybe get him off that wretched drip. Would people pay? Amin isn't betting his future on it. Indian surfers, as is well known by now, are notoriously tightfisted when it comes to paying anything for a medium that they regard as free.
Still, that doesn't deter newbies from joining the ranks of the drips. There may be no funding available today for dotcoms, but that doesn't stop the one-person shows from rolling in. Many are unseen, unheard, deprived of the oxygen of publicity, unlike their predecessors who once commanded column inches through sheer outrageousness. Nevertheless, the outrageous attempts are still around.
Meet Tej Karan Singh, a 12th standard student of Delhi Public School, Mathura Road. Singh, 17, runs mobileaddicted.com, a site from where you can download picture messages, logos and tunes for your mobile phone. He and his friend, Vijit Kanaktala design and maintain the site and upload it through ftp (file transfer protocol) through a server somewhere in Gurgaon, Haryana. Hosting costs are all of Rs 1,500. The site, and the duo's business plans, will be launched soon-once their board exams are done.